Ready to catch a wicked buzz? Even though alcohol often serves to relax and unwind us, caffeinated boozy drinks — from Italian caffè corretto, to bourbon-spiked hot toddies, to coffee stouts to tea-infused hard ciders — have long been an enjoyable category mashup. Although not as ubiquitous as other adjunct cider flavors, coffee craft ciders are definitely out there, too, providing unique explorations of the unexpected combination of apples and coffee beans! Many coffee hard ciders are seasonal or limited releases, and a number of them are co-branded collaborations with local coffee roasters.
Coffee hard cider might not be for every taste, but if you're intrigued, here are eight to seek out and try for yourself: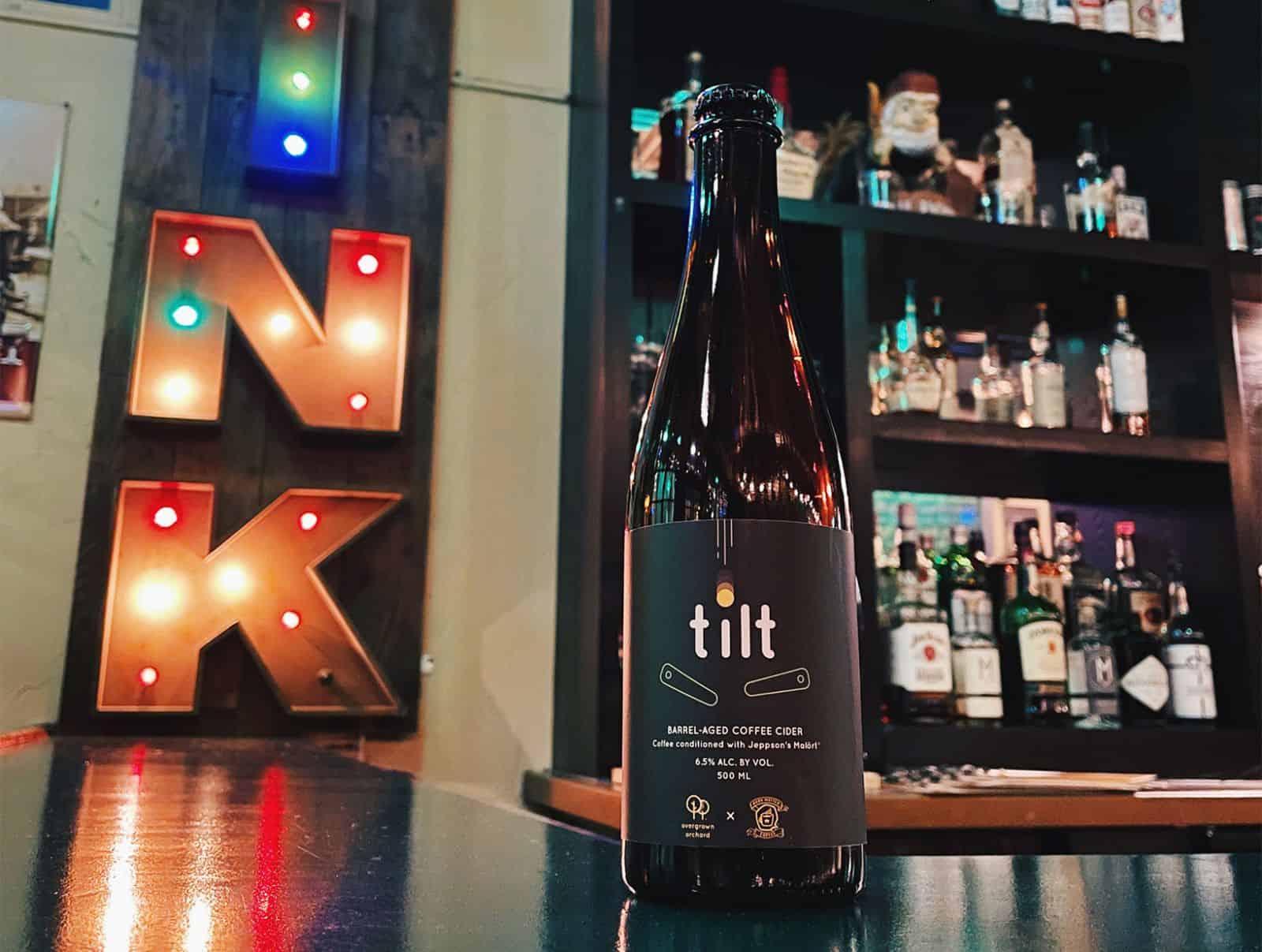 Overgrown Orchard Tilt: This coffee cider collaboration with Dark Matter Coffee is this Chicago-based cidery's only product made with additional ingredients beyond apples and yeast. This is seriously well-crafted stuff; the base is made from a blend of heirloom cider apples (Cox's Orange Pippin, Roxbury Russet and Northern Spy) fermented dry and aged 12 months in neutral French oak. It is then finished with coffee conditioned with Jeppson's Malört, an iconic Chicago-made wormwood liqueur. Like all of Overgrown Orchard's ciders, Tilt is wild-fermented, naturally carbonated, with no added sulfites. Use its "Where to Buy" map to find retailers, mostly in the Chicago area. To learn more about Overgrown Orchard, check out our Cidermaker Q&A with its founder, Stan Wash.
Diskin Hard Cider Morning Buzz: A collaboration with the legendary Nashville coffee shop, Barista Parlor, Morning Buzz was a special release coffee cider for Valentine's Day in 2021. While the crown-capped 750-ml. bottles are sold out on Diskin's webshop, this fan-fav coffee cider is temporarily on tap in Diskin's Nashville tasting room. With such a great response to Morning Buzz this year, hopefully it will make a comeback in 2022! 1235 Martin St., Nashville, TN; (615) 248-8000.
Saro Cider Bogotá: Saro is not one to shy away from experimental cider flavors; some choice picks from its product lineup include Smoked Apple and jalapeño lime. Its coffee cider is called Bogotá, named for the capital of Columbia. This delightfully low ABV cider (3.1%) is creamy and bittersweet with subdued apple notes, and because it's a nitro cider, it pours with a foamy head, reminiscent of the nitro cold brew at your local fancy coffee shop. Use Saro's Cider Finder to find its stuff near you, or order online for local-pick up or shipping. 1746 N. St., Lincoln, NE; (531) 500-3966.
Mad Moon Craft Cidery Swell Cold Brew Cider: One of Mad Moon's rotating cider flavors is Swell Cold Brew Cider, a collaboration with One Line Coffee, a fellow local business in Columbus, Ohio, which has a strong focus on responsible sourcing and sustainability. Like all of Mad Moon's ciders, Swell is made with 100% Ohio apples. Check out Mad Moon's online shop, with options to pick up or have cider shipped. 2134 Britains Ln., Columbus, OH; (614) 354-8171.
Crazy Cock Hard Cider Jitter Juice: This Connecticut cidery makes a coffee cider with cold brewed dark roast coffee from its neighbors at Stafford Coffee Company. Bold aromas of coffee give way to a semisweet cider, which does in fact contain caffeine! This 6 % cider is available in cans! Check out options for online shipping via Vinoshipper, a list of regional retailers, or stop by Crazy Cock's taproom on Saturdays between noon and 4 p.m. for to-go can sales. 68 Main St., Stafford Springs, CT; (860) 851-9339.
Guthrie Ciders Brut with Coffee: Guthrie Ciders was started by Sara and Horacio Devoto, who turned a passion for home cidermaking into a thriving cidery in San Diego. Their tightly curated selection of standard ciders includes just four flavors — and one of those is coffee! In a no-nonsense black can, find a coffee infusion of Guthrie's flagship cider, Brut. It's an 8% ABV dry hard cider (we're talking one gram of sugar, here) infused with real coffee. Yes, it contains caffeine! Shop online for free local delivery or shipping throughout California. 6496 Marindustry Dr., Suite D, San Diego, CA; (619) 431-0410.
Noble Cider Coffee & Cream: Noble's Spice Merchant Chai Cider is a touchpoint for well-crafted, tea-infused ciders, but this Asheville stalwart has been known to dabble in coffee cider as well! Its small batch cider, Coffee & Cream is a lactose back-sweetened (for extra-smooth, creamy vibes), infused with beans from PennyCup Coffee Co. Sadly, Noble's small-batch ciders aren't canned or sold online. But if you're lucky, you can catch this one on draft one day at its cidery or downtown tasting room locations. 356 New Leicester Highway, Asheville, NC; (828) 575-9622; 49 Rankin Ave., Asheville, NC; (828) 412-5064.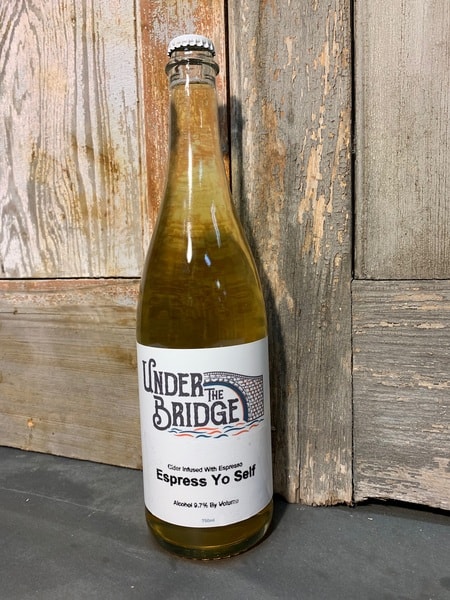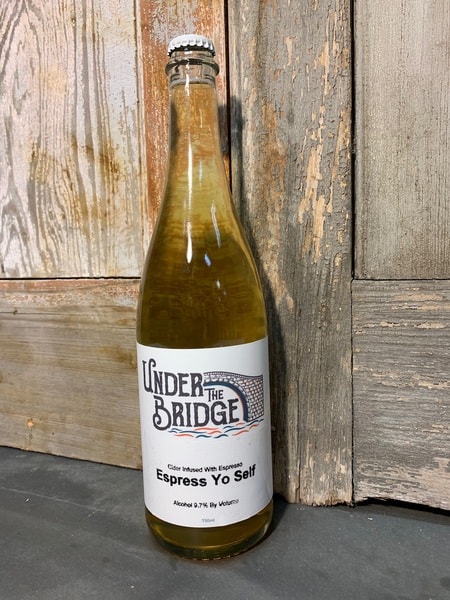 Under the Bridge Cider Espress Yo Self: After two and a half years of recipe testing, this Pennsylvania upstart cidery finally landed on a killer coffee cider, Espress Yo Self. Weighing in at a whopping 9.7% ABV, this bold cider marries bright apple flavors with the earthy, roasty character of espresso beans. Shop online for this and many other creative ciders, all of which are made with no artificial flavors, colors or added sulfites. 750 Cumberland St. Lebanon, PA; no phone.
So, where do you weigh in? Coffee cider: yeah or nah? Have you tried any that have blown your mind or let you down? We want to know! Hit us up in the comments with all of your coffee hard cider insights.