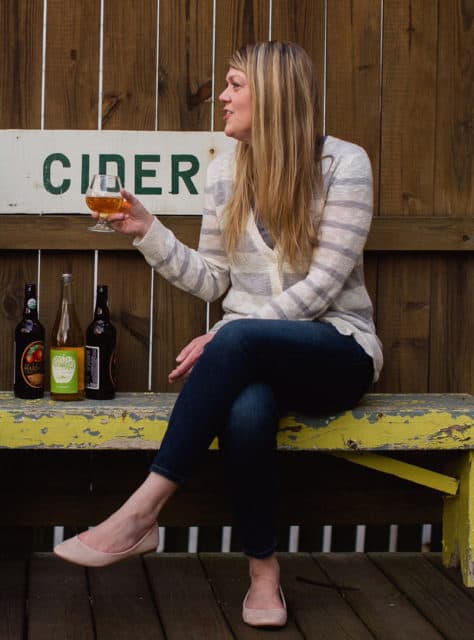 Hi, I'm Mary
Co-founder of Cider Culture
Born and raised in Pennsylvania's apple country, my hometown orchards inspired my passion for cider. Witnessing the diversity and craft of cider makers intensified that passion and inspired me to become a proud member of the Pennsylvania Cider Guild, co-founder of the Pennsylvania Cider Fest and co-owner of Cider Culture.
My favorite cider styles include exciting experiential ciders, farmstead varieties and funky wild ciders. Anything French or Spanish pleases my palate, but my heart is with American-made ciders. The drier, the better.
In the kitchen, I find ways to incorporate cider into practically every dish. An apple (or three) a day, right? I'm slowly adding cider books to my vintage cookbook collection and try to get a daily dose of cider and artisan cheeses. I will travel anywhere for cider (or any craft beverage) and I seek it out at every turn.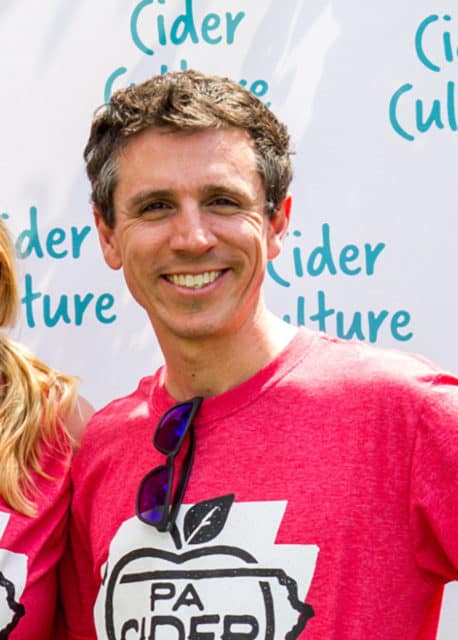 Hi, I'm Jason
Co-founder of Cider Culture
As an occasional home brewer and enthusiastic experimenter in the kitchen (though I'm mostly unsure of what I'm doing) I like to think of myself as an "eater of everything."
When I'm not running a food and drink publishing company, I'm a devoted husband and a proud dad (who's happy to have raised a kid who will try almost any food at least once). I run, read, volunteer at church and I'm always listening to music.
Cider intrigues me because it's new for my palate and cider makers are doing adventurous and fun things with a very traditional beverage. As a fan of quality coffee, I am digging the coffee cider trend and I also appreciate anything aged in a bourbon barrel.
I'm someone who gets excited about trying new things, learning new skills and seeking new opportunities so it only makes sense to be part of a publication to help others connect and share information about this emerging industry.
Hi, I'm Ron
Contributor to Cider Culture
I was an art school student in London in the late '80s when I first came upon cider at the quaint Victorian pub in the dormitory where I was attending university. By the time I returned stateside my focus was clearly on cider, but I found that the states were seriously lacking in their offerings.
A few years later some American brands started producing "hard cider," but it wasn't like the ciders in the UK, so I took up home brewing and cider making. This led me to cider classes with Peter Mitchell (Cider & Perry Academy, UK) at Cornell. Since then I have started blogging about my cider experiences at DrinkingCider.com; have become a cider column contributor at the nation's most widely circulated beer newspaper, The Ale Street News; and am now happy to be part of the Cider Culture team.
I live in Connecticut, strategically between Cider Days and Cider Week NYC. I'm proud to be a judge at GLINTCAP and to have been part of the inaugural United States Association of Cider Makers' cider certification program.
The world is full of cider—hopefully we can share a pint one day. Cheers!
Hi, I'm Holly
Contributor to Cider Culture
I have moved a lot in my life, but I can't seem to get away from these pesky apple trees: British Columbia, Québec, France, New York and now Washington. I am currently a graduate student at Washington State University completing a master's degree in agricultural science. My studies for the past three years have revolved around cider production, a passion I discovered while visiting family in Normandy in 2012. I had always thought of cider as a sweet, summery drink, but the world of cider was opened up to me after sampling a number of traditional Norman ciders.
In addition to writing for Cider Culture, I enjoy writing poetry and short stories and discussing literature with my book club. I am also passionate about environmental sustainability and sports. In fact, I would say I am never happier than when I am in a lawn chair at the sidelines of my kids' soccer or lacrosse games. Lawn chair, don't care!
Hi, I'm Sofia
Contributor to Cider Culture
My interest in enterprise, taste for good wine and affection for hospitality helped me break into the cider industry at Colonel Ricketts tasting room in Lewisburg, Pennsylvania. Within a year I helped found Civil War Cider Co., along with proprietor Rob Antanitis. There, I put to work my love of going to market to prepare fresh food for guests and enchant them with the knowledge and magic of cider.
My own thirst for knowledge and adventure took me to Maine in 2015 to work with David Buchanan of Portersfield Cider. I drank deeply of the crisp New England air while foraging for heirloom and wild apples. Getting my hands dirty only deepened my interest in apples and the many qualities that each can lend to a cider.  
The cider renaissance in America has brought great opportunities for experimentation, art and exploration that overwhelm my senses with every glass. Writing for Cider Culture has allowed me the pleasure of sharing my cider adventures with other producers and consumers. The adventure continues ...
Hi, I'm Kristen
Contributor to Cider Culture
I was born and raised in the Philadelphia suburbs, so I'm a true lover of all things Philly-related, especially our amazing signature food and drinks (I'm looking at you, cheesesteaks!). Having lived in different locales throughout my early adulthood, I've also come to appreciate fare from other parts of the country, such as New England's creamy, delicious clam chowder; Maryland's zesty Old Bay-laden cuisine; and the downright spicy jambalaya of Louisiana.
Wine and beer have always been my two beverages of choice, but a newly acquired knowledge and appreciation of cider have recently taken over! I adore a dry cider but also enjoy trying new varieties to learn more about the ever-growing list of cider options. In addition to ciders with a heavy apple presence, I am growing increasingly fond of ciders that feature other fruits in their ingredient list, such as ones with a subtle pear flavor.
Hi, I'm Maggie
Contributor to Cider Culture
While I had attempted many times before to broaden my beverage horizon, I wasn't a beer drinker until Christmas 2015. Something—maybe it was moving into a new house right before Thanksgiving or having a one-year-old and a kindergartner at the time—made me want to give it another try. I liked what I tasted, and beer and I have been tight ever since.
My interest in cider quickly followed. I like crisp, citrusy IPAs, and I find that I like ciders for that same dry and clean flavor profile. I also love apples. It all just kind of works.
Writing for Cider Culture has given me a profound appreciation for what can only be called a surge in the cider-making industry. I've interviewed cider makers and compiled profiles on cideries from across the country and through all of my writing, I've found these common threads: cider making can't succeed without a committed team, cider making is built on enthusiasm and successful cider making always brims with passion.
We created Cider Culture as a way to deepen our knowledge and share our appreciation of this up-and-coming beverage. Cider Culture not only celebrates hard cider itself but also explores the history and diversity of cider and the genuine creativity and passion of those who make it.
We hope that you, too, will seek out cider in your area and have more than a few sips. Let us know what you think!