Each year the Tour de France, the world's most famous bike race, takes place over a period of 21 days (English speakers call each day called a "stage"), covering much of France and also passing into neighboring countries.
For the past year, the residents of the northwestern part of France, known as Normandy, have anticipated the great honor of hosting the "Grand Départ," the official start of the 103rd race on July 2. Nearly 200 cyclists representing 22 teams attracted throngs of tourists to the region, a region (luckily for me) otherwise best known for cider.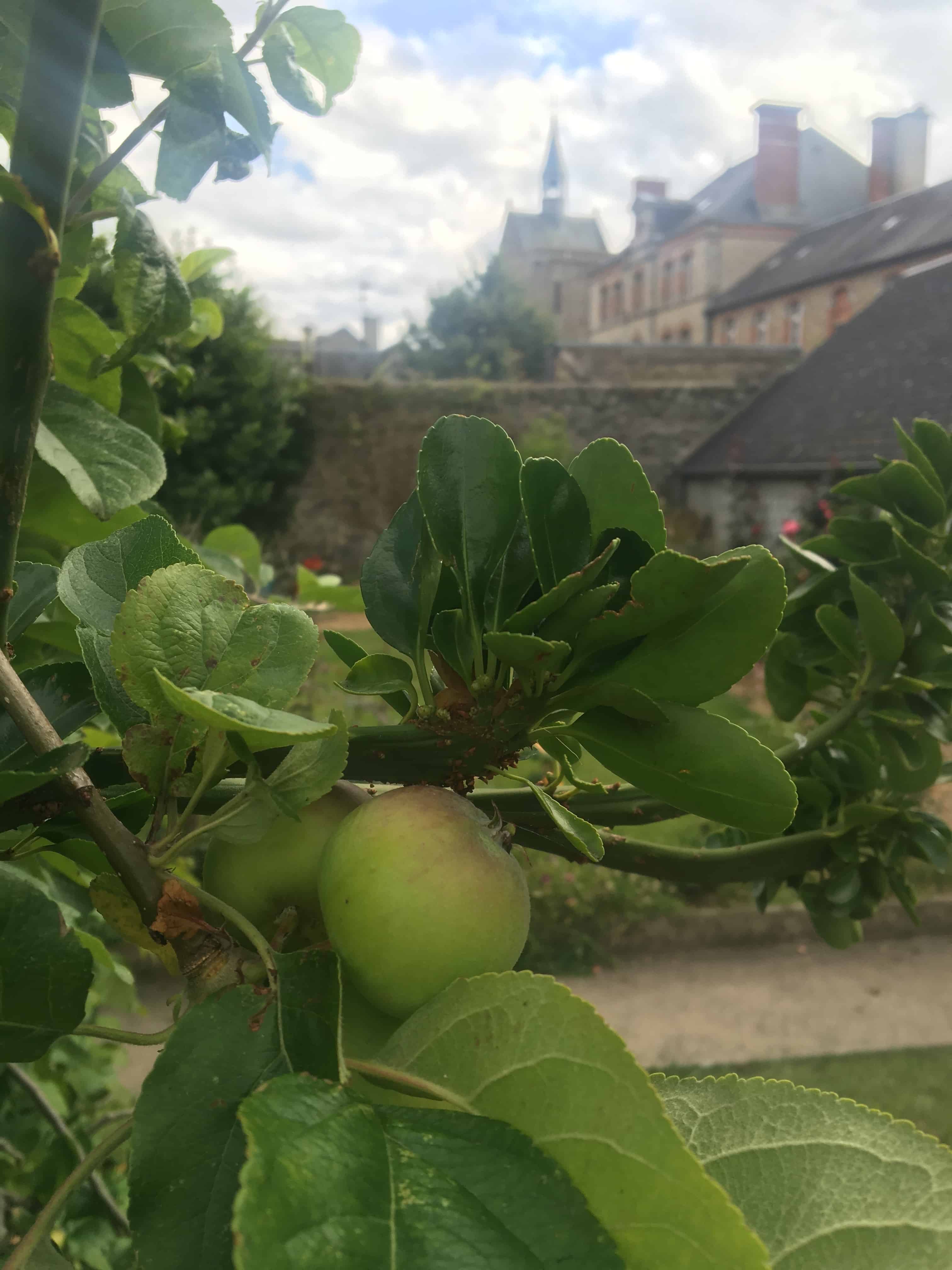 I was fortunate to be among the crowd both for the start of the race and to sample some of the region's amazing array of ciders—"le cidre" in French.
Cider Making in Normandy
Cider apple farmers in Normandy believe in their claim to the oldest of all cider-making traditions. One cider maker I spoke to, Philippe Lécrivain, thought there may likely be 500 or 600 cider producers in the region of Normandy.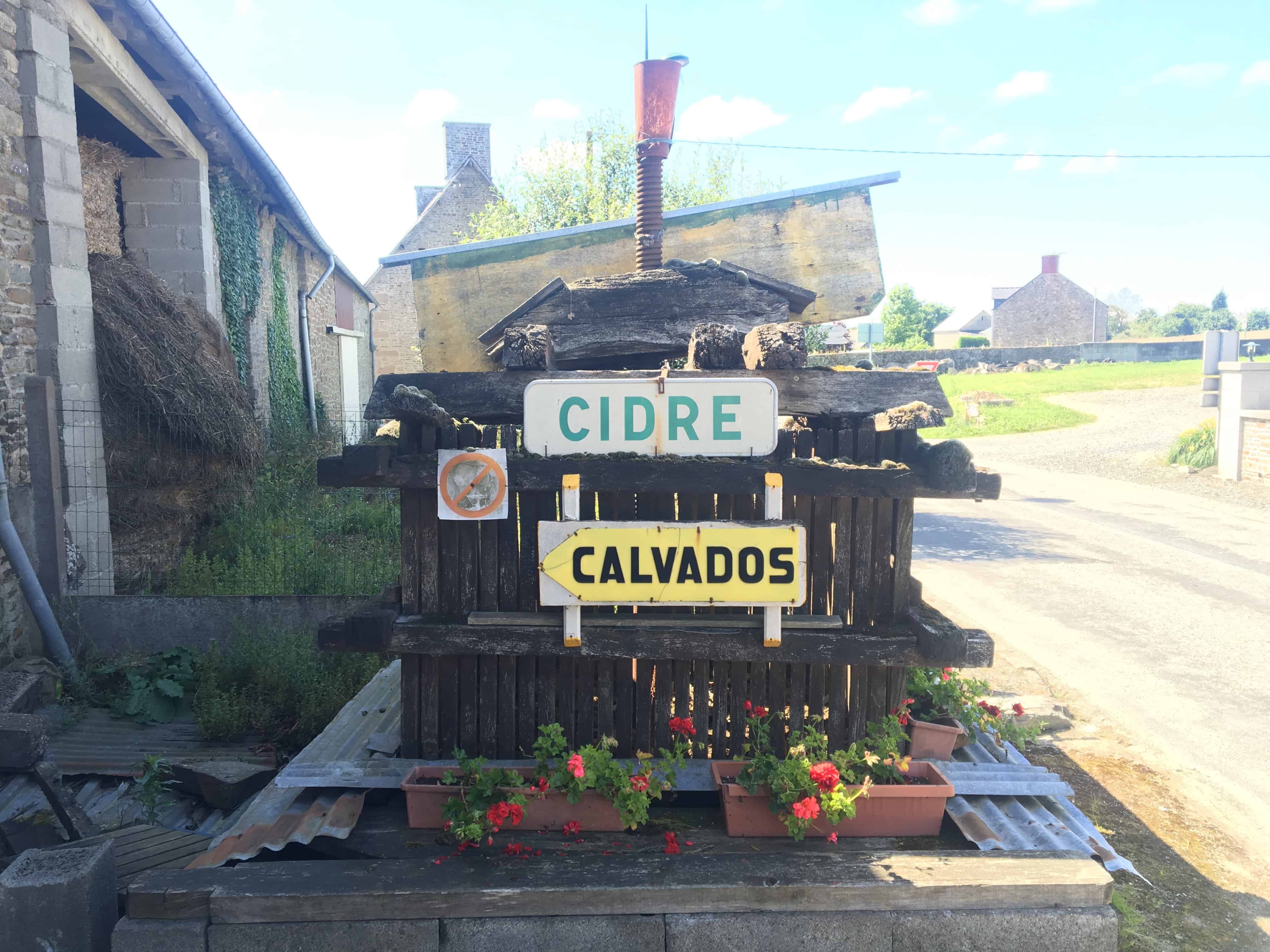 Roadside cider, Calvados and pommeau are advertised every mile or so on hand-painted signs along winding narrow roads and roundabouts. Cider-loving visitors to this lazy, forgotten land may think they have discovered the very soul of cider's attraction: a complete vacation from the hustle and bustle of productive, commercial, digital life, a place where the heart and soul are at the center of the sweet routines of daily life.
Le Cidre on the Menu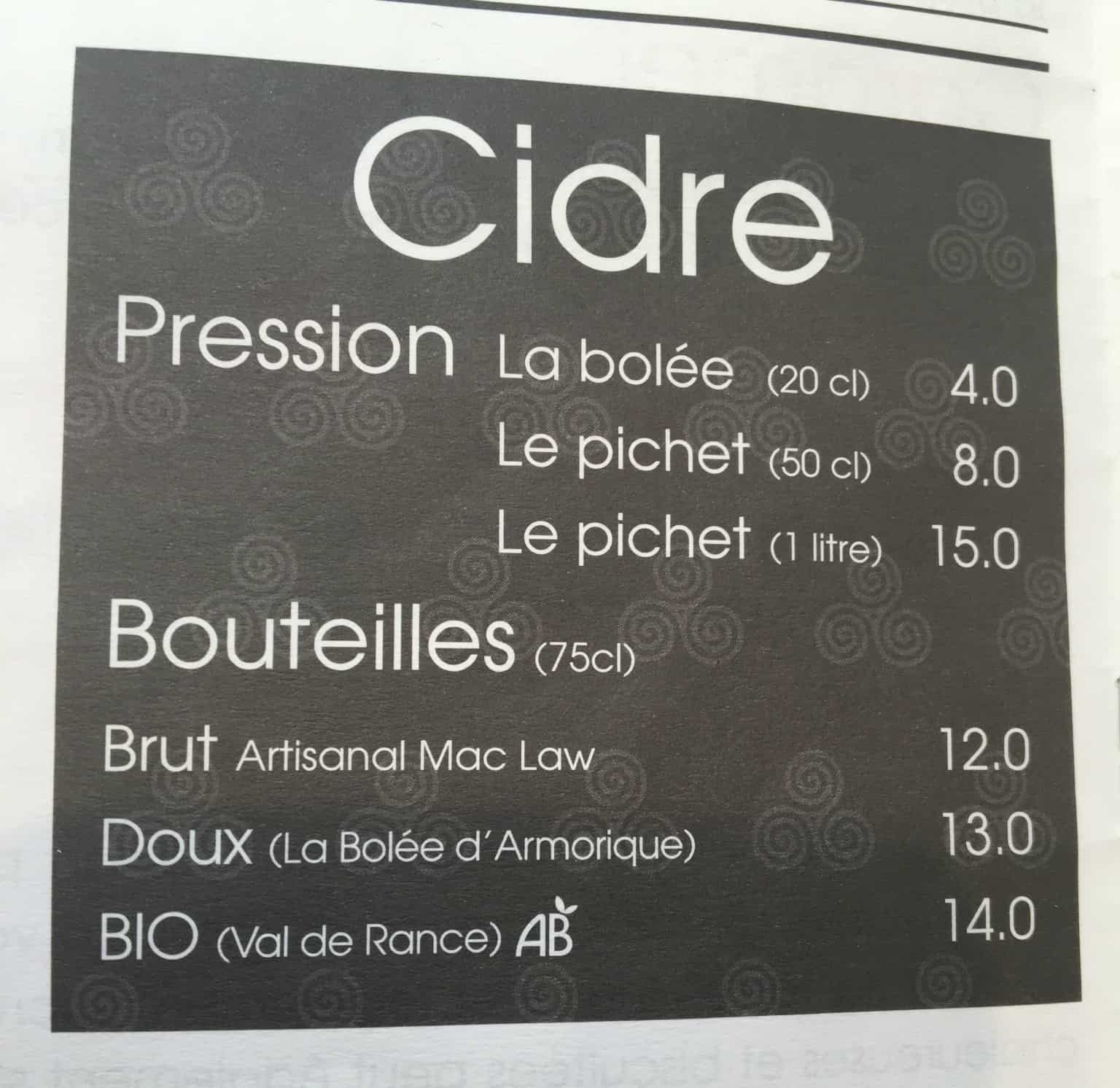 In France, le cidre is a farmer's drink and a peasant's drink. At a roadside tasting room I visited, a second-generation cider maker expressed surprise that the United States is experiencing a cider boom. Here cider is a mere step above water and is so taken for granted that rarely, if ever, is it listed among the wines on a restaurant's menu. Only in one restaurant of a dozen did I see a producer or a product title beside a cider listed on a menu. Rather, cider choices are listed as Sweet ("Doux"), Dry ("Brut") or Corked ("Bouché) or, alternatively, by serving size: bowl of cider (a large round coffee mug), pitcher of 50 centiliters or pitcher of 1 liter.
Traditionally cider is a welcome drink any time of day, often served with peasant foods such as crepes or galettes. Locals joke that they drank plenty of cider as kids and were given Calvados (apple brandy) in their baby bottles.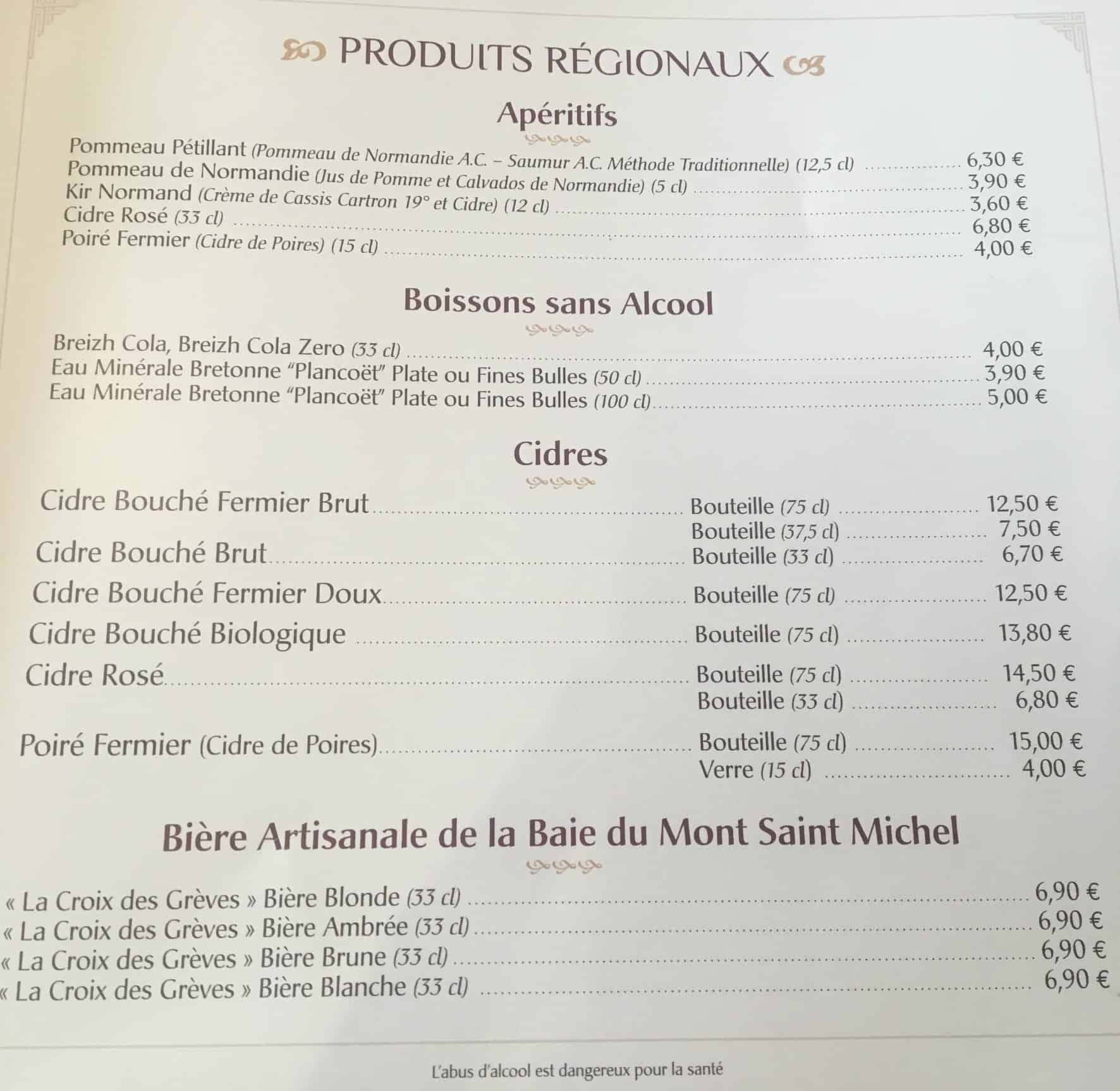 That said, if you want to know what kind of cider is being served, every small town in Normandy seems to have its own cider maker or two, and you can go to their tasting rooms or to the local wine store and buy the bottles—cheap. The typical price for a 750ml bottle of cider is about 3 Euros (or $3.32 US).
The ciders being poured in restaurants are the same ciders being poured at local roadside tasting rooms. Restaurants seem proud to offer their local ciders along with the daily menu, which is often made up of featured dishes that vary daily.
Cider Selection and Style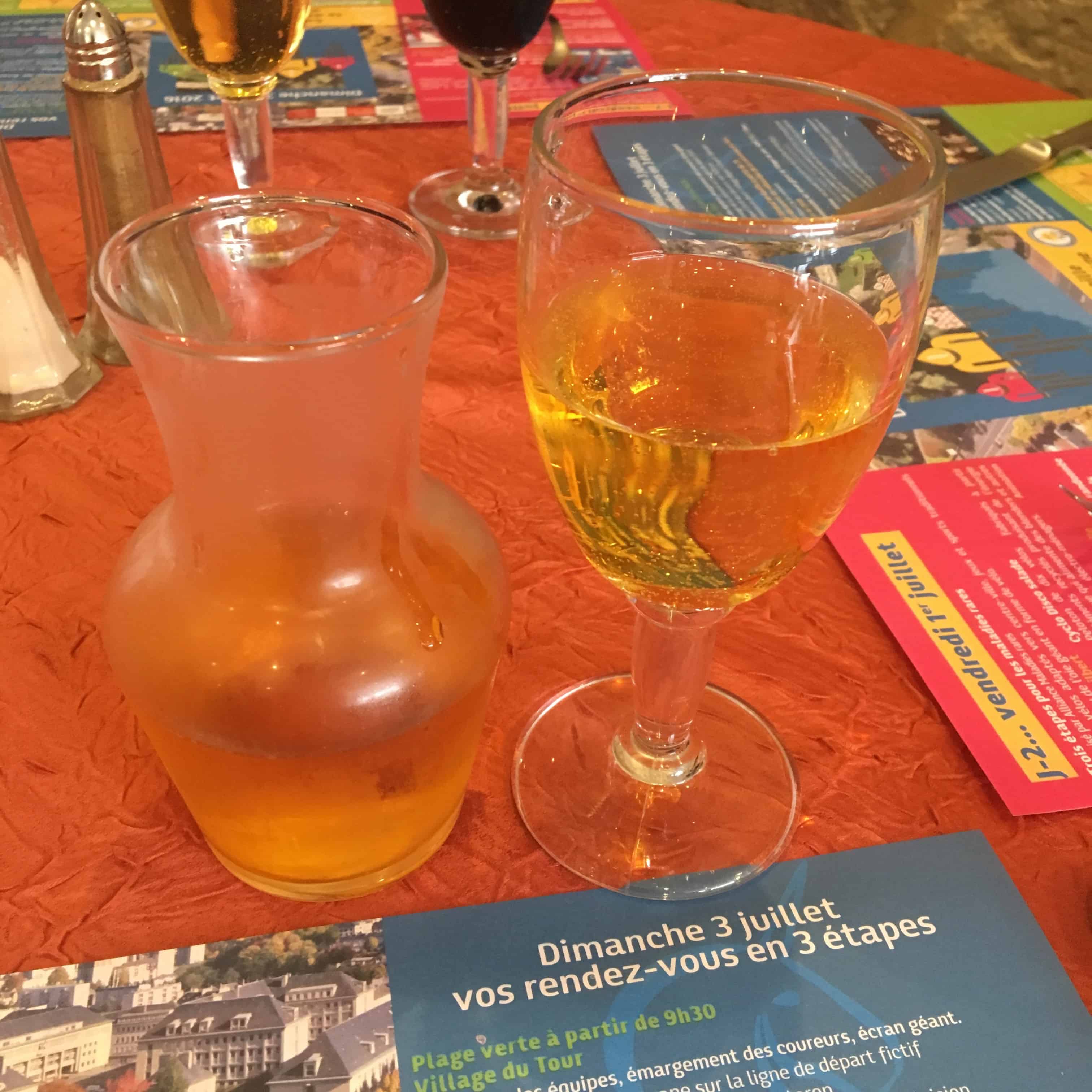 In the town of Pontorson, near the start line, there were five ciders for sale at the store called La Cave d'Éric:
Cidre Fermier (5% ABV) by Maison Le Pressoir du Mont, cider maker Philippe Lécrivain of Pontorson
Le Brécéen (4.5% ABV) Cidre Fermier du Val de Sée from the town of Brécey
Coquerel (4.5% ABV) Cidre de Normandie from the town of Milly, available in Doux or Brut
Cidre Rosé (3% ABV) (fermented from fruit of rose-colored flesh) from la Maison Ecusson, founded in 1919 in the town of Livarot
Cuvée des Druides (4.5% ABV) Cidre de Réception (Certified Organic) by Yves and Pascale Dufour in the town of Cherrueix
There was also, of course, a selection of Calvados, Pommeau (a mixture of Calvados and apple juice) and an odd beer/cider combination product called Saint-Michel Apple (4% ABV).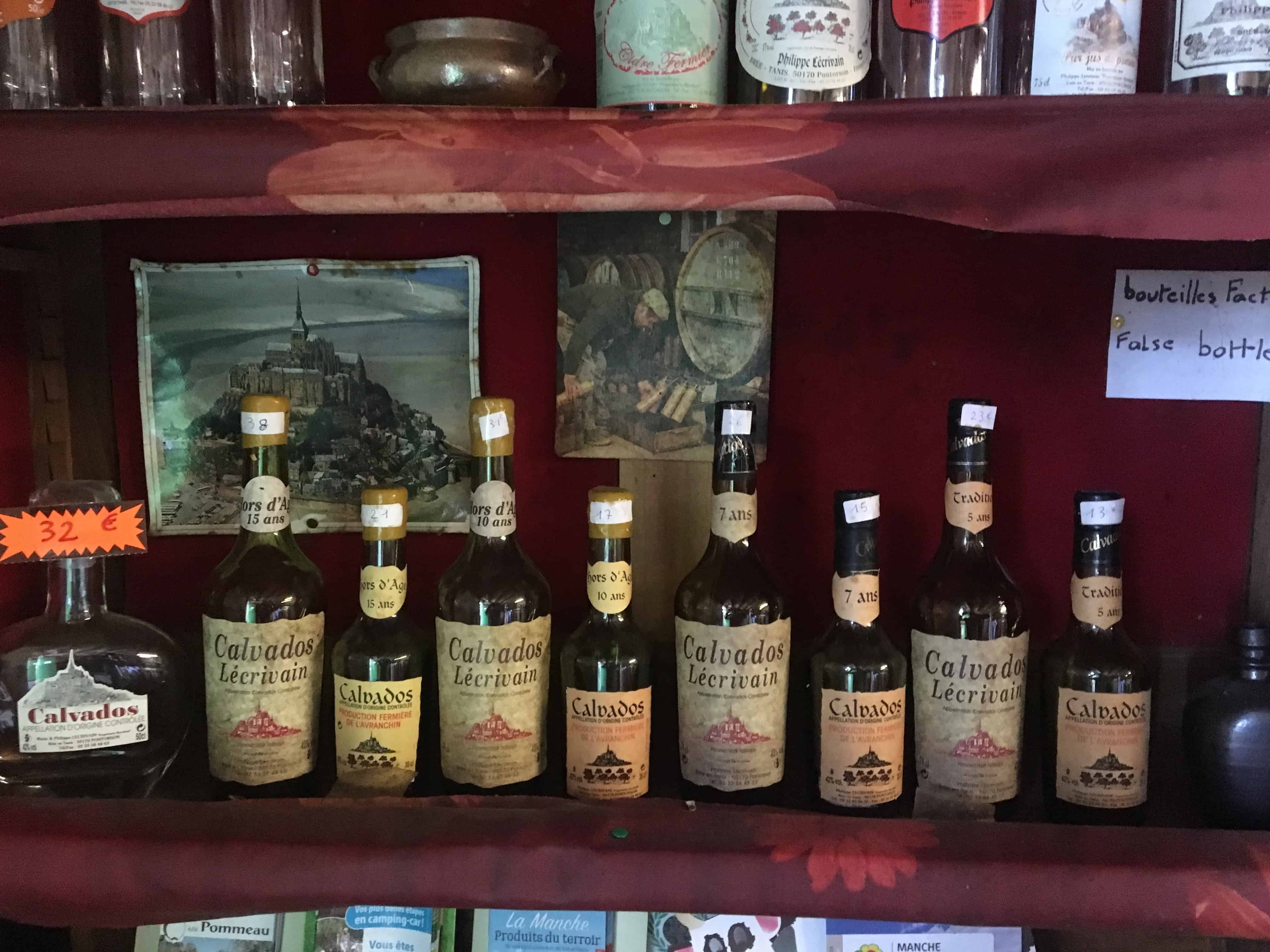 The character of ciders from Normandy does tend to differ from ciders domestic to the United States. This is largely because of the extra steps in the French cider-making process, including keeving, a natural separation step that occurs at a low temperature and very slowly in the early stages of fermentation. A characteristic sweetness was consistent in all of the ciders I tasted in Normandy.
Furthermore, there is a long history in the region of growing apples specifically for cider making (apples not good for eating raw); thus plenty are available to lend a detectable tannic flavor to the Norman ciders. Some of best performing apple varieties lately, according to local growers, are Avroles, Bedan, Bisquet, Noël des Champs, St Martin, Petits Jaunes and Moulin à Vent.
Cider and Food in Normandy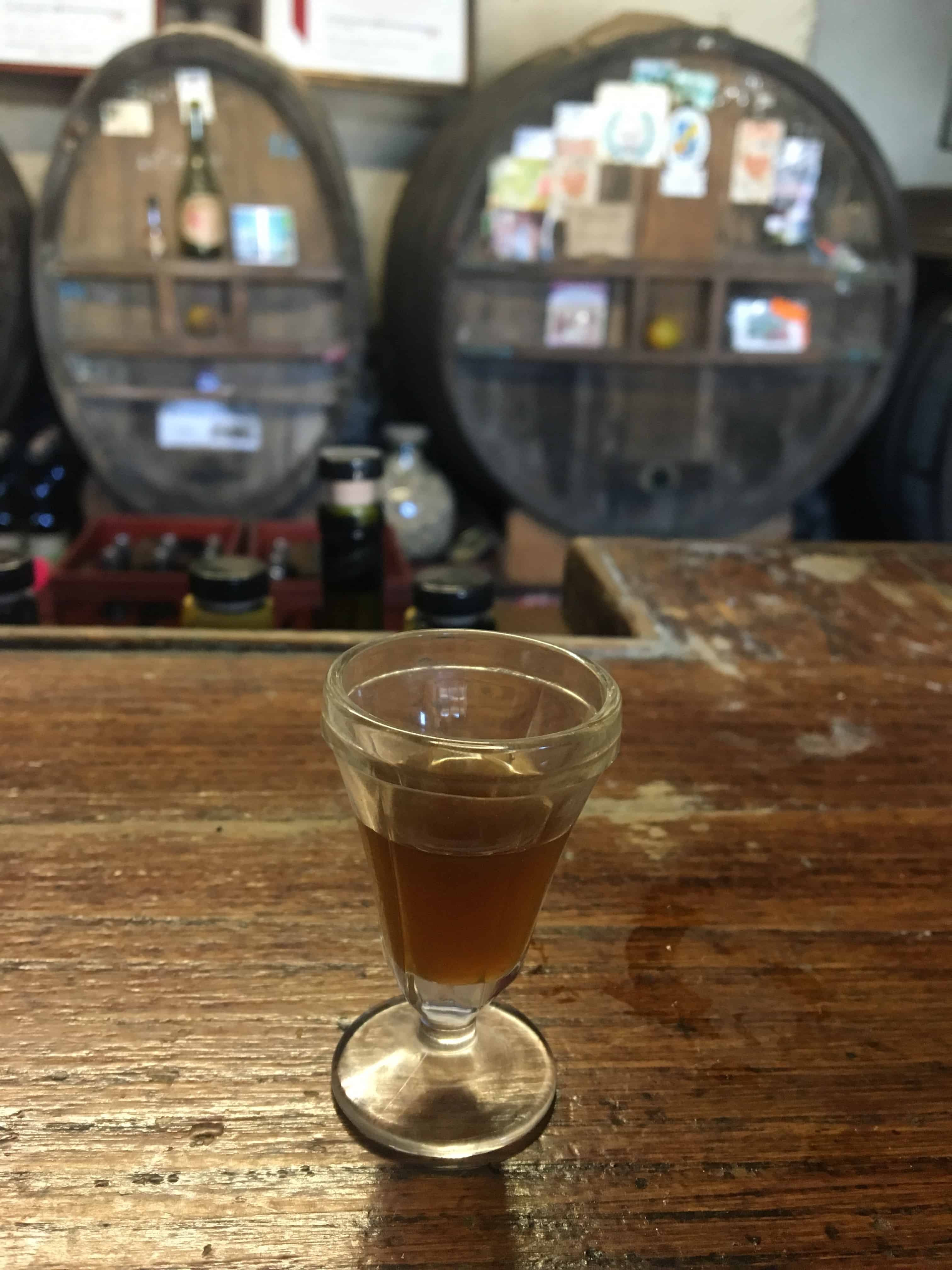 Cider-lovers who also appreciate a divine gastronomical experience will not be disappointed when visiting Normandy. Food is prepared and served with a simplicity yet attention to detail and flavor that is unlike the cuisine of North America, even at the best restaurants.
Usually, menu options are handwritten on a chalkboard and most likely include mussels and a few other fish and shellfish options. Beef entrecôte and fries are almost always available.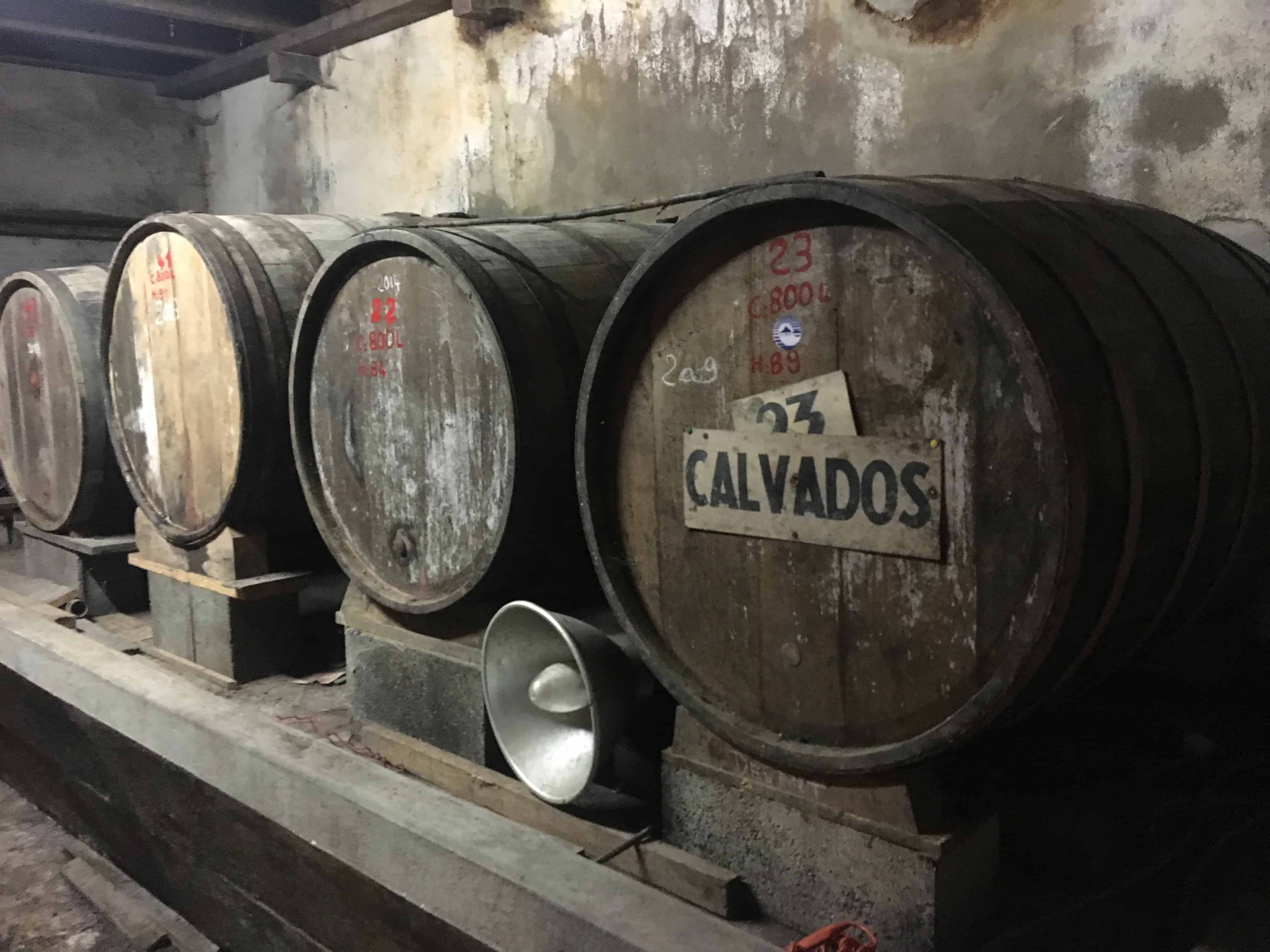 As one example of the culinary nirvana I experienced, in a small 1,000-year-old hotel in Beauvoir with just 10 tables, a plainly dressed group of five local servers fed diners unpretentious and deeply satisfying meals, among them a piece of lightly breaded "plie" fish with perfectly steamed baby potato halves and a side of diced eggplant and herbs. Such meals are perfect with the bolée of fresh cider … and then why not sit around for another hour with an espresso and a crème brulée? You might as well, because all of the stores and services are closed every day for a two-hour break over lunch.
Happily for tourists who want to enjoy such a meal, during the race most restaurants don't fill up despite the assembled fans because the French are far more likely to pack a picnic of fresh baguette and cheese.
Cider Culture and the Tour de France
Both the Tour de France and cider are intimately linked in the culture of Normandy. Shopkeepers have painted their store windows with images of racers bearing bottles of cider tied to their backs. Locals turn out in droves to cheer as the cyclists pass each small town.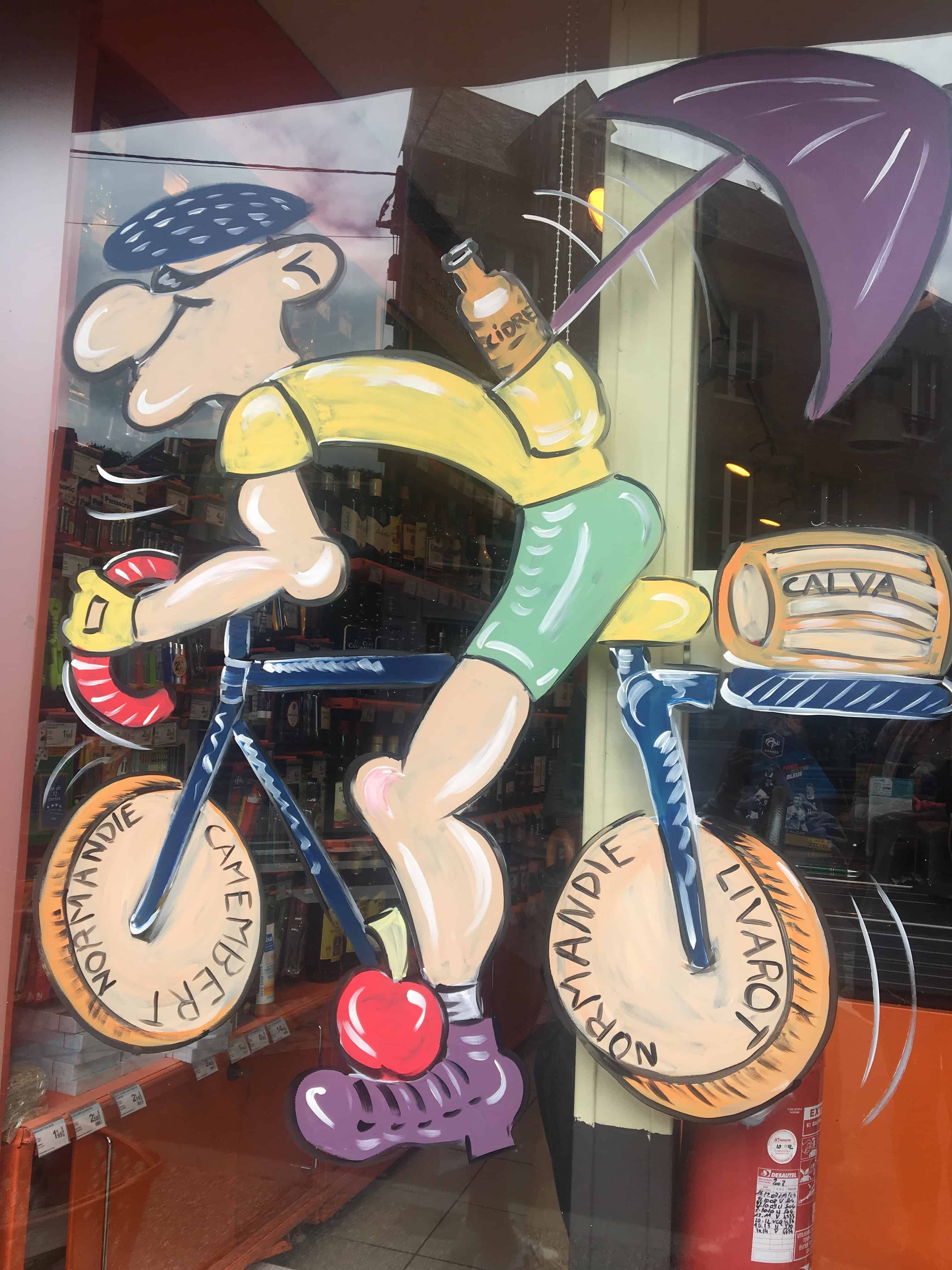 For cider lovers who may want to enrich their knowledge of the Tour de France, it is a complex and impressive sporting occasion, with many fine points to learn and follow. The cyclists ride at the most 232 km (144 miles) per day, for a total ride of 3,519 km (2187 miles). Each day there is a stage winner and winners in other categories, including best climber, best sprinter and best young rider. On the following race day the best climber wears the famous red polka-dot jersey. The best sprinter wears the green jersey. The best young rider gets to wear the white jersey. The yellow jersey is worn by the cyclist who has the best overall accumulated time for all the stages.
To our friends in France, whether they are celebrating the Tour de France, mourning the fourteenth of July or just breaking bread in the park, we share a deeply heartfelt, "Bon appetit!"
For more information about the rich history of cider making in Normandy, visit the website of the Normandy Cider Association.