As 2017 unfolds, cider is getting closer to becoming a staple beverage alongside beer and wine, and it is also receiving creative treatment in unexpected directions. New cider companies are cropping up almost daily, and others are transitioning as the industry matures.
Also continuing to "trend" this year are women cidermakers. In honor of Women's History Month, we went straight to four women in the hard cider industry to find out what inspires them about their field and where they're headed in 2017. Read on: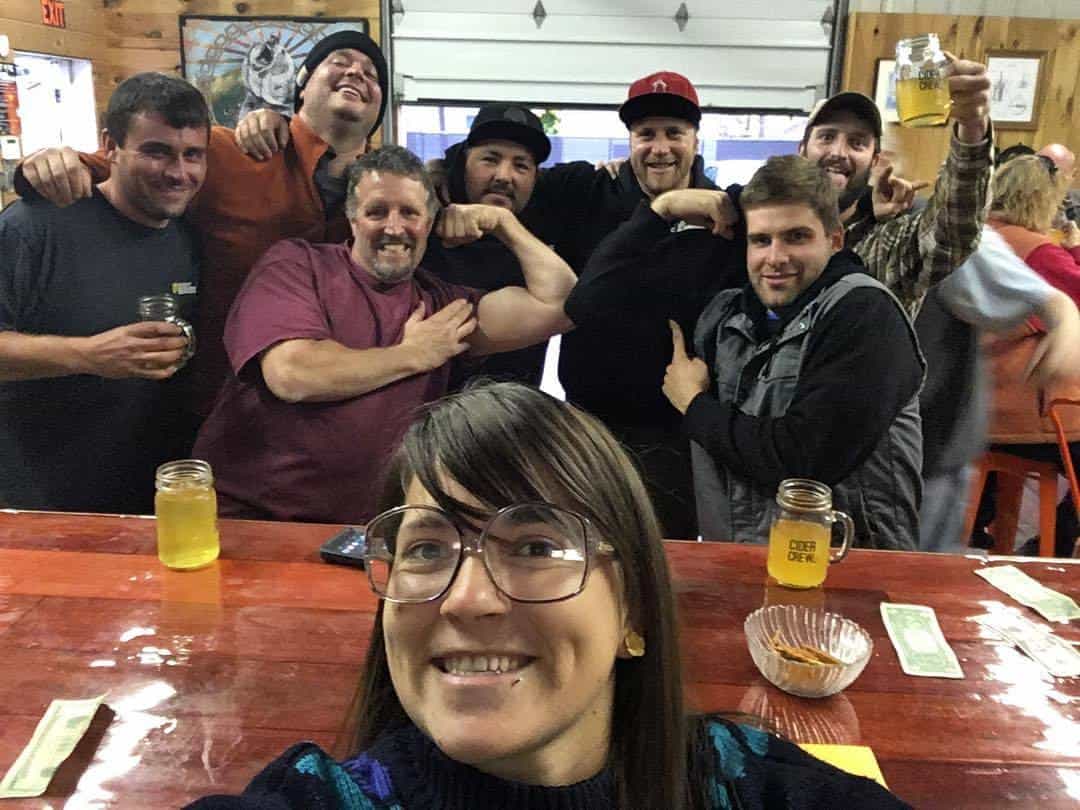 For a taste of fun, outlandish and outside-of-the-box cider style, you must visit the website of Original Stump Blower (OSB) Ciderworks, an upstate New York cidery. (You also need to find out exactly what that name means!)
We recently talked to Elise Barnard, CEO of OSB, to ask her about what is currently exciting her in the cider industry. Elise, a graphic designer who went to pastry school before jumping into cidermaking, shared, "The thought that the possibilities are endless is extremely exciting. I'm sure that's true in most crafts, but I truly enjoy that we are making fun, tasty ciders that people love, and in turn we get to come up with sweet names and cool graphics that go along with it."
Elise started OSB with her brother, Eric Smith, just one year ago. As the cidery moves into spring 2017 it will be offering six different original ciders and is now on tap at more than 42 restaurants and bars. "So far, my new favorite is the Matcha Man Apple Savage, which is a matcha infused cider," Elisa revealed. Later this year, Original Stump Blower will be hosting a Memorial Day patio cider party, with music and other twists. Stay tuned for more details!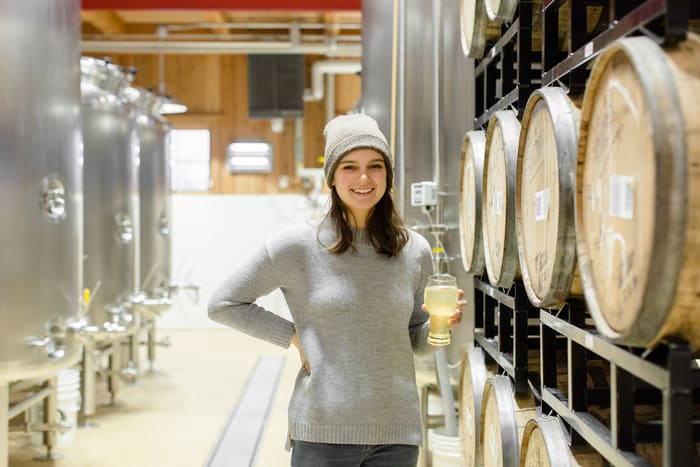 We asked Elyssa Bowen, a cidermaker at Angry Orchard, where she thinks the craft is headed this year and beyond. "With its huge growth in recent years, we're seeing cider get closer and closer to being a staple at your favorite bar or at home at the dinner table, sitting in its rightful place alongside craft beer and wine. As the category matures here in the United States, we're also seeing more diversity within the category, from style—dry, sweet, made with unique ingredients—to where cider is being produced and where apples are being sourced. We expect these trends to continue."
Elyssa shared that Angry Orchard is currently blending ciders from the 2016 harvest and finishing ciders that have been aging in its new barrel room. Many of these ciders will only be available at the Angry Orchard Cider House, so If you're thinking of making a roadtrip to the Hudson Valley, the next few months would be a great time to do so!
In conclusion, Elyssa offered these tips to other women who want to take on cidermaking: "Don't be afraid to get your hands dirty, literally and figuratively. Cidermaking is hard work, but it gives you an opportunity to be creative. It's important to have passion for all the things that go into cidermaking, glamorous or not, from pressing apples and moving hoses around the cider house to blending new ciders and coming up with incredible pairings."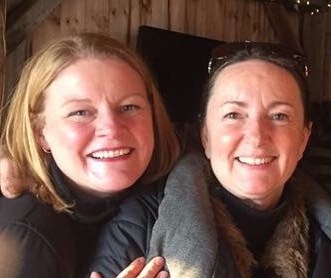 This article ends with a tribute to Jenifer Dean and Dannielle Davidson of County Cider that was originally requested by Grant Howes, known as the "Grandfather of Cider" in Ontario, before he unexpectedly passed away on January 21, 2017, at the age of 60. Late in 2016, Grant reached out to Cider Culture because he wanted his wife, cidermaker Jenifer, and Dannielle, production manager and cidermaker, to be celebrated for their knowledge and significant contributions to the field.
We at Cider Culture are moved to have experienced a small example of Grant's warmth and generosity in his brief correspondences with us, and he left us with a glimpse into the life of these two strong women, who are now, more than ever, hard at work to keep production moving forward at County Cider, even amidst the backdrop of grief and loss.
Jenifer and Grant started making cider on their family farm in Waupoos in 1995, on a property where apple orchard farming goes back to the 1850s. Growing specialty cider apple varietals and expanding production for the last 20-plus years, Grant also was renowned for battling regulatory barriers on behalf of the entire Ontario cider community. County Cider was able to add Dannielle to the team in 1997, and she has built her career there, with periods away for adding to her education and for travels that expanded her palate and vision. Together this team made County Cider the most award-winning cidery in the province, with a line of products that includes traditional, semi-sweet, sparkling, sweet-sparkling, ice cider, flavored, organic and nonalcoholic ciders.
Dannielle is a biotechnologist who is relied upon at County Cider for expertise in grafting, biodiversity, chemistry and lab analysis, while Jenifer is taking over both the corporation and the estate farms. Grant had several innovative projects underway in his orchards at the time of his passing, and the ladies are committed to seeing these through to completion. Visit them this spring, if you can get to the region, and show your support for their impressive dedication to the craft.
***
Are you a woman making a splash in the hard cider industry, or know someone who is? Contact us at info@ciderculture.com and tell us more!