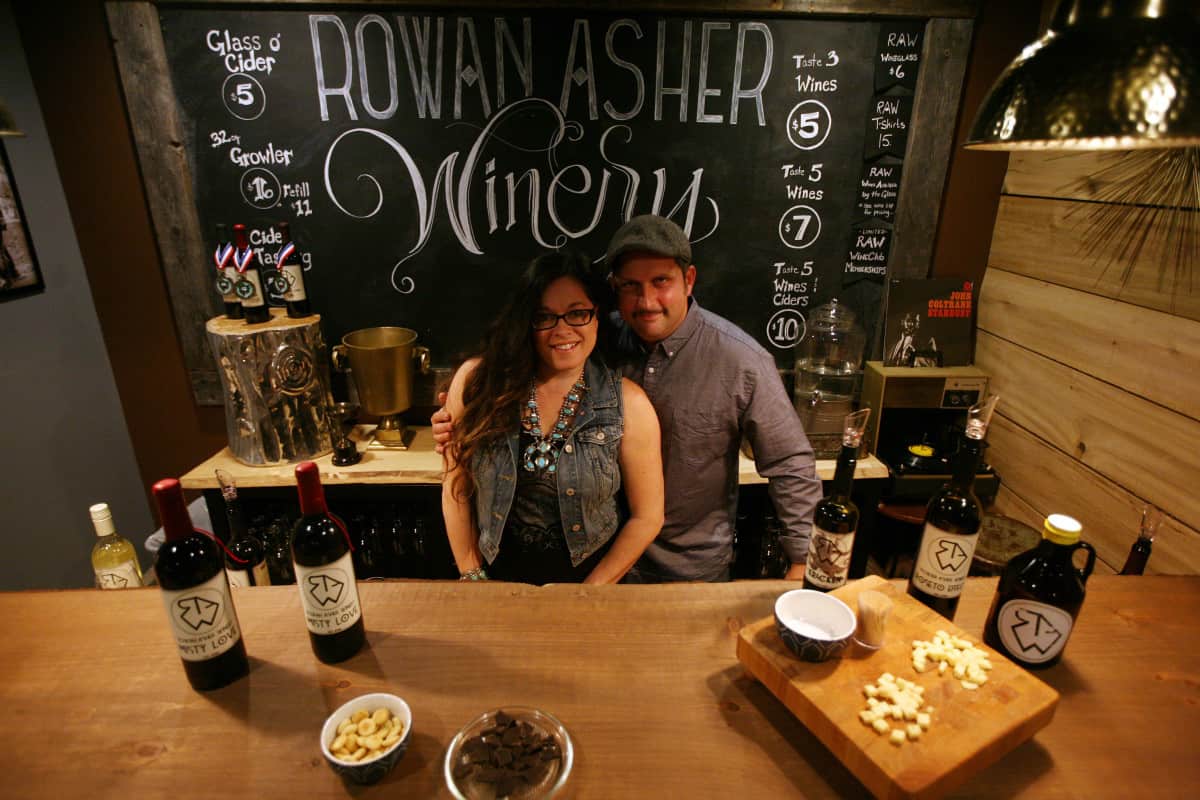 The Pocono Mountains have always been a well-loved destination in Pennsylvania. The state also has the distinction of being the 4th largest producer of apples nationwide. Combine these elements with an enthusiastic entrepreneurial couple who have been making wine for more than 17 years and you have the beginning of an incredible cidery story.
About an hour from New York or Philly, this artisan micro-winery/cidery idea of hard cider makers Misty Stallard and husband Matt is beginning to branch into a veritable orchard of complex but oh-so-tasty blends of earthy ciders.
Rowan Asher Winery (RAW) has recently (as in seven weeks ago) opened a wine and cider tasting bar on the earth-friendly property where they produce six flavors of wine and four versions of hard cider only using fruit from sustainable farms within the state.
We asked Misty 15 questions on the cidery aspect of the business. It was obvious that this couple supports a back-to-nature approach and is truly passionate about sharing everything cider (affectionately known as, ahem, "cider culture") with the community.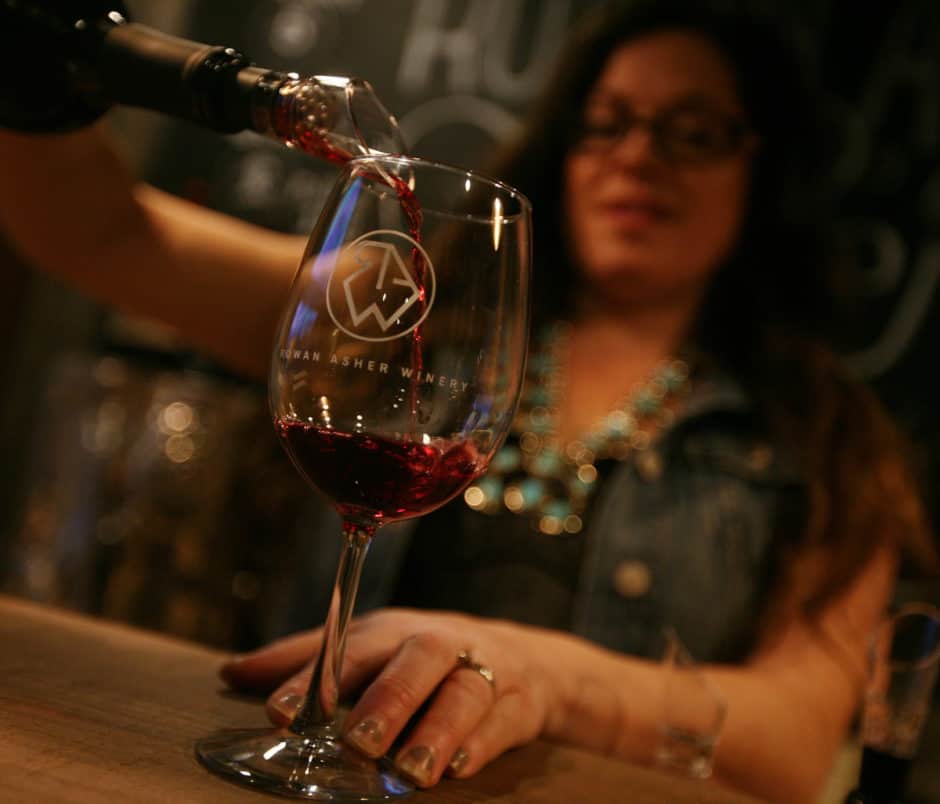 Cider Culture: After several years of producing wine, what made you opt into the world of cider?
Misty Stallard: It's so exciting and different from doing the wines. It has a wonderfully old-fashioned appeal. Early settlers in this country drank cider. It was their water. By using native plants, we can keep the wholesomeness that is important to us. We wanted to continue to tap into utilizing local sustainable farms for our indigenous fruit supply.
How long have you been making cider?
We've been making cider for just over a year. We're very satisfied with the results and can't wait to experiment with future blends.
You favor using blends with local herbs. Why is that important to you?
It's a given that herbs, berries and flowers have an inherent medicinal value. We wanted to incorporate and infuse the earth-grown flavor naturally into our ciders. It just makes sense to us.
Can you describe the current ciders on your roster?
Indian Head

presents a funky semi-dry infused sip with organic chamomile and is named after 

a favorite hiking spot of ours

in the nearby

Delaware Water Gap.

Sweet Gypsy

is a semi-sweet blend with cranberry and infused with organic hibiscus for a tart carbonated sip of bliss.

Oakey O'Shea

evokes a semi-dry taste that's been aged a bit in whiskey barrels for an oaky mid-palate treat that's infused with a kiss of sweetness using Pennsylvania maple syrup.

Pocono Mule

, recently added to our lineup tjhree months ago, is our take on the popular

Moscow Mule

. We use a blend that includes fresh ginger and lime for a refreshing gulp of goodness.
What makes your cider stand out from the competition?
We aren't national so we don't have tons of competition. Especially in this location in the Poconos. You'd have to get to the Doylestown area to find our nearest cidery neighbor.
Using our crafted artisan flavors with local fruit, of course, is a standout. No sugar is added and of course the cider's gluten free element is attractive. Also, using barrels to ferment the ciders is a time-honored way to take the taste to a deeper, richer level.
Who do you see as is the customer of RAW?
Enthusiasts who want a product that is local, sustainable, without the added sugar and that tastes really good! Hence the acronym RAW. People that are into experiencing cider culture and want to be on the cutting edge of this trend. We enjoy sitting down and relishing the company of our customers, whether it's solving the world's problems, just hanging out listening to music, watching the kids play or simply discussing the process that is cider. We also get a thrill from watching our customers repeatedly fill their growlers.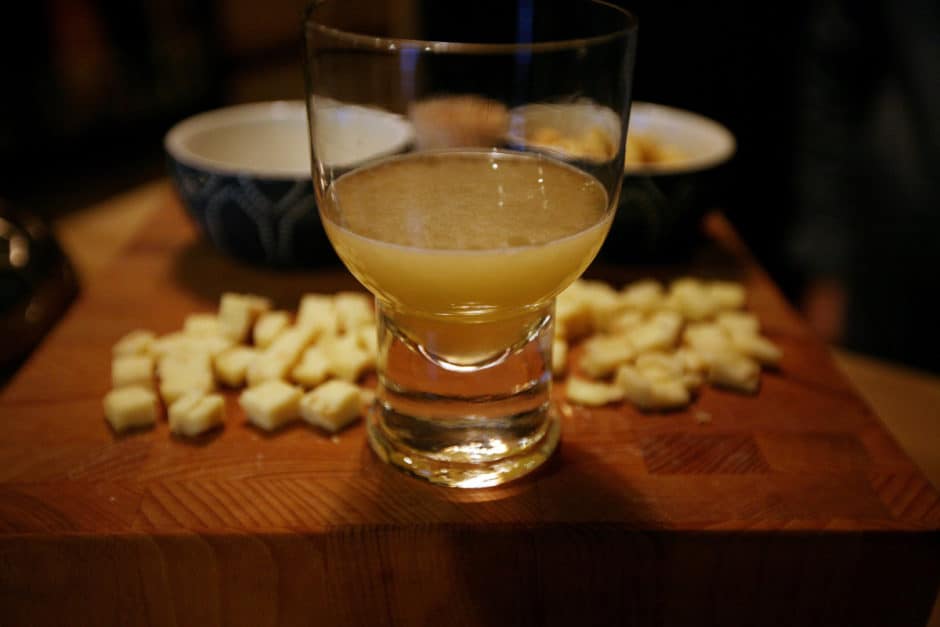 The tasting bar opened at the end of October. Tell us how that came about?
Envisioning a place where we could sit and chat with our customers was paramount, but we also wanted to have a location where we could promote the education of cider. We used several poplar trees on our own property to frame out the walls of this cozy 26×14 space. Going for an inviting rustic feel similar to an old barn, we installed a thick pine bar top with some old barn wood for the facing. It was a real family affair to pull this together. We accessorized with succulent plants and created an eating area for snacks. We've also incorporated an outdoor "courtyard" with a heater to take advantage of the natural surroundings.
We know your fruit is locally outsourced, but where do you actually process the cider?
We have a separate warehouse on the property. We're very excited to offer wine club memberships where people can join us in the warehouse and be involved in creating small batches of cider as well as assisting us with blending.
Do you drink other cider makers' products?
Absolutely. I've enjoyed getting down to the Gettysburg area where wonderful cideries are growing at a much quicker pace than here. It's great for invoking inspiration for us. I love seeing, tasting and most importantly supporting other cideries and the culture, too.
What do you find the most challenging in the production process?
We already have the wine-making fermentation process behind us, so using those skills and having a shorter process for ciders make the challenge seem minimal. It's interesting to use ciders as a base for others and fermenting at different intervals of time using bottles or barrels. I think it's easier than the wine process.Cider ferments in a much shorter time frame than wine, which is advantageous to get the product into the hands of the customer more quickly. There's always some level of struggle in creating successful blends, but we love the creative process that entails.
As a consumer, is there a science to tasting or enjoying hard cider?
Sight. Color. Clarity. Aroma is important as well. That's where the addition of herbs comes into play with our product. Commercial brands seem to be sweet immediately, unlike ours, which allows for a fuller, richer taste. It doesn't kill the palate right away.
There are no real cider standards established yet like with wine or even craft beer, so it's pretty open-ended with regards to taste. The customer just needs to try it. Sometimes, that can be a hurdle unless they just relax and enjoy it.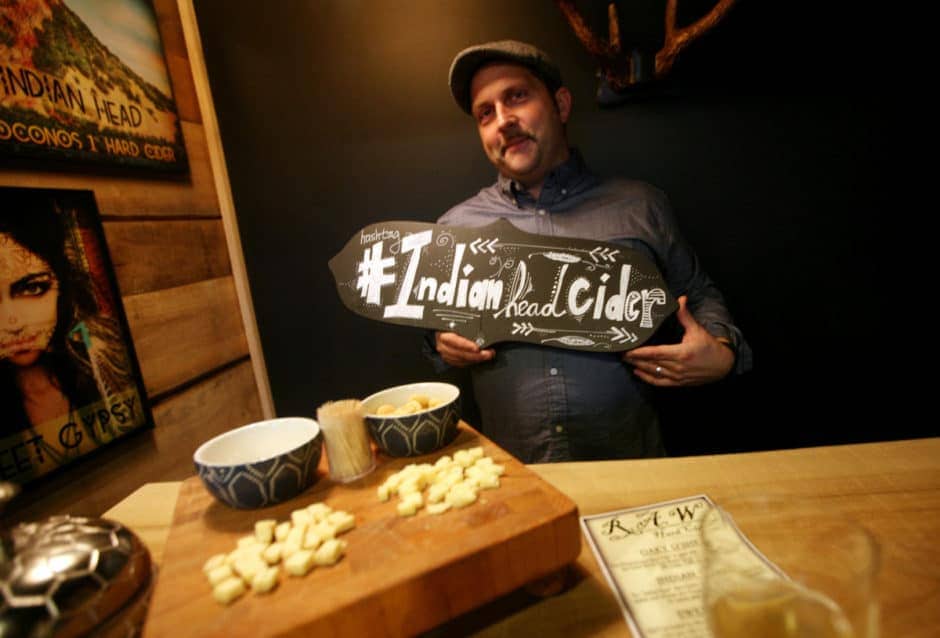 Any food pairing tips?
Once the weather gets warmer, we're contemplating a few food truck visits to give our customers some creative food-pairing options. For now, we enjoy breaking out the Indian Head with pulled pork or a pork loin stuffed with bread, pine nuts and cranberry. Chocolate brownies with walnuts go well with our oak-based cider. The possibilities are endless.
Do you have a level of distribution outside of the Cidery itself?
We're trying a few of our wines and ciders on tap at local restaurants. We've created specific blends for them to try. That program seems to be going well.
Do you find cider makers to be a cohesive or more of a competitive group?
Not competitive at all with wineries or cideries. Recently, at the Lehigh Valley Cider and Wine Festival, we met some great enthusiasts. We learned so much and met some great cider experts. Education is essential. It was fun to see the different phases and timelines of others to compare with our own business. We also love sharing the same ideas and passions with other cideries.
Do you see any cider trends regarding demographics or the growth of hard cider in general?
Specifically with RAW, our customers thank us for bringing cider culture to the Pocono area. We are no longer known as just the "honeymoon capital' from earlier decades. I'm also a believer in the saying, "When times are bad. People drink. When times are good. People drink." Our demographic here seems to gravitate to the under 30 crowd for now. Again, it's a matter of getting people to give cider a go. We're making strides week by week, and we're really enjoying this experience.
Here at Cider Culture, we can think of bushels of reasons to hang out in the breathtaking Pocono Mountains with the hiking, camping, fishing, skiing, sightseeing and now cider sipping. Enjoy some of this liquid gold with friends at one of RAW's happy hours or special events on their website.
Find Rowan Asher Winery at 103 Gypsum Road in Stroudsburg, Pa.; phone: (570) 350-2697.