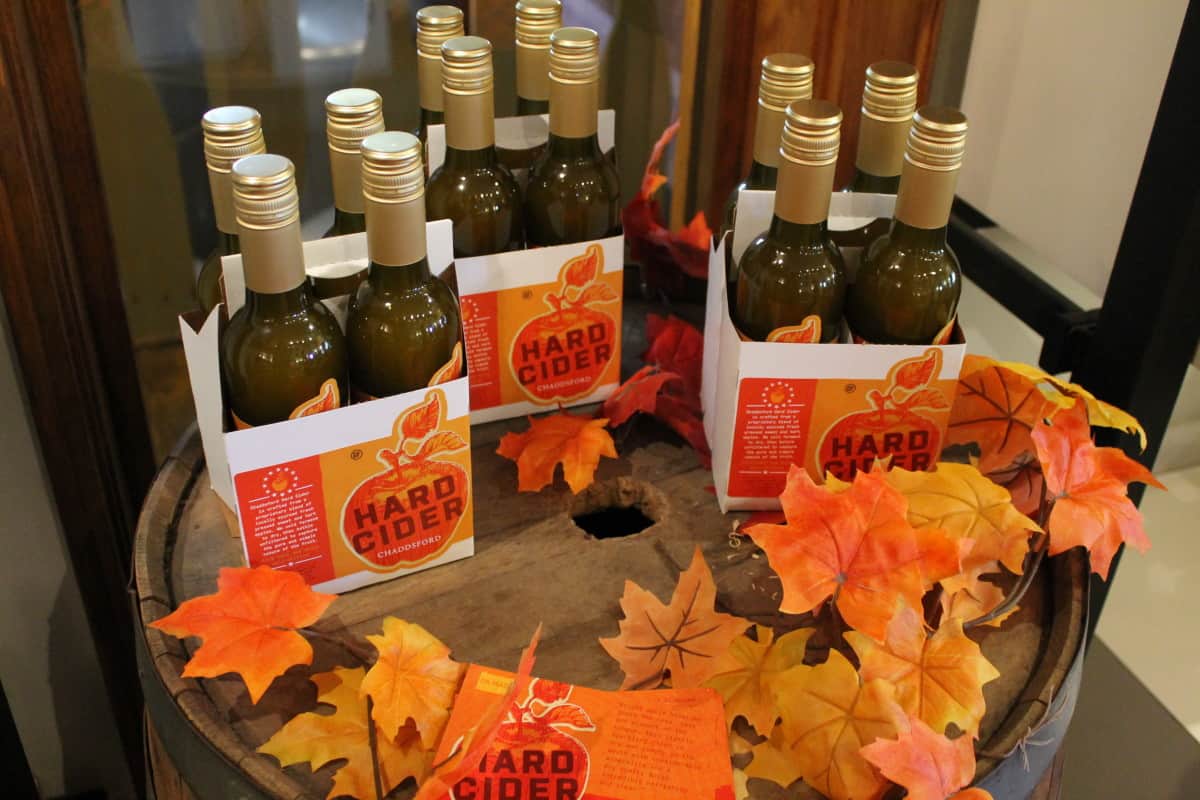 "This is beautiful country," boasted Chaddsford Winery's resident wine, and now cider, expert Jim Osborn. Rolling hills, fertile farmland and strong stone dwellings are all nestled deep in the heart of Chester County, "and [we're] just a stone's throw away from the historic Brandywine Battlefield. Our nation's founding colonists lived and worked in these parts hundreds of years ago."
With acres of apple orchards growing prodigiously in the Brandywine Valley, these early settlers from England also brought the knowledge with them to make good tasting cider—creating a flavor that was crisp, wholesome and simplistically authentic.
Pouring award-winning artisan and varietal wines since 1982, Chaddsford Winery continues that tradition of authenticity with its inaugural entry into the booming world of craft cider. It's no coincidence that the dry and unfiltered nectar's matter-of-fact name is quite simply Hard Cider.
We asked Jim a few questions on the winery's newest successful venture, which has come rapidly out-of-the-gate with positive reviews and is well on its way to becoming one of the premier hard ciders born in the Keystone State.
Cider Culture: When did Hard Cider make its debut?
Jim: Here at the winery in September 2014. We eventually introduced it as a tapped keg at 2nd Story Brewing Company in Philadelphia last June.
With so many wineries jumping into the cider ring these days, what makes Chaddsford's Hard Cider different from other ciders?
Once I decided to go forward with the project, I did some research on the origins of cider in America. I choose to replicate the colonial style of the cider by simply fermenting the juice from fresh-pressed apples to dry and using the natural sugar of the fruit with just a pinch of dark brown sugar to balance the acid to infuse the slightest hint of caramel. I selected dark brown sugar because it reminded me of my Mom's simple baked-apple recipe.
I allow the finished cider to gently settle for two weeks to remove the gross sediments and then bottled it unfiltered to capture the fresh flavors of the fruit. I recommend a quick shake of the bottle prior to drinking to stir up the remaining sediments. Any remaining trace of carbonation is strictly the by-product of fermentation.
Where do your apples come from?
I get fresh-pressed cider from a proprietary blend of sweet and sour apples grown in Pennsylvania.
Did you have to purchase additional pressing and fermentation equipment?
No, and that's one of the beauties of this product. I'm able to utilize our equipment during what would normally be down time for winemaking.
How long does the apple-to-bottle process usually take?
Approximately six weeks from receiving juice to bottle.
Tell us about this state-of-the-art screw cap you use on your bottles, and why is it so important to your product?
Since capturing the freshness of the cider is so important to me and, more importantly, to our customer, I found a screw cap that contained a liner that seals the rim of the bottle from the inside out. This forms the equivalent of a double o-ring type seal. This also allows the customer to easily reseal the bottle for later use.
Do you find the cider customer to be different from the wine drinker?
Interesting question. I believe that since our Hard Cider is virtually dry and has no added carbonation like many commercially available ciders, it appeals to wine drinkers and non-wine drinkers alike. We have found that craft beer consumers in particular enjoy it, which gives us a toehold in that booming market.
How many gallons of Hard Cider did you produce last year? Plans for 2016 production?
We did just under 2000 gallons in 2015 and project to double that figure for 2016. We offer Hard Cider in 375ml bottles, 750ml bottles and sixtel kegs.
Any plans for new blends?
Not at this time.
Where can we get our hands on some of this fresh-tasting stuff?
It is currently available here at Chaddsford as well as our location in Peddler's Village, Acme Markets and on tap at local Wegmans Pubs. It can also be found on tap at an expanding number of bars and restaurants in the Philadelphia area and can be ordered on our website.
In addition to being a great sip on its own, we think Chaddsford Winery's Hard Cider would be the perfect product to use in a cocktail or a food recipe. Any suggestions?
I liken our Hard Cider to unsweetened iced tea giving customers free range with their imagination. One could simply add flavored honey and ginger ale or infuse it with hibiscus along with cranberry juice for a cocktail. For my Super Bowl party, I marinated baby back ribs in Hard Cider prior to braising. Of course, using it as an addition to chili or soup is a no-brainer.
Winning a gold medal at the 2015 International Craft Competition, Hard Cider has a distinct fresh-apples aroma with an amber presentation. Consider it an easy (gluten-free) crowd pleaser that can pair well with a smooth Camembert cheese or a light poultry dish and can hold its own with a hearty winter stew.
Find Chaddsford Winery at 632 Baltimore Pike in Chadds Ford; phone (610) 388-6221.
Photo of Jim Osborn: Chaddsford Winery