Quebec City may not seem like an obvious cider destination. When most people think of our northern neighbor, it's most often for its freezing cold winters. If you have enjoyed ice cider, you may already know that this region is internationally known for producing award-winning ice ciders as well as being among North America's most talked-about foodie destinations.
Fun facts: The ramparts of Quebec City are the only fortified city walls in the Americas north of Mexico that still stand, and Quebec is the oldest city in North America with a French-speaking population. Also of note—the legal drinking age in Canada is 18.
First, Some Useful French Terms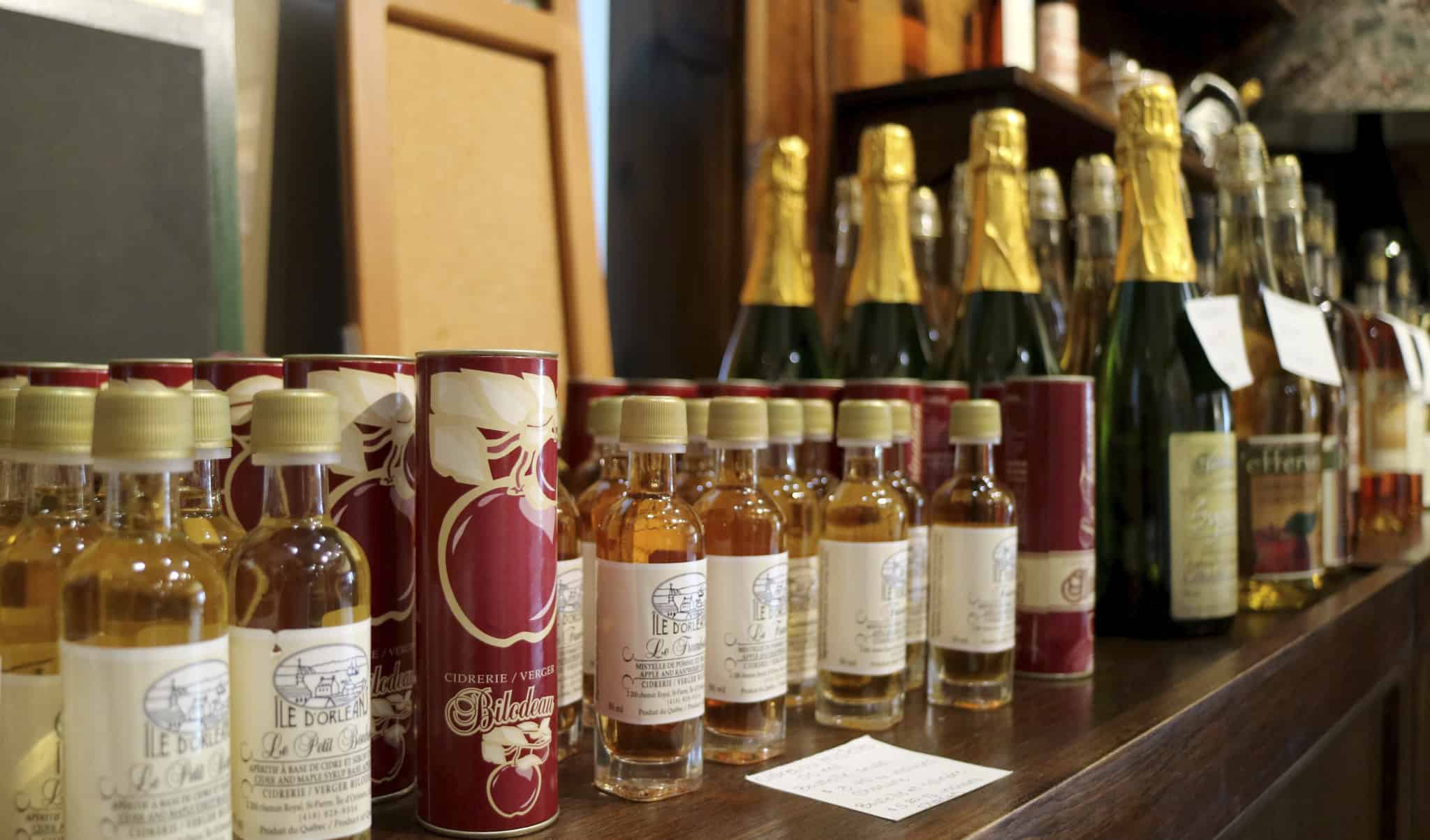 Cidre: not a typo; this is "cider" in French!
Cidre Brut: a strong, dry cider with more alcohol, typically over 5% ABV
Cidre de Glace: ice cider
Cidre Demi-Sec: less sweet than Doux, with slightly more alcohol, typically 3–5% ABV
Cidre Doux: a sweet cider, usually with lower alcoholic content
Degustation: tasting (Cidre Degustation would be a flight of ciders)
Érable: maple
Mistelle: an alcoholic drink made by blending brandy with juice or slightly fermented cider
Pétillant: slightly sparkling (carbonated)
Poire: pear
Pomme: apple
Accommodations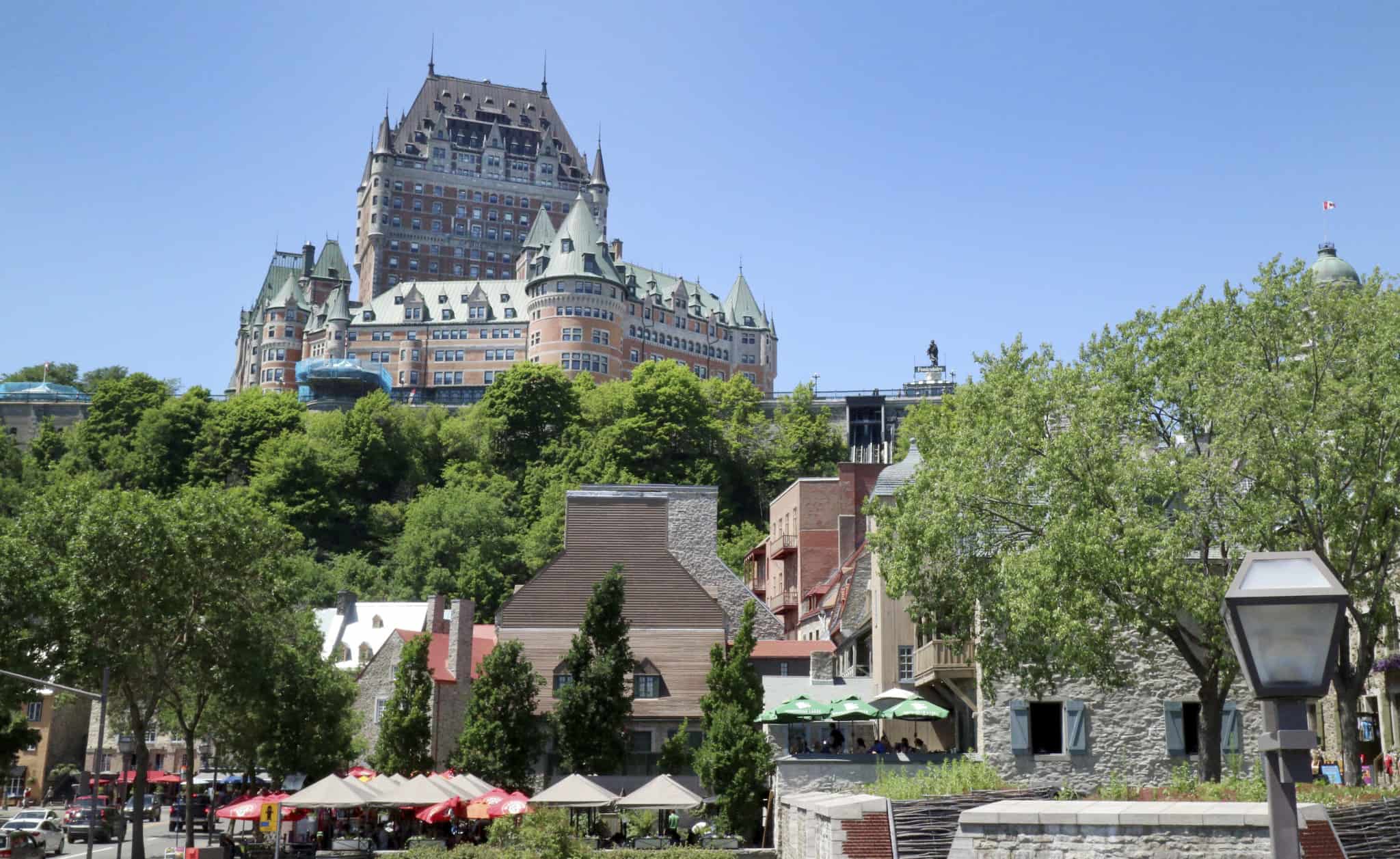 For this cider journey North, our lodging was at "the most photographed hotel in the world," the iconic Le Chateau Frontenac. Some of the features of this beautiful, luxurious hotel that are sure to attract cider travelers include the Elixir Ice Cider Exfoliation and Massage in the spa as well as the custom ice ciders and cider cocktails offered in the bars and restaurants at the castle-like property. Our concierge Iris shared her local cider knowledge and helped us find the city's unique cider destinations. 1, rue des Carrières, Ville de Québec, (418) 692-3861 
Dining in Quebec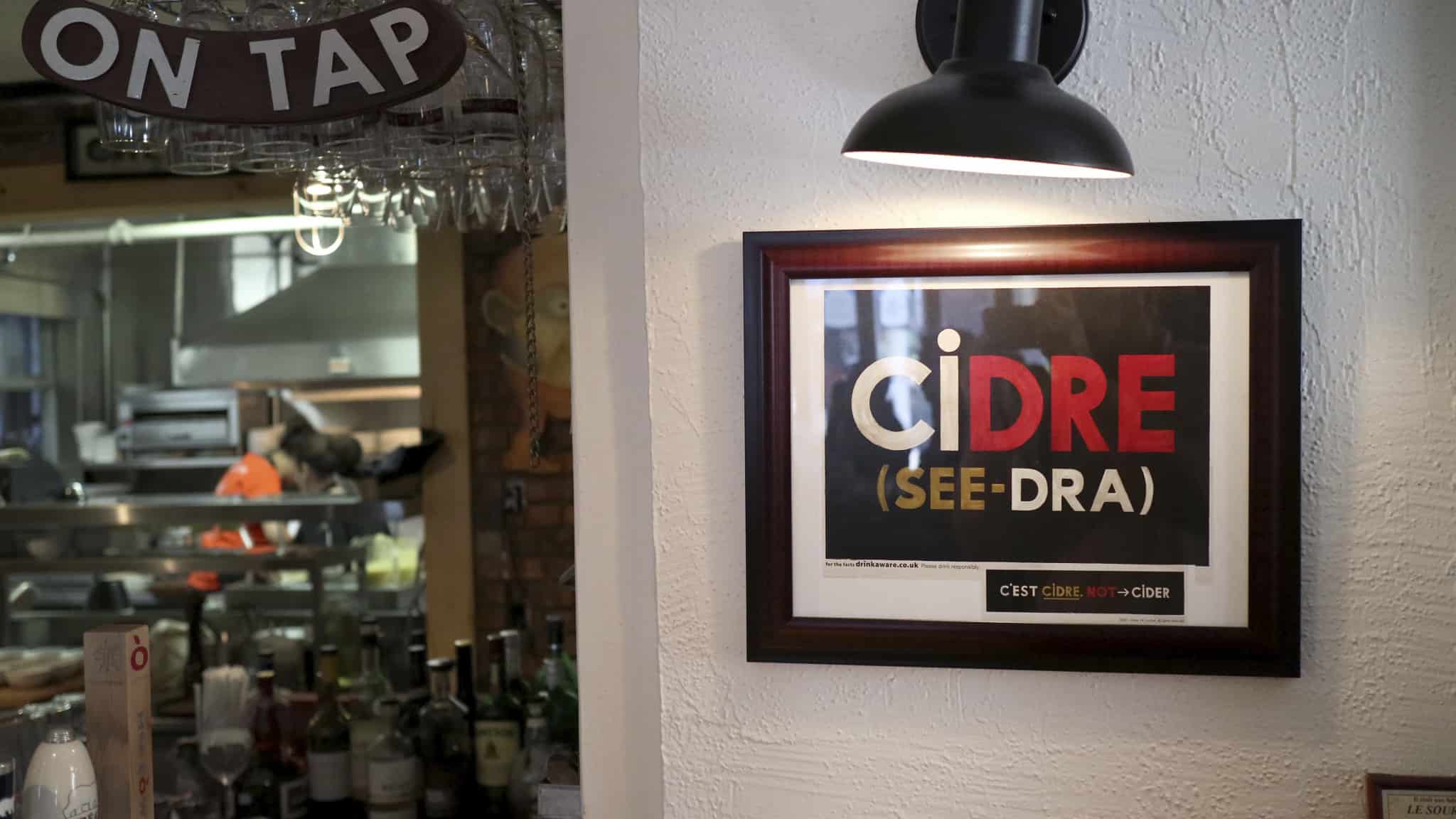 A quick cab ride brought us to Crêperie-bistro Le Billig. This is a perfect first stop for a delicious breakfast of crêpes and a flight of international ciders that included Basque, Normandy and Bretagne selections along with local Quebec ciders. The bistro also offers a calvados flight that I was not brave enough to try with my breakfast. If you are a fan of crêpes, Le Billig is sure to satisfy, and if you are unsure, you will leave with a newfound love of crêpes and delicious international ciders! 481, rue Saint-Jean, Ville de Québec, (418) 524-8341 
Other dining destinations that featured cider and are worth investigating are Brasserie Artisanale La Souche (801, chemin de la Canardière, Ville de Québec, 581-742-1144) and the Pub St-Alexandre (1087, rue Saint-Jean, Ville de Québec, 418-694-0015).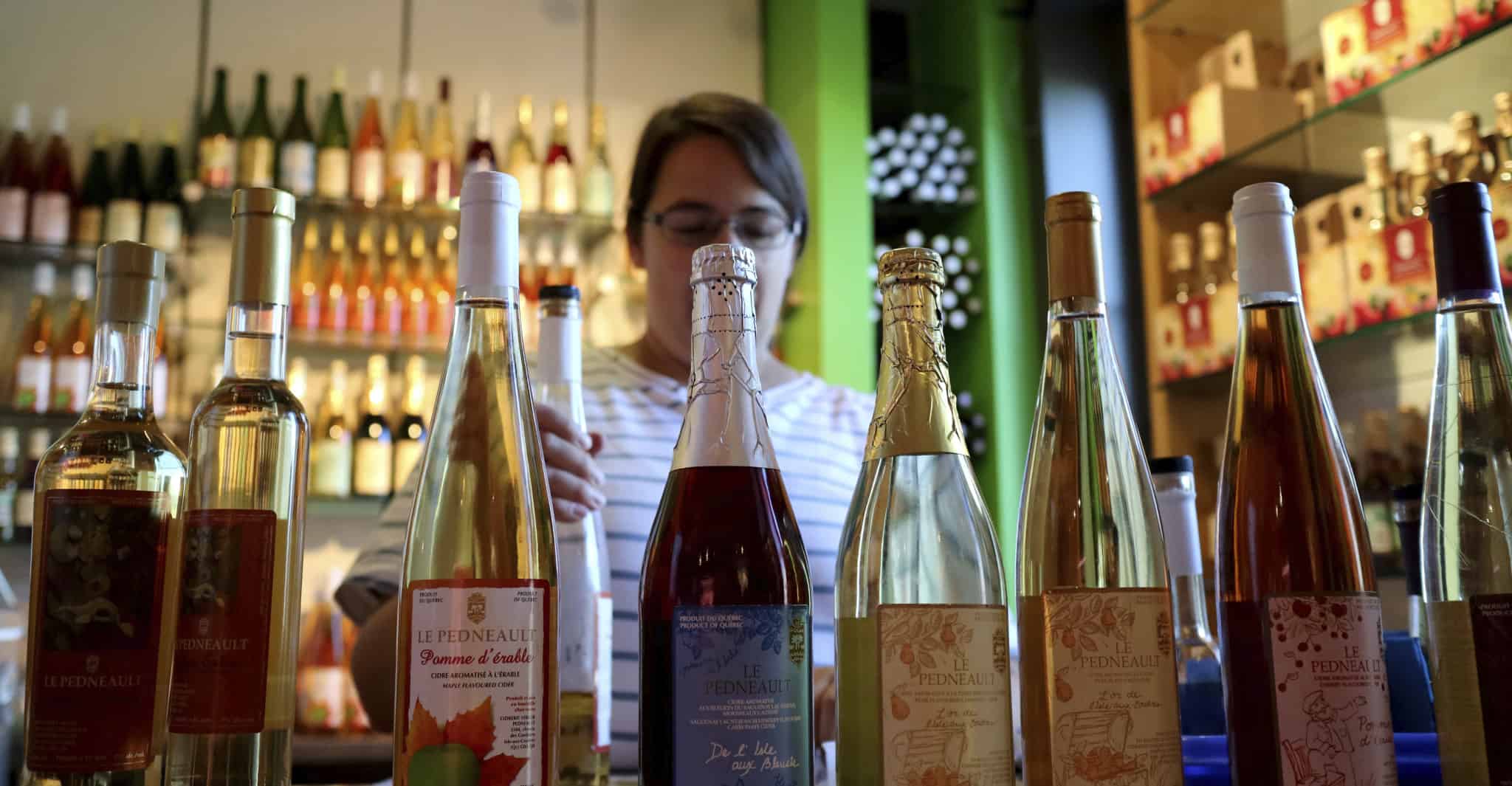 A short walk from Le Chateau Frontenac and a fun funicular ride down the hill to Quartier Petit Champlain brought us to a conveniently located tasting room for La Cidrerie et Vergers Pedneault. The cider maker, located north of the city on Isle aux Coudres, has a few tasting rooms around the province. Out-of-the-ordinary offerings to try here include the Apple and Pear Mistelles and the refreshing light pétillant ciders. 73, rue du Petit-Champlain, Québec, (418) 558-2365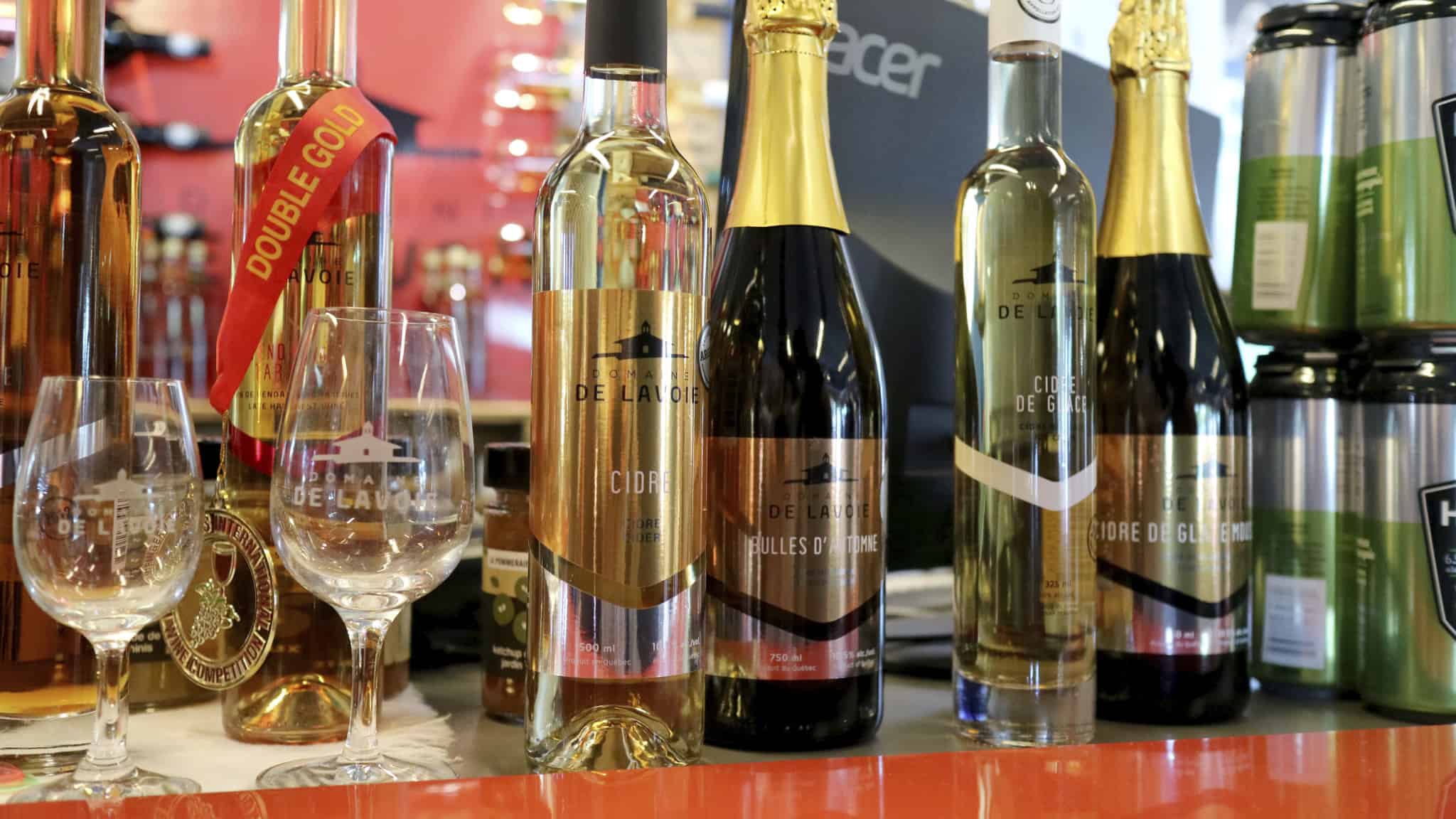 Another unique cider experience is at the farmers' market located by the Quebec City port, Marche du Vieux-Port de Quebec. Here you can experience local farm products including many ciders. When we visited there were four regional cider producers offering extensive tastings, as well as a wine merchant and a beer seller with a broad range of local and imported ciders, wines and beers. This is a great opportunity to purchase local seasonal products like maple syrup and jams, as well as fresh local fruits and vegetables, especially if you do not have time to visit Île d'Orléans to directly visit these farms and cideries. 160, quai St-André, Québec, (418) 692-2517 
Cider on Île d'Orléans
A short drive from Quebec City and a fun family cider day trip is Île d'Orléans—the Island of Orleans—which is home to many of the leading Quebec cider producers, vineyards and farms. With its simple farm community spirit and old world charm, the island has been described as a "microcosm of traditional Quebec."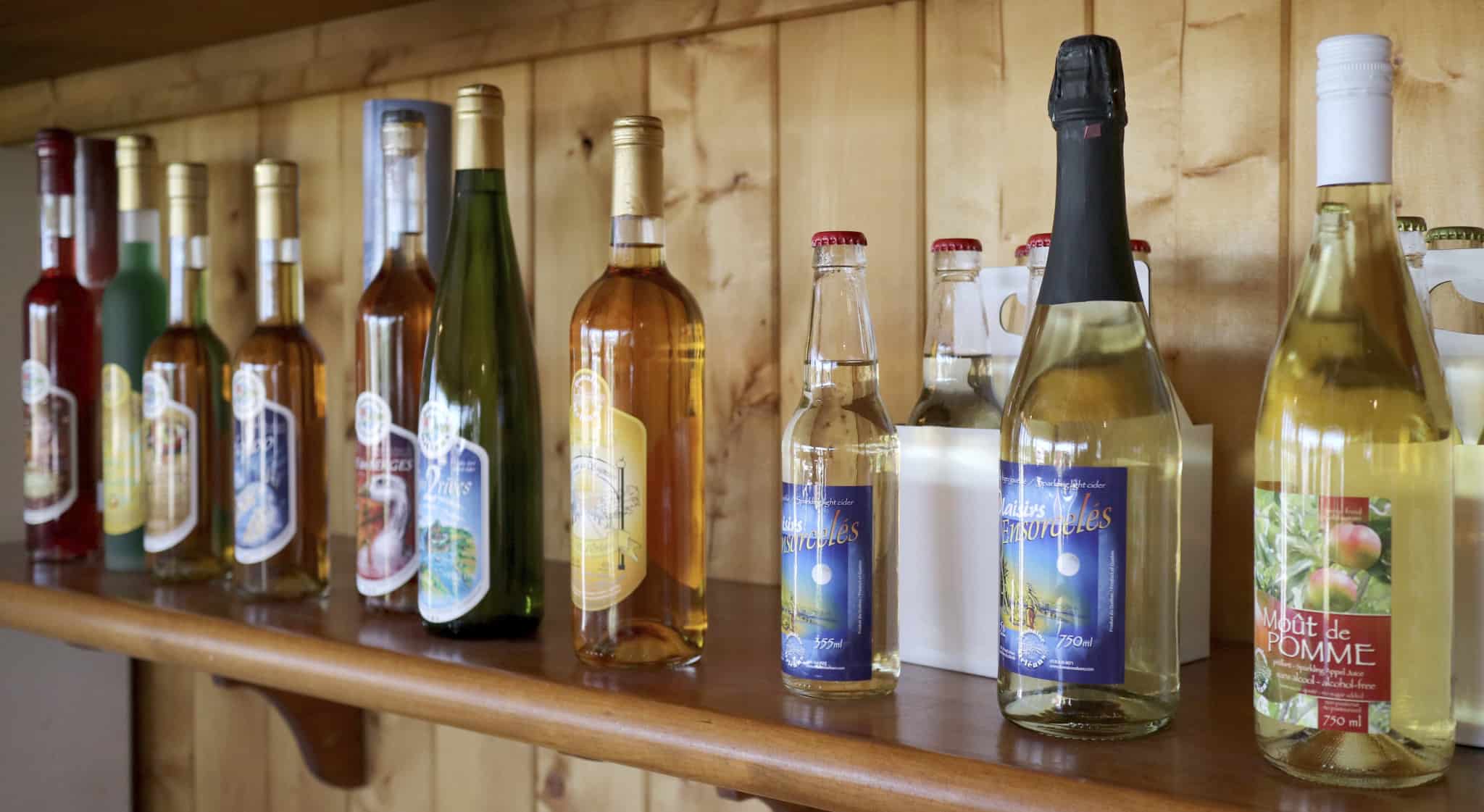 We rented a car and headed out for a short ride northeast of the city. Upon crossing the lone bridge to the island we turned to the right, following Chemin Royal (route 368) around the island counter-clockwise in search of cider makers. First up was Le Domaine Orleans (1067, chemin Royal, St. Pierre, d'Orleans, 418-828-9071), a roadside stand with a unique octagonal tasting room located amidst the orchards. We tasted many ice ciders, aperitifs and the sparkling Plaisirs Ensorcelés.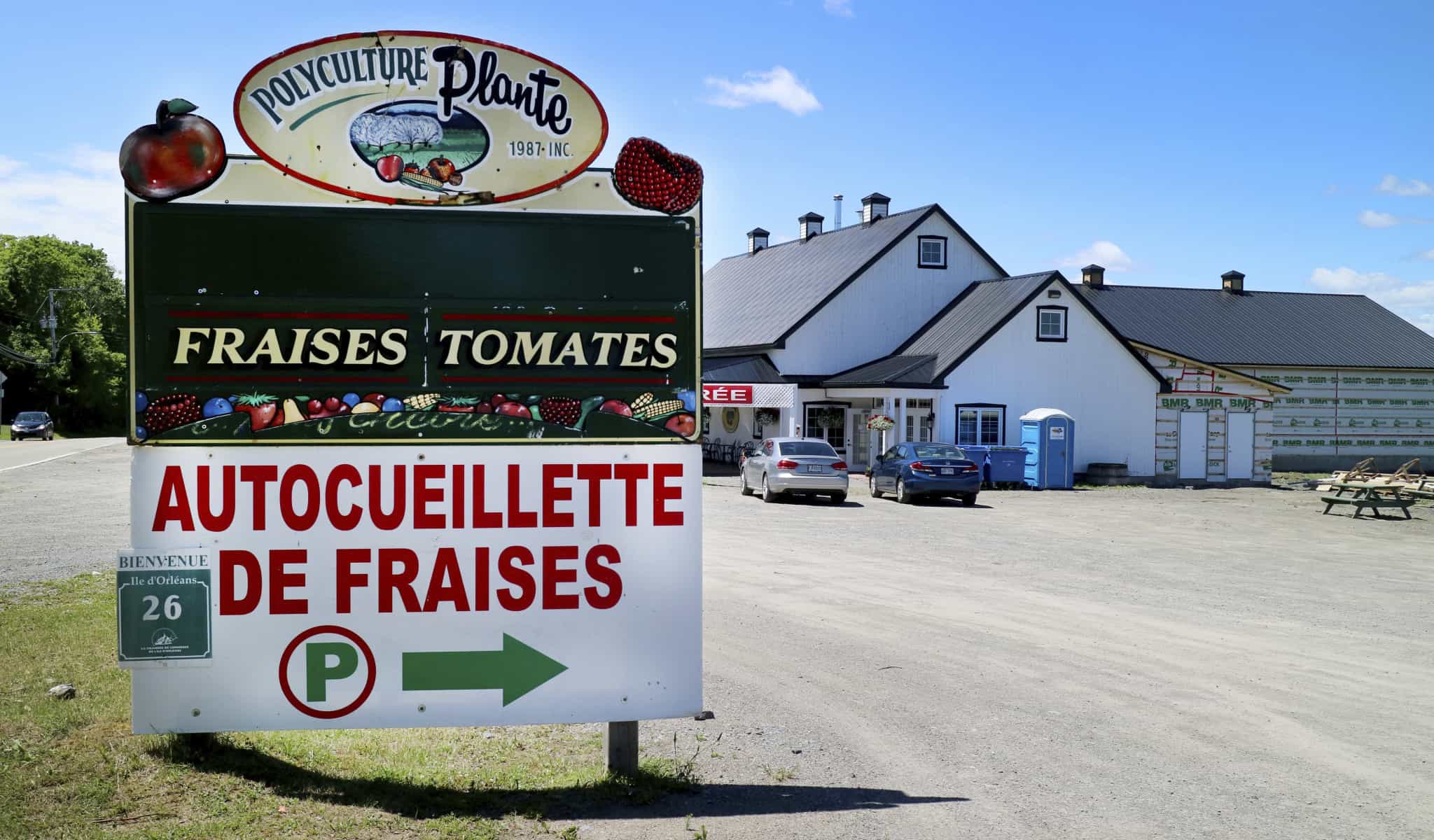 The next stop was Polyculture Plante 1987 Inc. (8684, chemin Royal, St. Pétronille, d'Orléans, 418-828-9603), a large farmstand that highlighted cider, maple and local produce and offered pick-your-own berries while we were visiting. Ciders included the light petillant L'Ensocelé cider and the sweeter L'Insulaire.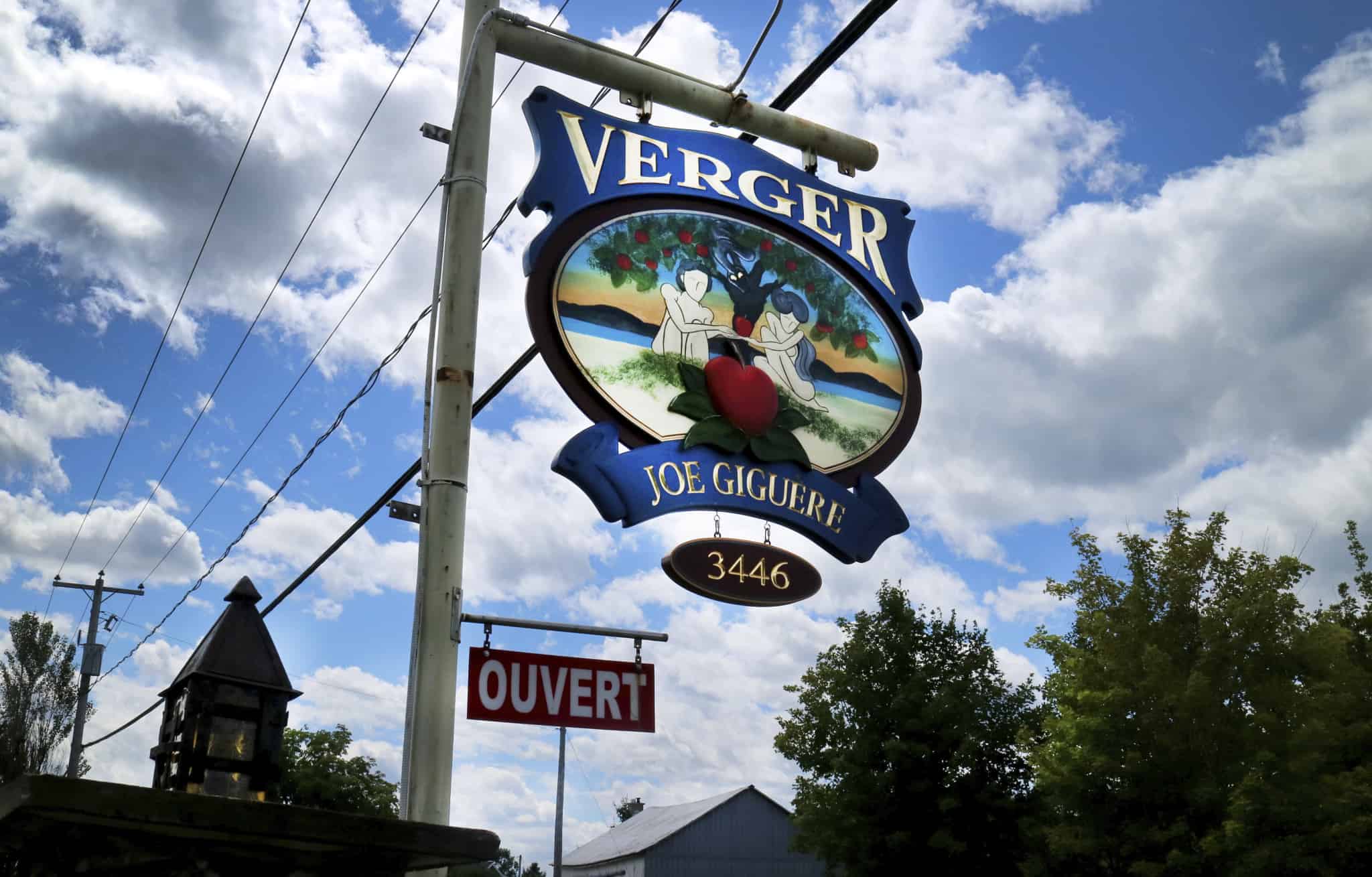 A short ride around the island brought us to Verger Joe Giguere (2194, chemin Royal, St. Famille, d'Orléans, 418-829-2791), which had a nice family run winery feel and delicious ciders. The spot is known for its sweet ice cider "Un Goût de Péché" ("A Taste of Sin").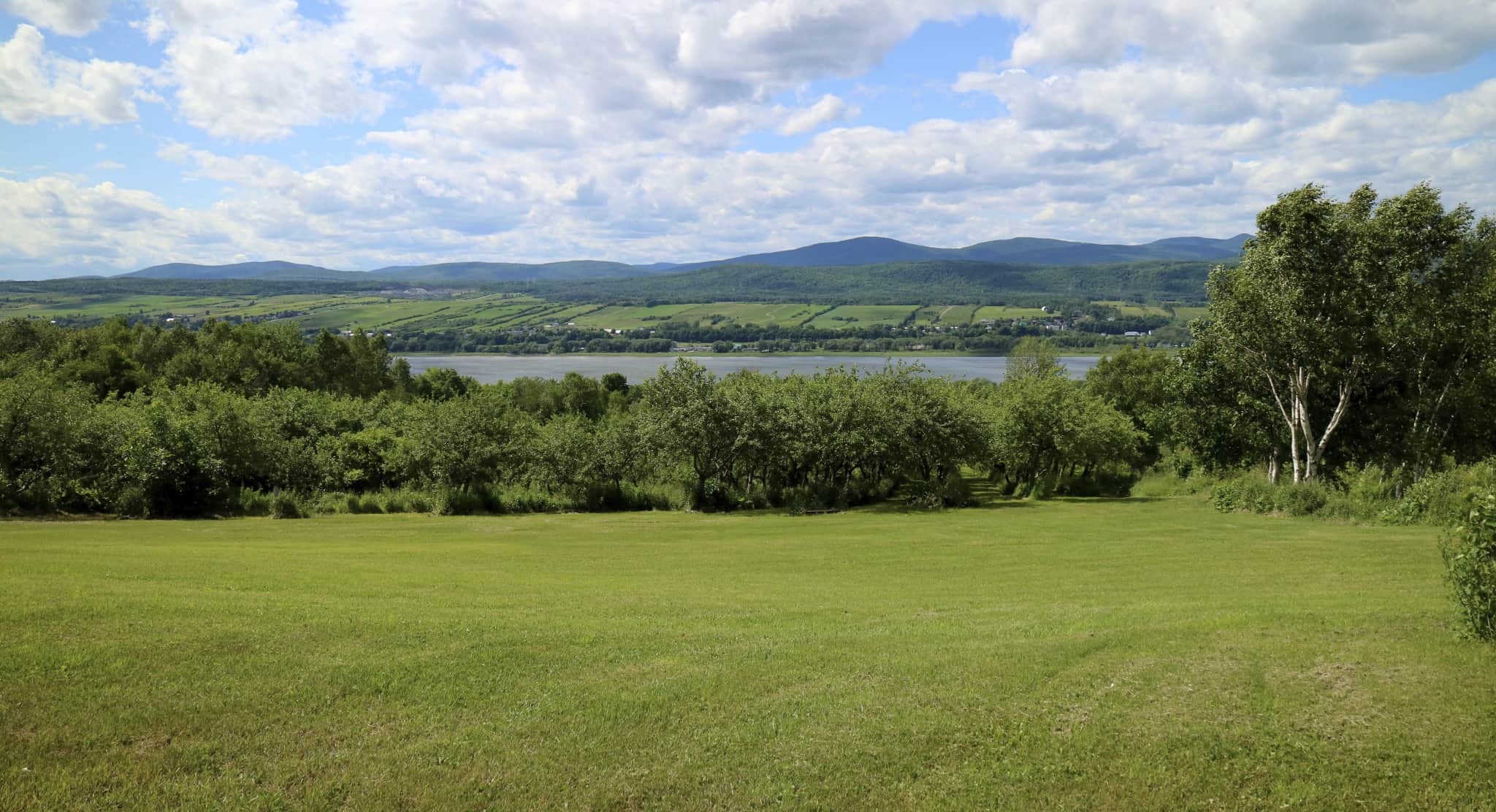 The last two cideries on our island excursion were not far down the road and across the street from each other. Cidrerie Bilodeau (1868, chemin Royal, St. Pierre, d'Orléans, 418-828-9316) is the oldest cider mill on the island, with the largest range of ciders on the island, a friendly staff and a beautiful tasting room set alongside the orchard and mini farm. Ciders included a delicious offering produced in the méthode champenoise. Across the street was Domaine Steinbach (1865, chemin Royal St. Pierre, d'Orléans, 418-828-0000), which offered paid tastings of ciders and other farm products and a gorgeous view of the St. Lawrence River.
Dining on Île d'Orléans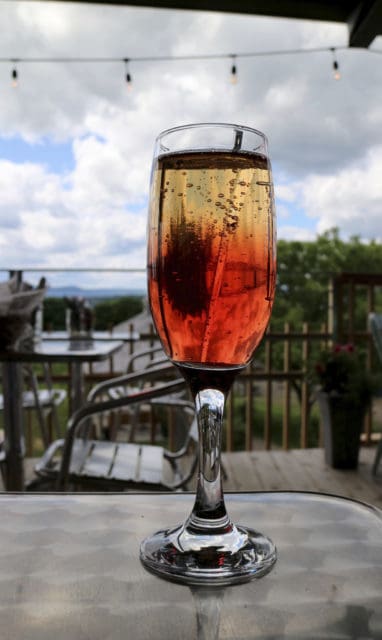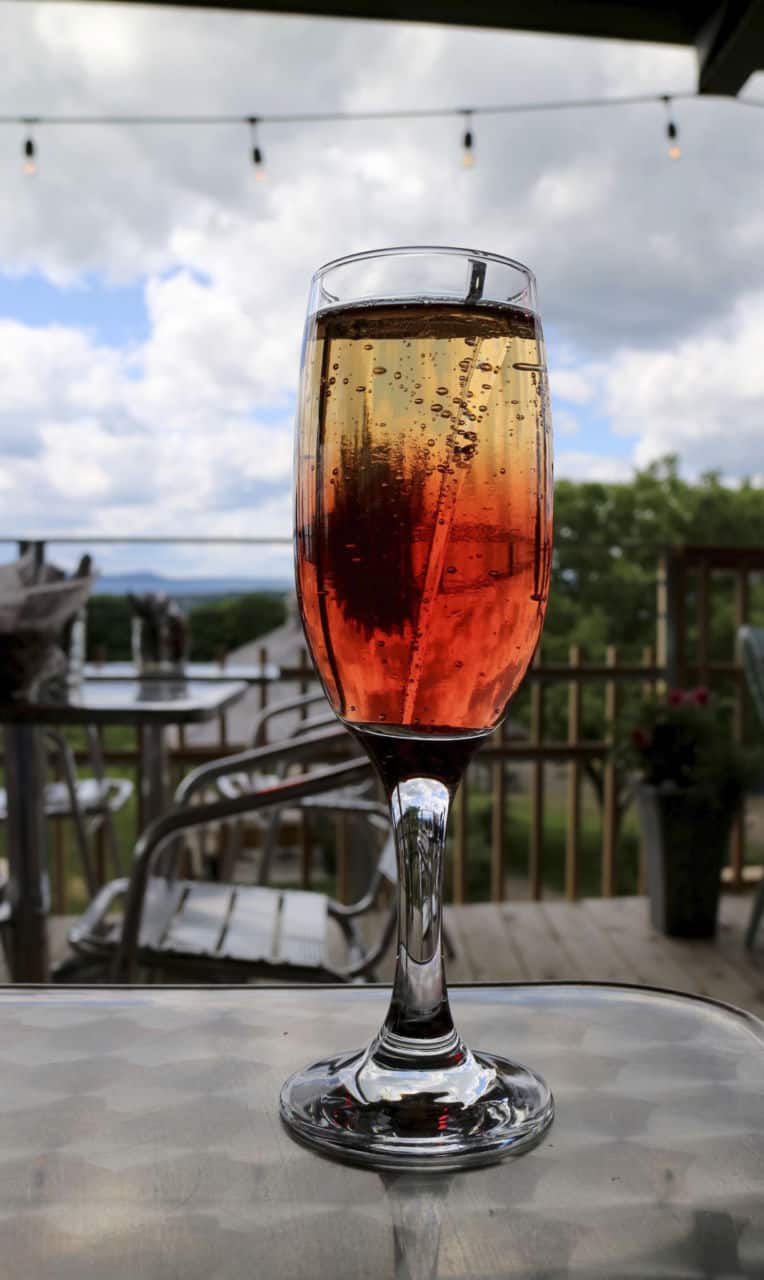 After all the cider stops, we decided to visit Cassis Monna & Filles (1225, chemin Royal, St. Pierre, d'Orléans 418-828-2525), a black currant farm and restaurant featuring dishes with a focus on the currant crop. We sat outside on the deck overlooking the currant fields on the waterfront on a sunny day with our warm goat cheese salad & churned black currant honey accompanied by a delicious Kir breton pétillant, a delicious cocktail of Cidre pétillant du Verger Bilodeau and the house crème de cassis. What a perfect ending for the day spent touring the island!
Quebec Cider Tips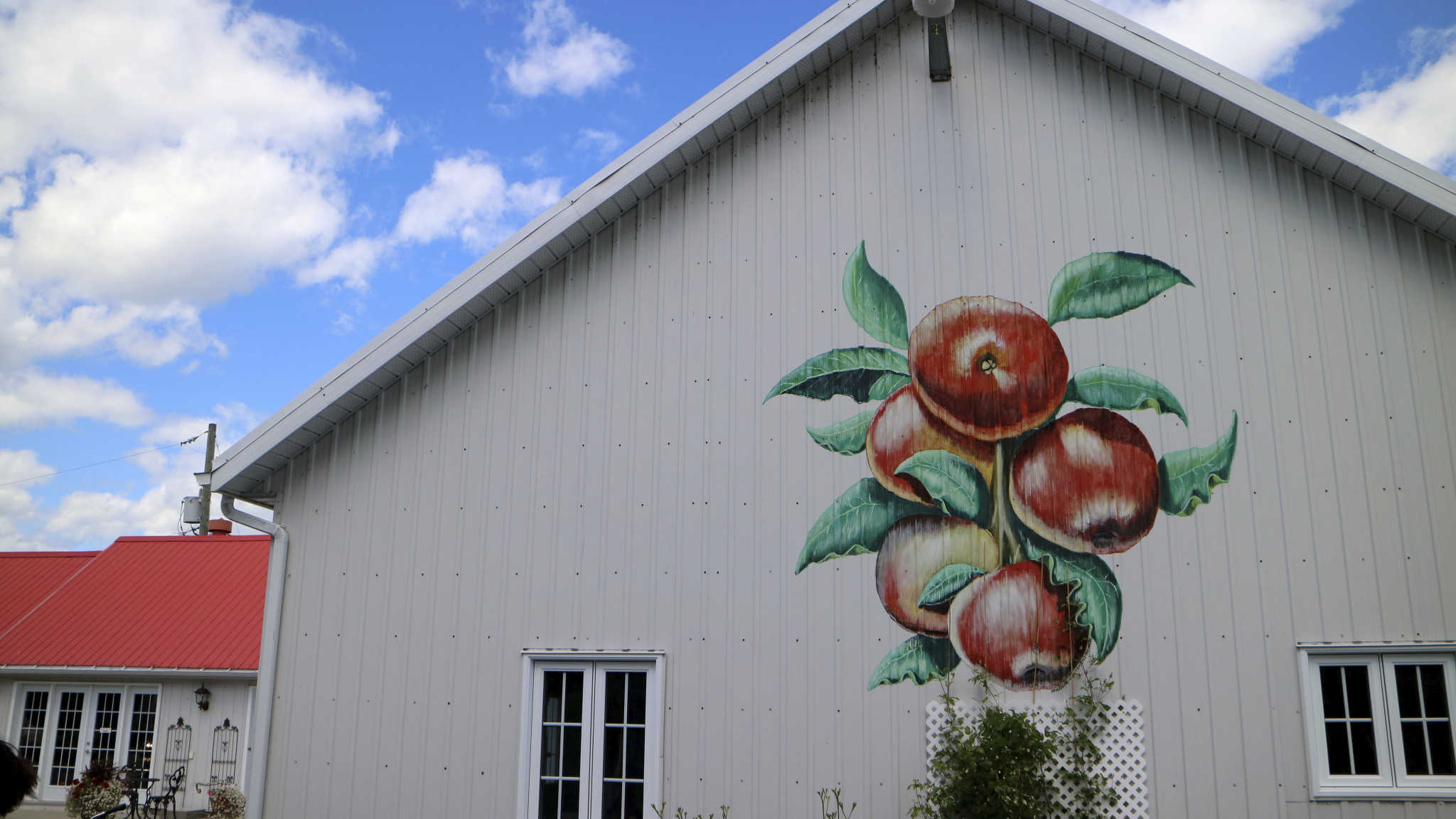 If you are looking for bottles of cider to bring home or to enjoy back at your hotel, look for The Société des Alcools du Québec, commonly known as SAQ. The provincially operated outlet responsible for the sale of alcoholic beverages within all of Quebec has many stores throughout Quebec City. If you are curious about what ciders you can find in-store, the inventory is conveniently browseable online.
If you visit in the winter, consider including a snow-shoe outing in the ice cider orchards on the l'Ile d'Orleans and a stay at Hotel de Glace. This winter hotel constructed with ice would be a "cool" place to spend a night and sip ice ciders!
Remember, some of these locations are working farms and are seasonal, so check ahead before taking a long trip whenever possible. Also, before you buy a lot of cider to bring home, be sure to find out what you will be able to legally bring back through customs.
Have fun exploring—get out there and drink some new ciders!