by Ellen Burkhardt
[Editor's note: This article was originally published in the August 2016 issue of The Growler and is reprinted here with permission. All photos by Aaron Davidson for The Growler.]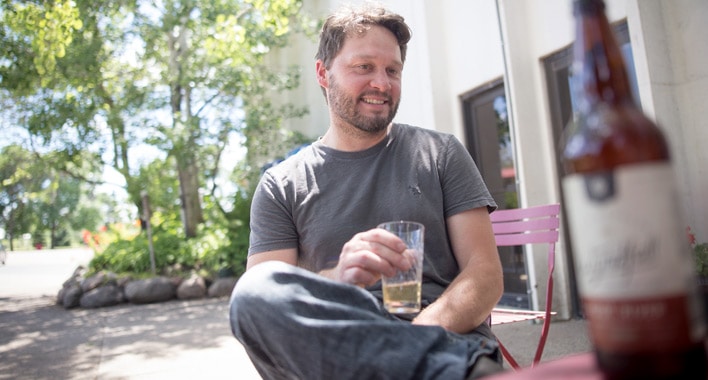 For most people, the word "spitter" evokes the thought of something unpleasant—angry llamas, perhaps, or individuals who require a little extra talking space if you want to stay dry. Not Rob Fisk. For him, the word means something beautiful, something high quality, something on which he's built his life.
Spitters are the colloquial term for cider-specific apples. And Rob, owner and operator of Wyndfall Cyder, is adamant about bringing as many of them to Minnesota as possible, to make the best cider possible. "I want to make the highest-end product that I can," he says. "We can make the best cider in the world in Minnesota with the right apples. The limits are endless."
We're sitting in the hot June sun on the patio outside the Apple Lodge at Sponsel's Minnesota Harvest Orchard, in Jordan, Minnesota. Minnesota Harvest is the new home of Wyndfall Cyder as of late this spring, and Rob has just finished installing his equipment in a large room behind the lodge's industrial-sized kitchen. He had been operating in conjunction with an orchard in La Crescent, Minnesota, prior to the move, but saw an opportunity for more growth in Jordan.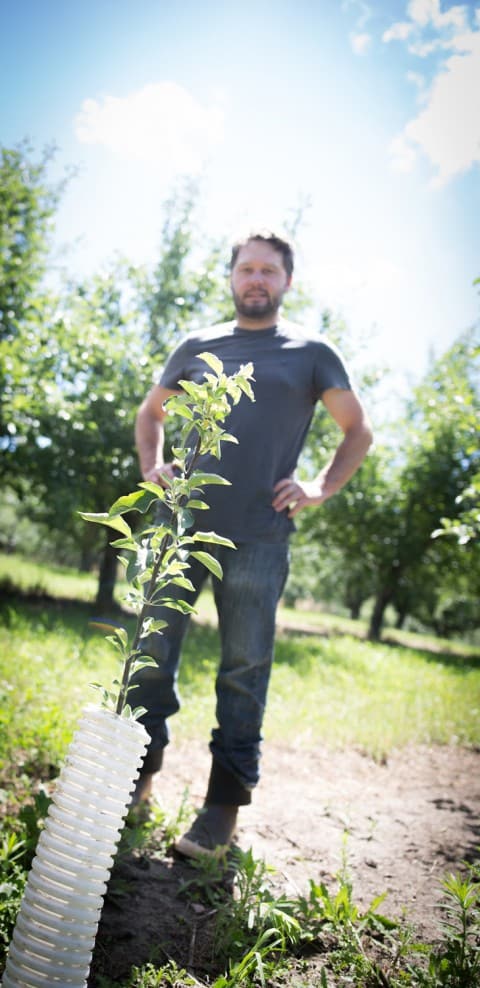 Minnesota Harvest has been in operation since 1971 and is a popular events venue and pick-your-own orchard. The 300-plus acre orchard boasts some 35,000–40,000 apple trees, and the owners "buy as many [new trees] as they can afford" every year. It's a sprawling, pastoral setting just 45 minutes from the Twin Cities, and so far is proving to be an ideal location for Wyndfall to put down roots.
In the few months he's been at Minnesota Harvest, Rob has planted 75 trees of "bittersweets," or English cider apples—aka the spitters. "They're so tannic you can't eat them off the tree," he explains. "So they're called spitters, because you'd spit them out."
The tannins that make these apples inedible are also the key to making the drier, English-style ciders (or "cyders," as it's spelled in the U.K., hence Wyndfall Cyder's spelling) Rob seeks to produce. Table apples are bred for a balance of tart, sweet, and texture, not tannin. Once you ferment out all the sugar, you're left with a tartness that's "off the charts," Rob explains.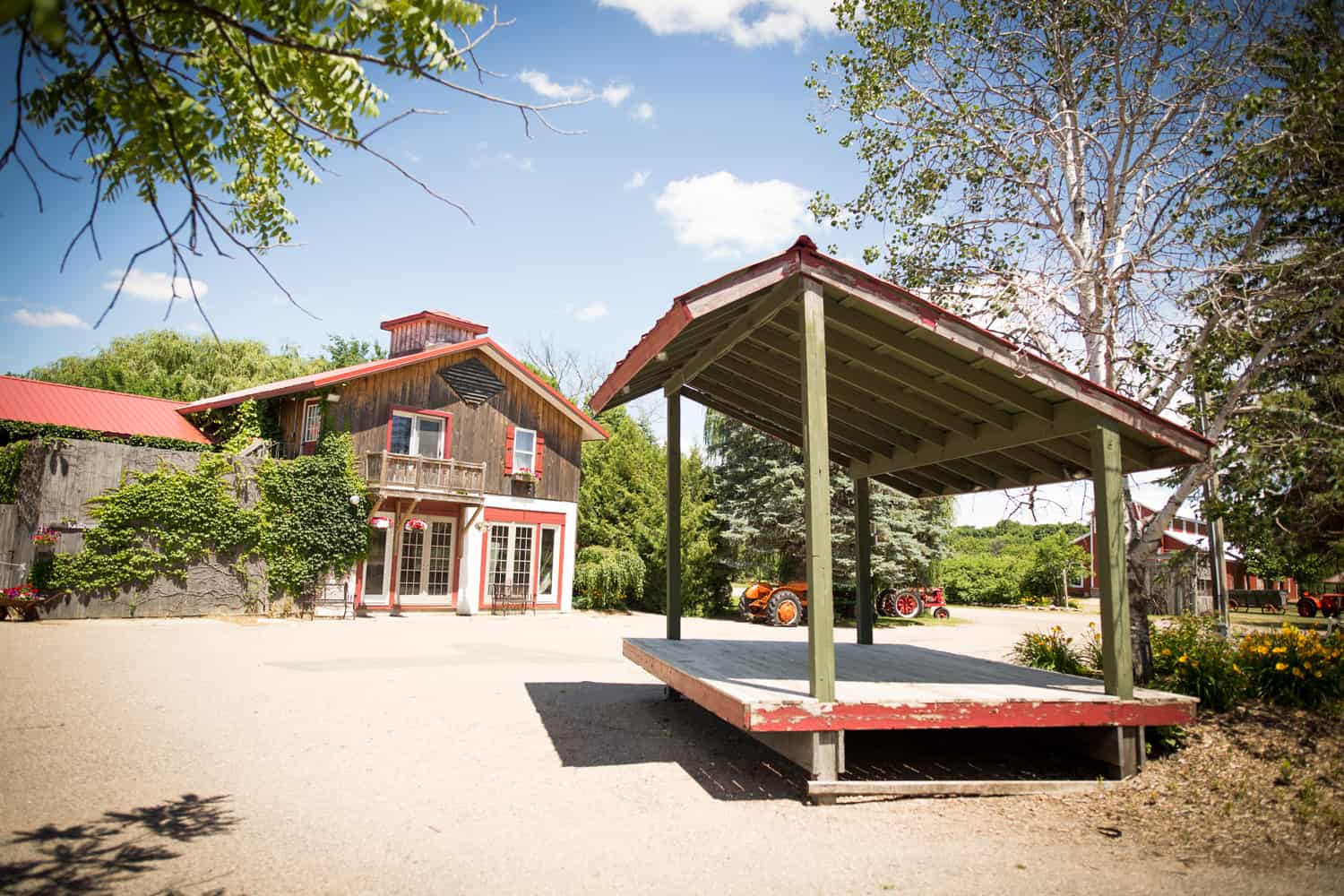 Cider apples, on the other hand, have a lot of tannins, like grapes. It's those tannins that are responsible for a cider's complexity and nuance. "There are lots of different layers once you ferment the sugar out," Rob says. "Just like wine grapes don't taste like grapes after fermentation, cider apples don't taste like apples—they taste like tons of other things."
Despite the similarities between cider and wine, most drinkers in the United States lump cider into the same category as beer: it's generally lower in alcohol, has a similar mouthfeel, and is often packaged in similar ways. But that perception is starting to change. "The cider market in Minnesota is changing quickly," Rob says. "Even in the one-and-a-half years since I've been in production it's changed. But it's still in its infancy relative to where we're hoping it'll go, […] which is to treat it like a fine wine."
Rob first got into the fermentation game with beer, homebrewing with friends in college. He was studying environmental policy and forestry at the University of Minnesota at the time, and the more he learned about homebrewing, the more he started thinking about switching from beer to cider. "I was loving brewing, but then I started getting into the sustainability aspect of everything, and it was like a light bulb went off," he says.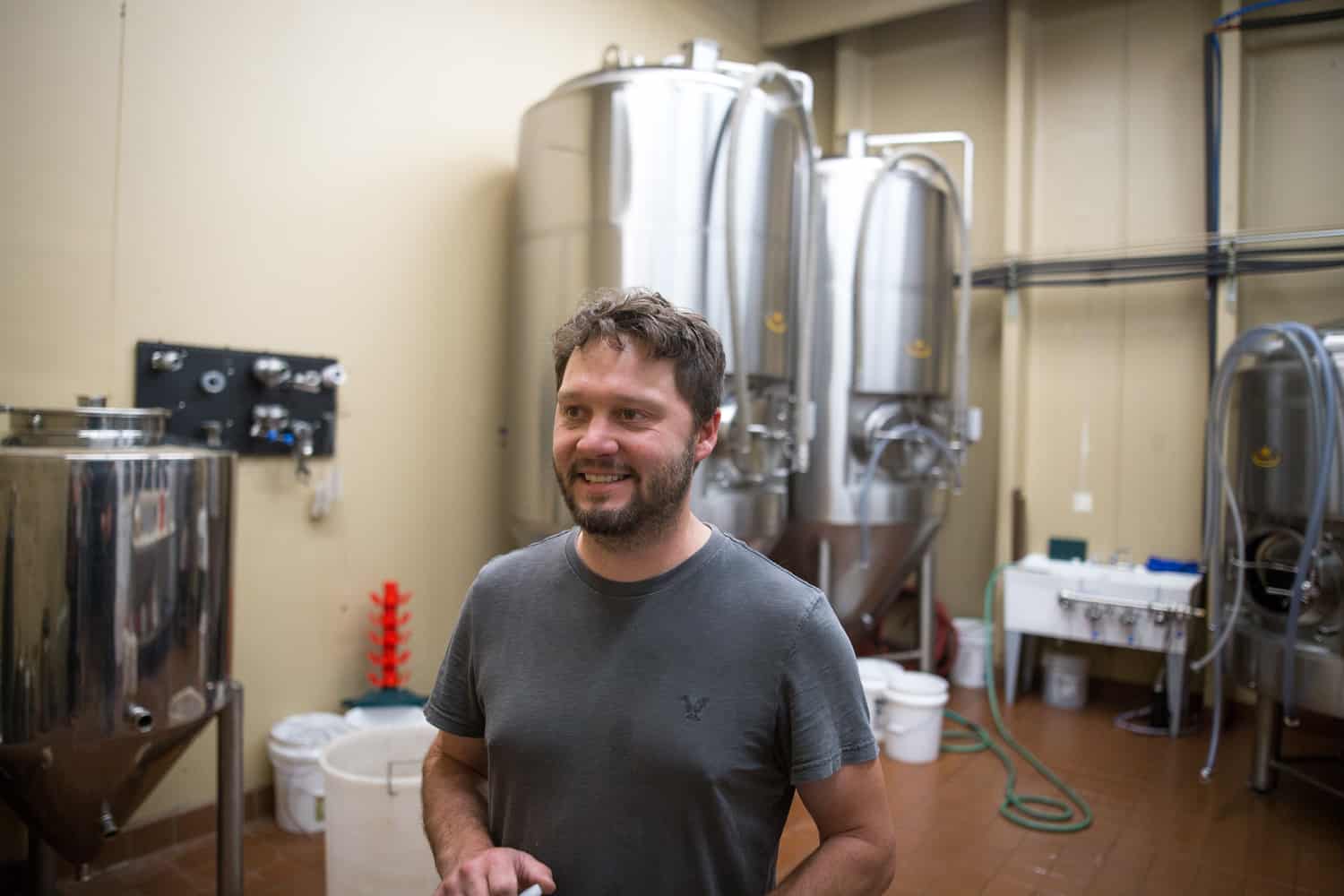 That light bulb was Rob realizing the benefits orchards can have on the environment versus corn and bean-type crops. "If we sustained orchards and weren't plowing all the time, we'd lessen erosion and runoff issues," he says. "So I was thinking, 'Okay, how do you do that sustainably and make money?' And it was obvious: if you ferment the stuff, you can sell it for a lot more than if you're just picking apples off the tree. Then I realized I could do what I was going to school for and my hobby at the same time."
He returned to the University of Minnesota to get his master's in horticulture, taking such classes as organic fruit production from professors like Jim Luby, the breeder of the Honeycrisp apple. While he learned a lot, his focus remained on cider apples and someday opening his own cidery.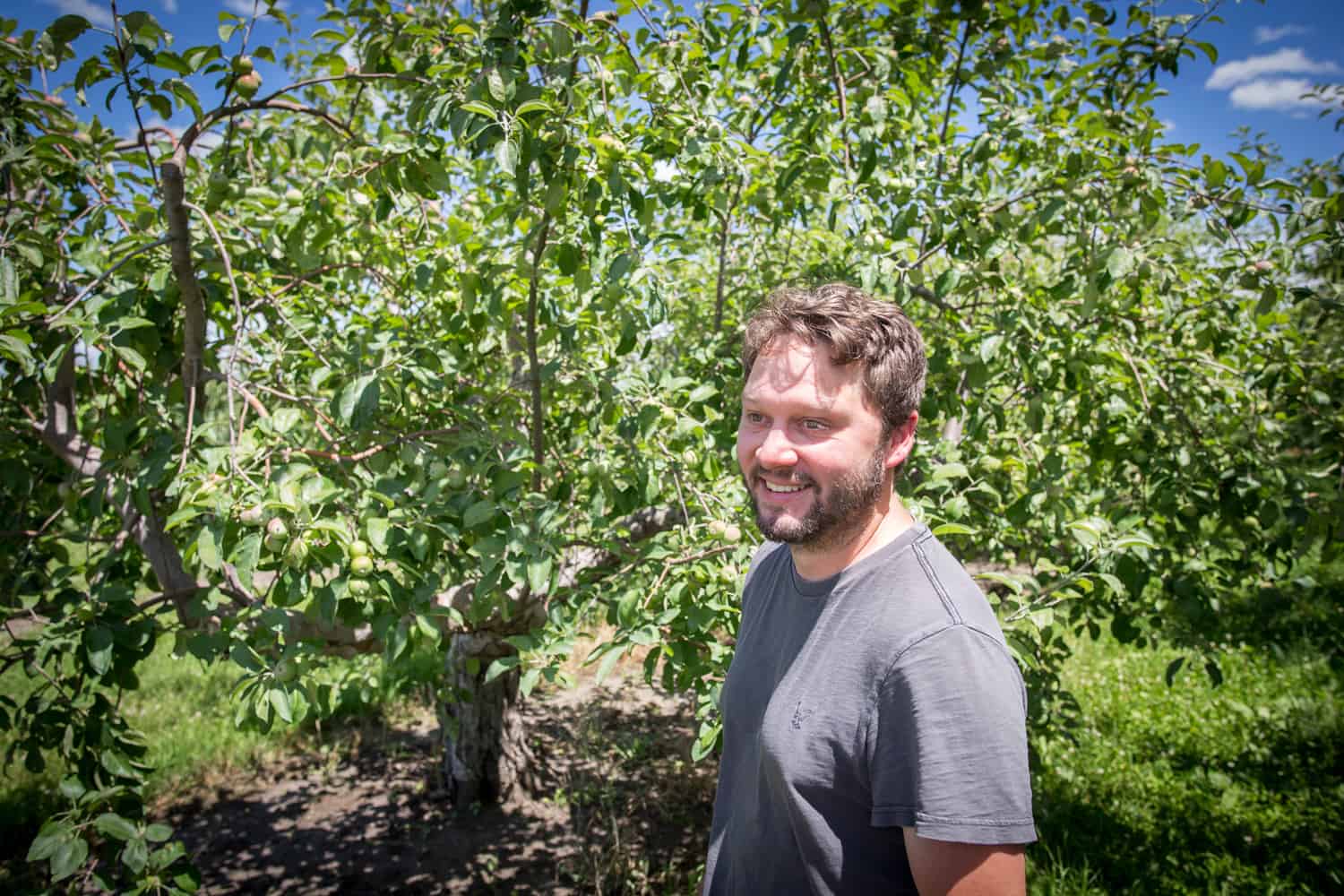 Rob's path to that goal wasn't a straight one, though. Before starting Wyndfall in late 2014, Rob worked for the National Parks Service and United States Department of Agriculture. He traveled all over the U.S., tasked with jobs like getting dropped from helicopters onto mountains in Alaska to collect soil samples (with a shotgun, in case of bears). After a few years, he returned to Minnesota and took a job at the Natural Resources Conservation Service office in Jordan. But being at a desk all day didn't sit well with Rob, so when, in 2014, he got an offer to launch a cidery in La Crescent, he quit his job, sold his house, and put everything he had into Wyndfall Cyder. He released his first cider in spring 2015.
"It was pretty crazy," he says, looking back at his decision. "I was 35 then and moved onto the orchard. I was living with interns and was like, 'Oh my God, what am I doing?'" He laughs. "If I'd known the way it was going to go, I probably wouldn't have done it. I'm glad I was ignorant enough to not know what I was getting into. I'm glad I did it."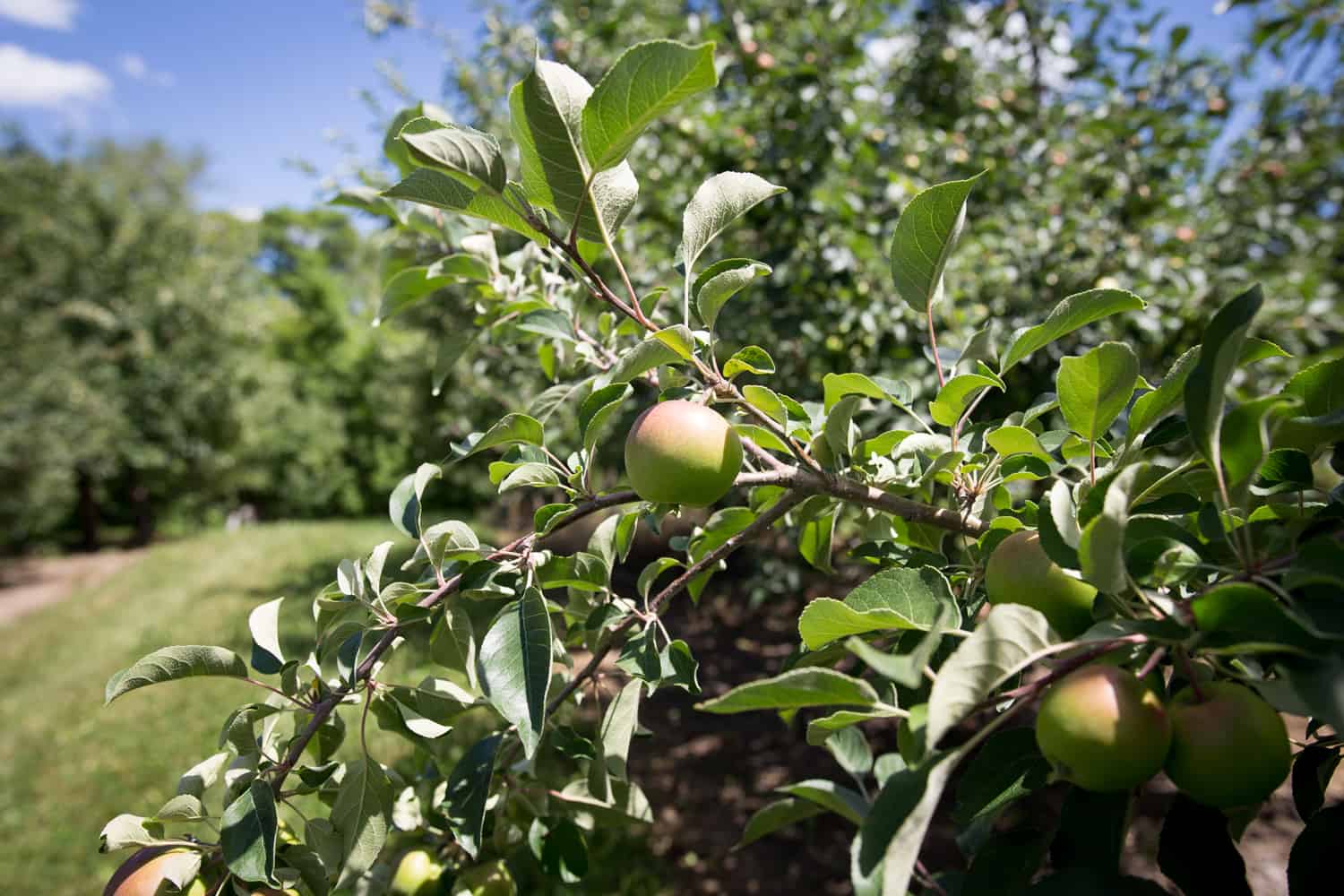 In 2015, his first full season, the unpredictability of the cider-making business became painfully clear to Rob when a hail storm damaged the majority of the orchard's crop. The apples were too ugly to sell, but fortunately were still viable as juice for the cider. "I learned more about making cider and the whole process in that first year than I did in the previous 10 years combined," Rob says. "It's pretty risky, jumping into things like that, but it's working out."
This year's crop at Minnesota Harvest looks good so far, and Rob is feeling confident about his production scale. In addition to his ciders—Root River, a semi-sweet raspberry cider; Homesteader, a semi-dry hopped cider; and Driftless Dry, an English brut-style cider—Rob will also be making a private-label cider for Minnesota Harvest. They just purchased a bottler, and hope to buy more equipment soon.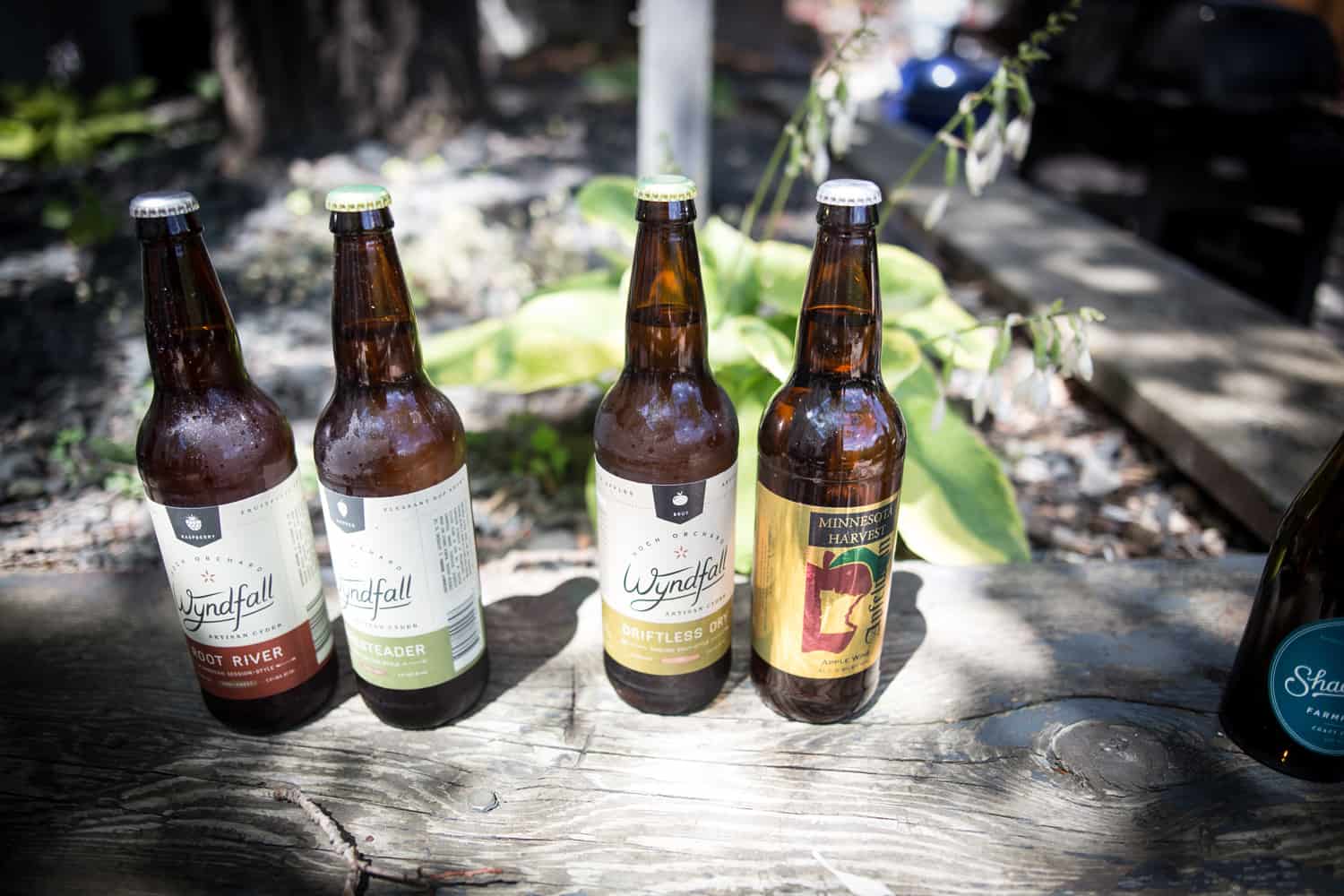 For now, Rob is concentrating on getting his new system down and locking in a consistent product. "You're taking a product that's variable every year—the juice and the sugars in the apples are going to be different every year based on the crop—and massaging it into something in which it's best represented," he says. "Who knows how long it will take. You're trying it all the time, waiting until it's right. It's a taste thing. That's what I really love about it."
As the cider industry gains momentum and consumers become more educated on what high-quality cider tastes like (versus the sweeter, mass-consumption ciders that have long dominated the U.S. market), Rob hopes to help catch Minnesota's cider scene up with those of Washington state, the East Coast, and Britain. "I just want to keep striving to improve the quality of what we can make here," he says. "Hopefully soon we'll be producing some of the best ciders in the country, from Minnesota-grown cider apples."