I recently attended an Oregon State University Craft Cidery Startup Workshop and had a chance to talk with Nick Gunn about cidery startups and his new Salem, Oregon-based business, BenchGraft Cider Consulting. Nick is an Oregon native with a passion for sustainable agriculture and fermentation. In 2003, he planted an orchard of cider apples with his wife, Mimi, and a year later founded Wandering Aengus Ciderworks with the goal of producing world-class, European-styled ciders as well as breaking ground on new American styles. Their first batch of Anthem Cider was kegged in 2010 "on the belief that Wandering Aengus Ciderworks can make a great draft cider without compromise," according to the company website.
In 2016, Nick sold his ownership in Wandering Aengus to pursue his passion for cider education and outreach. Nick is currently the president of the Northwest Cider Association and director of The Cider Institute of North America and has spearheaded projects such as the Cidermaker's Toolkit, a wiki page to help cider professionals get their business off the ground.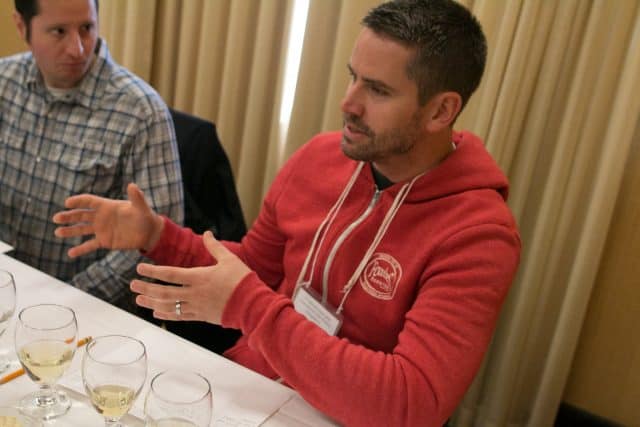 Through BenchGraft, Nick helps cidery start-ups with important concerns including new product development, facility layout and design, equipment and raw materials sourcing, compliance, branding and marketing, business-plan development and orchard planning and development. He continues to teach cider-making classes through Oregon State University and other educational organizations.
Cider Culture: In guiding potential cider makers, is there one thing you hope all future cider makers learn from the past and do differently?
Nick: I would like to see more cider makers hone in their business plan and really think about who their audience is and what styles and packaging will appeal to those folks. I think the temptation is to make either what you want people to like (because you like it yourself) or do something similar to another successful cider company. Consumers have a lot more options these days, and you need to come to market with a targeted approach that is authentically yours.
Are there any times your guidance and consulting services have helped a start-up cider maker save time or money that they would otherwise have lost?
Most times, significant cost savings can be realized in the space design and equipment-acquisition phase. I've had clients save hundreds of thousands of dollars by only procuring the right equipment at the right time from the right vendors and not making costly errors in workflow and space utilization during the construction phase.

Evaluating existing cider-production facilities, is there one thing you often see that you wish would be done differently?
I see a lot of people unintentionally boxing in their space and creating constraints on growth that should never be there in the first place. It's a great idea to delineate separate work areas, but do it with tape and employee training. Once you start putting walls in the way, you will wish hadn't after a few years.
Do you see any trends changing with upcoming cider facilities in planning?
I see the trends in cider mirroring that of the craft brewing industry where hyper local is key. As our industry grows, there are lots of barriers to entry for large, regional brands who want to establish national distribution chains. A much easier path for many will be to establish "neighborhood" cideries with relatively low inputs and build a fervent local following.
Are there any major differences you are seeing between how cider is evolving on the East and West coasts?
There is definitely a greater appreciation for fruit ciders and adjunct experimentation out on the West Coast. As more brands are fighting for limited space a more diverse consumer offering has popped up. The East Coast still maintains a longer cider-making and apple-growing tradition, and that is evident in their cider styles, which lean more towards a heavier use of heirloom apples and old-world techniques. That not to say they don't experiment out east; I strongly remember having my first seaweed cider at Cider Days last year.

Are you seeing any Cider market/production growth in new areas of the country that might be surprising?
The unsurprising growth is already happening in major craft beer appreciation centers, like Southern California, Chicago, Colorado and the Northwest. What is more surprising and relatively unknown is the growth in areas of the Midwest and South that have never had or heard of cider before. For those willing to put the effort in, there are still plenty of open-shelf spots available.
Do you feel there is a cider "bubble" on the horizon?
I don't see it as a bubble but more of a reality check. Our industry experienced a few years of ludicrous growth and is now settling into something more sustainable. As long as quality remains high and people listen to their customers, I believe the industry will continue growing long into the future. There are plenty of ciders yet to be made and plenty of consumers yet to be educated.
***
Time spent with Nick talking about cider is always fun and educational, and it's been a great discussion learning about helping cidery startups from the person responsible for creating some of my all-time-favorite ciders. Keep checking with Cider Culture for the latest cider news for cider producers and consumers.