Malaika Tyson is one half of the blogging duo Cider Soms, which was started as a way to introduce wine-lovers to the world of cider. Created along with her husband Sean, the "Soms" blog seeks to uncover and explain the complexities of ciders in a fun way.
Ed note: Enjoy a tasting from Overgrown Orchards as part of the CiderCon 2023 Frank Lloyd Wright Tour in Chicago!
One of my law school classmates first introduced me to Stan Wash, founder of Overgrown Orchard, shortly after the cidery's founding in 2017 (he graciously said we were the foremost cider connoisseurs he knew). Overgrown Orchard is based in Chicago and makes heirloom cider at its four-acre orchard in Gary, Indiana, using apples sourced from the Midwest. It's been amazing to watch Overgrown Orchard's growth over the years, and we are excited to share more of its story through this Cidermaker Q&A.
(The questions and answers have been edited for brevity and clarity.)
Cider Culture: Why did you start Overgrown Orchard?
Stan Wash: Part of the reason our cidery exists is to fill a void in the conversation. For example, Chicago has many educated drinkers, and people have a vocabulary that allows you to have a nuanced discussion about alcohol. But when you mention cider, most people don't have a good understanding. For us, we've been able to slot into the natural wine community that allows for conversation and exploration.

All of your ciders are in crown-capped 500mL bottles. Is that a format you plan to stick with?
The big push would be to go to cans, and there are a couple of driving forces behind that. However, we try to make our product look more and more like wine, and going to a can is risky because it gets away from the message we are trying to convey to consumers. 

We also stick with bottles because of volume. We are making 2,000-2,500 gallons right now, so if we moved to cans and dropped to can prices, we would sell out in a month. We work on vintage cycles — press, bottle and then label. That works for our bottle format, as we like the slower sales so that we can have products on the shelf. 
How do you make your ciders?
We don't add to our ciders, with the only exception being our coffee cider collaboration with Dark Matter Coffee. So, as a result, we have very few "dials" we can use to tune the cider. Since we are putting out six SKUs a year, a lot of thought is put into how you can differentiate when you have a similar apple base. 

One of those "dials" would be the selection of apples along with using wild fermentation. We barrel-ferment the cider using mainly white wine, red wine and calvados barrels.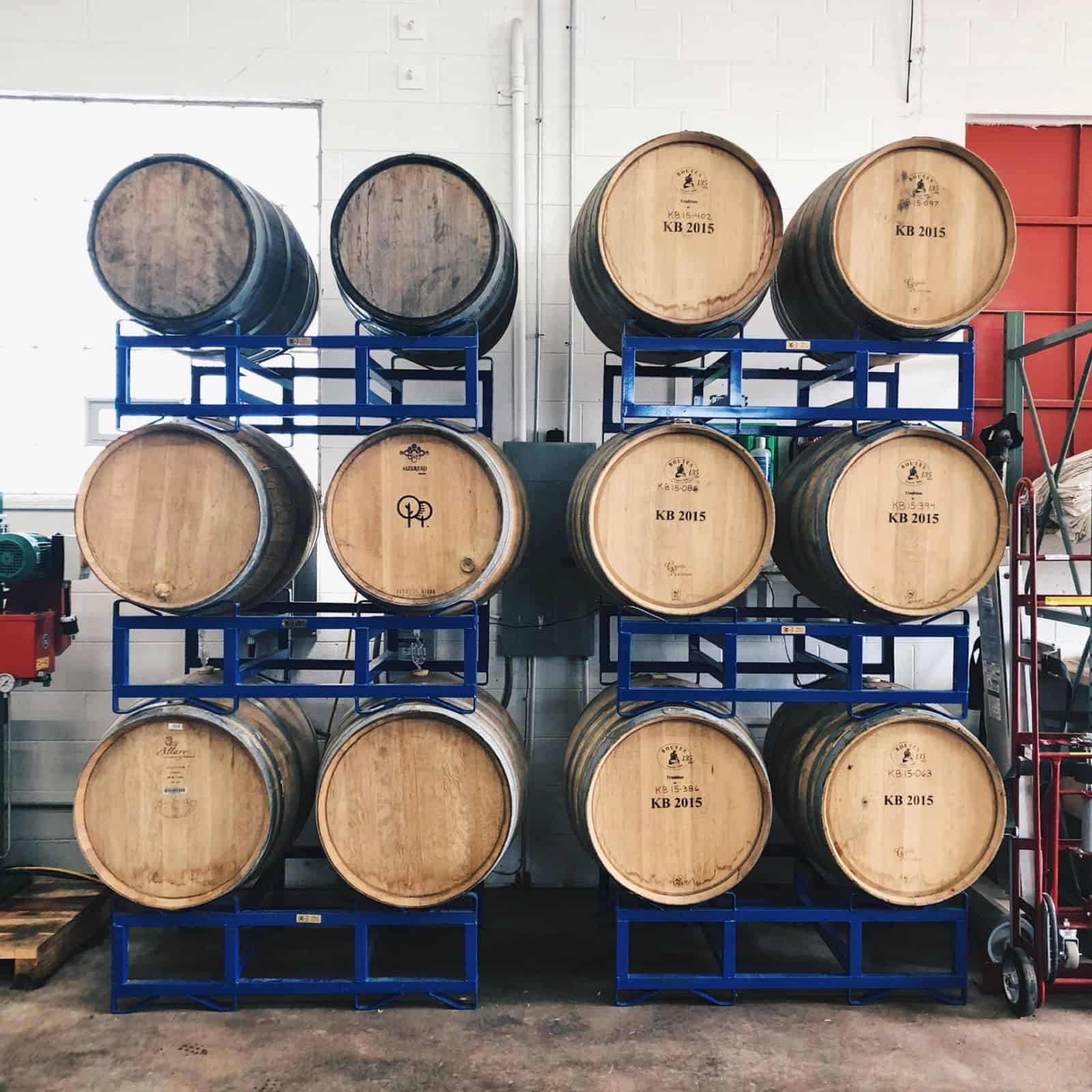 When you age a cider in a pinot noir barrel, it's almost like an adjunct in that [the liquid] picks up some of the pinot characteristics and provides a distinct flavor profile. Cider is also fragile and delicate (especially when there is a lower ABV), and adding more robust flavors (like oak chips) can overpower the apple flavors. We are lucky to have a good relationship with our barrels, and they give some unique flavors linked to the barrel's microbiome. 
Can you give an example of how barrel-aging has played a role in the ciders you produce?
Our Joujou (a blend of heirloom cider apples, including Cox's Orange Pippin, Reine des Pommes and Dolgo Crab) and Gris Gris (a blend of heirloom cider apples, including Cox's Orange Pippin, Esopus Spitzenburg and Hyslop Crab) are similar on paper, but flavor-wise, they couldn't be more opposite. 

Gris Gris is like floral champagne, while Joujou tastes like a lambic or an off-color wild ale. They both sat in calvados barrels for the majority of the time, but we have one set of 20-year-old calvados barrels that have some real funk in them, and we did some open-top fermentations. But going back to the "dials," the only thing we changed in there was a slight variation in the barreling, and the ciders went in two opposite directions. That is one of the fun things about cider: You can make very minute changes, and they can have an enormous impact on the resulting beverage.

How does the combination of wild-fermentation and bottle-conditioning affect the resulting product?
If you are wild-fermenting, you have all these different yeast strains competing, and some of the strains are tapped out at the end of fermentation. So when you come back and add sugar to bring the strains back to life, some can't be revived, and others are just not as robust, so bottle-conditioning may take six months (instead of a couple of weeks). During the process, you have a strained yeast working really hard, which may produce different esters and phenolics in the cider. So bottle to bottle, you get variation. Some bottles may end up with more carbonation, and some have different flavors. I embrace those differences, but it is just an added level of complexity in educating consumers because no two bottles may taste the same. 
Since Overgrown Orchards' ciders are vintage-based, is there something different you are exploring this year?
We have 40 beehives in our orchard, and I have so much honey. I drink mostly Champagne, and there is a Champagne house called Lelarge-Pugeot that makes a champagne, Bises, that uses a honey-based tirage, and has sweet caramelly notes. A tirage is a solution added to the still base cider to create the secondary fermentation (i.e., carbonation) in the bottle. We add some sort of sugar solution into our ciders so that the yeast comes back to life, eats the sugar, and produces carbonation. Traditionally I always use cane sugar, but I decided to use orchard honey instead. I just opened the first bottle (which has been bottled for two-months), and it's exactly what I'm looking for. Also, this is another way to differentiate between a narrow band of ciders.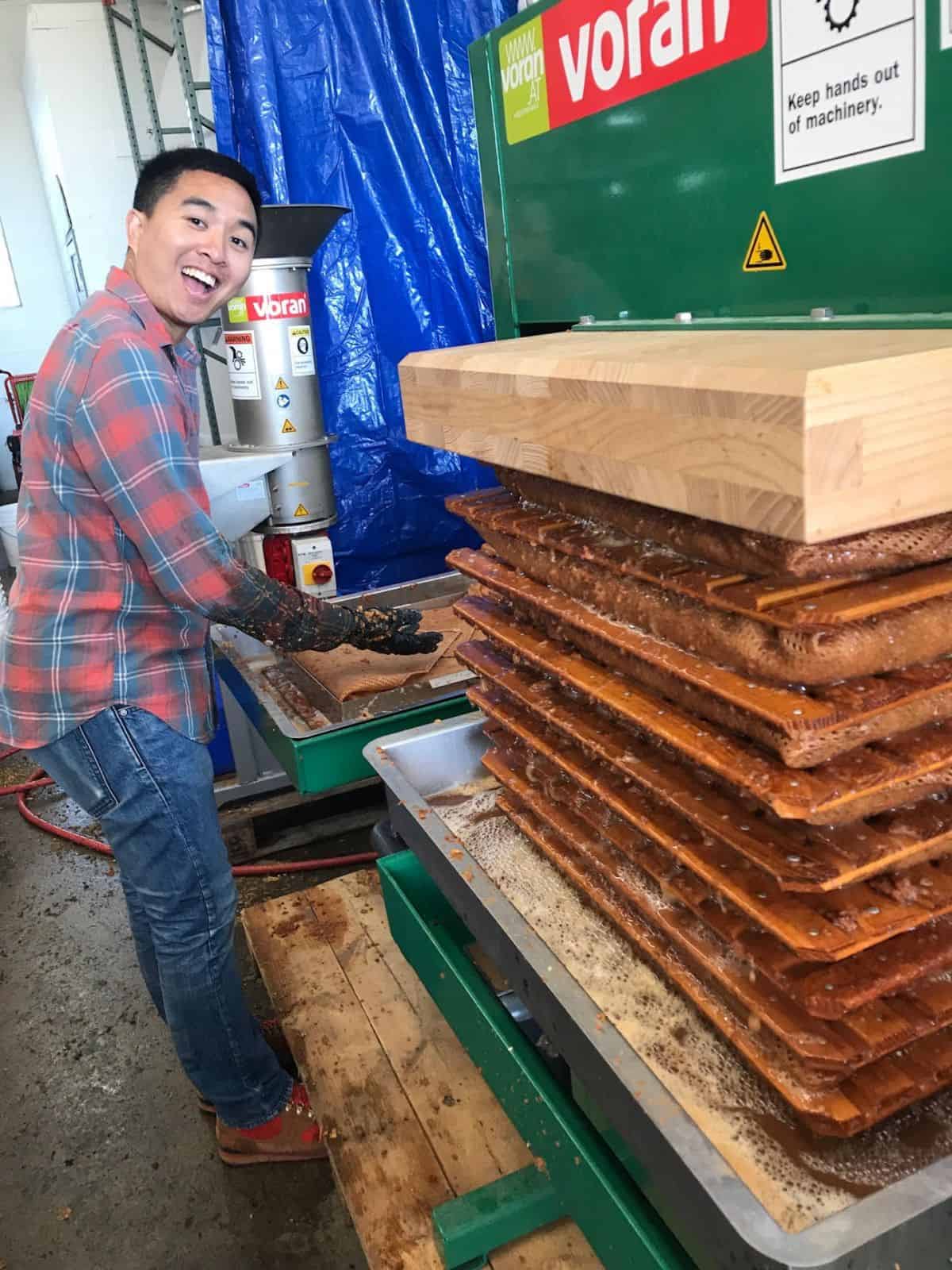 What are some of the challenges you've encountered?
Identity. If you pick up Joujou, Gris Gris, or a cider from another producer, the average consumer would have no idea how it tastes. It would be like if all beer was labeled "Beer," and you didn't know if you were buying a stout or an ale, and therefore didn't know what to expect when tasting it. 
If you drink one of our ciders and have been told it's akin to Champagne (i.e., Gris Gris) and your mind locks into that zone, you're all in for what you get. However, if that's not what you are expecting, then you'll be unhappy. For instance, someone once reviewed our cider and said that cider tastes like Champagne but rated it 2 out of 5 because it wasn't how they expected cider to taste.
Who do you think is your average consumer?
Someone who doesn't like beer but who already drinks cider and then tries one of our ciders and really enjoys it.  
Are there any challenges that have been unique to the pandemic?
No longer having the opportunity to have face-to-face interactions with consumers. We used to do many pours at small wine shops, and the average shopper would have a pretty good vocabulary for wine. Half of the people we interact with would be excited and know a few things about cider. The other half were the ones who said they don't like cider but do like wine. Those face-to-face interactions allowed us to use some of the wine vocabularies to talk about the cider and help build infrastructure on where some ciders fit, and now that consumer has a means for accessing the beverage. 

Is there anything else you want to explore?
If I had the time and money, I would be interested in exploring distilling. I think making brandy is the neighbor of cidermaking. I'm not interested in making brandy per se, but I am interested in making vermouth and other aperitifs. In general, American alcohol culture doesn't have the same aperitif culture as some European countries. There are beverages in these cultures that are lower ABV sippers, that are usually floral, aromatic, and herb-based, almost like an alcoholic tea. A lot of these are blends of fortified ciders or wine. This expansion would also be on-brand for Overgrown Orchard because it fills in the conversation.
If you were stuck on a desert island, what three things would you bring with you?
Netflix and a functional vineyard — I can spend my days tending to the grapes and making wine. And the Will Shortz crossword puzzle collection.
To learn more about Overgrown Orchard, check out its website, Facebook, and Instagram pages. Overgrown Orchard ciders are available for purchase throughout Chicagoland (see retail locations here). Contact Overgrown Orchard at info@overgrownorchard.com.