If you're part of the Instagram cidersphere, your feed has likely been rife with harvest photos. Though the perfect time for apple picking varies a bit from region to region, autumn is when farmers and orchardists are out there, harvesting apples in epic numbers.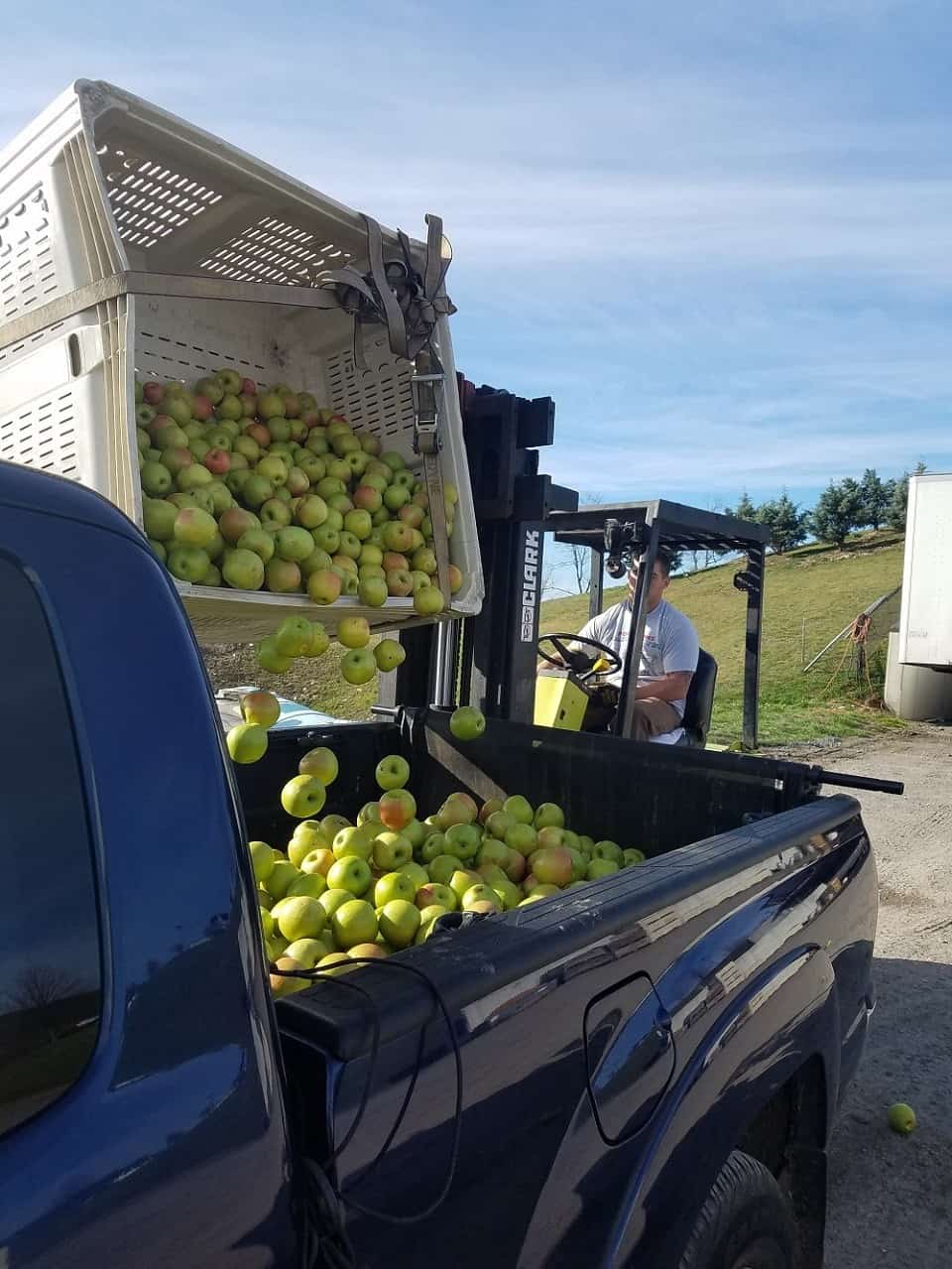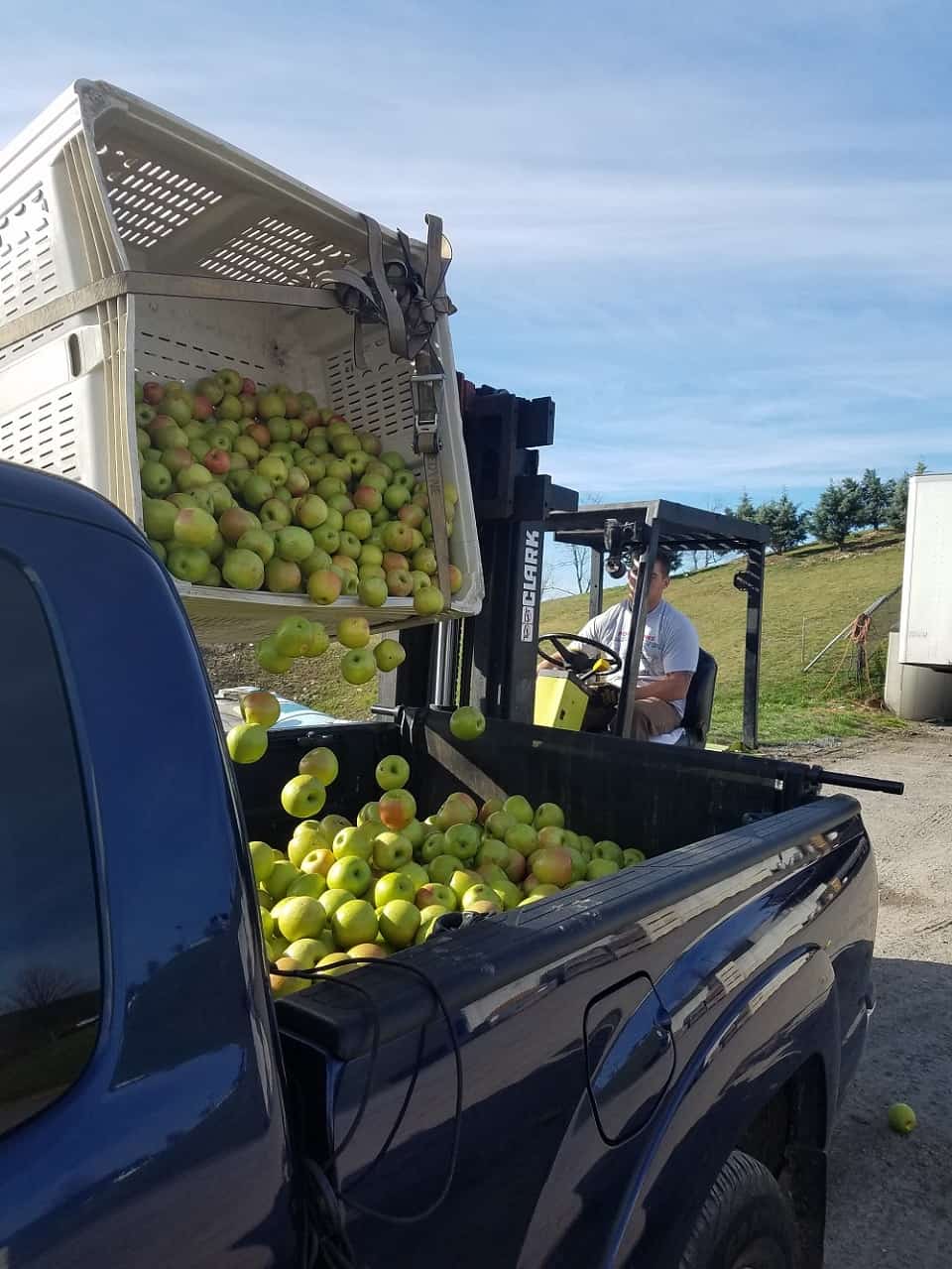 What better way to celebrate the hard and hopeful work that happens during the harvest season than with harvest ciders?
By "harvest ciders," we mean ciders that allow the apples and their native yeasts to speak of the land and climate where the fruit was grown, ciders that highlight the qualities of the apples themselves. We mean ciders made with local cider apples, firm with tannins and explosive with acid, which taste of place and not of sugar or other additives. While the warm weather usually has us reaching for crushable session ciders (with other fruits and hops more than welcome to the party!), in the fall we long for the esoteric, thought-provoking complexity of harvest ciders.
Here are five to try: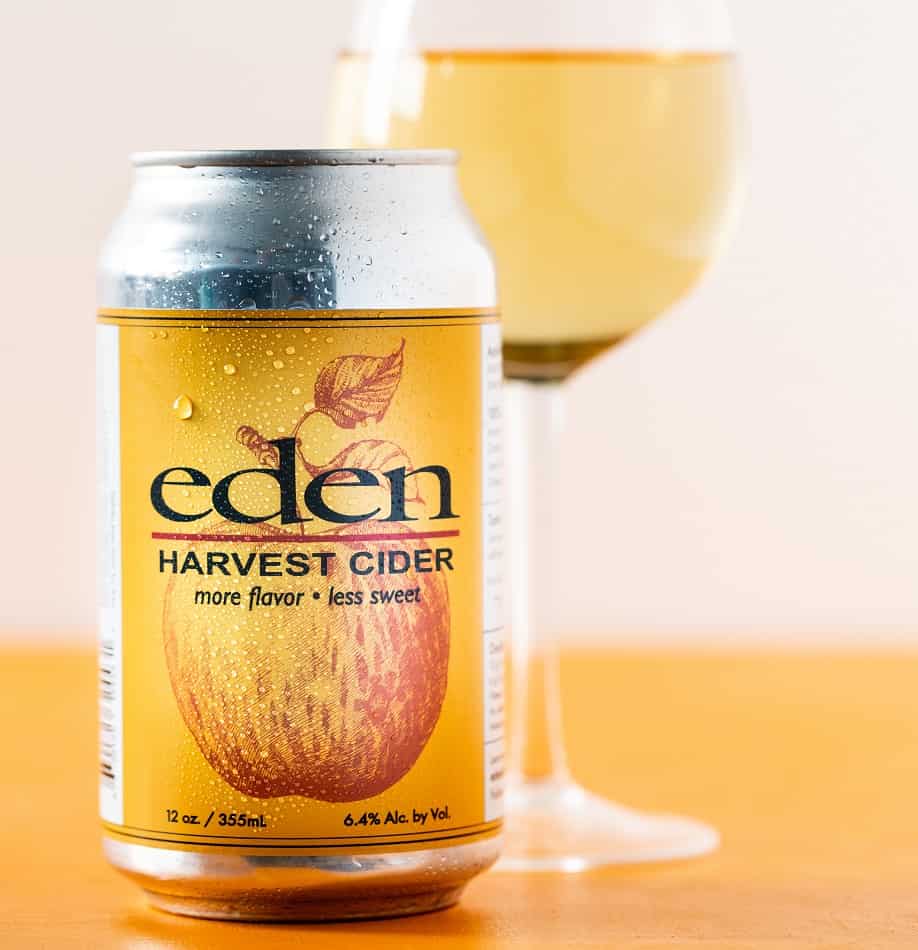 Eden Ciders' website has perhaps the most concise definition of "harvest cider" that we've come across. The qualifications include:
Heirloom and tannic cider-variety apples, grown sustainably and locally in a way that supports rural communities, and building long-term relationships with orchards that grow rare, high-flavor varieties of apples.
Apples harvested at peak ripeness, as opposed to under-ripe for storage and shipment to grocery stores.
Apples pressed at harvest, or soon after, when flavors, sugars and acids are at their most excellent, as opposed to bringing apples out of cold storage months later when their characteristics have dulled. For Eden, this means making one batch of each cider per year, a very different approach from many modern ciders that produce a new batch from a recipe every few weeks.
A slow, cool fermentation that is similar to wine making, allowing flavors to develop over time, and to express the unique character of the apple varieties and their terroir.
Maturing ciders so their acids, tannins and any residual sweetness are fully integrated and balanced. This means allowing time to do the work instead of cheap, fast techniques, like adding sugar, acid or tannin out of bags, finding agents to speed clarification, or enzymes to fix microbiological issues.
It's a lot to consider, and it shows how thoughtful and careful owner Eleanor Leger and her team are in their approach and their philosophy. Any cider from Eden makes a grand toast to the harvest season, though we love the everyday, easygoing nature of the Harvest Cider cans. The cider is made with apples from four small Vermont orchards, which are gently pressed immediately after harvest and given a slow, cool fermentation. Post-fermentation, a touch of Eden-produced ice cider is added and the blend then rests in stainless-steel tanks for five months before canning.
Tasting notes: A whisper of minerality balanced with hints of tropical fruit and candied raspberries on the finish; 6.2% ABV.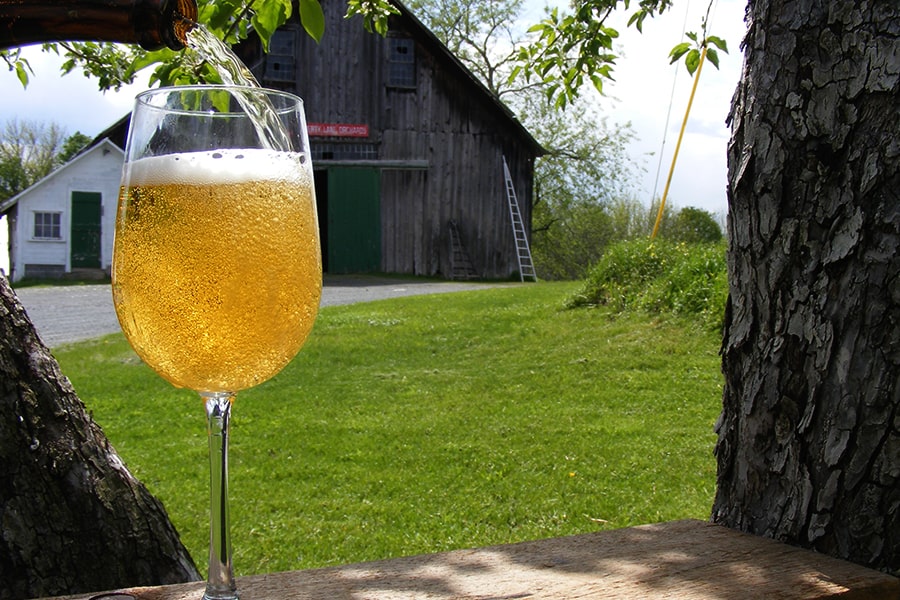 This cider-making operation at legendary Poverty Lane Orchards uses bittersweet cider apples varietals, like Dabinett, Ellis Bitter and Yarlington Mill, believing they "make far better cider than fruit-bowl apples." Farnum Hill's ciders showcase these apples' wild and diverse flavors, ranging from fruity and herbal to mineral and earthy notes, each harmonizing with the help of balanced tannins and acid.
Farnum Hill Farmhouse, packaged in camping-friendly cans, is a more casual, rustic cider than some of its ciders in larger format bottles. It's blended with early-ripening apples for a crisp, pale gold and bubbly drinking experience with a touch less alcohol than Farnum Hill's other varieties.
Tasting notes: Citrus, pineapple, bittersweet apple and a whiff of barnyard funk, with a clean, appetizing finish; 6.5% ABV.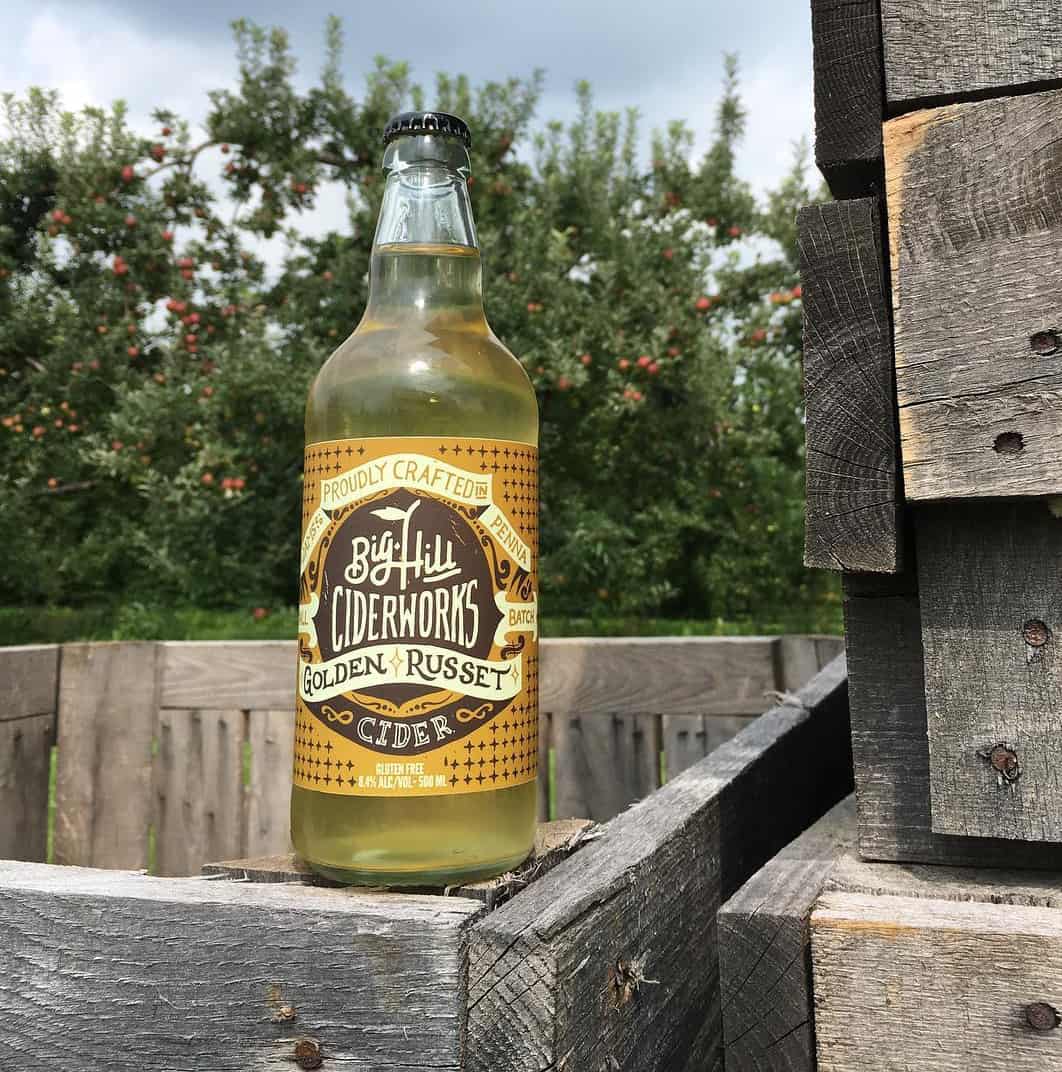 Big Hill Ciderworks is located in the heart of Adams County, PA, one of the most prolific apple-growing regions in the U.S. Big Hill presses, ferments, bottles and distributes all of  its ciders from the many varieties of apples grown on its land. This is beautiful, providing orchard-driven ciders with no added sugars, sweeteners, colors or flavorings. Many of its ciders are blends of different apples, which are all really balanced and expressive, but we especially love the pure clarity of its Golden Russet cider. This is a single varietal cider that sings with the flavor of of this old American cultivar of a domesticated apple that's known for its intense tartness.
The cider spends the winter resting on lees (leftover yeast particles), and is then racked and barrel-aged for eight months before bottling. Big Hill says this cider is "a true expression of our microclimate and the terroir of our orchards."
Tasting notes: Notes of vanilla and burnt sugar with a smooth, lush flavor and balanced dryness; 8-8.4% ABV.
Art + Science is a natural cider, perry, and wine producer in rural Yamhill County, Oregon, headed up by husband-and-wife team Dan Rinke and Kim Hamblin. To make cider, they mostly foraged for fruit and ferment with indigenous yeasts. While they wait for their own estate orchards to fully come into production, the couple explores mostly on privately-owned lands, from abandoned and neglected orchards to seedlings trees growing wild in nature. While this isn't an agricultural "harvest" in the traditional sense, to us, the effort, labor and persistence involved with foraging is its own harvest to be celebrated!
Art + Science's Humble Apple cider is made from foraged apples from the western side of the Willamette Valley, which are then milled and pressed, and then fermented naturally with ambient yeast with nothing else added  – no added sulfur, acid, sugar or forced carbonation. The cider is bottled before the first fermentation is complete, meaning it naturally carbonates in the bottle (oh, how we love pét-nat cider!).
Tasting notes: Rustic farmhouse styled cider with floral notes, yeasty funkiness and citrus on the nose and a balance of light carbonation, acid, tannins and a touch of sweet citrus fruit on the palate; 7.2% ABV.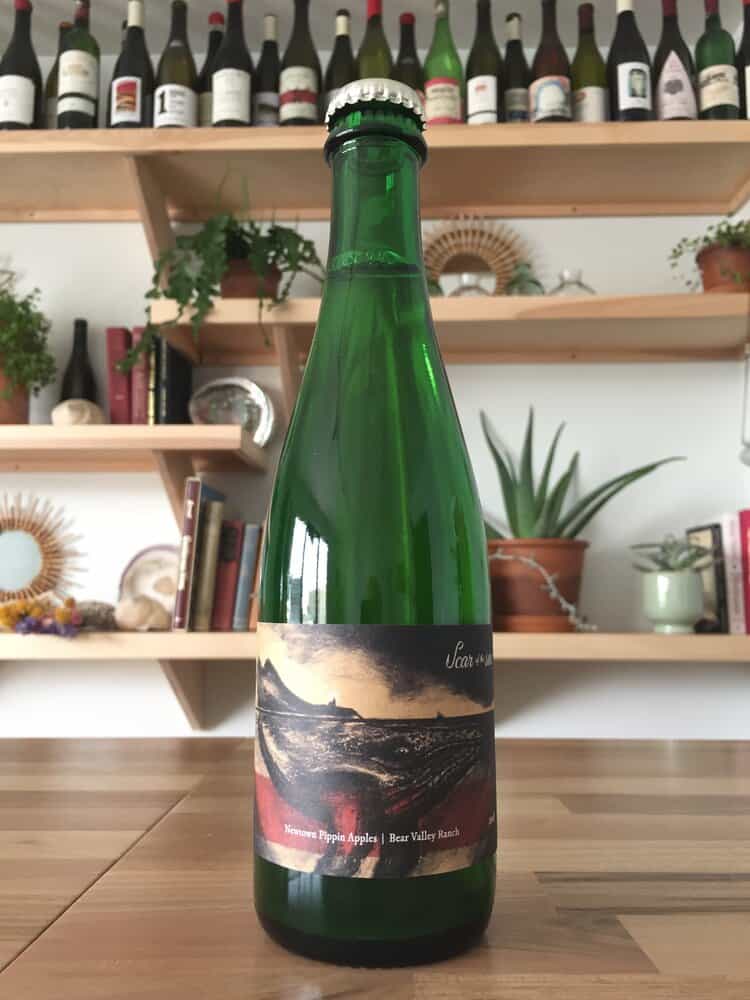 Scar of the Sea, founded by Mikey Giugni and Michael Brughelli, two college friends with a shared affinity for the ocean, makes cider and wine that are influenced by the maritime soils, and climates of the Central Coast of California. Its ciders are made with apples harvested from a handful of orchards dotted across the Mountain foothills, coastal valleys and high deserts of the nearby terrain. These include Bear Creek Ranch in Santa Cruz, Chadmark Farms in Paso Robles and Kids Inc Orchards in the Sierra Foothills. The apples harvested from these small farms create ciders that are terroir-driven, balanced and complex.
Its Newtown Pippin Cider is made from a harvest of Newton Pippin apples from Bear Valley Ranch in Aptos, California, which was planted between 1940 and the 1960s farmed without any chemical inputs After barrel fermentation with native yeast in French oak barrels, the cider is barrel-aged aged sur lie for 12 months. Then, it's re-fermented in the bottle with a dosage from 2019 fresh juice to add carbonation.
Tasting notes: Light and bright with aromas of bubble gum, banana runts and apples. Tart and dry. 8% ABV.
What are your favorite harvest ciders to reach for as the weather cools? Let us know!
Harvest photo: Jack's Hard Cider
All other photos: Courtesy of the respective cideries