This year, the PA Cider Fest kicked off with a convivial, community-oriented Cider Maker's Dinner on Friday evening, June 23. Hosted by Jack's Hard Cider on the gorgeous grounds of Hauser Estate in Biglerville, this invite-only dinner was organized to bring the industry together to celebrate, encourage, lift up and support each other. Movers and shakers in the cider industry gathered to dine and drink side by side; many attendees brought along bottles to share.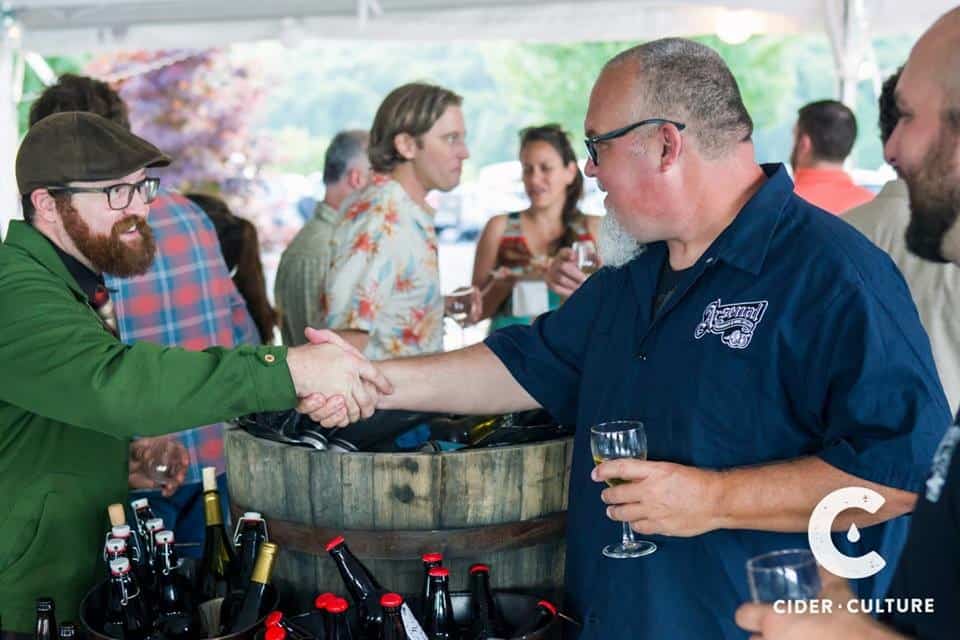 The dinner was sponsored by PA Preferred and Cider Culture, and though the event was complimentary, guests were encouraged to support the Pennsylvania cider industry with an optional donation to the Pennsylvania Cider Guild, whose mission is to bring together cider makers, cideries, cider enthusiasts and associated businesses to have a united voice in the state of Pennsylvania. FYI: Donations are still being accepted here.
Hanging out under a festive outdoor tent, attendees at the Cider Makers Dinner enjoyed delicious food from chef Josh Fidler of Fidler & Co., enhanced with exquisite Pennsylvania products. The meal began with a gourmet PA Cheese Board by the Pennsylvania Cheese Guild, paired with Jack's Strawberry Rhubarb Cyser. The main dishes included tangy PA Preferred pork barbeque sandwiches and PA crimini sloppy mushroom Joes on Martin's potato rolls, Beech Springs Farm summer broccoli salad, za'atar-spiced three bean salad and creamy Adams County apple, pepper and cabbage slaw. Cold, crisp pours of Jack's Original and Jack's Hopped Pear Cider perfectly complemented these savory bites. For dessert, spiced cider molasses cookies were served alongside Jack's Breakfast Bourbon Cider.
New to the Cider Makers Dinner this year were awards. Cider makers voted on their peers in the industry to recognize outstanding cideries and makers. These were the winners in the following categories:
Cider Maker of the Year: Big Hill Ciderworks
Cidery Where You'd Want to Work (if you didn't work at your own): Big Hill Ciderworks
Tasting Room of the Year: Jack's Hard Cider
 Rising Tides Lift All Ships: Big Hill Ciderworks
Check out more photos of this awesome event at the Cider Culture Facebook page!