When Remo Trovato arrived in Vancouver from his native Switzerland in 2002, he brought nothing but a bicycle, a snowboard and a backpack.
The auto-electrician social worker turned web designer set out for the Okanagan Valley, an agricultural region of British Columbia that's about five hours west of Vancouver and a few hours north of the Washington border, where he met his wife, Kristen.
Today, Kristen and Remo have two young children and run not one, but two businesses: MobileJuicing.com which juices fruit for farmers in their region and Juicing.Systems, which supplies top-of-the-line Kreuzmayr machinery — like belt presses, de-stoners, elevator-washer-grinders and pasteurizers — to cider makers and fruit processors across North America.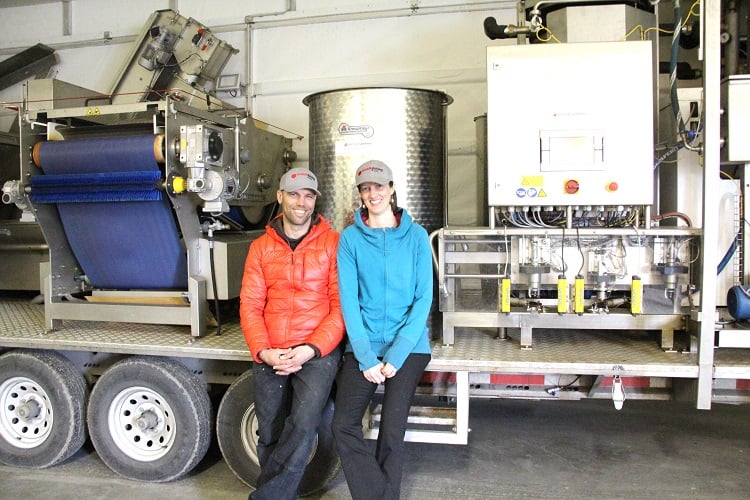 But it wasn't always that way. When the couple got together, Kristen had been working in landscaping, and Remo owned a web design company. She wanted to own her own business, but the considerable up-front cost of starting her own landscaping operation felt like a barrier.
The Okanagan Valley and its agricultural heritage plays a big part in the Trovatos' story. In the summertime, the region has a California-like climate, great for growing tree fruit and grapes for wine; in winter, it's very cold and snowy. When the couple came across someone selling a mobile pack press, they realized they'd found the perfect match.
"I worked on it for a few days and fell in love with it," says Kristen, who ran the business herself when they first started pressing in the fall of 2012.
Running the press was hard labor and long hours, and established growers in the valley were skeptical about her success.
"They said it would never work, which was hard and challenging," Kristen remembers. "But I pushed through and did it anyway."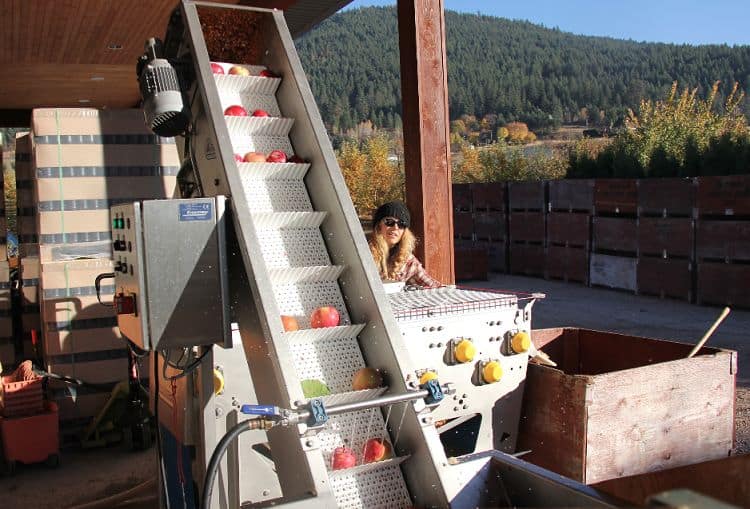 At first, Kristen and an all-women team ran the operations, setting up the rack-and-cloth press at different farms and shoveling fruit by hand to fill around 60 5-liter box-in-bags per hour. "We would show up and pound out this juice, and these farmers would be looking at us like, wow," she says.
For their second season, Remo sold his web design business and worked with Kristen on juicing full time. (In the winter off-season, the pair worked as ski and snowboard instructors.)
By their third season, Mobile Juicing finally turned a small profit. But the work — 14-hour days of manual loading and unloading with the rack-and-cloth press — was feeling like more than they could handle. The couple upgraded to a more efficient setup with a Kreuzmayr belt press, which washes, grinds and presses the fruit automatically and they also set up a de-stoner so that they could work with stone fruits like cherries, peaches and plums.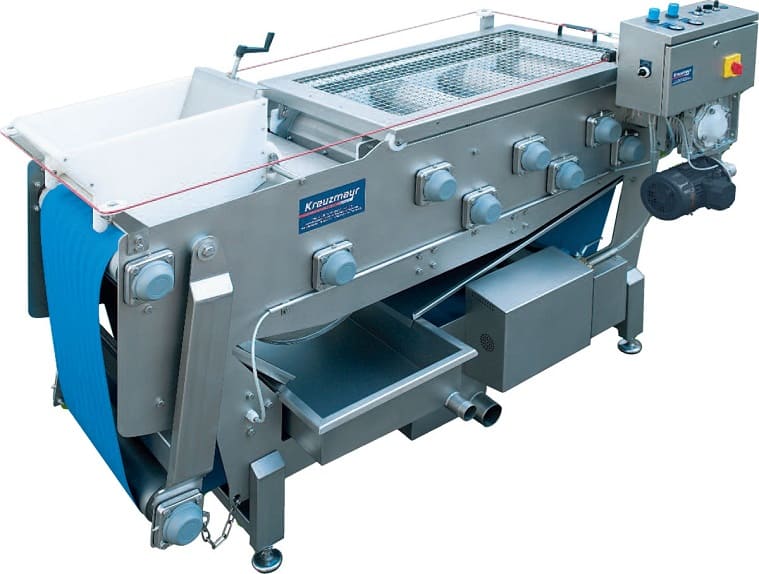 Since then, thanks to increased demand, the Trovatos have upgraded their Kreuzmayr to a model with greater output — up to 1,200 liters per hour, more than triple their original setup.
Kristen and Remo have also become part of their regional food system and agricultural community. Their work is helping fruit farmers add value to their products and also helping to minimize waste by processing imperfect "cull" fruit that lacks the prettiness or shelf life needed to sell.

"We [processed] 1.5 million pounds of cull fruit last year," Remo says proudly. "It was a beautiful thing."
Their success has attracted attention. Producers like Everett Family Farm in California, which makes Soquel Cider from apples and persimmons, reached out to the Trovatos seeking a way to improve their process. BC Tree Fruits, one of the largest cider producers in the province, wanted to start a cidery. The Trovatos told them about Kreuzmayr, their hands-down favorite for juicing equipment and machines.
Remo, who has a background as an auto electrician, had visited Kreuzmayr when the couple bought their first belt press and de-stoner. After seeing how he had modified their machine to fit their needs, the company hired him to service and sell their machines in the U.S.
"Once you see one of their belt presses, [versus] the way you used to press with other brands that are native to the U.S., it's a no brainer," says Remo.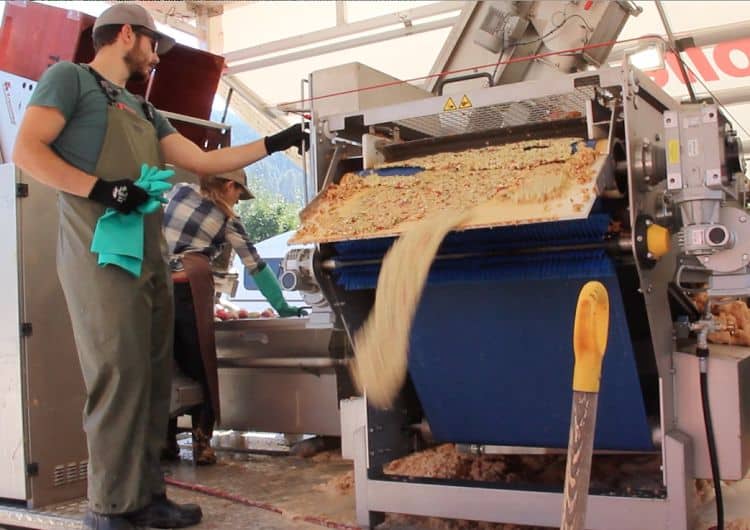 After a strong first year of sales, the Trovatos incorporated Juicing.Systems and tripled sales in their second year, even scoring a North American distribution contract. In addition to Soquel Cider and BC Tree Fruits, they've worked with Ontario's Puddicombe Estate, Embark Cider, Blackbird Cider Works in New York and Twisted Hills, another Okanagan Valley business.
Before working with Juicing.Systems, Embark Cider was using a labor-intensive bladder press to process fruit.
"When I met them they were literally pressing around the clock, 24 hours a day, 7 days a week," Remo says. But more efficient machinery from Juicing.Systems has allowed them to cut labor to one tenth of what it was without dropping production. "
"With the Kreuzmayr double belt press, they're only pressing two shifts a week and producing the same volume," he says. "Now, they even have space to press for others."
Part of what makes Juicing.Systems so great at what it does — providing the best and most efficient machinery on the market to orchards, cideries and other fruit processors — is that Remo has years of hands-on experience working with the machines. In fact, even though the company has grown, he's sometimes still out there juicing with the team.
Another unique trait of Juicing.Systems versus other machine companies or machine salespeople is that the company exclusively uses and sells Kreuzmayr products, with the exception of filling lines from In-line Pack (and only because Kreuzmayr doesn't make those).
This intimate knowledge of the equipment, inside and out — everyone at Juicing Systems has worked on the juicing trailer — gives them a serious edge.
"We have a realistic knowledge of the output and possibility of these machines — what you can and can't do," Remo explains. And if there is a breakdown, their intimacy with the design of the equipment means that they can diagnose problems and talk customers through fixes over the phone.
Next, the Trovatos are scouting for local existing cidery suppliers to establish service centers around North America, in an effort to put sales reps and repairs conveniently close by and to give customers increased peace-of-mind.
"We've learned so much, and our clients are so amazing," Kristen says. At the core, the Trovatos' goal is to keep doing what they love — and to help the hard-working farmers, orchardists and cider makers that Juicing Systems supplies do exactly that, too.
To learn more about Juicing.Systems, head to its website, or give the team a call at (250) 558-5488.