Hans Edwin Winzeler, a cider maker with Pennsylvania-based Ploughman Cider, is currently spending a 10-month sabbatical in Herefordshire, England. Through employment or volunteering with local producers this season, Hans is able to see firsthand what methods, techniques and practices they use. He's also gotten to know a few of these cider makers, and he is conducting a series of interviews for Cider Culture to share their stories.
Little Pomona is an orchard-based, minimal intervention cidery founded and run by Susanna and James Forbes in Thornbury in the tiny village of Northern Herefordshire (population: 197). James describes their effort as a "nano-cidery with pretensions to be boutique," and as they plan to expand to about 40,000L per year, he predicts, "we will be truly little one day."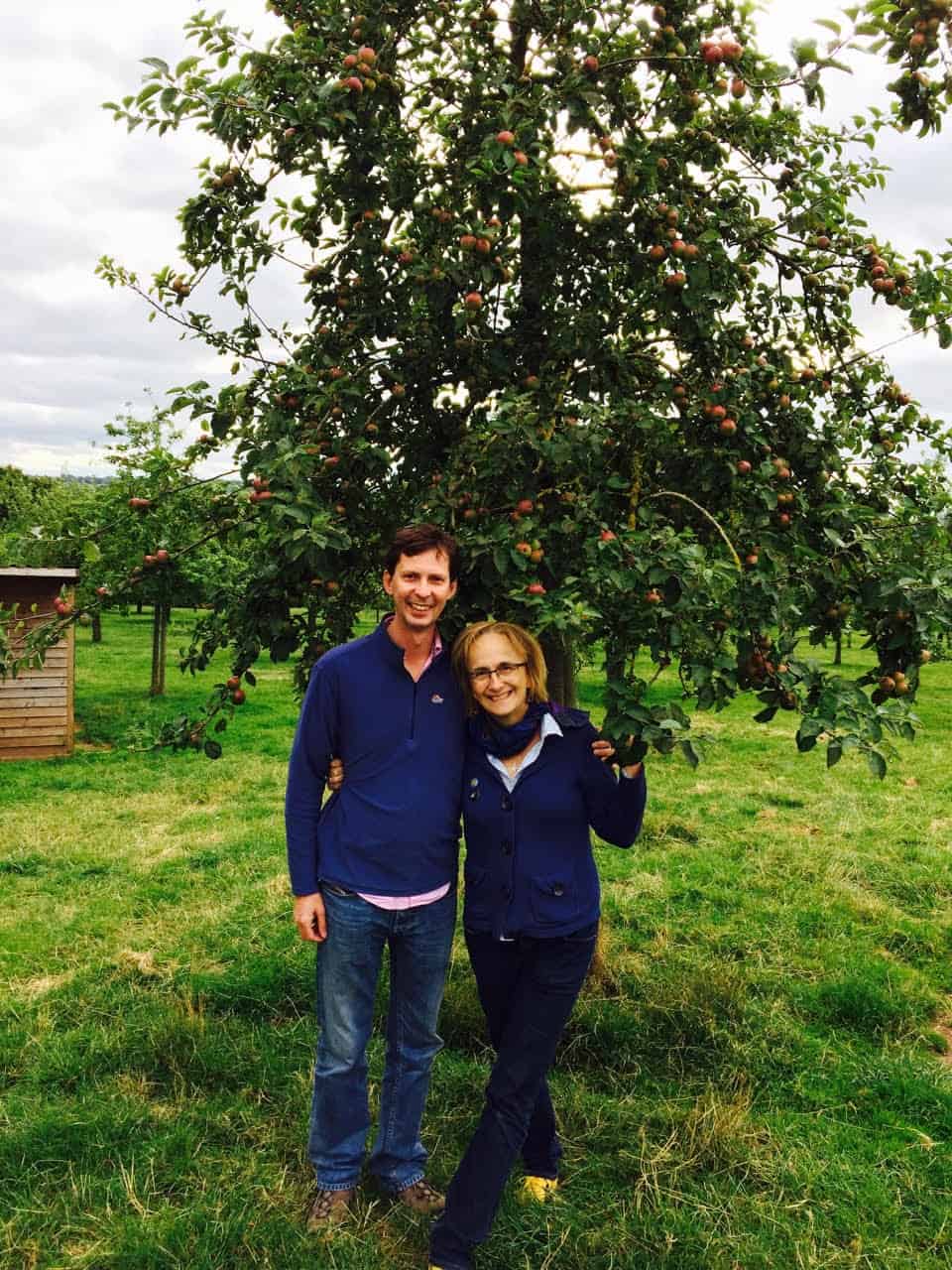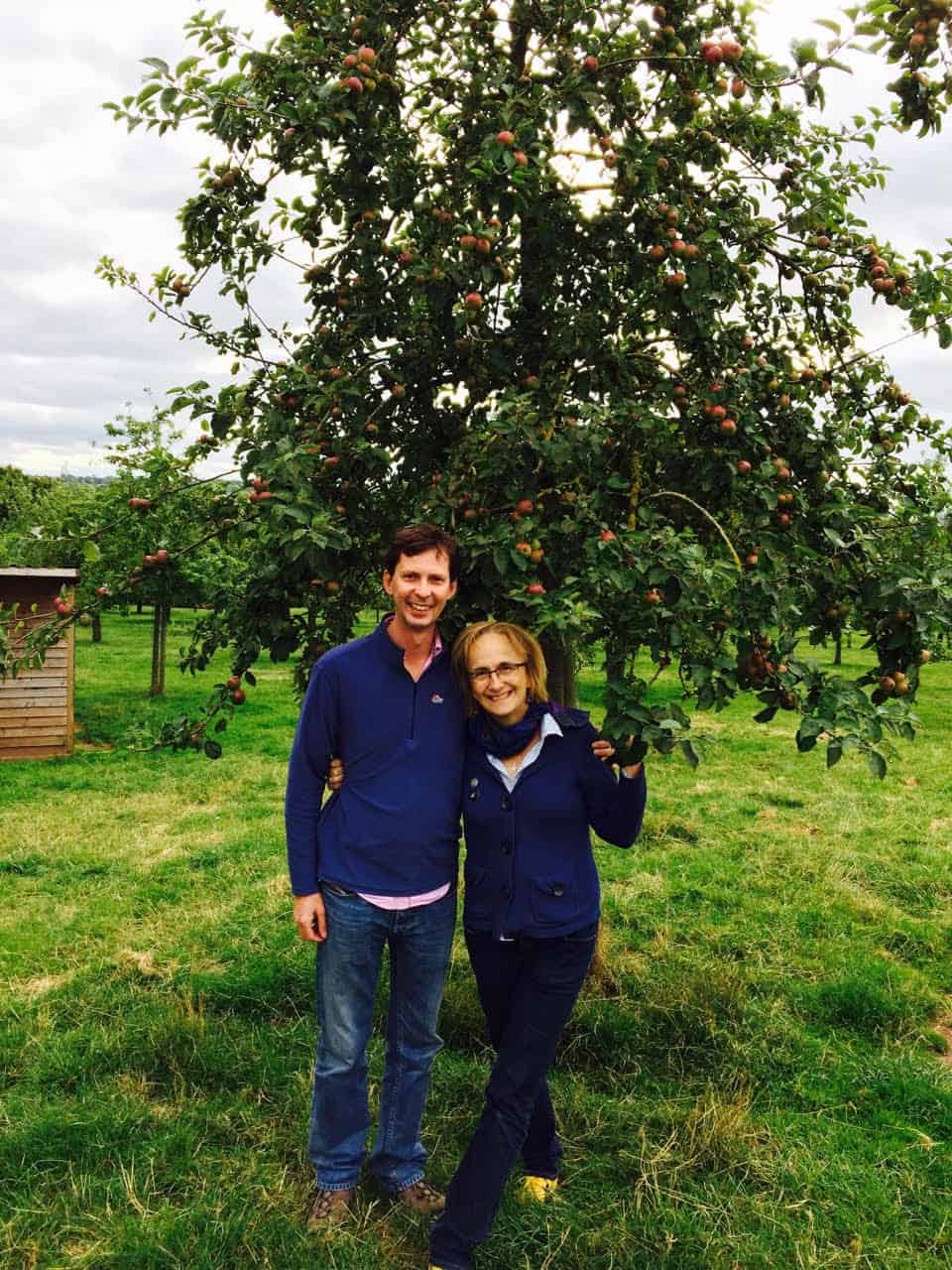 At this proposed level of production, according to James, they will be able to keep their current ethos of quality and work full-time at making cider. After helping them with harvest and production a few months earlier, I sat down with James one wintry morning with cakes and coffee at their property to discuss their cidery and how it relates to the industry in the UK and abroad. Susanna couldn't attend the interview, as she was in France researching for a cider book she is writing, but she provided a few written comments later.
While James and Susanna are both relatively new to cider making, they have been in the wine and beverage trades for more than 20 years. After their earlier work in the industry they knew they wanted to produce something. James said producers of drinks were always the most interesting people he and Susanna met while doing their work in retail and journalism.
Cider, though, was not James's first thought, and he considered making whisky, vermouth, gin, wine and other beverages. He didn't even like cider at the time. "You go to the pub and it's … any of these commercial brands and they all pretty much taste the same, not very interesting from a wine drinker's point of view: Sugary, sweet, no depth of flavor … so I didn't know anything about cider and I never bothered to look into it."
At one stage, Susanna launched a website, drinkbritain.com, a travel resource for enthusiasts who wanted to visit producers and see their work in action. "That took us on a road trip, about two weeks around the UK," James remembers. "We ended up in Herefordshire — I didn't even know where Herefordshire was at the time — and we met inspiring people like Tom Oliver, Simon Day, Mike Johnson and Ivor Dunkerton. And we tasted some very good ciders. It was a real eye-opener for me, not so much for Susanna. She'd had some exposure to cider and knew more about it than I did." The experience of talking to those cider makers and tasting their wares piqued the couple's interest in the huge potential of the cider apple.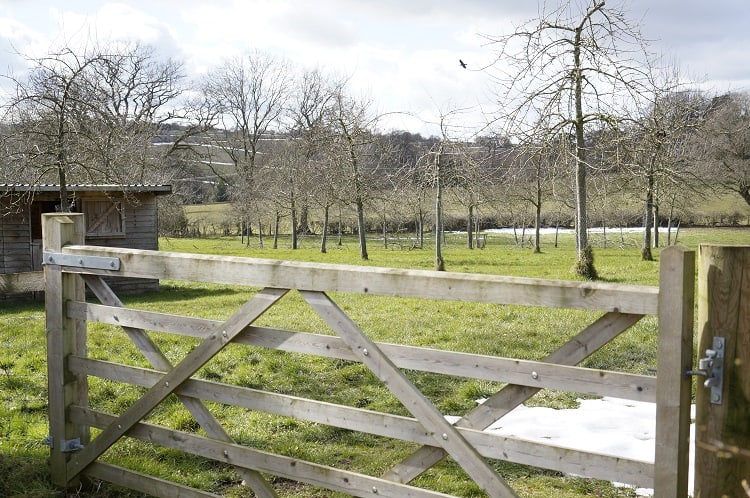 James and Susanna decided to make cider after this tour, and they bought a small house with a five-acre cider apple orchard. They started Little Pomona in 2014. The house was "nice, but just a house," explains James. But the orchard was special.
"I had the same feeling about that piece of land as when I've been in some vineyards around the world. You walk into them and you just think, 'Yeah, something good can come from here,'" he says. "This is a good piece of land. There's a sort of energy about it."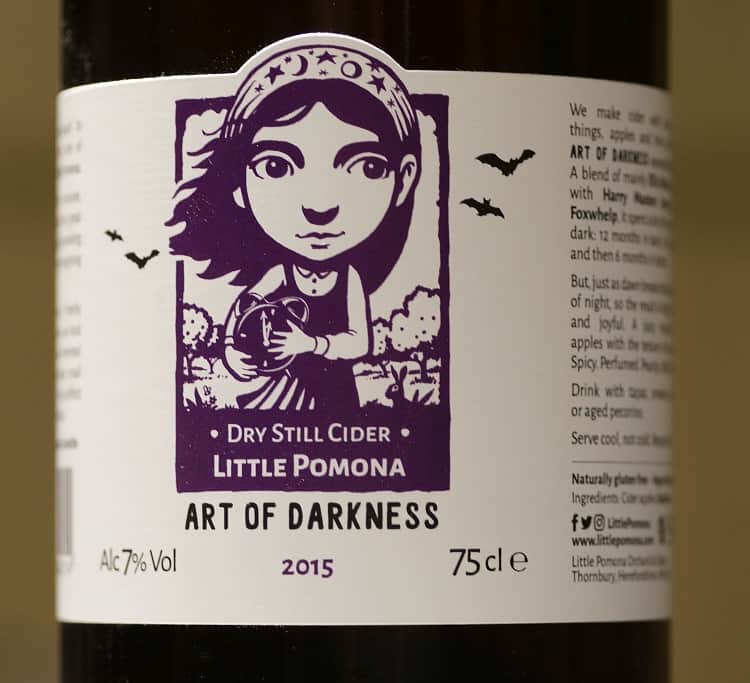 They named the cidery after the nymph Pomona of Roman mythology, who was quite a "fierce defender of her orchards and her fruit," according to James, and Pomona kept men and gods from entering her orchard. Like Pomona, James says they "are very much focused on our fruit here, but rather than the classical imagery of Pomona we wanted a non-sexualized image … we wanted a dynamic, determined, modern female character to represent our brand."
James and Susanna also found a welcoming cider community, with other small cider makers eager to help and inspire each other to make quality cider. "We owe a lot to guys like Tom Oliver, Simon Day and Mike Johnson, for sharing their knowledge and thinking with us."
I asked James if Herefordshire needed another small cidery, considering the many that already existed there, and the market is quite crowded. His answer was an emphatic yes. James considers small cider makers of orchard-based ciders an important key to reversing what he considers the general decline in the UK cider industry. "They are, after all, the medium or large producers of the future," he notes.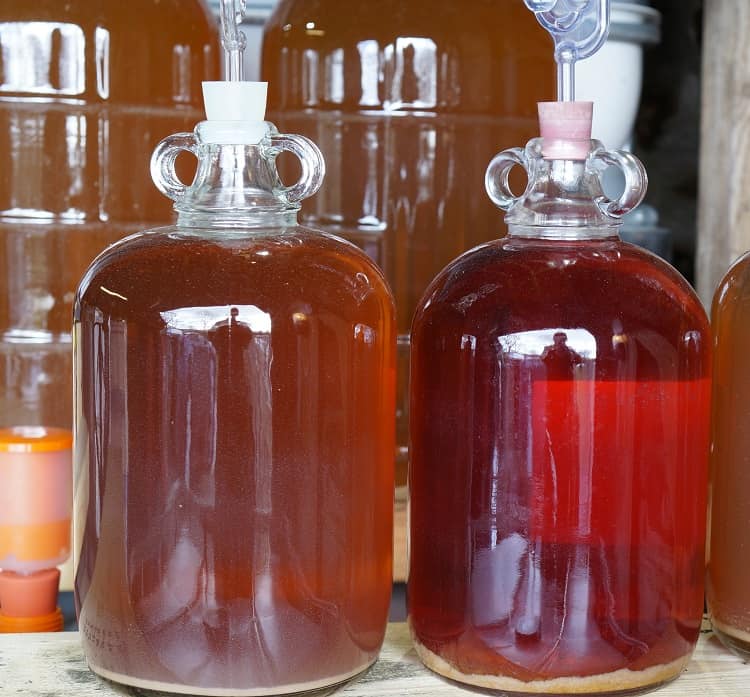 He sees the cider industry in crisis, with declining valuations of finished ciders, declining acreage of cider orchards, declining levels of juice content in industrially produced ciders and replacement of fresh apples with juice concentrates chosen for cost savings rather than quality.
The decline, according to James, comes precisely because brewers, who have very different mindsets from what is needed to make good cider, have taken over much of the country's cider making. For these massive brewers, he believes cider making is something "they buy and plug into their distribution networks around the world … a very simple box moving, money-making exercise; and they save money where they can."
This cost savings comes at the expense of terroir, apples are reduced to concentrate, ciders are of uncertain origin and made with minimal juice content, added water acids and sugars and other forms of what Susanna calls "subterfuge." James says the predominant industrial approach is "a race to the bottom, and all of these big guys have crossed the finish line." Old legacy orchard contracts signed by farmers to supply Bulmers with fruit are now receiving buyouts because it is cheaper for big companies to purchase juice concentrate from elsewhere than pay farmers for fresh apples from home. This is leading to a decline in cider apple acreage and a concomitant loss of cider culture.
Further exacerbating the problem is a legal definition of cider in the UK, as defined by legal notice 162, that allows for very minimal juice content of ciders, a document of "unutterable madness," according to James. "This is the great cider swindle. A powerful cartel of large scale cider producers, claiming to represent the best interests of the industry — but really only motivated by bottom-line economics — have decimated cider's culture, history and ethos."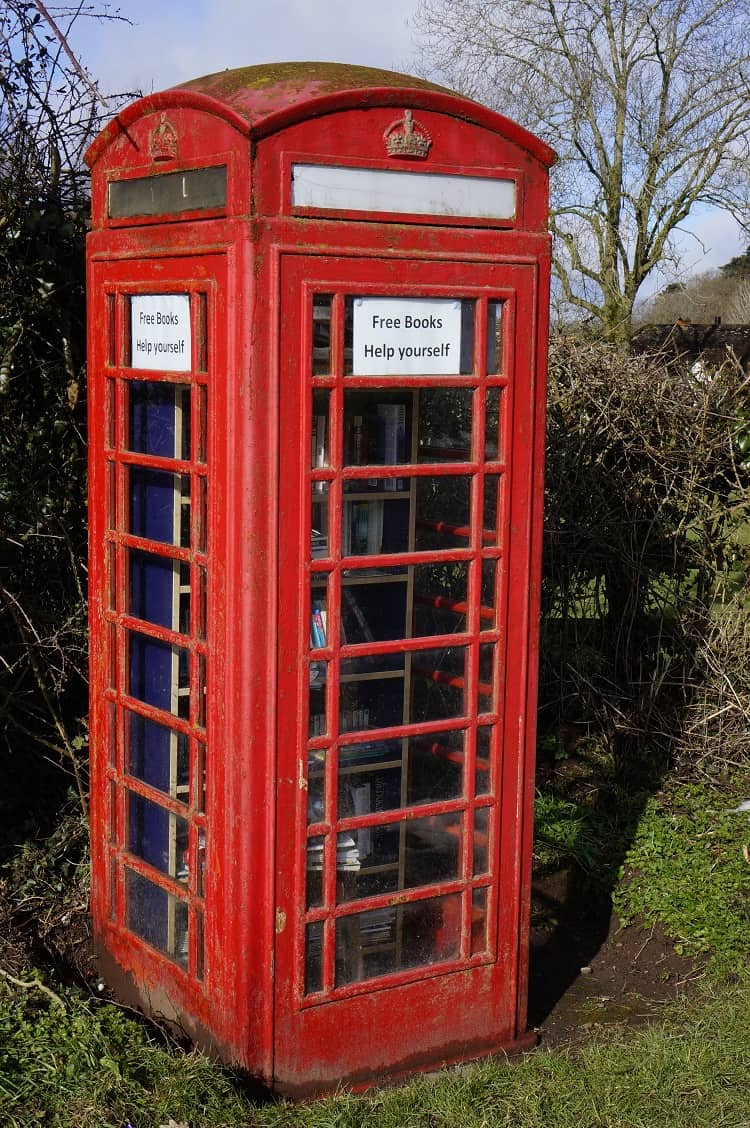 One solution, according to James, is orchard-based cider making in which ciders are made with high-quality locally produced juice using wine-making techniques and sensibilities. This approach means letting the ingredients themselves dictate the production time-scale, embracing seasonality and the maturation of quality products in their own time, eschewing additives and refusing any dilution with water. In this approach, variations in style display the natural variation in properties of apples from multiple producers, and season-to-season variability of fruit is highlighted rather than seen as an unfortunate deviation from standardization.
James would like to see more cider makers of some scale, which would improve the land use situation so that farmers have an incentive to plant trees rather than "grub them up."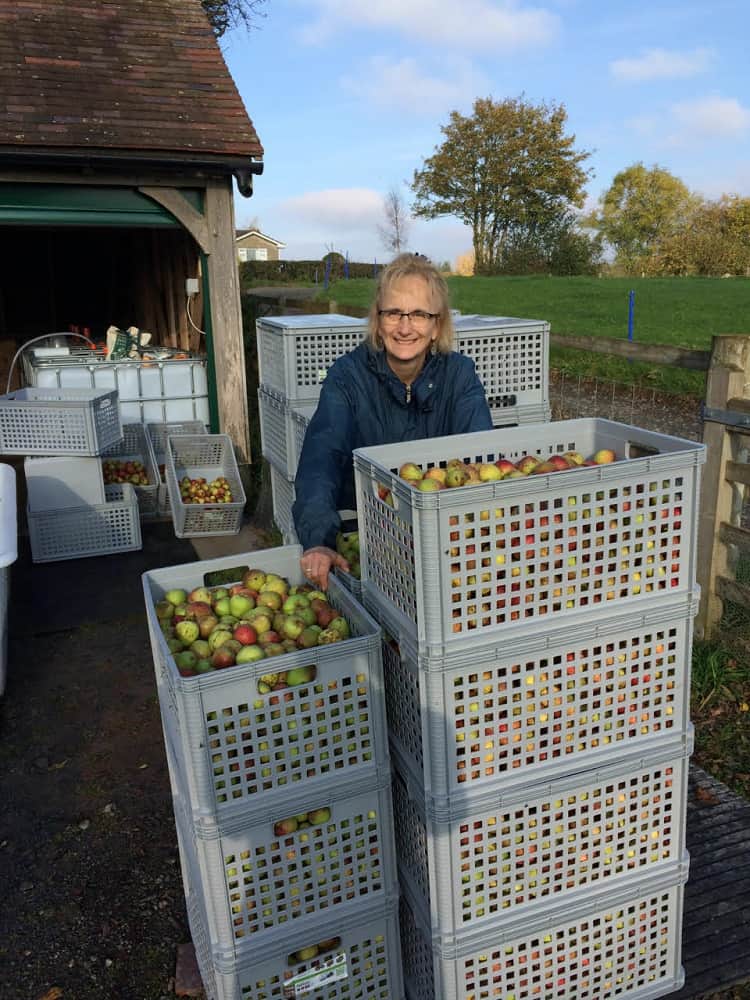 I asked them about their theory and practice of cider making. Susanna describes their process as an attempt to "express the apple in the clearest possible way." James calls it "unforced," creating ciders "through very limited intervention via wild yeasts."
"'Apples and time' is the theory. The practice is 'apples and time,'" he says.
How much time? Most Little Pomona releases are ready in 18–24 months after harvest. The release from March 2018, Art of Darkness, was made from apples harvested and fermented in 2015. This release spent 12 months in tank, 12 months in barrel and 6 months in bottle before release. It is drinking quite well now, superb really. The aroma is incredibly fresh, and the liquid is bright and fresh, with deep tannins and a long finish.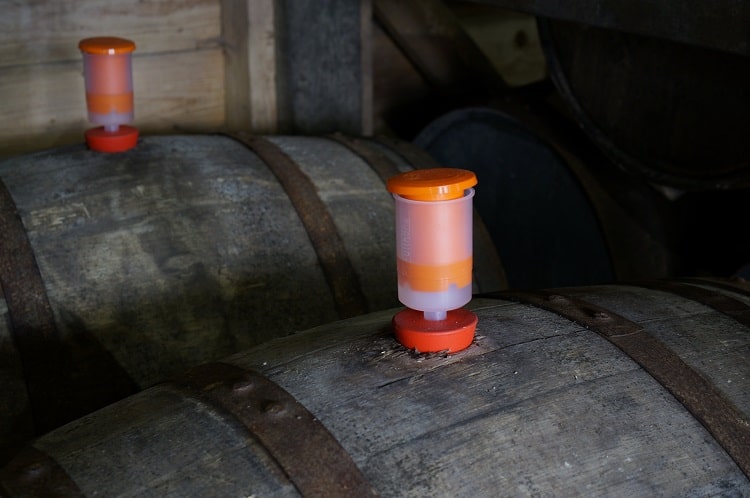 "It seems to me that it takes a lot of time for the Ellis Bitter to show its charms … it's a ridiculously long process," he explains. Their orchard practices are similarly passive. They do not spray their orchards, as James says the birds do as good a job of controlling orchard pests through predation as any pesticide sprays could do. Apples are harvested by hand straight from the tree, or are gently panked onto tarpaulins before going through a thorough four-grade inspection. They keep only the top two grades for their own ciders, and sell or give away other grades.
"We're basically really stupid about harvesting our fruit," says James. "[But] a lot of the things we do are tiny little steps that have effects further down the chain."
James likes to choose and process apples in such a way as to retain the acids in the fruit, which provide some protection during its long maturation process. The higher acids are also part of what makes their cider stylistically different from many others in the UK.
This approach has allowed them to differentiate themselves in the cider market in several ways. Their packaging emphasizes the provenance and identity of the fruit, as well as the use of the time factor in production. Most Little Pomona ciders are bottled in brown glass, representing the earth, with orange caps, representing the sun. The liquid from the apples rests and develops between the two. Of the color and design scheme, James says, "basically it's very pretentious."
Nevertheless, these details, like everything I have seen here, all have thought and intention behind them. Little Pomona labels include clear discussions of harvest and maturation dates, apple variety selection and the story of each cider's name.
I asked James whether cider could be great, and if so, how could great cider be described.
He says: "Great cider is a liquid of the utmost quality. Balanced, nuanced, broad, deep and long. The complexity and purity of the fruit expression, combined with the breadth of its supporting flavours — savoury, spicy, floral — should be paramount. There are many very good or excellent ciders that have these characteristics, but great cider must go further. It needs to be totally compelling and intriguing, demanding one's full attention. It must delight the senses and it must ask questions … It must also be memorable years after tasting it, and it must have a sense of place. It should redolent of the orchard, the land, the fruit and growing season from which it was born."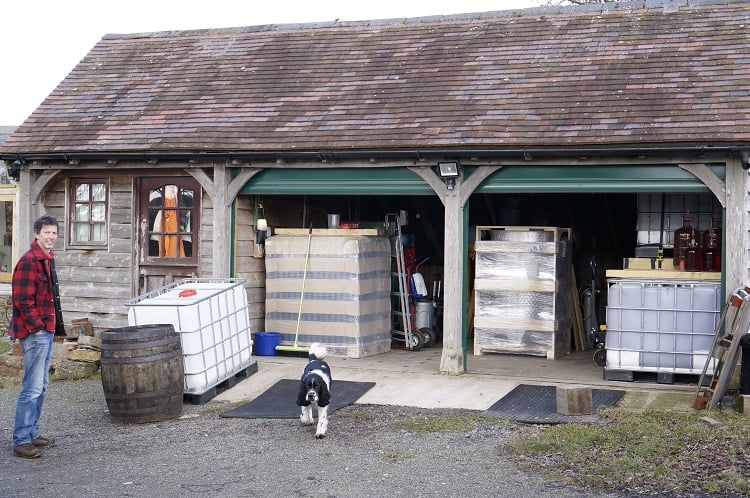 "Have I tasted a 'great cider' in those idealized terms? I've tasted many very good and/or excellent, I've come tantalizingly close, but great?… Not yet. But, I truly believe in the fruit. Great ciders are out there. Perhaps already in bottle, or perhaps on the tree this year, but they are there."
James points out that with wine and fine distillates, "their merits or otherwise, sometimes over the centuries, are pretty well documented. Cider has the odd reference here and there, but no real taste archive … We don't know how Thatcher's cider tasted in 1910, for example."
He intimates that great cider is a rarity. "Great 'anythings' are known or quickly become known — wine, art, music, literature, you name it." However, "the industry and legislative environment here is set up by design, such that an idea of great cider is almost absurd."
"We aspire to make great cider, although I think it's quite unlikely we'll ever get there. But in aspiring to make it great, we'll make the best ciders we can every year," he says. "That, to us, is the important thing."
James and Susanna are planning to expand their orchard in the next few years, planting the new acreage to 75% bittersweet apples and 25% bittersharps. They haven't decided which varieties to grow yet, but they will be "something unusual." James would prefer to hand-pick every apple, so small trees are appealing.
In spite of all the problems facing the cider industry in the UK, James is enthusiastic and optimistic about the future. "We need a new vision and appreciation of great cider. It will be built not by the cider establishment of today, but by the producers of tomorrow, coming together and speaking with one voice and forcing change. I believe that change is coming."