Two of your favorite summer go-tos are coming together just in time for National Ice Cream Day on Sunday, July 15! Angry Orchard and New York City-based Davey's Ice Cream have teamed up to give the classic ice cream scoop a hard-cider twist.
Angry Orchard Rosé has made waves this year with its crisp and refreshing taste. Made with rare, red flesh apples from France, this new cider variety has an irresistible rosy hue and an apple-forward taste.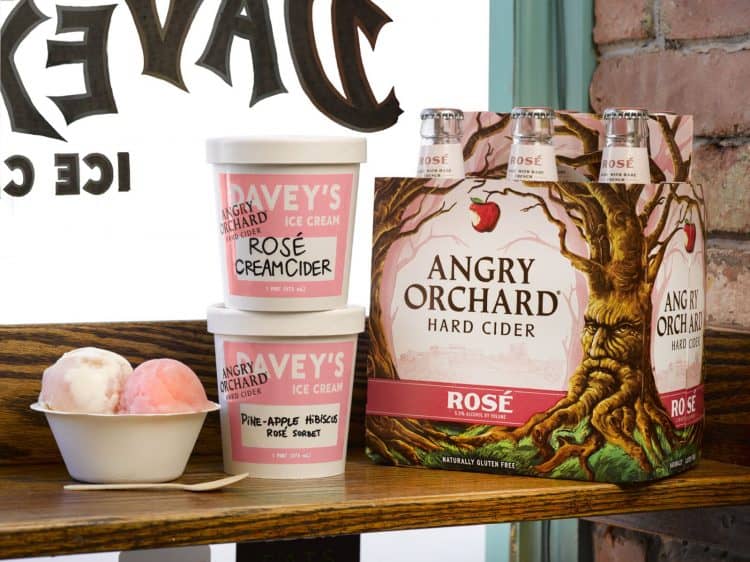 Experience refreshing Rosé Cider in two limited-edition flavors from Davey's:
Pine-Apple Hibiscus Rosé Sorbet

:

A vibrant sorbet flavor that will take your taste buds on a tropical getaway. Starting with Angry Orchard Rosé as the base, the recipe incorporates fresh pineapple juice and hibiscus to enhance the natural fruit and floral notes in the cider.

Rosé CreamCider:

 A refreshing flavor that combines Davey's signature homemade Sweet Cream Ice Cream base with "The Classic" rosé sorbet, made to resemble Angry Orchard's newest innovative cider. The result: a rich, sweet ice cream swirled with a bright rosé sorbet, bursting with apple flavor from the cider.
"We are always looking for refreshing and unexpected ways for drinkers to enjoy cider," says Ryan Burk, head cider maker at Angry Orchard. "For National Ice Cream Day, we wanted to see if we could deliver the essence of our Rosé cider in the form of a cool treat, and we found a great partner in Davey's, whose passion for innovative and unique ingredients resonates in each of the recipes we've crafted together."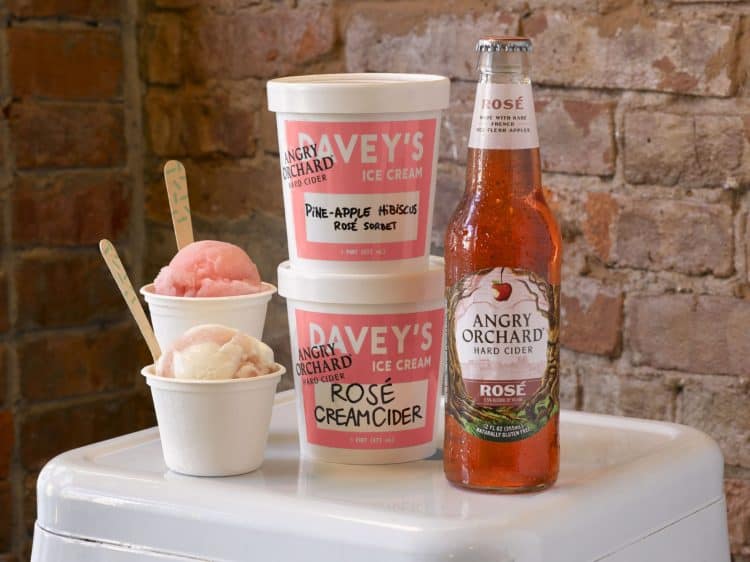 To experience both limited-edition Angry Orchard Rosé cider-infused flavors, please visit select Davey's Ice Cream locations in New York City starting Friday, July 15.
Davey's East Village at 137 1st Avenue in

New York City

will exclusively sell Rosé CreamCider by the scoop, and pints of Rosé CreamCider and Pine-Apple Hibiscus Rosé sorbet.
Davey's Williamsburg at 201 Bedford Avenue in

Brooklyn, NY

will exclusively sell Pine-Apple Hibiscus Rosé sorbet by the scoop.
Davey's Greenpoint at 74 Meserole Avenue in

Brooklyn, NY

will sell pints of Rosé CreamCider and Pine-Apple Hibiscus Rosé sorbet.
Angry Orchard will also have limited quantities of Rosé CreamCider and Pine-Apple Hibiscus Rosé sorbet available for purchase by the scoop for drinkers who visit Angry Orchard on Sunday, July 15.
Quantities are limited, and flavors will be available while they last. Please note: The ice cream and sorbet do contain alcohol, and you must be at least 21 years old to enjoy.