It's taken nearly 150 years, but orchard-grown hard cider (which never fell from favor in most of the British Isles, Germany and France) is back again across the United States and, especially, burning it up in New York's Finger Lakes region. With the state's Farm Winery Act of 1976 providing an opening for grape growers to make and sell their own wine, followed by the craft brewing boom and then the distillery boom, it was inevitable that some cider maker, some clever entrepreneur and a forward-looking New York State governor would realize that hard cider is an ideal value-added product for growers in the second-largest apple-producing state in the Union.
Who's to blame for the local revival? Although other cider makers may have had a head start, fingers point to Autumn Stoscheck, from the rural Finger Lakes town of Van Etten. Early on, Stoscheck set her focus on what she calls "orchard ciders," ciders made to speak of their orchard roots or terroir, without the addition of juneberries, hops, pocket lint or any other enhancements. They are often blended by their growers in the orchard, and are again pleasing sophisticated palates.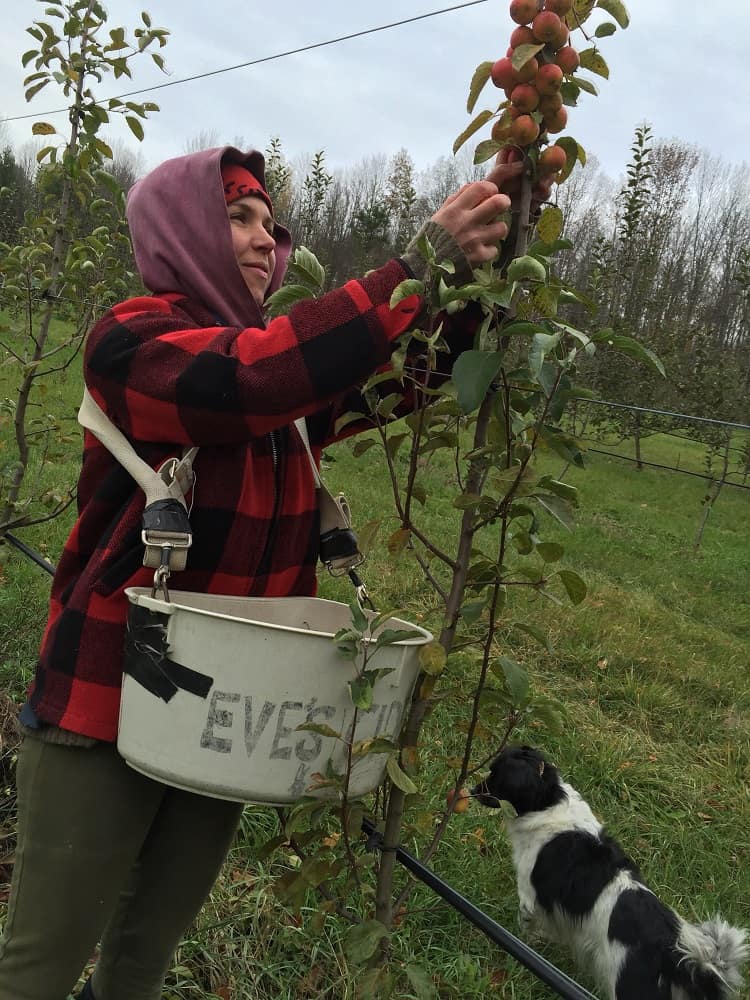 Stoscheck started out as a starstruck kid, enamored of farming and, through a series of odd jobs and chance encounters, realized she wanted to make the world better through agriculture, selling a high-quality product from her own land. James Cummins introduced her to the world of orcharding and, she said, she first tasted cider, a Golden Russet bubbly made by local cider maker Peter Hoover, which she described as "a revelation." (Full disclosure: Peter Hoover is my husband.)
In 1999, pioneering New Hampshire cider maker Steve Wood appeared on the cover of Fruit Growers News. "I was working on a farm during the day, waiting tables at night," said Stoscheck. "I was on a leave of absence from Cornell. I was totally blown away because [Wood] had 30 acres of apples I'd never heard of, and a real business, with bottles and labels. I was 19. I got into my car and drove up there. He actually gave me the time of day, talked to me about varieties and how I could make a living from farming, and gave me a bunch of scion wood from his orchard. I was hooked."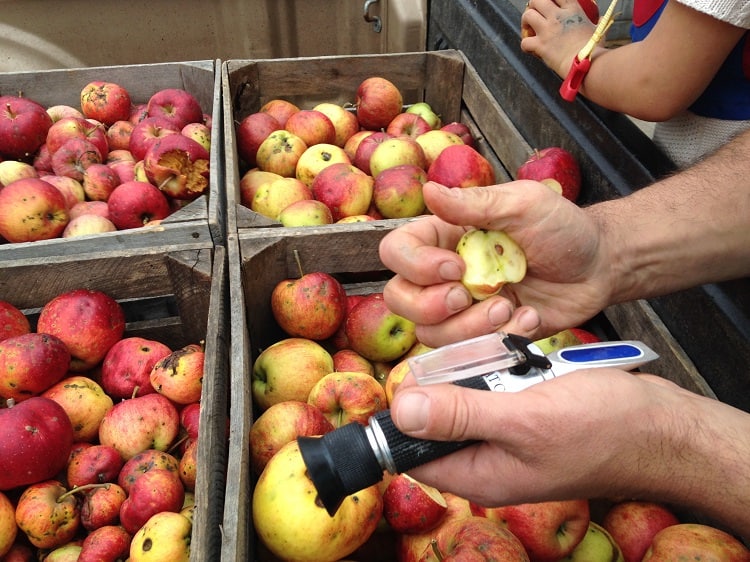 Working with Cummins, who had grown up in the apple business and owned orchards, and then with her husband and partner Ezra Sherman, Stoscheck began her journey through the world of cider making, harvesting fruit from her parents' orchard and Cummins'.
She bottled her own first cider vintage in 2002, and she and Sherman set up shop in New York City's Union Square Farmers Market, sleeping overnight in their van. At the market, the pair introduced Big Apple residents to the virtues and delights of cider.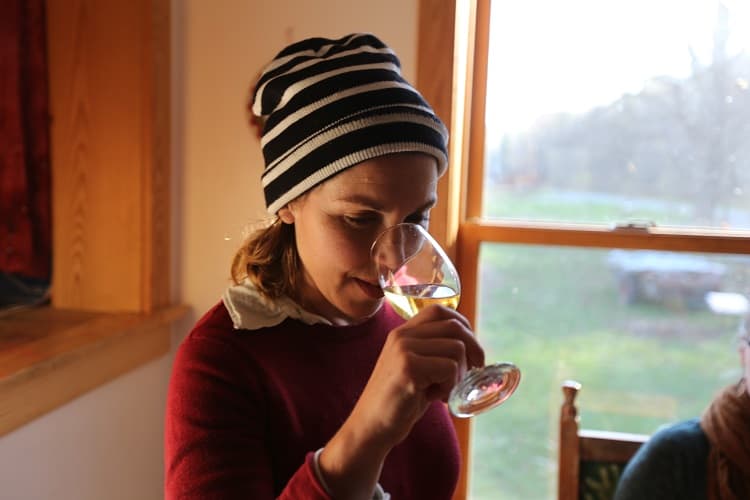 "During that time that we had to explain that, yes, it had alcohol," she recalled, "and, no, it wasn't sweet, and, yes, you could enjoy it with food. It was such a wonderful thing to watch somebody try something they've never had before and like it, and buy a bottle. We converted one person at a time over those 11 years that we were in NYC." Fortunately, many of those first converts are now famous Big Apple chefs, and Eve's Cidery is regally ensconced on their wine lists. Stoscheck and her cidery have been written up in Vogue, Wine Enthusiast, Saveur, Martha Stewart Magazine, the late Village Voice and The New York Times.
Eve's Cidery has orchards in Newfield on Cummins's farm, where, Stoscheck says, the fertile glacial till soils are deeply graveled and well drained, and on the farm which once belonged to her grandmother, their cider making happens in a 1950s converted dairy barn. "I've planted orchards that are way too close and others that are way too thin," she said. "We're not growing like a commercial orchard. We believe passionately that, almost as important as the varieties you grow, it's how you're growing fruit that matters."
Eve's Cidery is located at 308 Beckhorn Hollow Rd. in Van Etten, N.Y.