[This article was originally published in November of 2020]
Malaika Tyson is one half of the blogging duo Cider Soms, which was started as a way to introduce wine-lovers to the world of cider. Created along with her husband Sean, the "Soms" blog seeks to uncover and explain the complexities of ciders in a fun way.
A couple of years ago, I had the pleasure of being on a panel with Michelle Foik, one of the founders of ERIS Brewery and Cider House as part of Chicago Cider Week. Michelle, and ERIS' other founder Katy Pizza, had been in the brewery and cidery industries for several years before they launched ERIS in an over 100-year old Masonic temple and Korean church in the Old Irving Park neighborhood of Chicago. Since opening in 2018, ERIS has become a neighborhood destination for both cider and beer drinkers. We are excited to share more of ERIS' story through this Cidermaker Q & A. 
(The questions and answers have been edited for brevity and clarity.)
Cider Culture: How did you get your start in the industry?
Michelle Foik: I've worked in hospitality my entire life. My mother and uncle owned a hotel and restaurant in Wisconsin Dells. I started my career with 10 years at Goose Island Brewery, then three years with Revolution Brewing, with a focus on starting the pub and manufacturing brewery. Then, I was with Virtue Cider for two years and part-time with Anthem Ciders. I have also had the privilege to organize the CiderCon tasting seminars for four years and have been the head Steward for the Great Lakes International Cider and Perry Competition (GLINTCAP)
ERIS, being founded by you and Katy, is unique to the industry.
In the first year, a little was discussed about us being a woman-owned and operated business. However, since then, we've embraced our background. As a result, our branding now includes label tackers with "Made in Chicago" and "Woman Owned Operation" [A 2014 Auburn University study found that only 29% of women represented brewery workers.]
How did you and Katy decide on the name "ERIS"?
Eris is the Goddess of Chaos. We pondered so many names and this one worked, because Katy and I both have very chaotic lives and the building was lending itself to a restaurant, brewery, ciderhouse, special events room and an outdoor patio.

The legend of Eris is that she was upset and jealous when she wasn't invited to the wedding of King Peleus and the sea nymph Thetis. To cause trouble, Eris snuck into the wedding and threw a golden apple into the room with the words "To the Fairest." Because several of the goddesses believed they were the fairest, chaos ensued. ERIS Brewery and Ciderhouse is the one who dropped the golden hop apple into the brewery industry and said, "Not only are we women-owned and operated, but we are also going to be creating hard apple ciders." 
ERIS has been around for a couple of years and has become a neighborhood favorite. Do you have any expansion plans?
We do, but they are on hold. Our initial plan for this year was to work on the building to build out the special events space, but then COVID hit. So, to help the business, we decided to start selling canned ciders.

You've always offered howlers and growlers. Why did you decide to pivot to cans?
We always planned to can some of our products, but we didn't think that we had enough space for it. Coupled with the shortage of brown glass after COVID hit, we decided to give it a try. Middle Brow Beer Co. helped us out, and we did the first batch with Van Van Mojo [mosaic-hopped blueberry cider] in 16-ounce bright cans and put a sticker on the front. In the first two weeks of selling those, we sold over 200 4-packs. So while the cans don't have the same margins as the howlers or growlers, we are selling more cider at one time, and it's a better way to store and share the product. 
Was anything changed with the cider production when you went into cans?
In addition to getting the mechanics of canning right, we also had to tweak the production, as well. In a large serving tank, we know how much malic acid [order to adjust acidity] and sulfites to add so that the product doesn't change in the tank. In a can, you don't have as much control, and the remaining yeast or smaller changes can alter the product. So we've made quality-control adjustments to ensure that when a consumer opens the first can, they will get the same product when they open the second. 
Did you make any changes when you decided to go wholesale?
Yes, we decided to go with 12-ounce cans, but even bigger is the change in business strategy when you decide to go wholesale. Since we have a full-service restaurant, our marketing is strong in relation to what we provide our guests — food, tasting, and education. Therefore, when we entered into the wholesale market we wanted to make sure our products would be in store accessible to those guests. Additionally, wholesale requires working with the wholesaler, including traveling to where the product is sold, and putting effort into making the sale. There are a lot of different producers putting things in cans. Trying to get the wholesaler to notice you and believe in your product can be challenging at times. However, while it's a little more difficult than selling at ERIS, I do think it was the right move, as there was an audience of consumers who were waiting for it.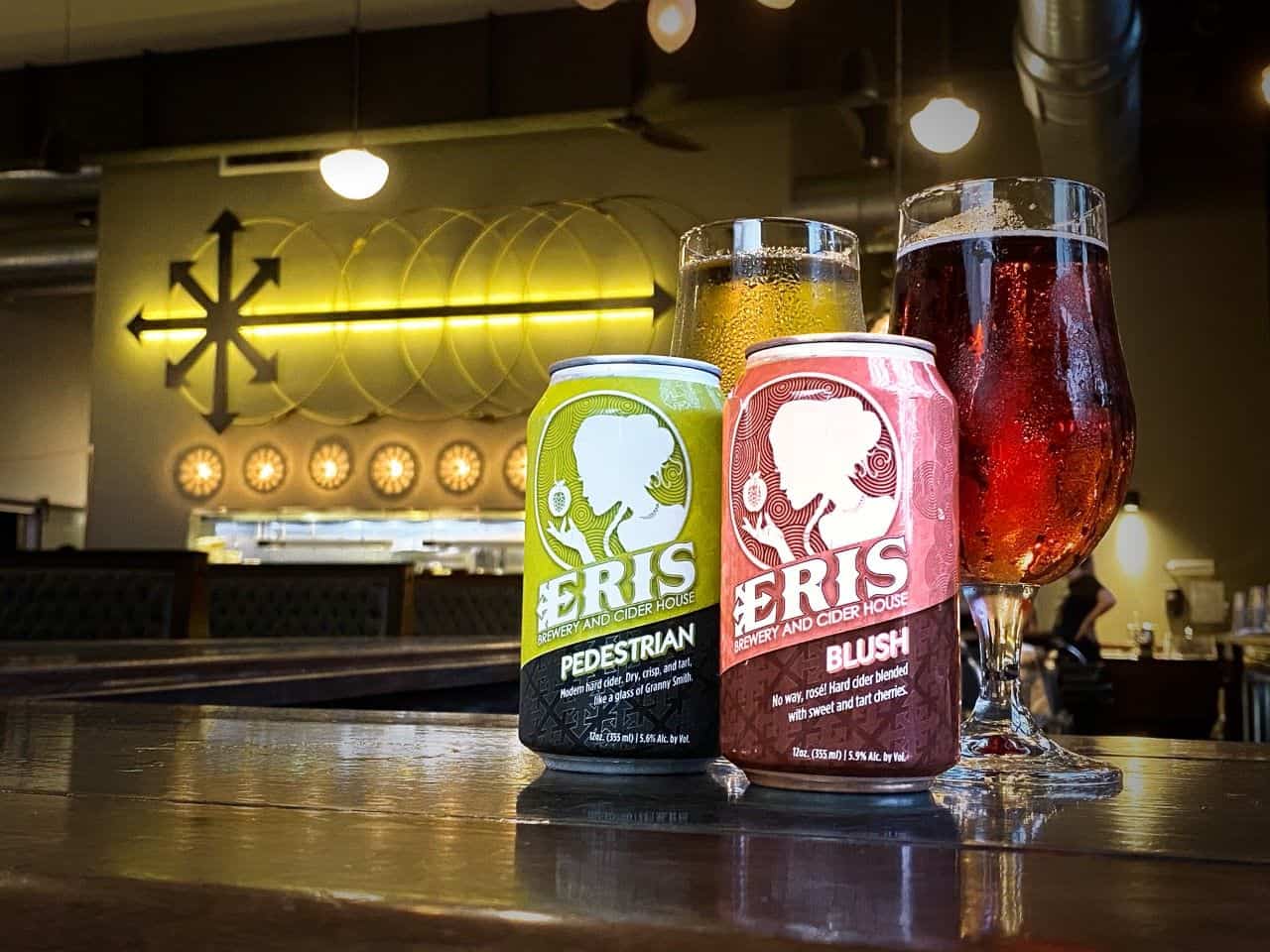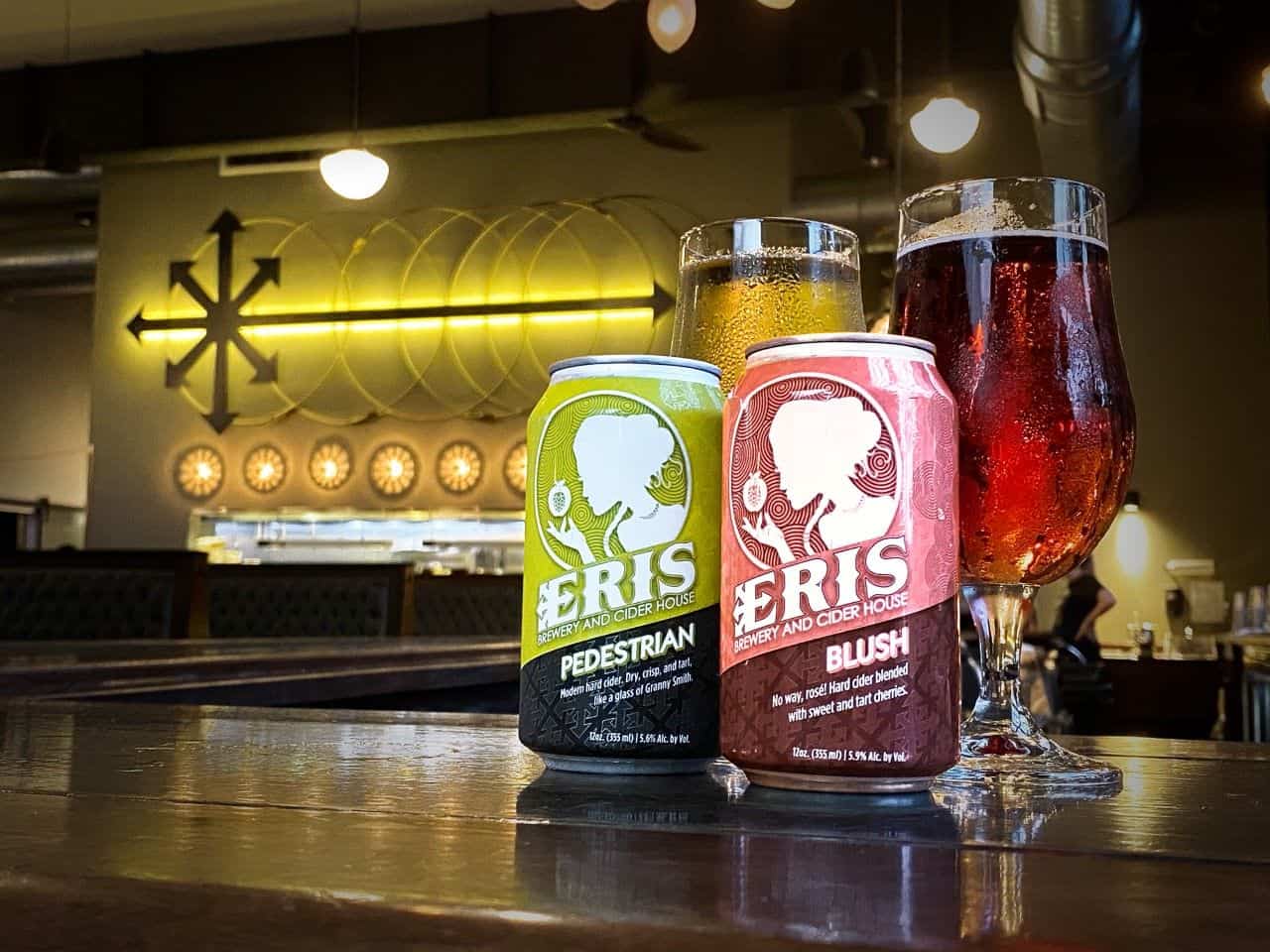 What ciders did you decide to start canning for wholesale?
We started with our Pedestrian [Dry Cider] and Blush. Pedestrian is one of our most popular ciders, and it is also the breakthrough cider in the middle. So if you've never had cider before, are looking for a nice dry cider, or are more of a wine drinker, Pedestrian is what you would want to try. We also considered that we could put Pedestrian at a price point where someone would be willing to try it. For the Blush, we went with black and tart cherries and added to the apple base, and ended up with a cider with ripe, sweet and tart cherry flavors. After getting the cans off the ground, we started to notice that consumers and stores wanted additional offerings. 
What are the next ciders you plan to can?
We plan to release "Van Van Mojo" in November to market it for Thanksgiving. However, there is a can shortage. Luckily, because we are small and we only produce about 160 cases at a time, I've been able to work with someone else who has 12-ounce cans to spare. We also have a custom offering option where we can provide branded cans.
So it sounds like the canned product has been a great extension to your offerings?
Yes, we've already seen some traction in the local liquor stores, especially in the independent stores. Since those stores are small businesses, they want to support other small businesses, and they were the first ones to start selling our product. It's also interesting to see the areas where our sales are growing. We started selling Pedestrian and Blush in the middle of July, and now we are finally getting the pull-through that I'm happy with. 
How do you differentiate your ciders from others?
Being a modern cider company, we want to entice the senses and differentiate through our new offerings, particularly the use of botanicals and fruit. There are so many ways to create a memory, but your nose is one of the first places that memory will be created. Van Van Mojo has blueberry and mosaic hops. If you look at statistics, hopped ciders don't sell as much as what people think, with a lot of those ciders appealing to craft beer drinkers. However, Van Van Mojo is our number-one seller because of the blueberry and the aromas. Another new offering, Peach and Bong is a peach and basil cider that we also plan to put in cans. 
If you were stuck on a desert island, what three things would you bring?
First, it has to be a desert island that has apple trees. Matches, a water filter pitcher, and music. 
To learn more about ERIS Brewery and Cider House, check out its website, Facebook, and Instagram pages. As the COVID-19 pandemic has forced closures across the country, ERIS' menu, ciders and beer are available for curbside pick-up.
Find ERIS Brewery and Cider House at 4240 W. Irving Park Rd. in Chicago, Illinois; phone: (773) 943-6200.