Malaika Tyson is one half of the blogging duo Cider Soms, which was started as a way to introduce wine-lovers to the world of cider. Created along with her husband Sean, the "Soms" blog seeks to uncover and explain the complexities of ciders in a fun way.
 I was introduced to Bad Granny during the first virtual CiderCon when they popped into Cider Culture's trade show booth. I was excited to learn more about this family-run cidery, founded in 2015 and located in Chelan, Washington, a bustling high desert apple-growing region with a thriving cider community. We had a chance to chat with Sam Keirsey, the head cidermaker, and Vicki Daigneault, VP of Sales and Marketing (and also the sister of Bad Granny's co-owner, Julie Pittsinger).
(The questions and answers have been edited for brevity and clarity.)
Cider Culture: How did Bad Granny get its start?
Sam Keirsey: The owners, Julie and Bret Pittsinger, also own Karma Vineyards, a winery primarily focused on sparkling wine. Brett also owns Van Doren Sales, a company that specializes in tree fruit machinery. This industry connection and winemaking experience was the inspiration for the cidery. I was brought on as an assistant winemaker in 2014 (working alongside the head winemaker, Craig Mitrakul) and continued at that position for two years before starting as Bad Granny's head cidermaker.
How did Bad Granny get its name?
Vicki Daigneault: When we started Bad Granny, we used Granny Smith and Honeycrisp. Shortly after that, Sam recognized a Honeycrisp base worked better for us. However, the name Bad Granny wasn't just because of the apples, but also a salute to my badass mom. Julie and I are two of five girls from Montreal, Quebec. Growing up, our mom instilled our family with a can-do attitude; our dad played professional football, and Julie was an Olympic swimmer. Also, consumers started telling us how they had a bad granny, or how they are a bad granny, and the whole brand took on this life. 
How would you describe your approach to cidermaking?
Sam: Many of my cider techniques come from the winemaking side, as I'm a trained winemaker. I graduated from Washington State University with an oenology degree. Stylistically, the influences and taste profiles come through from this perspective.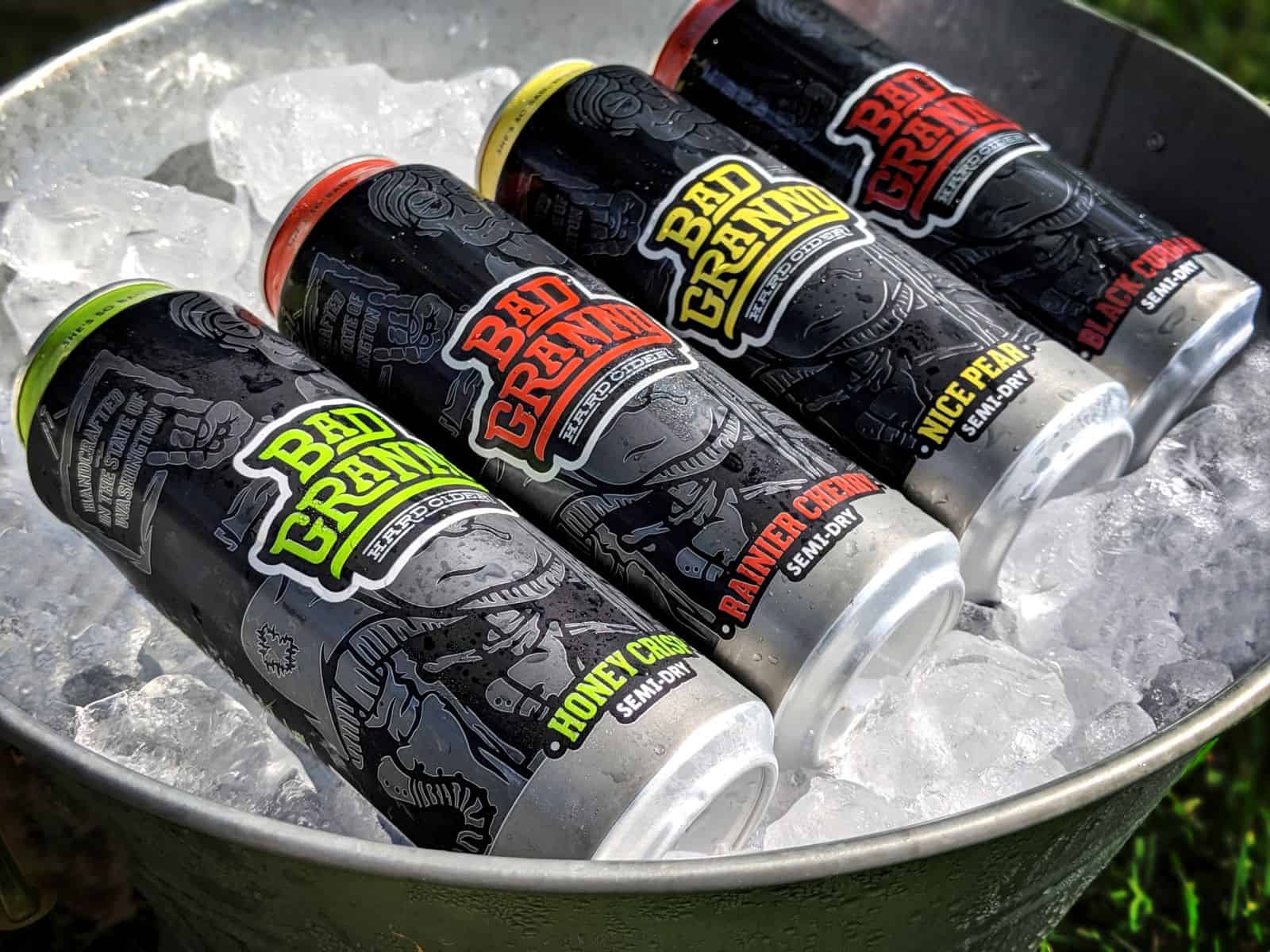 Since your background is in wine, why did you decide to start making cider?
Sam: When I was brought in, cider wasn't on my radar, and my main goal was to become a head winemaker. At first, when the owners approached me about seven years ago to create a cider program, I thought it was bonkers. But I looked into it a bit more and saw the other companies making cider and got on board. Since then, it's been really cool, as I've been able to just run with it and use my creativity and street smarts to get the company off the ground.
 

Has working in cider been what you've expected?
Sam: It's not at all what I expected when I went back to school in my late 20s. But while it's been a crazy ride, it's also been such a blessing. The cider industry is so new, and it's very inspiring. I think we are like the winemakers in the 60s and 70s, where we are creating the standards as we go along, and it's a fun, revolutionary time. I also appreciate how much less pretentious the cider industry is, and that there is so much more room for experimentation.

Vicki: The Bad Granny's ethos is based on three words: Hungry, Humble and Smart. There is not a lot of hierarchy, and we try to do what we know really well. 
 

Can you tell me a little more about your ciders and how they are sold?
Sam: All of our canned ciders use culinary apples. We have made small lots of a méthode champenoise cider, Cider Master's Reserve, that uses primarily Dabinett and Heirloom Cider that is a blend of Dabinett and Roxbury Russet. We've made In The Flesh, a red-fleshed cider using Lucy Glo and Lucy Rose, two red-fleshed apples that are grown locally. We've also been experimenting with locally grown proprietary apples such as Rockit, which results in neon green-tinted cider, and SugarBee.

Vicki: Our approach to cider making is also reflected in our slogan, "Pure To The Core." This means we create ciders where we allow the apples to shine through.  

Sam: Our bottle program is more unique and boutique, and we sell them mainly out of our tasting room. For the rest, we have distribution in Washington, Oregon and Idaho.

Vicki: Initially, we were going to sell from Karma Vineyard, but one of the regional buyers asked about getting it in their stores. To go into a major chain, you have to go through a distributor, which kickstarted that process.

Sam: Having the grocery distribution pre-COVID has been good for us, as we already had a space on the shelf.

Vicki: I agree. Pre-COVID, our sales were 60% cans and 40% kegs. Now we are at about 90% cans.
 

Bad Granny has been around for five years. What are some of your goals going forward?
Vicki: We are at the point where we need to purchase a canning line to be a little more profitable, including being able to can for others. To be competitive with the growing seltzer segment, we've launched a Tropical Lite Passion Fruit/Orange/Guava cider. 

In off-premise, we've grown 185% in the past year, and while the long-term goal is to be national, our goals have changed a little bit due to COVID. We want to expand, but where we go slowly and can be in control of the expansion. For distribution, we are looking into Northern California, Arizona, Hawaii and Alaska. Social media is also a piece of our business we are growing, and education is key, with all three members of my team being Certified Cider Professionals. I know Sam wants to do a lot more niche ciders, and Brett's great relationships with apple growers will help with that, but it's also a bit limited by the space we have.

Sam: One of my biggest goals is working with young people coming up in the industry and being a really good mentor. When I got into winemaking as a young adult, a lot of it was ego-driven. However, now that I'm getting older, I want to pay it forward. This year, I've had a chance to work with a lot of high schoolers. They are stuck in between COVID and college, and anything I can do to steer them in the right direction is rewarding for me.

Vicki: Giving back to the community is also very important to our brand. Alzheimer's disease has really affected several family members. With our Mother Load (two cans each of Honeycrisp, black currant, and ginger lime), we give 10% back of all the sales to the Alzheimer's Association.

Do you have any cidermaking pipe dreams you are dying to make a reality?
Sam: I would really love to make a méthode champenoise perry with old-style perry pears. To me, that is a holy grail, but so many things could go wrong. If everything works, it would be amazing and beautiful.
To learn more about Bad Granny Cider, check out its website, Facebook, and Instagram pages. Bad Granny Cider is available for purchase at online, or at select retail locations. Contact Bad Granny Cider at badgrannycider@gmail.com.