Philadelphia is a beer town. Or, perhaps it's more accurate to say, it was a beer town. Now, this scrappy East Coast city that I've called home since 2004 is a beer town, a cider town, a wine town and a cocktail town. The tastes of locals, students and transplants have evolved and expanded over the past few decades to include a wide array of beverages (and cuisines), and cider is chief among them. Our proximity to the "fruit belt" — an abundant apple-growing region in Adam's County, PA, just about 150 miles West of the Philly metro area — has provided the groundwork for a wellspring of urban cideries, which bring in and ferment this local fruit. And, in the counties surrounding the city, like Chester and Berks Counties, there is still lots of farmland, with a handful of cideries waiting for those willing to hop in the car and take a drive.
And that's all good news for Philadelphians, because though the demographics and culture of the city certainly have changed, one thing remains constant: We love supporting our own. We'll take homegrown products, made by our hardworking neighbors, over mass-produced stuff, any time. We're a tough crowd, but we're loyal.
If you're looking to visit Philly, or you live here and want to get to know the local cider community better, here is our guide to drinking cider in the City of Brotherly Love.
Cideries and Cider-Friendly Bars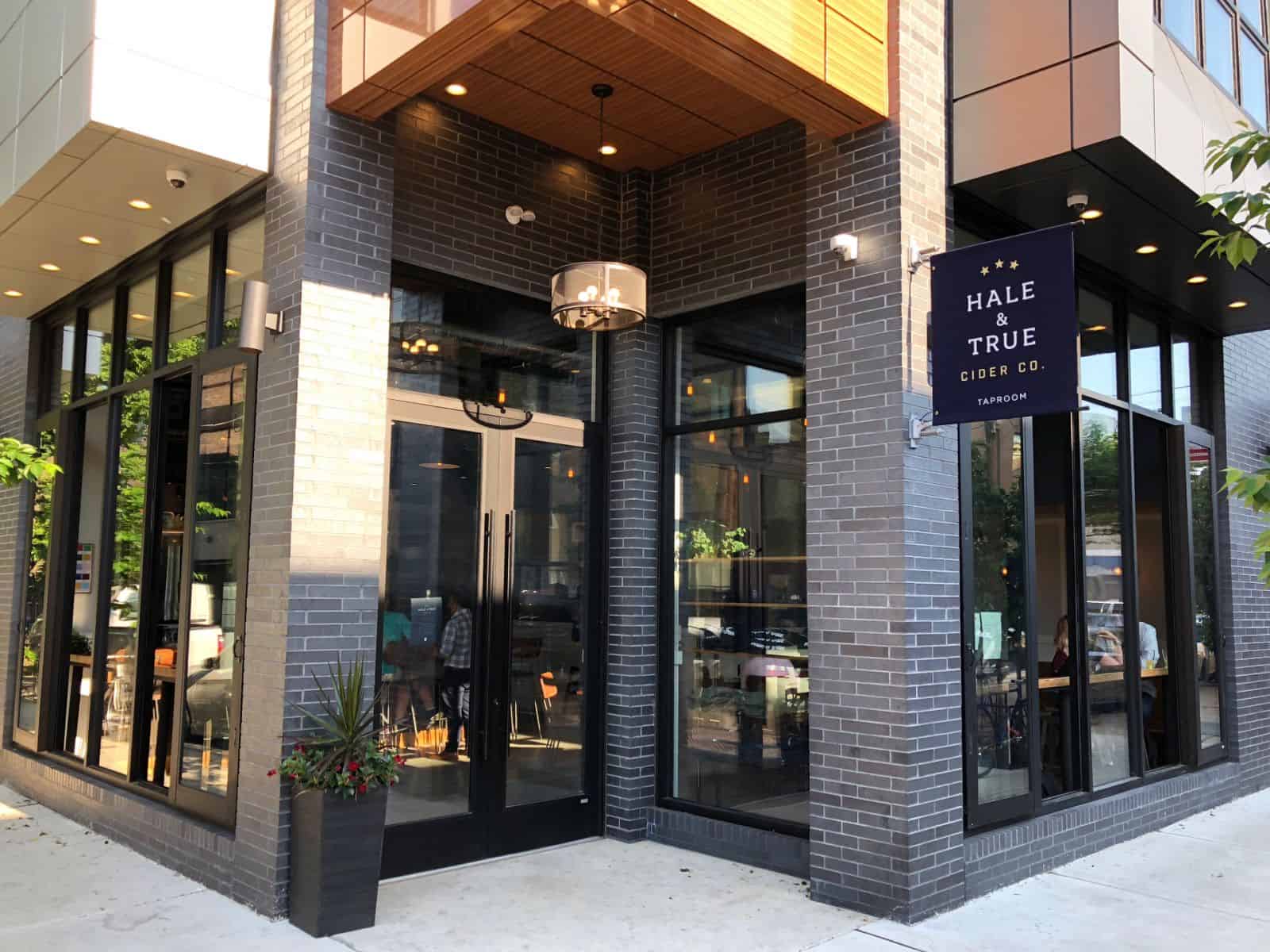 Hale & True Cider Co.: Tucked right off South Street, a busy, tourist-y thoroughfare, you'll find fresh, fun ciders made with 100% PA apples by Hale & True. This sleek urban cidery and taproom opened in early 2018 by former Cider Culture contributor, Kerry McKenzie and his partner Risa. In the short time since, their easy-drinking ciders like Hail to the Hop, dry-hopped with Citra hops, and Lil' Sunshine, with orange peel and local honey, have earned them a stellar reputation. Pre-pandemic, McKenzie also led a popular DIY cidermaking workshop at the cidery, which will hopefully return in a post-quarantine world. Currently, Hale & True is open with indoor and outdoor seating and a to-go window; online shipping is also offered. 613 S. 7th St., Philadelphia; (267) 639-4334
Original 13 Ciderworks, in Olde Kensington, the production home of Sir Charles Hard Cider, is a comfy neighborhood watering hole, featuring plenty of cider, mead, local beer, cocktails and pub fare. Happy hour, which runs on weekdays from 4 to 6 p.m., is an especially good time, with $4 pints of cider (including our favorite Sir Charles variety, Atacama Bone Dry), and wallet-friendly snacks like $6 pierogies and $10 wings. Outdoor dining is available, and you can also place an order online for easy pick-up or local delivery. 1526 N. American St., Philadelphia; (215) 765-7000
Young American Hard Cider is a relatively new cidery and tasting room in a lovely historic neighborhood called Germantown in northwest Philadelphia. PA apples are the base for these small-batch, handcrafted hard ciders, which are available in a range of flavors, like blood orange, sour blueberry ginger, and tart cherry. Also on the drinks front, you'll find local beer, as well as house-made, non-alcoholic flavored seltzer and kombucha. Cider-friendly snacks, including hand pies, soups and sourdough soft pretzels, are also available. Grab a table outdoors (they have fire pits), or take cider to-go through the Young American pick-up window. 6350 Germantown Ave., Philadelphia; (215) 406-5307
Part of Philadelphia Brewing Company (PBC), Commonwealth Ciders is an urban cidery that makes hard cider without any additional back sweeteners, artificial flavors or colors. The core line of flavors, which run dry, includes four flavors: Traditional Dry, Gregarious Ginger, Black Cherry and Razzberet Tart. Enjoy these in the outdoor beer garden at PBC's brewery in Kensington, or order ahead for pick-up. 2440 Frankford Ave., Philadelphia; (215) 427-2739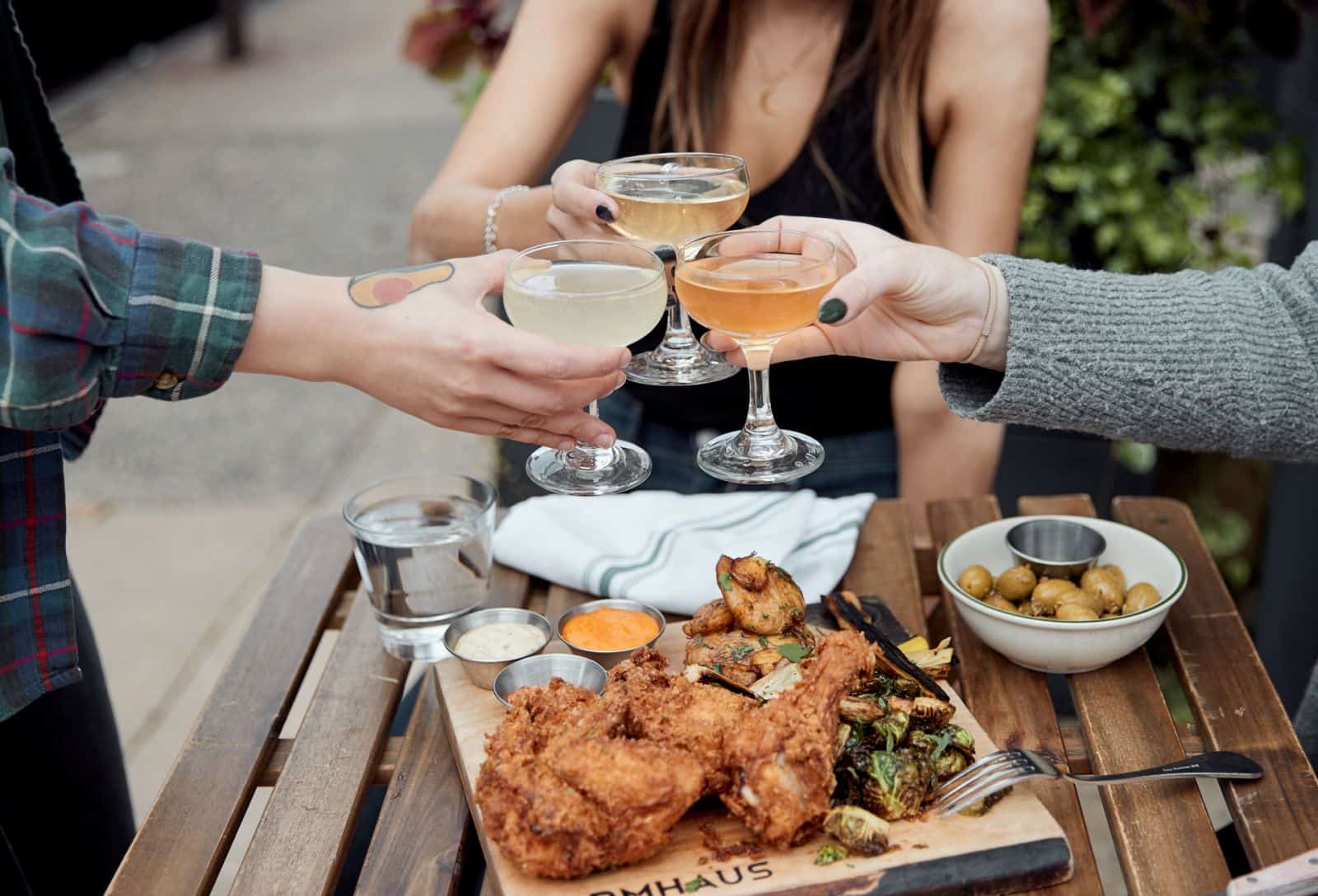 While there are currently no official "cider bars" in Philly, Prohibition Taproom is the Spring Arts neighborhood is definitely the place to go to find a consistently awesome and unexpected lineup of craft cider. ProTap's manager, Amy Hartranft, is the co-founder and organizer of Philly Cider Week, and one of the most ardent advocates for cider in town. She keeps a wonderful rotation of ciders, both local and far-flung, on the draft and bottle list at this cozy gastropub; on any given day, find pours from Dressler Estate and Ploughman Cider, cans of Embark Cider and Shacksbury, and large format bottles from Big Hill Cider, Eden Cider and Fuchshof (a German cider!). Don't skip the food! Comfort-food classics, like double-stacked cheeseburgers and fried Brussels sprouts, are on point here. Indoor and outdoor dining is available, or order online for local pick-up or delivery. 501 N. 13th St., Philadelphia; (215) 238-1818
Martha, a bar/restaurant in Kensington, never fails to delight oddball beverage seekers with a rotating list of cheeky cocktails, sour beers, natural wines and great ciders. Order one of its new-school hoagies, paired with a craft cider from local producers Dressler Estate, Ploughman Cider and Commonwealth Cider (located just around the corner). The back patio is the place to be on nice afternoons, but online ordering for pick-up and delivery are also offered. 2113 E. York St., Philadelphia; (215) 867-8881
Bottle Shops
Pretty much every neighborhood in Philly is home to a kick-ass bottle shop! Despite the outdated and frustrating "Blue Laws" which govern alcohol sales in Pennsylvania, independent shops have been springing up like wildflowers, offering curated selections that are much more exciting than beer distributor and grocery store shelves.
The Pennsport Beer Boutique in South Philly has an enormous fridge dedicated fully to craft cider, and it's a lovely sight to behold. Blake's, Big Hill, Wyndridge, Citizen, Embark, Original Sin, Downeast, Crispin — seriously, all your cider buddies are here! Put together a mix-6 to-go, or sit outside on PBB's patio to sup al fresco. 242 Wharton St., Philadelphia; (215) 372-7423
In Fishtown, Bottle Bar East claims to have the largest beer and wine selection in Philly, and that includes cider. Shop its extensive fridges for names you love, like Anxo, Shacksbury and Virtue, or order online for pick-up or local delivery. 1307 Frankford Ave., Philadelphia; (267) 909-8867
In West Philly, the Local 44 Bottle Shop is a well-stocked stop for cider, fancy snacks, craft beer and wine. PA brands, like Big Hill Cider, share shelf space with a rotating list from around the country, like Graft and Shacksbury. Only in-person shopping is currently available. 4333 Spruce St., Philadelphia; (215) 222-2337
Just outside the city limits in the quaint little borough of Narberth, find The Greeks Next Door a very well-stocked bottle shop attached to a pub called The Greeks. Though the cider selection isn't quite epic, there is a great lineup to choose from (especially impressive for the 'burbs), including Graft, Citizen, King's Highway, Ploughman and Austin Eastciders. In-store shopping and outdoor tables are available. 239 Haverford Ave., Narberth; (610) 664-1960
Willing to Travel a Little Further?
If you don't mind a 45-ish-minute car trip, you can explore some cool places outside of Philadelphia proper. Here are a few where your explorations can be rewarded with cider:
Teresa's Next Door, in the posh Main Line town of Wayne, is a James Beard Award-nominated bar and restaurant with a mind blowing beverage program. In addition to rad natural wines and an entire menu page devoted to gin and tonic variations, there is a stellar cider lineup, favoring the strange and esoteric. We honestly don't know where else in the 'burbs you'll find pours of Big Hill Cider's Fresa Amarga, sour cider blended with strawberry wine, dandelions and hibiscus, Isastegi Basque Sagardo or Cidre Pays D'Auge from Christian Drouin. Indoor and outdoor seating, plus take-out, is offered. 126 N. Wayne Ave., Wayne; (610) 293-9909
North on I-95, close to the New Jersey border, find Manoff Market Cidery, a homegrown operation making cider from fruit grown on a pick-your-own fruit farm by the same name. Founded in 2018, Manoff has released an impressive line of ciders, including heirloom single varietals, like Cox Orange Pippin and Stayman Winesap, and fruited blends, like Blueberry and Blackberry. Every cider is aged in wood for up to one year, and elegant and dry, they are really delightful farm ciders worth trying. Shop on-site or order online; outdoor seating is available in warmer weather. 3157 Comfort Rd., New Hope, PA; (215) 297-8220
Just about 30 minutes from Center City Philadelphia, over the bridge in South Jersey, there's Armageddon Brewing. It's a cidery — yes, the name is a bit confusing. After a successful Kickstarter campaign and a heap of legal red tape, this operation was able to open its doors in late January of 2020 … right before the pandemic hit. But it's still in action, making a range of approachable ciders with Pennsylvania apples, like Pindemic, with roasted pineapples and cinnamon; Corruption, a wild fermented Basque-style cider; and Ida's Heart, a semi-dry raspberry cider. Order online for pick-up or visit the tasting room, where outdoor seating is available on the weekends. 900 Chestnut St., Building J, Somerdale, NJ
Where else do you go in the Greater Philadelphia area to find great cider? We want to know! Join the conversation in the comments below.
Prohibition Taproom photo: Casey Robinson
All other photos: Courtesy of the cideries, bars, bottle shops, etc.