Returning to small dinner parties has been one of my favorite perks of post-COVID vaccination life. Recently, I hosted a Spanish Tapas evening with a small gathering of friends. I worked on the menu for a couple of weeks ahead of time, choosing a manageable number of simple dishes so that I could enjoy the party and not just wave at my friends from the kitchen. It was a delight to take similar care with the pairings. 
Spanish cider has a strong identity and long-standing relationship to Spanish food. I cannot claim to be an expert, but I've certainly enjoyed the opportunities I've had to explore. My suggestions for the following pairings include a mix of Spanish ciders, ciders made in homage to the Spanish style and other ciders that will nonetheless pair beautifully with these dishes. Experiment and I'm sure you'll find lots that you enjoy.
I must acknowledge, though, that I've not included any cured meats, for whom Spain is rightly famous. I simply don't know enough (because I don't eat pork) to suggest them. But there are some great resources online, or the cheesemonger at your favorite fine foods shop will surely have some good info! 
What's a bit different for a tapas feast is that it can all be served at once, so the ciders will be more flexible pairings to allow guests to mix and match. This is also key to being a present host. At my recent gathering, I prepared much of the food before my guests arrived, so we could all sit and enjoy together in a more leisurely fashion. It was great! That's the last advice I'll give before diving in.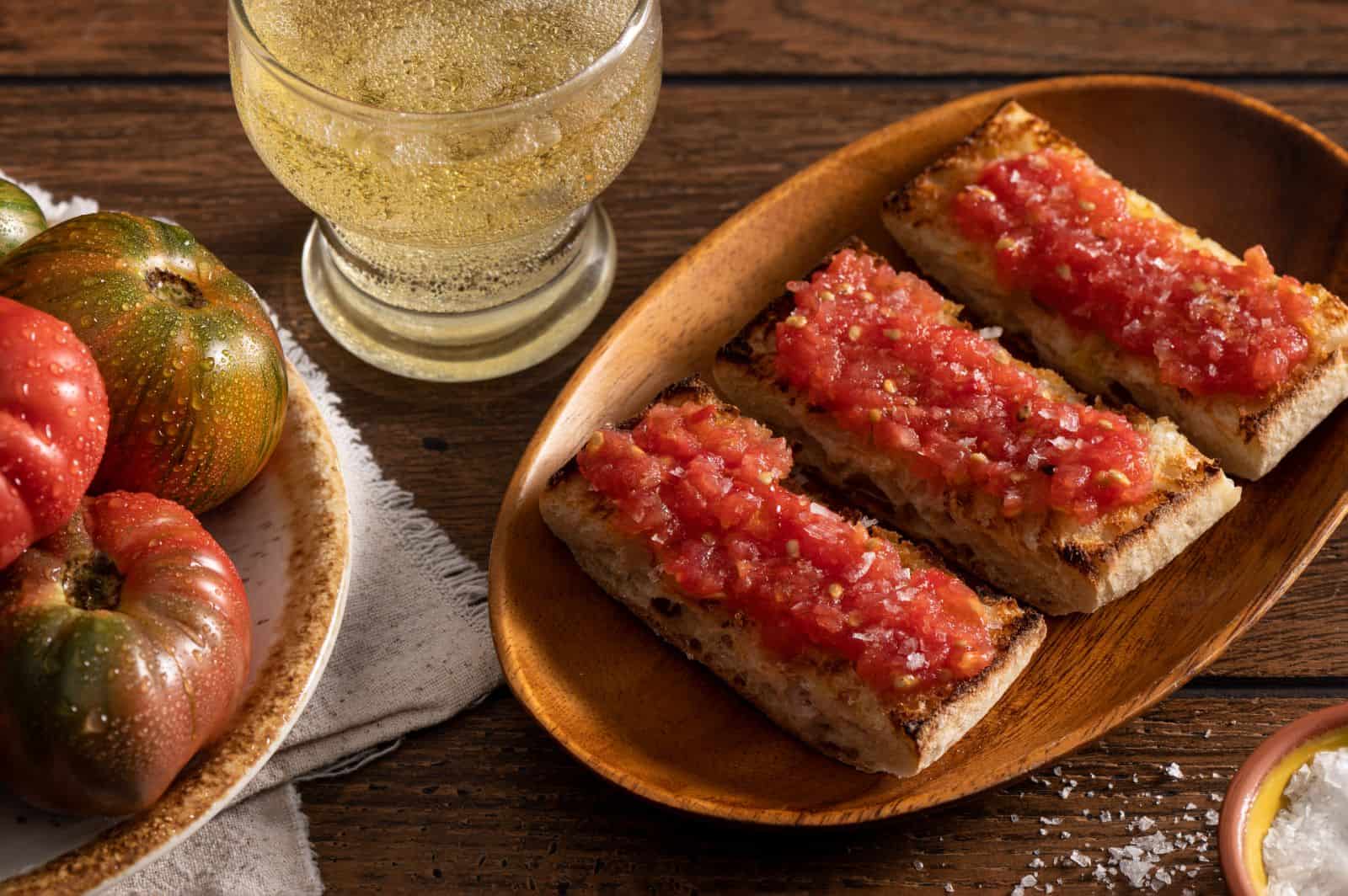 The phrase just means "bread with tomato," but that doesn't do justice to the magic of Pan Con Tomate. To prepare it, you must shred fresh tomatoes, which is bizarrely satisfying! This dish does benefit from really flavorful, ripe tomatoes, so if your garden or farmer's market can supply the good stuff, use it! Pairing this was easy; I recommend Anxo's Cidre Blanc if you like the sharp intensity that high acid can give, or try Haykin Family Cider 2018 Dabinett to focus more on body and tannins.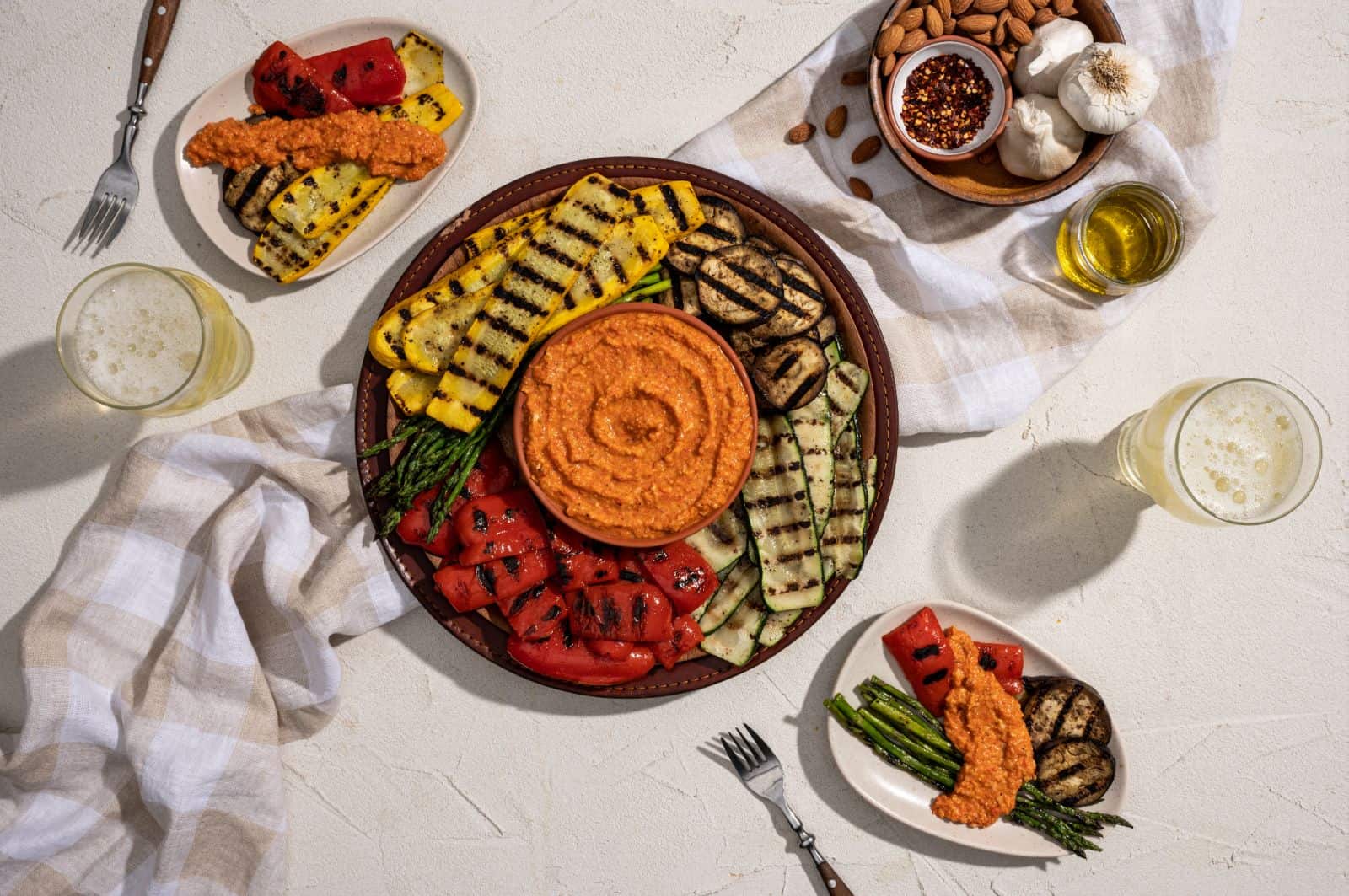 Romesco sauce is something that I misunderstood for years. I kept misreading the name as Romanesco, which is actually a spiky green type of broccoli. I didn't actually figure out that romesco sauce is the pepper-and-almond sauce of my dreams! This is the key sauce to the whole dinner, and it's easy to make. 
My suggestions for pairings: Brooklyn Cider House Half Sour because this level of acidity is a beautiful match for the tart sauce on grilled veggies. It's also wonderfully delicious to pair this with a focus on the vegetables themselves; for that, I recommend Virtue Cider Spitz (from the Cider Society October box). That cider is just a little bit sweeter and more full-bodied, making it a good counter balance for grilled summer vegetables.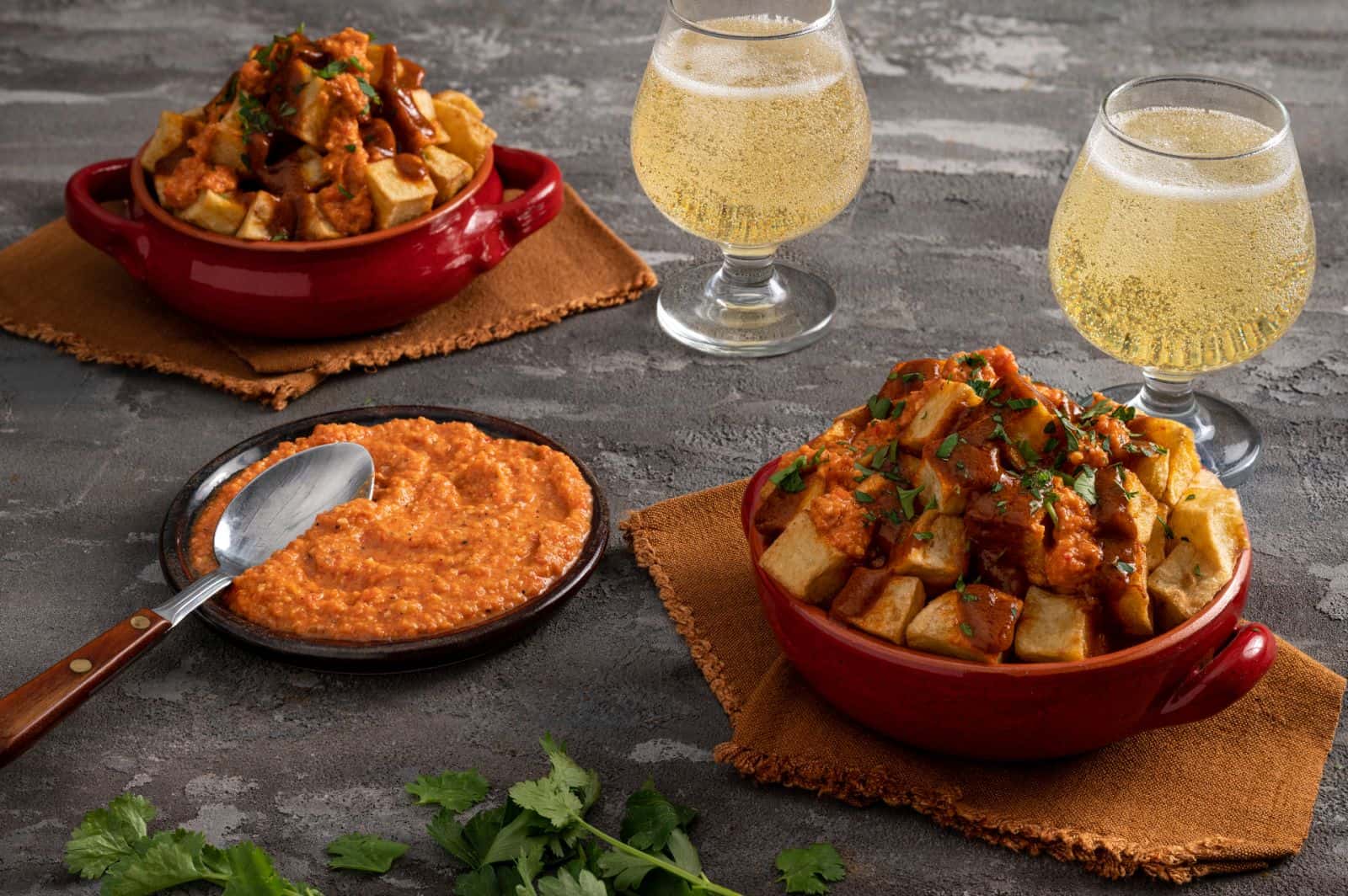 Patatas Bravas are not unlike home fries, and are often served with an amazing savory spice sauce made from paprika. Don't make the mistake I did the first time around and mix up Hungarian paprika and Spanish paprika. Though they both come in sweet or hot varieties, they have very different flavor profiles. Both make a great sauce, but the Spanish paprika is the one that works best. The pepper is smoked over an oak fire as part of the preparation, and you can really taste it! Basque cider works so well for this pairing; you can't go wrong with Isastegi Sidra Natural, which cuts through the rich smoky sauce. Or, try New York Cider Company's 2019 Firefly #2. Both of these ciders rely on high acidity to create a wonderfully refreshing effect.
Spanish Grazing Board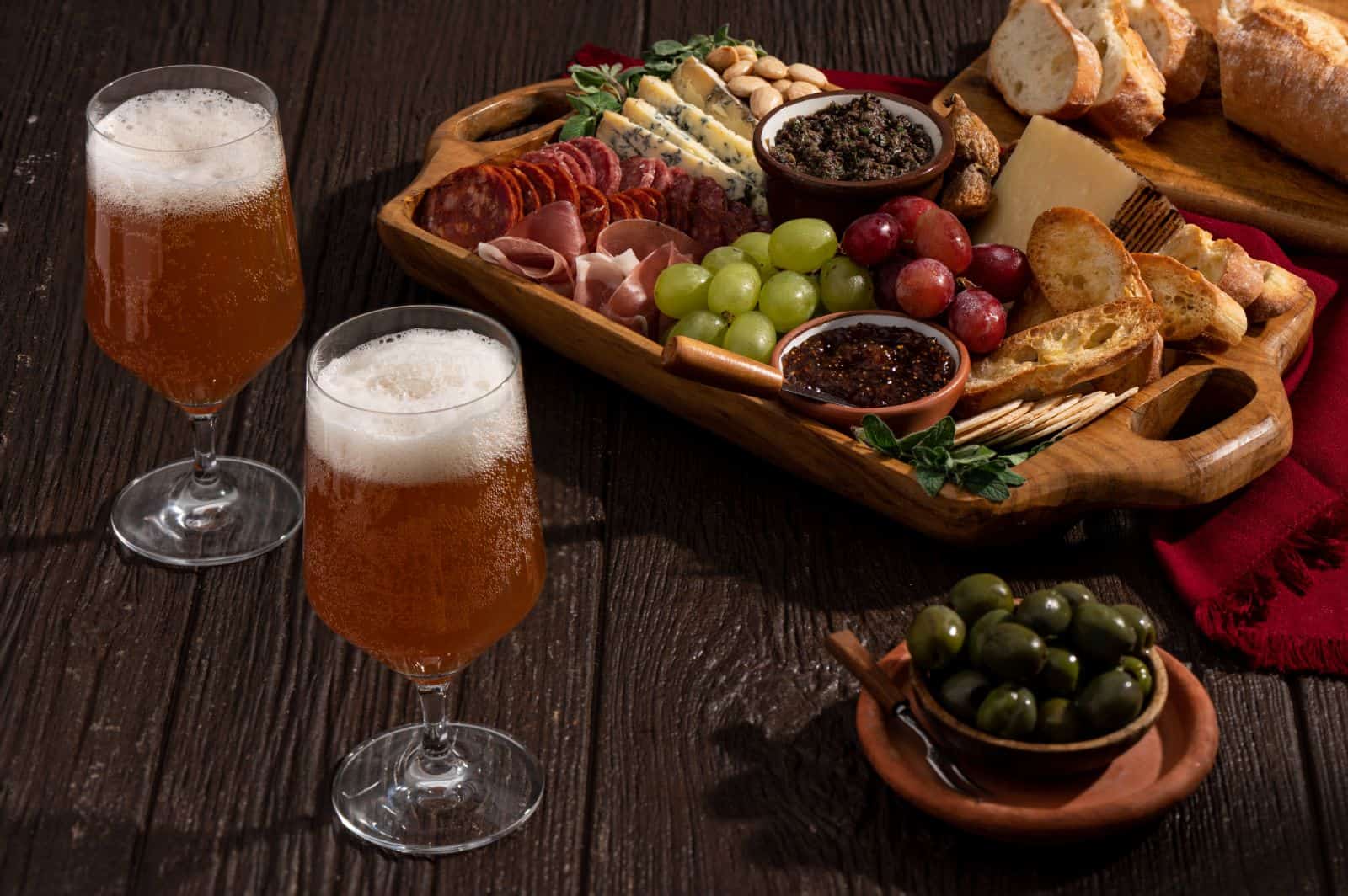 I'm not including a recipe for this, but this is your chance to create a gorgeous arrangement of Spanish cheeses, olives, Marcona almonds, tapenade and crackers. This would also be the place for omnivores to add cured meats if they like. My pairings for a grazing board are ciders from two cideries that have made a devoted study of Spanish ciders: Tilted Shed's Inclinado and Angry Orchard's limited release Edu. These homages to Spanish cider are zesty and light, perfect for nibbling cheese and nuts with good company.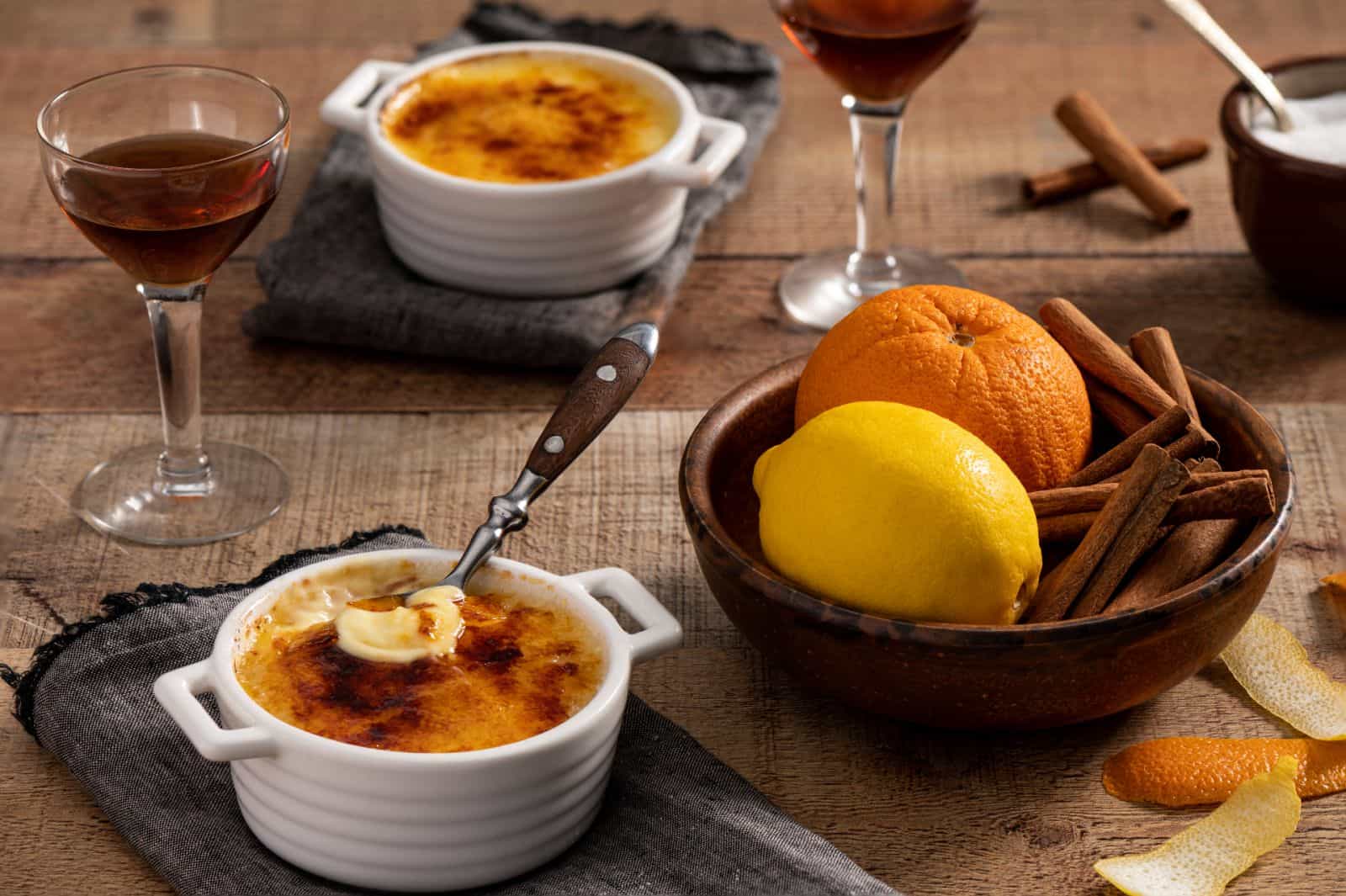 This is my exception to the tapas serving style. Give conversation and grazing plenty of time, and then when a natural lull in conversation occurs, that's when to bring out the Crema Catalana. This dish is not totally unlike creme brûlée, but don't imagine that they are identical; the lemon and cinnamon give this dessert its unique identity. 
Serve this beautiful finale with Orleans Aperitif Cider: Wood or 2 Towns Ciderhouse Marissimo. These pairings are very different. The Orleans Aperitif Cider uses bitterness to create contrast against this sweet creamy concoction. The Marissimo is itself sweet and thick, so that's a way to lean into the decadence of the dessert course. Of course, it's never a bad idea to offer guests both and let them decide for themselves. 
Hopefully these pairings and recipes can get you excited to host your own cider and tapas dinner at home. None of the dishes are difficult to create, so you should be able to enjoy your guests and evening while hosting. To me, that's one of the most important parts of throwing a dinner party! Hopefully, these cider pairings provide the rest of the excitement, whichever options you choose. Salud!