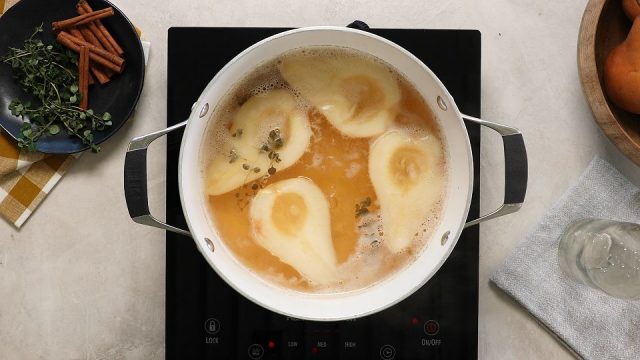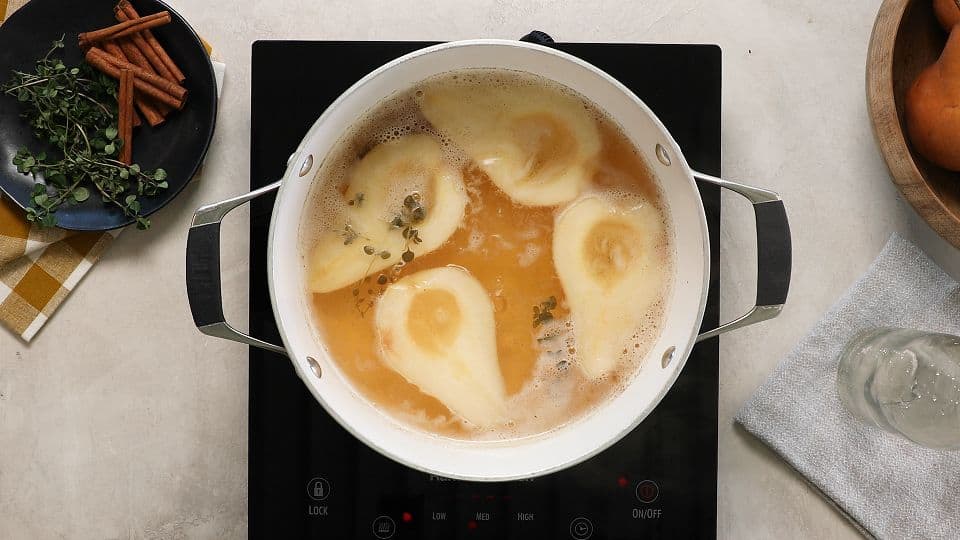 Cider Recipe: Cider Poached Pears
Poached pears are one of the most elegant (and easy to make) desserts — very French farmhouse. In our version, you first make a beautiful simmering syrup from hard cider, vanilla and honey, with some fresh herbs and cinnamon in the mix for extra depth. The pears take a long, luxurious bath in this heavenly poaching liquid, until their texture becomes luscious and velvety. To serve, just make a batch of honey-infused whipped cream (none of that stuff from a can, if you please) and dress with a spoonful of reduced cider syrup from the pot. Voila — a sophisticated dessert is ready to go in under 30 minutes!
Cider Poached Pears
Ready in: 25 minutes
Serves: 4
Ingredients
32 ounces hard cider
1 teaspoon vanilla bean paste
1/4 cup honey, divided
2 sprigs fresh thyme
1 cinnamon stick
2 large Bosc pears, peeled, halved and cored
2 tablespoons unsalted butter
1 cup heavy whipping cream
Method
Combine hard cider, vanilla, 2 tablespoons honey, thyme and cinnamon stick in large pot over medium-high heat. Once boiling, reduce heat to low, add pears and continue to simmer until pears are cooked but still slightly firm, about 10 minutes.
Remove pears, cinnamon stick and thyme from pot and increase heat to medium-high. Continue to simmer poaching liquid until reduced to 1 cup and coats back of spoon. Whisk in butter and remove from heat.
While pears poach, whip heavy cream together with remaining honey until soft peaks form.
Serve pears with cider syrup and honey whipped cream.
Video, recipe and photo by Dish Works.