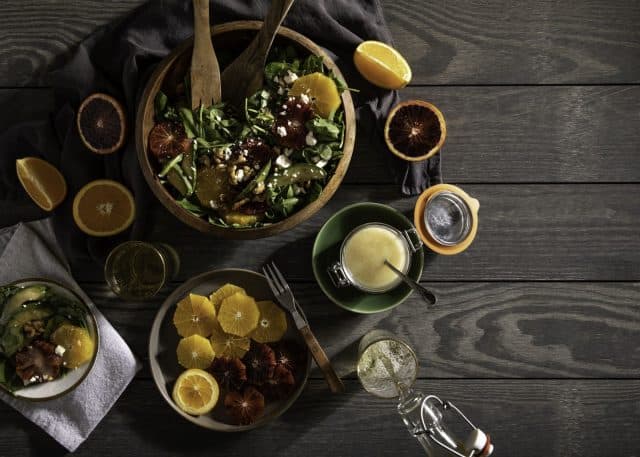 Cider Recipe: Winter Citrus Salad with Cider Vinaigrette
Bottled salad dressing is a scam. Yeah, we said it — a scam. We'll bet you a cold cider that in just a few minutes, using a handful of ingredients you probably have in your pantry, you can make a vinaigrette that beats the pants off the packaged stuff. Making this DIY dressing also means no weird preservatives or stabilizers and our recipe includes hard cider! The combo of tart, crisp cider, tangy vinegar, sweet honey, and zesty mustard is so good. Try it on this refreshing citrus kale salad with avocado, feta and walnuts, or on a Lyonnaise-inspired mix of chicories, red onion and bacon with a poached egg on top!
Winter Citrus Salad with Cider Vinaigrette
Salad recipe inspired by Half Baked Harvest
Ready in: 10 minutes 
Serves: 4
Ingredients
For Cider Vinaigrette
1/4 cup extra-virgin olive oil

1/4 cup hard cider

2 tablespoons apple cider vinegar

1/2 tablespoon raw honey

1 teaspoon Dijon mustard

1 teaspoon kosher salt

Pinch fresh cracked black pepper
For Citrus Salad
6 cups Tuscan kale

2 cups arugula

3 mixed oranges, peeled and sliced

2 firm-ripe avocados, sliced

2 cups toasted crushed walnuts

1 cup crumbled feta cheese
Method
Add all ingredients to small jar. Affix lid and shake jar until ingredients are combined. Taste and adjust seasoning to preference (add more honey for more sweetness, more vinegar for more tartness, or more salt and pepper).

Store covered in refrigerator for up to a week. Shake before serving.

Add kale and arugula to salad bowl and toss with half of vinaigrette. Add oranges, avocado, walnuts and feta and toss gently to combine. Serve with remaining vinaigrette.
Recipe and photo by Dish Works.