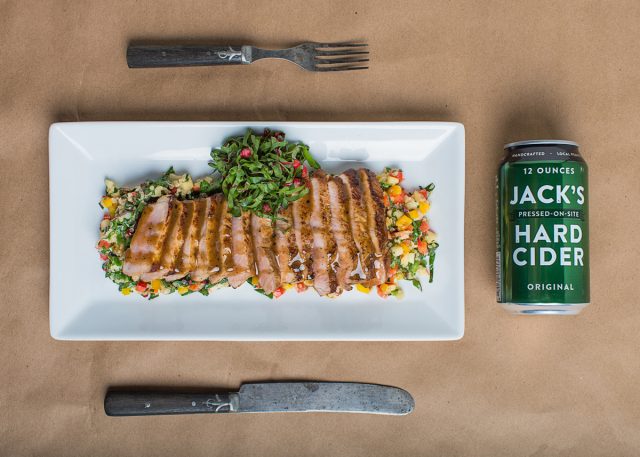 Cider Recipe: Hard Cider-Marinated Pork Chops
Serves 4
Ingredients
3 (12-ounce) cans Jack's Hard Cider, divided
1 teaspoon kosher salt
½ teaspoon ground black pepper
2 tablespoons Worcestershire sauce
½ cup vegetable oil, divided
4 (4- to 6-ounce) pork chops
½ cup quinoa
1½ cups water
2 teaspoons Dijon mustard
2 teaspoons honey
2 Granny Smith apples, peeled and diced
1 yellow bell pepper, diced
1 green bell pepper, diced
1 red bell pepper, diced
6 large Swiss chard leaves, thinly sliced
¼ cup chopped chives
2 tablespoons olive oil
Additional salt and pepper to taste
Method
In a medium sized bowl, whisk together 1 can Jack's Hard Cider, salt, pepper, Worcestershire sauce and ¼ cup vegetable oil. Add pork chops to bowl and coat in marinade. Cover bowl with plastic wrap and marinate, chilled, for 1–8 hours.
Preheat oven to 400°F.
In a small pot on medium-high heat, bring quinoa, 1 can of Jack's Hard Cider and ½ cup of water to a boil. Turn the heat to low, cover and allow quinoa to cook, about 15 minutes. The quinoa should be soft and the liquid should be absorbed. Remove from heat and allow quinoa to cool.
In a large bowl, whisk together mustard, honey, salt and ½ cup of Jack's Hard Cider. Slowly whisk in the remaining ¼ cup of vegetable oil until the dressing is thick and uniform.
Add cooked quinoa, apples, yellow pepper, green pepper, Swiss chard and chives to dressing. Toss until dressing coats all the ingredients.
Remove pork chops from marinade and pat dry, reserving marinade. Bring a cast iron skillet to high heat with olive oil. Sear pork chops on both sides until browned, about 3–4 minutes per side. Reduce heat to medium.
Pour one cup of marinade over the chops.
Place the pork chops in the oven to finish cooking, about 5–8 minutes.
Serve each chop with a portion of quinoa and apple salad.