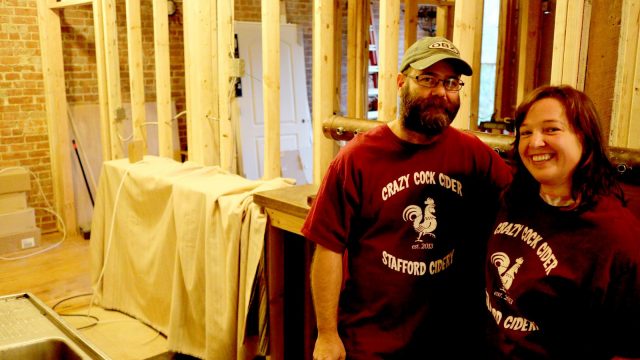 With a unique name inspired by their backyard brood of crazy chickens, Crazy Cock Cider is looking for some help with finishing its cidery build.
The Stafford, Connecticut-based husband-and-wife team of Dan and Jodi Harmon have been pursuing their cider dreams for many years. Their first attempt was through their popular craft beer tavern, but unfortunately the landlord had other plans for the building and cut their plans short. Now they've found an inspiring new space in downtown Stafford and the cidery construction is in progress. The duo is seeking crowdfunding assistance with buying new fermenters, kegs and growlers on GoFundMe. The campaign started a few weeks ago with a goal of $5,000:
"We have had so much support from our friends and family to get this business going. People have loaned their knowledge, their skills, their cider tasting abilities and we appreciate them all! But we need one more push of financial support to make sure we can get all the necessary items to make the cider flow! Money raised will go towards new shiny tanks and fermentors (some of the biggest expenses) along with kegs, growlers and a new sign!"
Cider flavors being developed in preparation for the planned opening include Hot Cock, a spicy chili pepper-infused cider; Sock Hop, a dry hopped cider; Cock-o-lat, a sweet chocolate cider; and Tea Hee, a chamomile tea cider.