Can a strong cider scene grow in a Beer City? In Asheville, the answer is undoubtedly a yes. Since 2013, three cideries have opened here in part thanks to the abundance of apple orchards in neighboring Henderson County. A new cider-dedicated taproom, Treerock Social, is slated to open later this year in South Asheville.
Need more evidence? Check out these establishments elevating the city to a must-visit cider destination: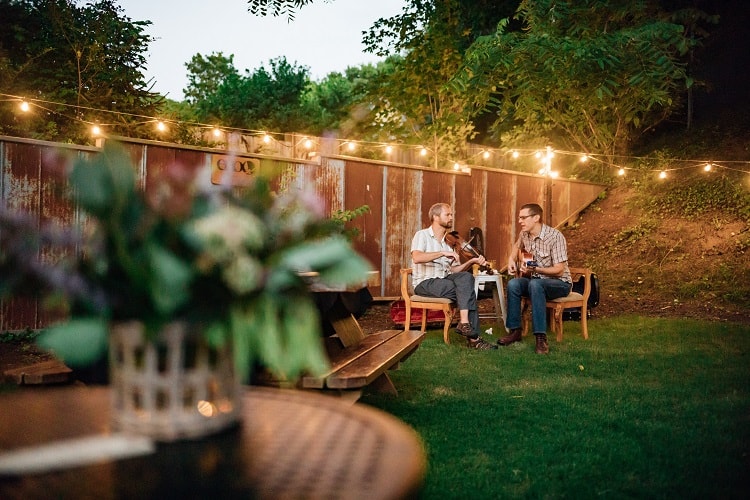 Want cider made with super-fresh ingredients? Head to Urban Orchard in West Asheville, where owner Josie Mielke uses herbs, spices, muscadines and persimmons straight from her garden to make eight-month-minimum aged ciders.
"We are inspired by fresh local ingredients, but we are also always taking a note from my love of cooking. I love flavor combinations, and how flavors play off of each other and together. It really is the most fun part of the job," Mielke said.
Urban Orchard's ciders also play with seasonal flavors, like the Valentine's Day Bizarre Love Triangle cider infused with cacao nibs and strawberry puree from the nearby French Broad Chocolate Lounge. On a cold evening, try the Fire Flights that feature six ciders brewed with hot peppers from Smoking J's Fiery Foods.
The Urban Orchard tasting room is an intimate space with a coffee-shop vibe. Two outdoor spaces and huge folding windows make for a pleasant cider-sipping setting. 210 Haywood Rd., Asheville; (828) 774-5151
Noble's popularity exploded so much in its first year of production that it moved into a 9,000-square-foot warehouse that doubles as a taproom. On offer are seasonally-inspired, traditional and "New American" ciders that include Blue Bard, a blueberry, honey and rosemary cider and Friar Fig made with brandy and spices.
"Ultimately, we like to have fun and create ciders that reflect our love of all food and general merrymaking," explained owner Trevor Baker. "We also pride ourselves on making balanced ciders, where all the flavors come through. We definitely look at healthfulness as well—our ciders have very low residual sugar content as compared to other brands. We like the drier-end of the spectrum for sure." 356 New Leicester Hwy., Asheville; (828) 575-9622
Owner Chris Heagney classifies Daidala as a "nomadic cidery" and collaborates with Red Clay Ciderworks out of nearby Charlotte. Using Red Clay's equipment, Heagney produces his ciders like Mandarina Sangria (made with stone fruit) and Green Glory (aggressively hopped with Citra and Centennial hops). His next release in November will be the Barrel Bruiser, made with blackberries and blueberries and aged in bourbon barrels.
Heagney studied brewing in England before working at Reverend Nat's Hard Cider in Portland, Oregon, where he said he "learned to take risks and experiment with different ingredients and unfamiliar combinations." He hopes to help launch a North Carolina Cider Club where members would have cider delivered straight to their doors, and dreams of eventually opening a small taproom. For now, cider lovers have to settle for buying bottles of Daidala from Asheville bottle shops like Tasty Beverage, Bruisin' Ales and Appalachian Vintner or seeking it out on tap or at events. No address or phone number
Explore the Region
Want to add more North Carolina cideries to your itinerary? Visit these nearby spots, all located about 20 minutes from Asheville:
Drinking and Dining in Asheville
One of Asheville's many nicknames is Foodtopia, and with good reason! The city is home to James Beard-winning chefs such as Kate Button of Spanish tapas-focused Curate and John Fleer of contemporary American Rhubarb.
Brunch is a big deal here, too, with Biscuit Head and Sunny Point Café both being must-trys. Or, opt for grab-and-go mornings at funky Vortex Doughnuts or TacoBilly, home of all-day breakfast tacos.
For authentic Indian street food, Chai Pani can't be beat—order one of its giant thali meals served with basmati rice, daal, masala slaw, raita and papadams. Bonus: it offers free refills on chai and organic black tea.
If cider cocktails sound intriguing, head to Sovereign Remedies, which has been known to host cider brunches in its upscale bar and restaurant. Recently the Autumn 75 cider cocktail was added to the house cocktail menu. Pack's Tavern, boasting one of largest food menus in town, adds a splash of Noble Cider's cherry cider to its red sangria. Swanky music venue and restaurant Isis Music Hall makes a Cider House Rules cocktail by combining hard cider, vodka and lemon with a seasonal berry float.
Drinking Cider in the Great Outdoors
Autumn in Asheville means incredible leaf-peeping and CiderFest, an annual event five years running. The 2017 CiderFest was held on October 7 and featured North Carolina-based and national cider and mead makers, live music and samples of artisanal cheeses, caramels and baked goods. A Kids' Zone and plenty of local arts and crafts vendors rounded out the event, and some proceeds went to benefit Green Built Alliance. Keep an eye on Ciderfest NC's Facebook page for details about 2018.
Places to Stay
If you take the trip to Asheville, book a room at the romantic B&B, Cedar Crest Inn, or the all-suite The Residences at Biltmore, both walking distance from Treerock. Or, consider staying downtown at Hyatt Place, home to The Montford Rooftop Bar that always carries a selection of ciders and boasts one of the best sunset views in town.
Where are your favorite places to drink cider and hang out in Asheville? Let us know!