For those who are looking for new breakfast recipes to please the crowds this holiday season, the following cider-braised apple compote will provide an easy solution. Created by Josh Fidler, owner and chef at Fidler & Co. Craft Kitchen & Grocery, not only is this apple dish easy to make, but it's also the ideal breakfast accompaniment for all of the cider lovers dining at your house during the holidays.
Cider-Braised Apple Compote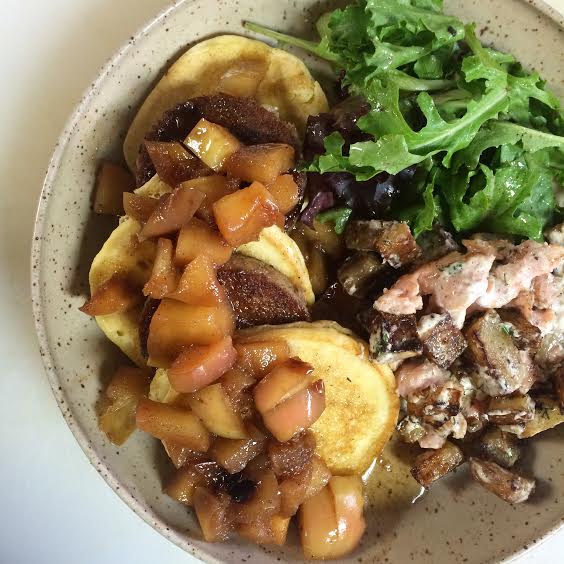 Ingredients
4 Honeycrisp apples (or comparable)
4 Tbs. of butter
1/2 tsp. of cinnamon
1/2 tsp. kosher salt
1 pinch of nutmeg
12 oz. can of dry cider
1/2 tsp. cornstarch
1/4 c. light brown sugar
Directions
Skin and cube apples. Heat a large cast iron skillet over medium heat. Add butter, allowing to foam and brown a bit (about 2 minutes). Add apples to sauté in butter about 3 minutes, stirring occasionally. Add cinnamon, nutmeg and kosher salt and cook another 2 minutes. Add a half can (6 oz.) of hard cider and stir. Bring to a boil and let liquid reduce by half. Add brown sugar and cornstarch; reduce heat, stirring frequently, until apples are soft and a nice thick sauce has formed.
This can be served in a variety of dishes, such as over johnnycakes and scrapple, then finished with Pennsylvania maple syrup. Other ideas include spooning it over vanilla bean ice cream, topping it with a nice oatmeal crumble for a delicious apple crisp or adding flavor and flair to waffles and pancakes.
Make this dish a staple at your holiday breakfast or brunch table this year!