In our column, "Cider Loves Food," contributor Meredith Collins (blogger extraordinaire at Along Came a Cider) is looking at different cuisines and finding the perfect ciders to help take your meals to the next level.
Late summer is the time for state and county fairs, which take place all over the country! Fairs offer blocks and blocks of treats and indulgence, and can also connect us to regional food heritage or seasonal agriculture. Sometimes that might be a small connection stretched thin, but it's there. 
It's also fun to just get caught up in the whimsy of fair food! We're talking all things fried, foot-long and served on a stick. Here's how cider pairings can take those experiences totally over the top!
Funnel Cake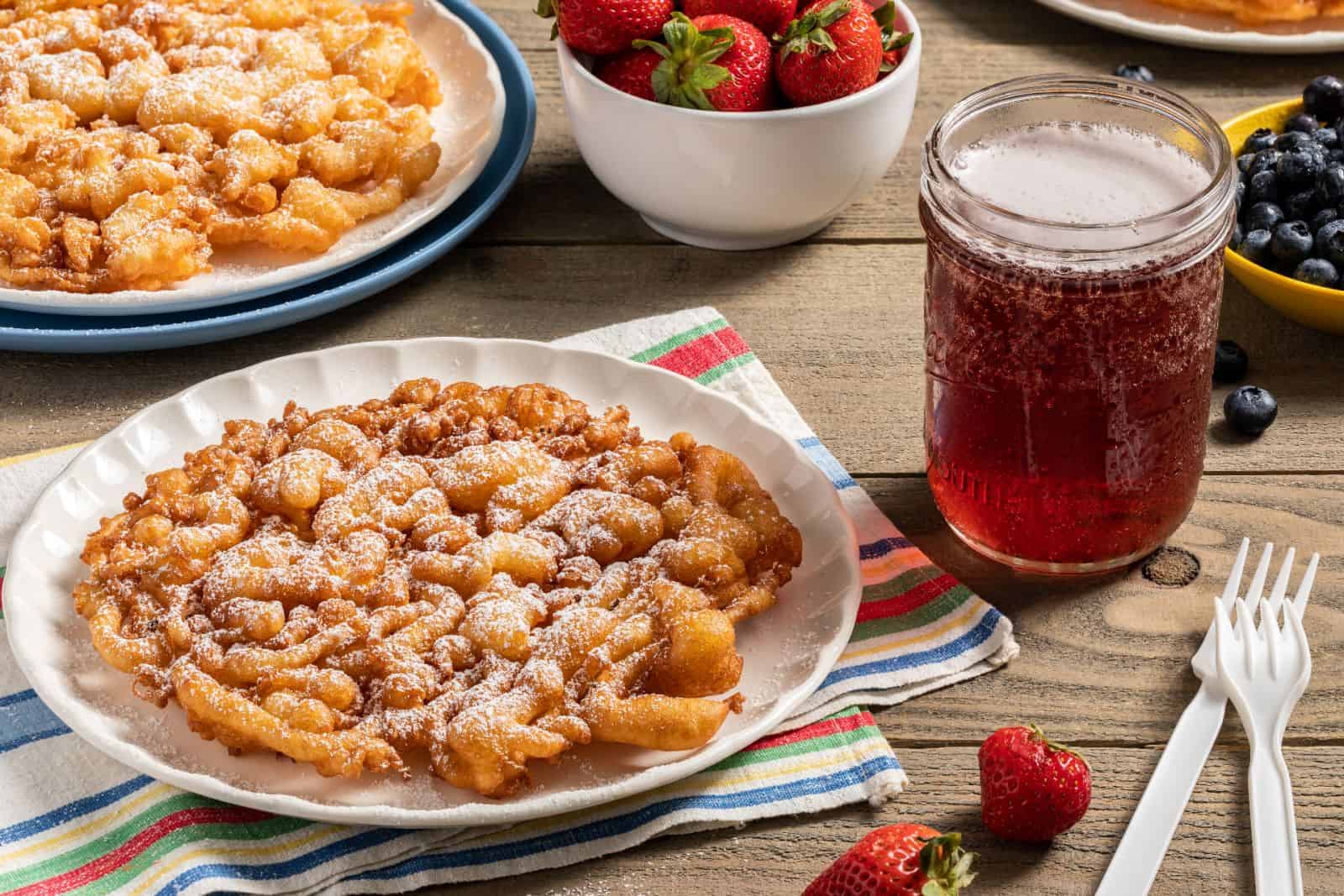 There's no such thing as a proper "dinner" at the fair, so why not forget all the typical rules and start with something sweet? It doesn't get any more iconic than a paper plate filled with scribbles of fried dough, covered in powdered sugar and topped with whipped cream. 
When it's time for funnel cake, it's time for a berry cider like 1911's Jam On It or 2 Towns Ciderhouse's Two Berry Dream. Jam On It is all about strawberries, raspberries and blueberries; it's almost like getting a sweet berry sauce with the funnel cake. Two Berry Dream is a bit darker and and more tart with its blend of blueberries, black currant juice and lime. Both have the tart, fruity contrast that funnel cake needs. 
Fried Veggies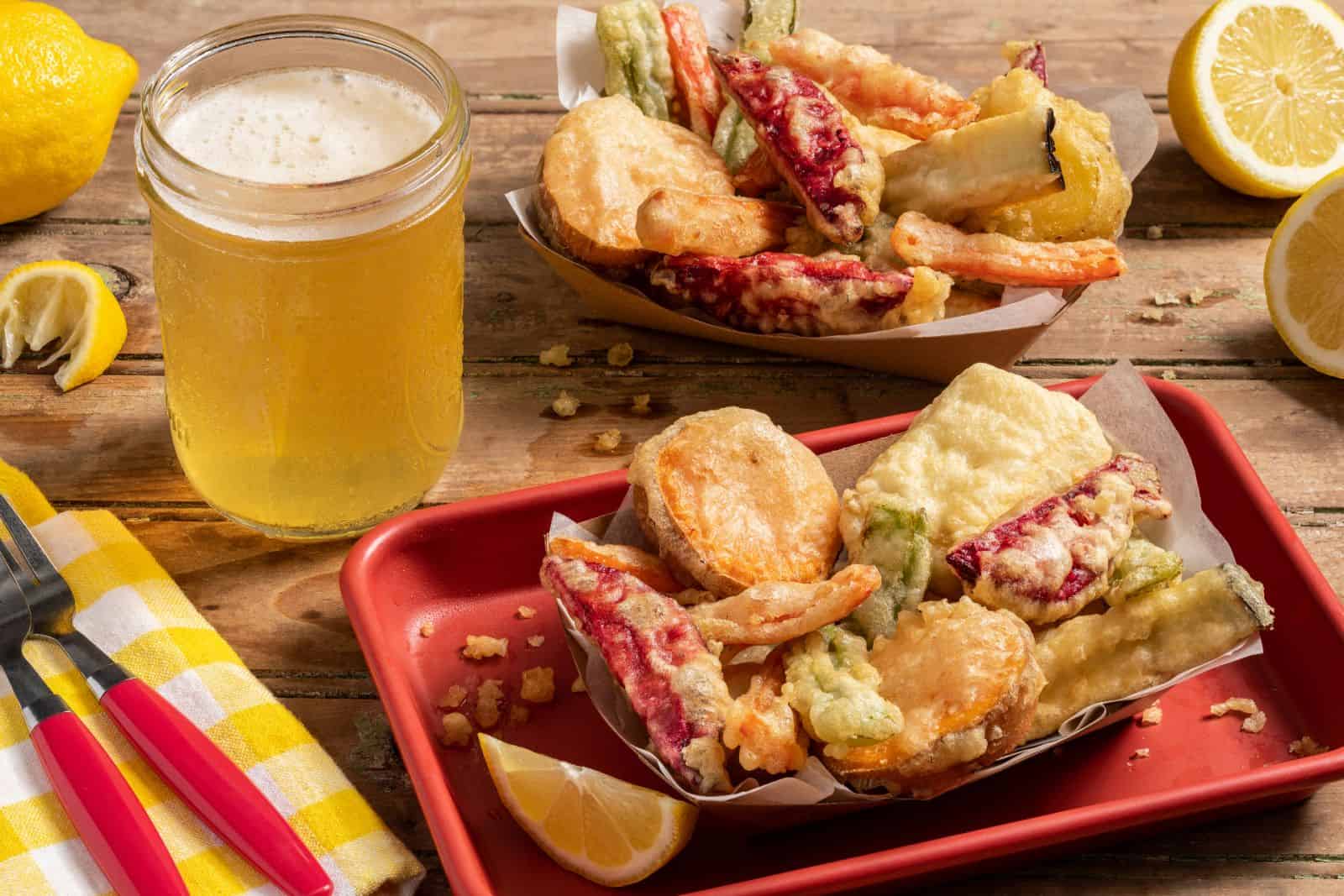 At fairs in New York State, there's a particular vendor, Dr. Vegetable, who is absolutely synonymous with my favorite of all fair foods: fried veggies. I love crunchy fried veggies so much! If you aren't lucky enough to have a similar vendor at your state or county fair, order some tempura vegetables at a Japanese restaurant or try frying your own. 
To accompany fried veggies, I recommend a cider shandy (a cider-lemonade blend) like Stowe Cider's Shandy or Melick's Hard Cider's Lemon Shandy. Even with a light, crispy batter, fried veggies can be a little oily, which makes a super-zesty citrus cider the perfect pairing. Both of these are semidry, so you can enjoy some sweetness along with lemon's sour pucker. They're completely refreshing, particularly with crunchy, salty fried broccoli, onion rings and zucchini! 
Grilled Corn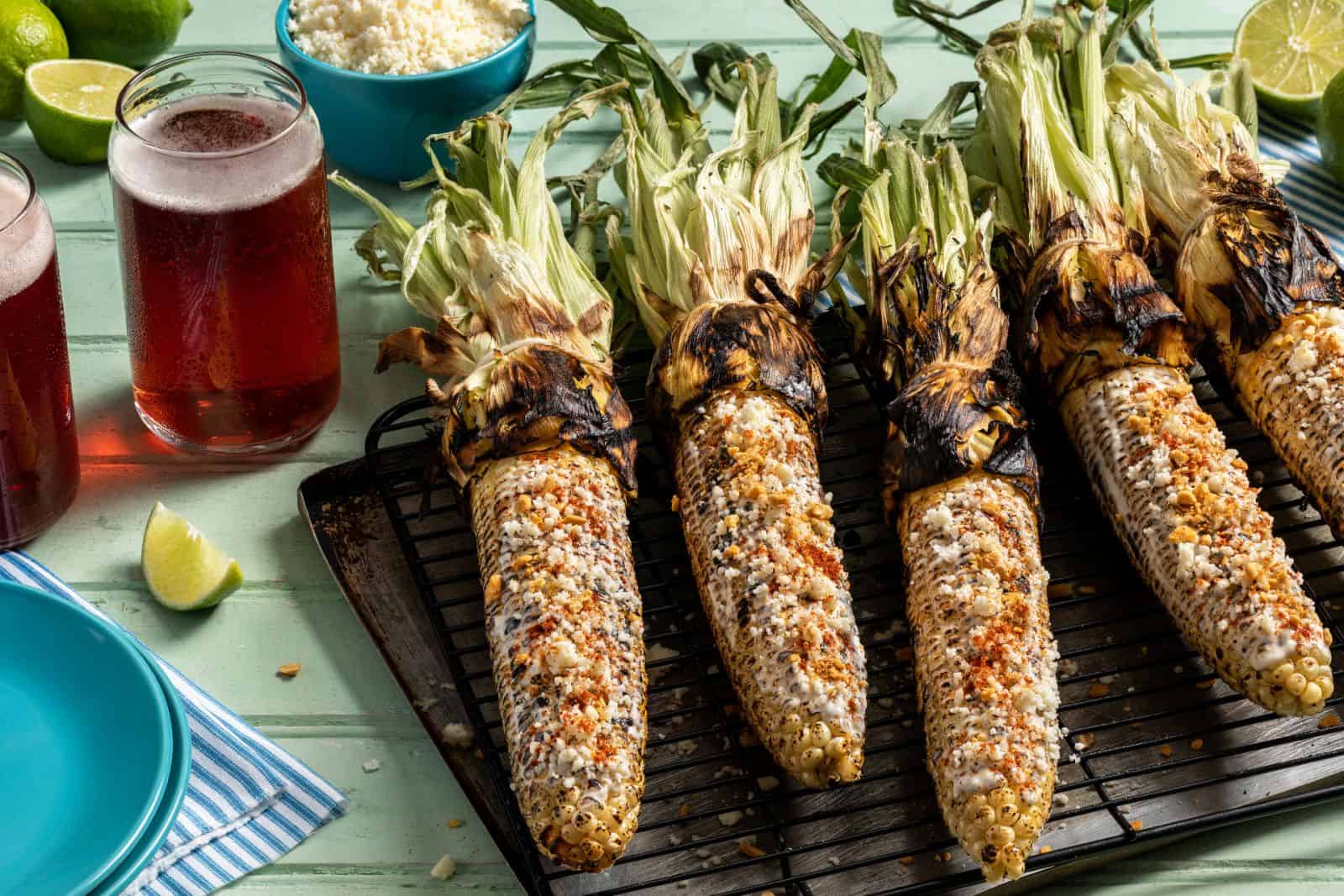 There are as many different ways to experience awesome street corn as there are fairs. Some are more like elote (Mexican street corn), with lime, chili and cheese, while others offer a kiss of char and its subtle caramelization of summery sweet corn. No matter the toppings, grilled corn is usually decadent, buttery and sweet. Unless it's served in a cup, the corn needs to be grilled with the husks still attached; that's how you hang on to it! 
Any version of grilled street corn can be enhanced with a strongly flavored fruit cider, like Austin Eastciders' Chili Lime Watermelon Cider or Ricker Hill's Mainiac Gold Cranberry. These two ciders are very different — the Austin Eastciders is over-the-top and the Mainiac is more mellow — so think about what's going on with the corn before choosing the right fruit-forward cider. Either the corn can be maximalist with several toppings or the cider can be elaborately augmented, but not both. Let one element be simple and the other ostentatious. Either way, corn's natural sweetness and a semisweet fruit cider will go beautifully together.
Italian Sausage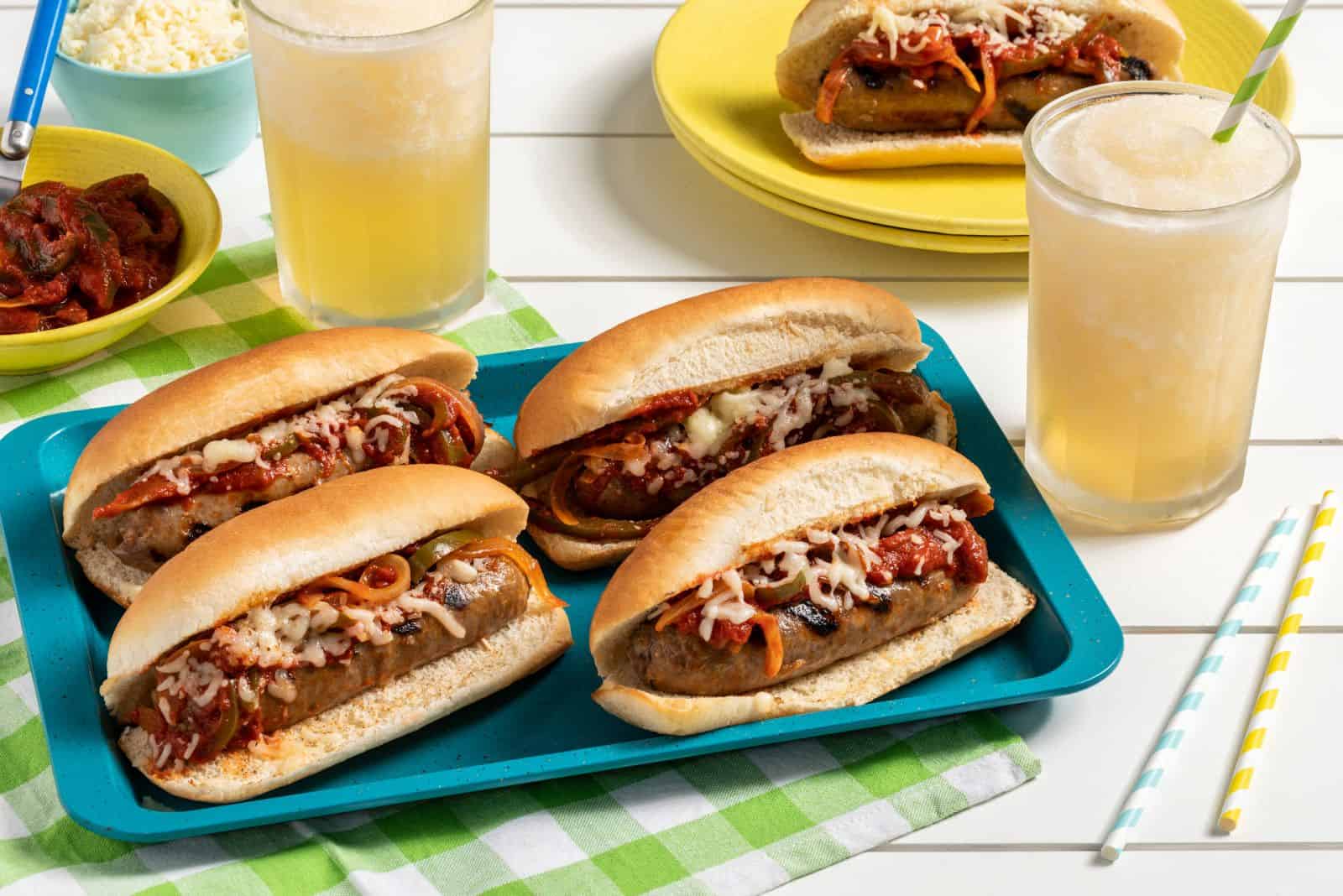 I don't eat pork or beef, so I'm calling on my extensive meat-eating network for this one. I'm told that when strolling the fair's midway, the tantalizing aroma of Italian sausage — with onions and peppers, of course — is a savory fever dream. It's juicy, salty and bursting with flavor. 
That's why my recommendation is a cider slushie. Pair this high flavorful main course with a cool and refreshing hard cider slushie that's just apple-y, icy and sweet. My recommendation is not brand specific, but here's how Angry Orchard makes its Angry Hard Cider Slushy. The salty and sweet should combine to make an out-of-this-world contrasting pairing.
Chocolate Dipped Frozen Cheesecake on a Stick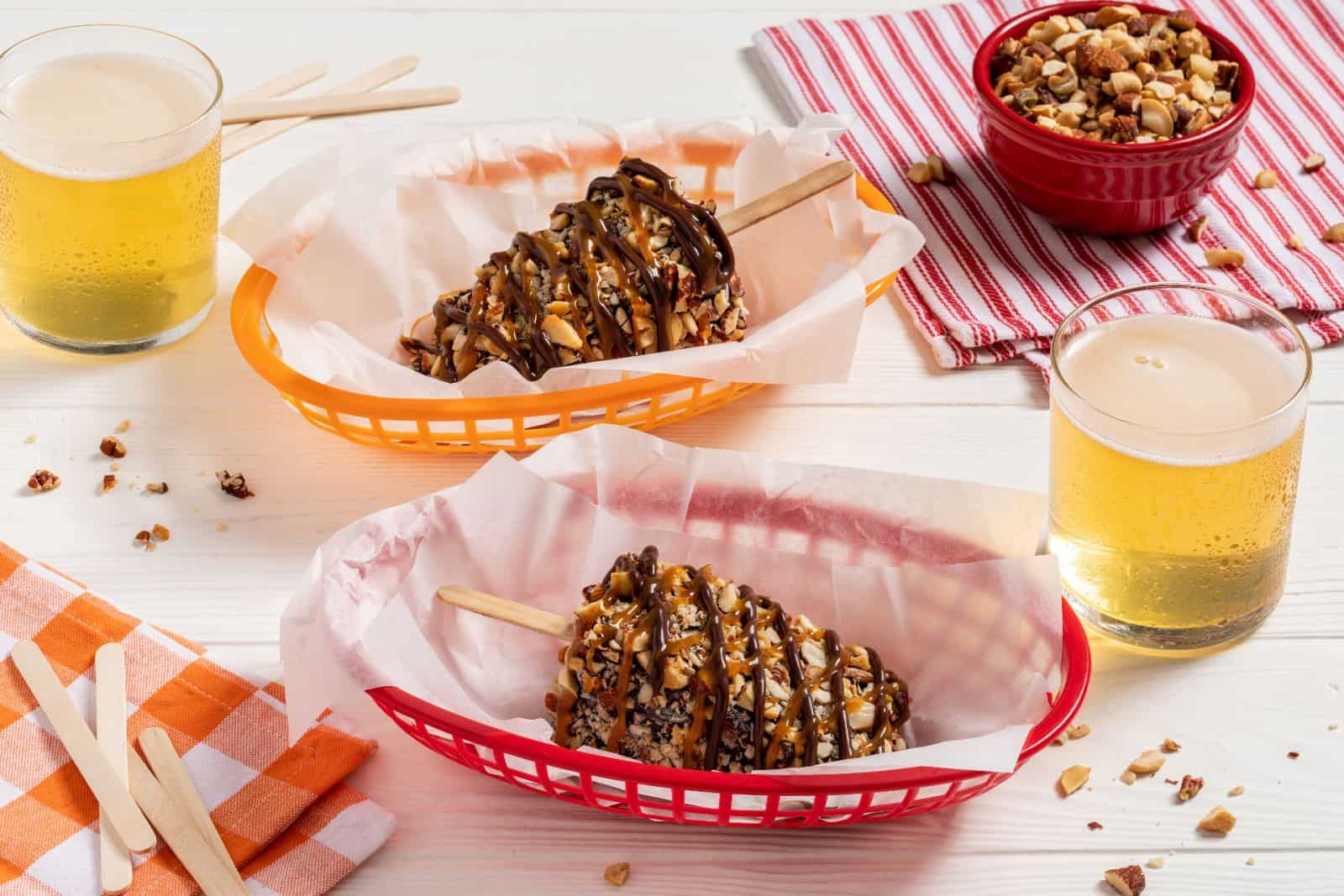 Is it going out of all bounds of taste and reason to take something as wonderful as cheesecake and skewer it with a stick before dousing it in toppings? I say, not at all. All of these ungodly modifications work together seamlessly. A frozen cheesecake is different from a room temperature one: It's easier to eat on a stick, and dipping the vanilla custard-y goodness in chocolate is just undeniably good. 
There's a lot going on there, so I think this dessert is best accompanied by a very bubbly and dry cider like Castle Hill Cider's Celestial or Redbyrd Orchard Cider's Wild Heart. These are terrific ciders that could also be enjoyed mightily on their own. On the surface, they're simple: just apples, time and bubbles. When savored, they open up worlds of exploration of tannins, fruity acidity, texture and flavor. They can be on the pointed and austere side, which makes the cheesecake a perfect counterbalance. Even if you're in the midst of riotous lights, sounds and colors at the fair, these combinations will transport you. 
My final word: indulge! Fair time only comes once a year, and lots of these treats will be gone for the year after just a few days. Just don't forget extra napkins — and stow a roll of antacids in your pocket!