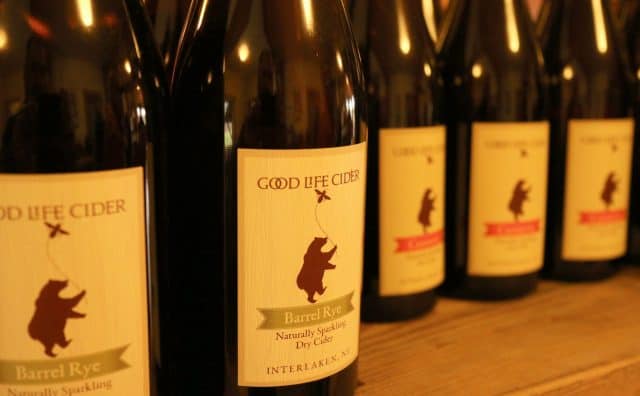 Interlaken, New York-based Finger Lakes Cider House has recently expanded its shipping area. Finger Lakes will now be shipping cider to Alaska, California, Colorado, Connecticut, the District of Columbia, Florida, Iowa, Idaho, Illinois, Indiana, Louisiana, Michigan, Minnesota, Missouri, North Carolina, Nebraska, New Hampshire, New Mexico, New York, Ohio, Oregon, Pennsylvania, Rhode Island, Virginia, Washington, Wisconsin and Wyoming.
The news comes at the perfect time for holiday giving. A delicious gift for yourself or for the cider lover in your life is Finger Lakes' Cider Club membership. In addition to its own Good Life Cider, Cider Club members will also receive ciders from other New York State cider makers, including Eve's Cidery, Black Diamond Cider and Redbyrd Orchard Cider, over time. The membership includes three bottles of cider four times a year and two free drinks when you visit the Cider House.
In other news, Finger Lakes will be shipping cases of its Good Life Cider to New York State for free through December 23!
Good Life Cider produces an impressive lineup of ciders worth exploring, including Cazenovia '15, a serious dry cider produced in the méthode champenoise with balanced acidity backed with soft, round tannins; a creamy mouthfeel; and a savory finish. Funkhouse '15 is cloudy and funky with refreshing acidity. Aged on lees, this cider will surely develop interesting flavors over time. Barrel Rye '15, a semi-dry cider produced using the méthode champenoise and aged 4 months in rye whiskey barrels, exhibits smooth buttercream with a backbone, delicious oak and smoke and shalestone. Workhorse '15 is a semi-dry, sparkling cider that's fruit-forward with bright citrus and tropical notes, balanced by a mouth-watering acidity. Honeoye '15 is sparkling with honey on the nose and bold acidity smoothed with a sweet reserve of lush ripe apples and a bright juicy finish. Glacial Till '15, Finger Lakes' heirloom ice cider, is bursting with warmth, refreshing and ripe with apple spirit.
Learn more about Finger Lakes Cider House and the Cider Club online.