This weekend, San Diego-based Julian Hard Cider and Waypoint Public are joining forces to honor those who have served by offering patriotic cider flights and the debut of a new craft cider blend. This is the third and final installment of Julian Hard Cider's Red, White and Blue summer series that's raised nearly $2,000 for Tragedy Assistance Program for Survivors (TAPS), an organization providing care to those grieving the loss of a loved one who served in the Armed Forces.
From Friday, September 1, through Monday, September 4, flights of red, white and blue ciders will be available at both Waypoint Public locations in North Park and Del Sur, and the Julian Hard Cider tasting room. As a little bonus, Julian Hard Cider will be showing off its newest blend for the first time outside of its tasting room.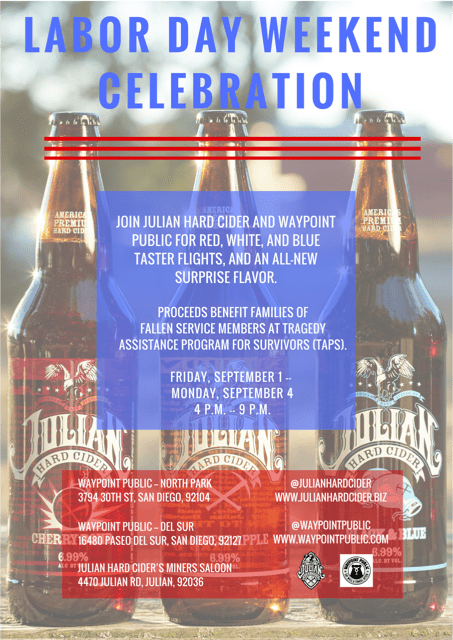 Ciders featured in the flight include:
Cherry Bomb (Red): This fresh-pressed, sweet-tart, hard apple cider is blended with Montmorency cherry juice.
Harvest Apple (White): Using only top-quality, handpicked apples, this cider goes immediately from pressing to fermentation to maintain its intense clarity.
Black & Blue (Blue): Blended with the juice from American-grown and sustainably farmed blackberries and blueberries.
Exclusive Release: This new blend pushes the boundaries of craft ciders for a refreshing taste. Hint: This cider takes after its hoppy cousin.
Both partners in the event are feeling positively about the potential impact of collaborations such as this.
"We could not be more excited to partner with Julian Hard Cider on this event, because the company produces an excellent product we love to share with our guests," says Waypoint Public owner John Pani. "More importantly, we are grateful for the opportunity to help raise awareness to an incredible project, the Tragedy Assistance Program for Survivors (TAPS), that supports our military."
Julian Hard Cider's founder, Paul Thomas, adds, "From our veteran-founded core to the military memorabilia displayed in our tasting room, veteran appreciation remains at the heart of Julian Hard Cider. With our Labor Day weekend event in the summer series, we'll continue to honor a community of men and women that dedicate their lives to serving us and the liberties we enjoy every day."
Guests can purchase this special flight from Friday, September 1, through Monday, September 4, at Waypoint Public North Park (3794 30th Street, San Diego) and Del Sur (16480 Paseo Del Sur, San Diego), as well as at the Julian Hard Cider tasting room (4470 Julian Road). While ciders are only available for folks over 21, Waypoint welcomes all ages to enjoy its artisan cuisine.