For LGBTQIA+ Pride Month, we're sharing stories of queer-identified cider makers from across the country. Meet Monique Tribble of Yonder Cider, via an article which originally appeared in Prohibitchin in September 2021.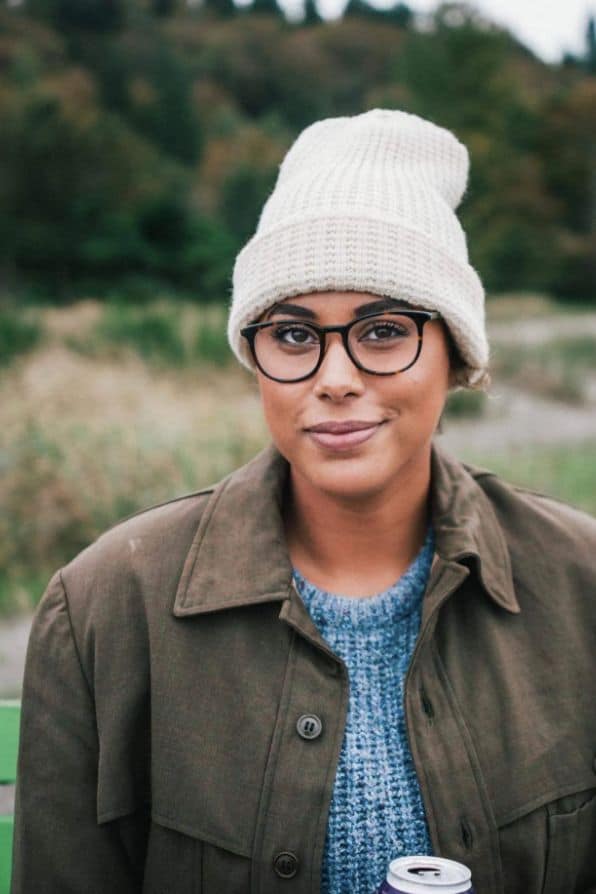 Monique Tribble didn't pick up the phone when I called for this interview. "Just finishing up a filtration. Call you back in 2 mins!" she texted before ringing me back, with a chorus of forklift chirps in the background. Two weeks after our conversation, she got married. Two weeks after that, Yonder Cider Co. (where she makes cider) and Bale Breaker Brewing Co.'s joint taproom in Seattle's Ballard Brewery District opened its doors.
Needless to say, she's been very busy—and that's just how Monique likes it. "It has been wild," she laughs. "We have done so much in a year, more than any other job in my life, with a smile on my face."
As cider maker at sister companies Yonder and The Source Cider, the latter of which provides fruit, fermentation services, blending, and even canning for other cider brands, Monique is an integral part of a tiny team stationed in the heart of apple country. Although she's now a bonafide cider head, only a few short years ago, she was gearing up for a promising career in wine. But her path to the vineyard, and eventually orchard, wasn't exactly a straight one.
After growing up on the southern Oregon coast, Monique played basketball and studied communications in college before embarking on an Alaskan adventure to work for a fisherman. "I met a ton of people along the way," she says, many of whom expressed curiosity about her journey to The Last Frontier. "They were like, 'wait a second—you're from Oregon, you went to college in the Willamette Valley, and you lived five minutes away from all our favorite wineries. Why aren't you working in the wine industry?"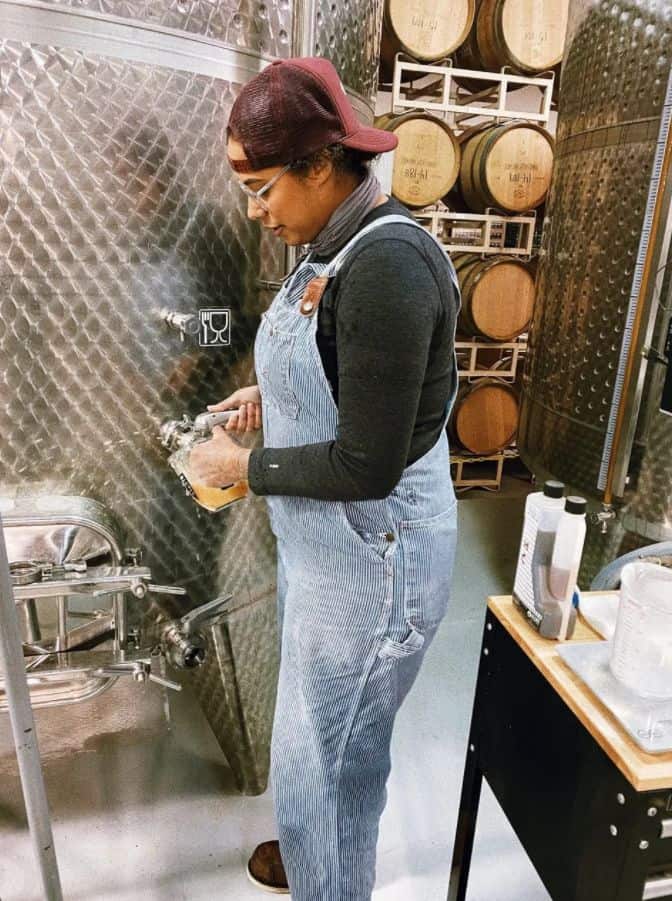 That question ended up changing the trajectory of her entire life. Upon her return from Alaska, Monique quickly got a job in a winery tasting room before transitioning into production. That's where she really hit her stride. "It was the type of job where I knew I was going to have to get there at six o'clock in the morning and probably shovel for eight hours. I was like, 'I don't care. I love it. I love it. I love the smell of it, I love watching all of this, I love learning about it. I loved everything about it.'"
After a few years, despite her obvious passion for wine and growing experience in the industry, Monique found herself wandering in search of the perfect position. When an opening at the now-shuttered Wandering Aengus Ciderworks in Salem, Oregon became available—despite her over-qualifications, by both their and her own estimations—she took the job and made it her own. Within a few months, she moved out of the cellar and found herself as head cider maker.
"It was pretty nerve-wracking and terrifying for the first six months," she laughed, saying she tried to read "every cider book ever made." But once she found her groove, she blossomed and realized: "This is what I'm going to do for the rest of my life. I can't imagine doing anything else."
Her next landing pads were Seattle Cider Co. and Seattle's Republic of Cider before meeting Caitlin Braam, Yonder and The Source's founder who invited her to work at her new ventures, where Monique envisions remaining for the time being. "I see myself staying here. I have no reason to walk away from Yonder, anytime soon or ever," she says, with a caveat that if the opportunity to launch her own business came along, she'd likely pursue it. "It's always in the back of my mind," Monique admits.
But when she looks to the future, both career-wise as well as with her wife, she's already planning three steps ahead. "An ideal situation [would be] where I have my own thing down the road and I'm able to come stay at my home in Wenatchee and go skiing, then go to Seattle and sit on a boat and enjoy a glass of cider. That sounds like a good plan in the next ten years!" (Um, can I come??)
Luckily, her wife shares her "work hard, play hard" mentality, which Monique describes as a huge driver in her own life. "She's an extremely hard worker. We feed off of each other, which is cool. It's nice to have somebody who supports my dreams," especially when those dreams involve waking up to a cup of coffee with a view of the water.
It's no accident that Monique is where she wants to be. Throughout our conversation, even when she describes hardships or obstacles, she follows it up with a silver lining. I ask her: how does she stay so positive?
"I give all the credit for my positive attitude to my mom for sure. If it wasn't for her, I don't know what I would do," she says. Growing up without a lot of financial resources was difficult at times, she admits. But it was her parents' attitudes of gratitude that taught her to find the good in every situation, regardless of the challenges. "She always had such a positive thing to say to me to make me feel better, and it's been happening my entire life," Monique says. "Anytime I hit a wall or I run into something, I'm constantly thinking of my mom and what she had to do."
The idea of thankfulness remains deeply ingrained in her everyday. "I have horrible days, but I can sit here and bitch about it or find something joyful in that day that I struggled to get through," Monique says. That shared frame of mind is something she values at Yonder and The Source. She talks about the time-honored tradition of coworkers complaining to one another about their work. But the difference for her is that after a good vent session, "we're smiling and happy. This is all worth it."
For anyone hoping to find joy in life and work, Monique recommends knowing one's worth. "If you get the vibe that you don't feel valued, run for the hills. Find something better, something else. Don't waste your time if you're going home every night feeling bummed out," she advises. "The feeling that I have now every day going home is like 'That was a hard day, but I'm going to sleep feeling valued, and we're going to wake up and try again.' It feels really good."