In our monthly column, "Cider Loves Food," contributor Meredith Collins (blogger extraordinaire at Along Came a Cider) is looking at different cuisines and finding the perfect ciders to help take your meals to the next level.
It's summer: the season of grilling, picnics and lakeside barbeques! Where I live, it's also the season when a new cycle of Community Supported Agriculture (CSA) begins.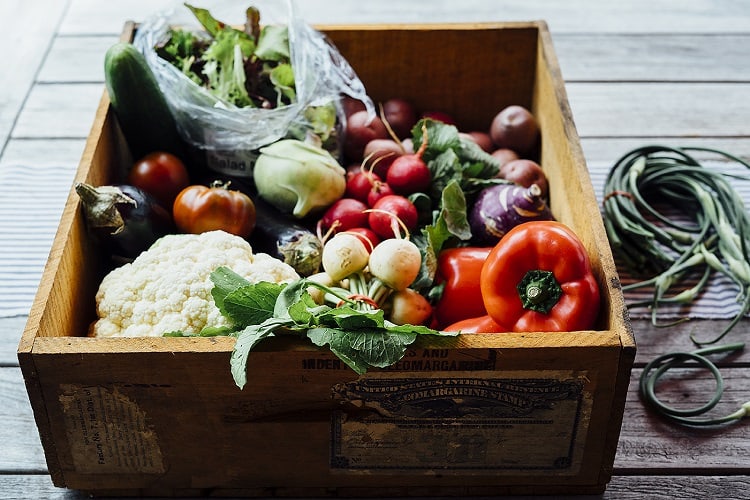 For those unfamiliar with the idea, a CSA is like a farm food subscription, but it's way cooler than the other subscriptions you might have (even Netflix!). Participants pay up front for a whole season of food, so farmers can have the capital necessary to farm on a small scale. I like it, because my CSA keeps me from turning to restaurants out of laziness. I still go out when I want to, but I've already got food to cook at home, so I more often turn to my own kitchen at mealtime, instead. Even better, this means I can choose great cider from what I have in my cellar to create some awesome pairings.
As any CSA veteran will tell you, there are good weeks in a CSA, and there are weird weeks. The start of a season is almost guaranteed to be a few weird weeks in a row, because not that many crops are ripe yet. Our CSA uses some stored winter/spring crops to round out the early summer weeks, but we also encountered some less familiar vegetables, in addition to the asparagus, strawberries and leafy greens we anticipate in the early summer. That doesn't mean there aren't still some stellar cider pairings and some amazing dishes to be had. It's just time to get creative!
Garlic Scapes
These spring vegetables may look alien, but they are loved anywhere with a cold climate because they are edible and super-flavorful so early in the spring. If you've not had them, simply imagine the flavor of garlic and then turn up the intensity and green freshness. Some folks pickle them, but I prefer garlic scape pesto.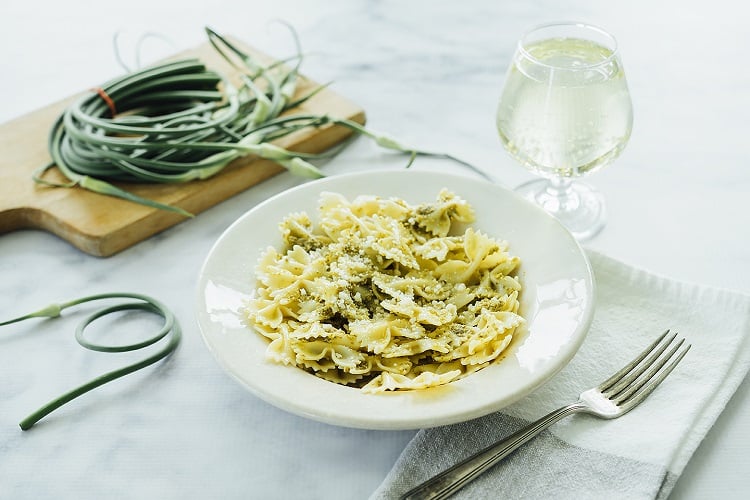 It's not hard to find recipes for garlic scape pesto, and I recommend serving it on bow-tie pasta. It's not a mild dish; garlic scapes are zesty! Knowing that, I think pairing this pasta dish with something complementary means using a semi-sweet easy-drinking cider. I like Black Diamond Cider's Jay Walker in this particular instance. The cider is plenty bubbly and has some sweetness, but the heritage apple varieties and plentiful acidity mean that you don't have to sacrifice complexity. Delightful!
Kohlrabi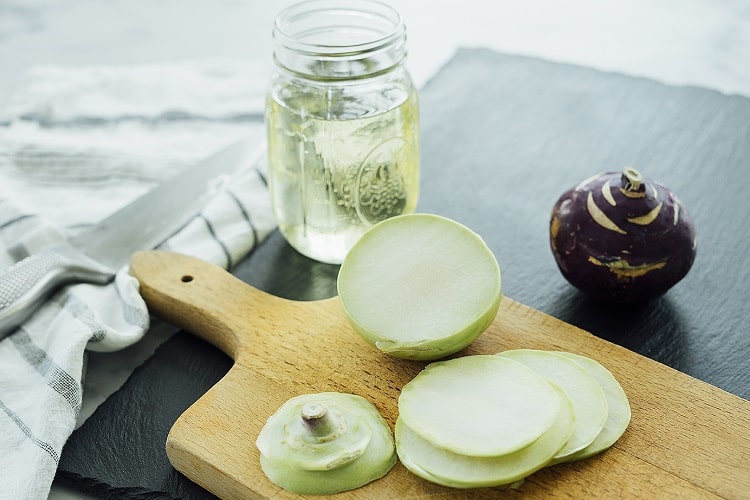 Kohlrabi might look like a tentacled beast of a vegetable, but its rough exterior hides mild and crunchy flesh. People are shocked with how likeable kohlrabi is once they actually taste it. My preferred cooking method is cider and brown butter kohlrabi slices. I love to cook with, and pair with, same cider! In this case, it's Virtue Cider's The Mitten Limited Reserve. The barrel-aging gives the cider richness, and the turnips benefit from it, as well. I like a still cider with nice crunchy vegetables like kohlrabi.
Spring Turnips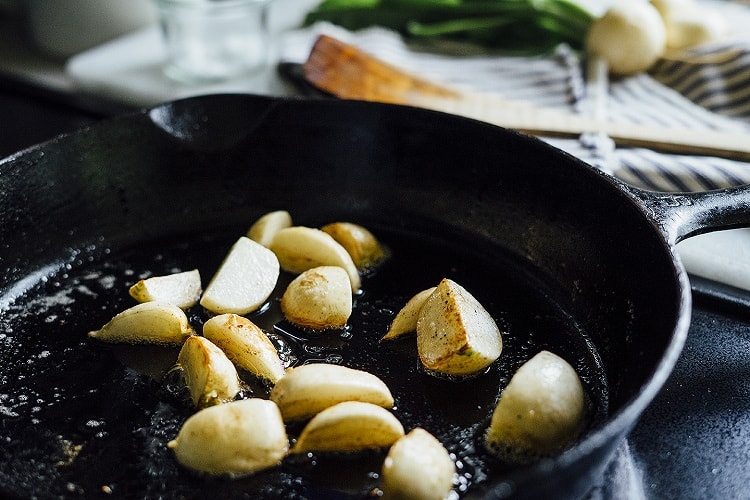 These bright and mild radishes are not the intense winter ones. These are great just sliced over a salad, or you can cook Hakurei turnips with their own greens. The roots turn even sweeter when cooked, and that makes a fascinating contrast with the earthy greens. To keep up the theme of contrast, I recommend pairing this with something on the rich and aromatic side. The perfect choice has to be Tieton Cider Works' Sparkling Perry. The tannic heritage fruit and natural sweetness of this perry create just the right interplay of flavors with both the greens and the roots in this dish.
Radishes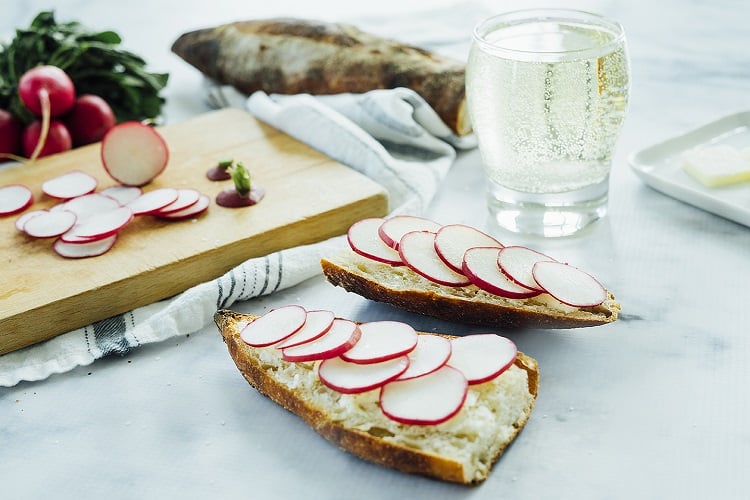 This is one for the early hot days when you do not want to turn the oven on or even light one burner. These little sandwiches are the perfect combination of crunchy, buttery, rich and salty! All you need to do is slice up a few radishes, butter and salt some slices of hearty bread using high quality butter and place the radish rounds to create mini open-face European-style butter sandwiches. Don't forget good sea salt — it's important!
There couldn't be a simpler dish, so pair it with a cider with both body and complexity. Colorado Cider Co.'s Block One. The cider is off-dry and acid-driven, which makes the salt and butter feel even more decadent. Radishes bring maximum freshness, and there's a green tea quality in the cider that works beautifully with them.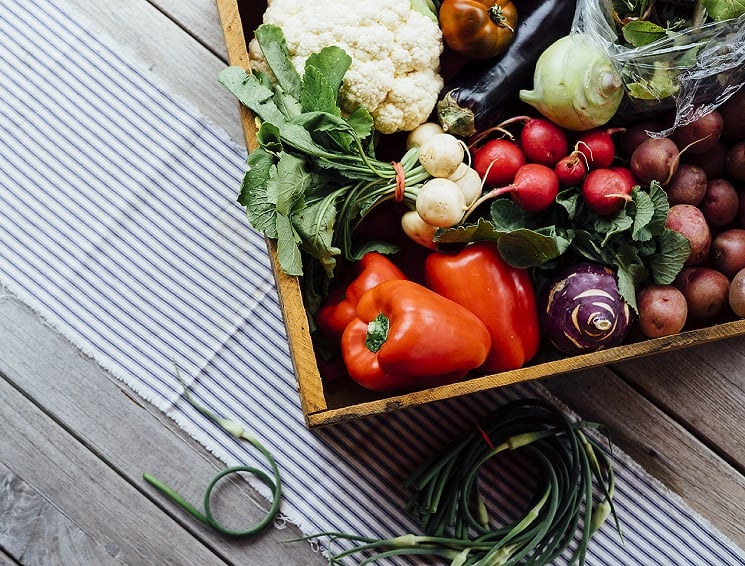 If you aren't signed up for a CSA, look for any of these vegetables at your local farmers market! And if those particular cider brands aren't available where you are, look for things with a similar profile in terms of sweetness, mouthfeel and acidity. There are so many great possibilities out there.  
Excited to try more cider and food pairings? Check out our suggestions for cider and Mexican food and cider and brunch!