This past summer, I stumbled across the Instagram account for Overlander Cider, and I was immediately intrigued. There was no website listed and not much information in the bio, just a handful of attractively styled photos featuring beautiful pink-ish, copper-colored cans of cider. Even the photo captions were vague, like its second photo ever, posted on August 4:
Finally, after a few months of occasionally checking in with Overlander's Instagram, a website URL appeared. Mystery solved! This new operation, based out of Ontario, is a joint operation between two sets of brothers: Luke and Mark Willms and John and Charles Neufeld, who all originally met in 1998 at a summer camp. Can there possibly be a better origin story than a bunch of kids meeting at camp?
The cider, which is branded with a sort of exploration vibe ("it really comes down to enjoying the journey and allowing yourself to discover your own paradise in the process") is made to be dry and refreshing. According to Overlander's website, it's fermented slowly over two months and stayed on the clean lees to pick up the yeast bread nuances. They don't add any sugar — it is fermented completely dry — and the finished product is "dry as the driest wine."
After wondering for so long what was up with this new cidery with the lovely packaging, I was stoked to be able to chat with Luke Willms and to finally dig up some more info on this no-longer-enigmatic-but-still-very-exciting company.
Cider Culture: So, how did you all make "the leap" from friendship and beverage enthusiasm into starting a cidery?
Luke Willms: The leap was natural, it was the next step for both sets of brothers to evolve their entrepreneurial spirit. Johnny and Charles Neufeld had been operating the winery in Niagara (where Overlander Cider is produced) for quite some time and were ready to venture into developing a product that wasn't grape-based. We (Luke and Mark Willms) have been developing our coffee company for the last few years and were also ready to expand into a different market. Mark and I began by picking apples from a few old heritage apple trees at our parents' place, and we would use the juices from those to create hot apple cider for the holidays for friends and family.

In the fall of 2016, we began by shipping the juice from our heritage trees to Charles and Johnny to start the fermentation process to see what juice varietals we could use for a potential hard cider.
When did you officially launch Overlander?
We officially canned our first batch this past August [2017].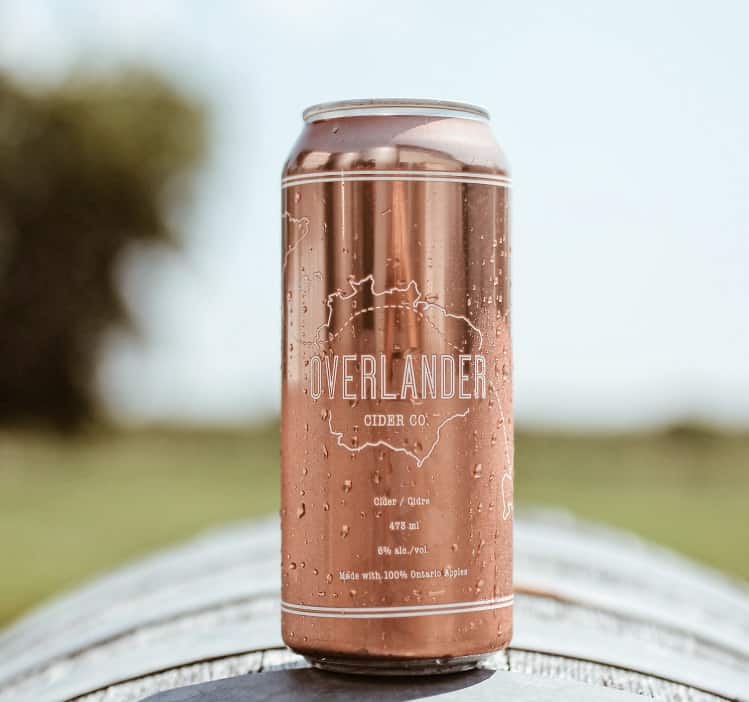 What was the trickiest part of the process? What has been the most rewarding part so far?
Considering we were very involved in choosing the apple varietals that would end up going into Overlander Cider, we sampled a lot of bad juices after fermentation that either needed to be combined with other apples to get that fresh apple taste, fermented longer or simply left out of the equation. Coming up with the apple varietal percentages that would go into each can was a tough process to get through in the early stages.

The most rewarding thing for the four of us so far is the initial response on the taste, but also how the branding coincides with the taste. As far as the overall product is concerned, we have achieved what we sought out to achieve (so far).
Where is your cidery located? Can you describe it a bit for us?
Palatine Hills Estate Winery, in Niagara on the Lake. Stop by anytime in the summer and Johnny or Charles will give you a tour. They have a beautiful new tasting facility and patio, as well!
What were your goals in setting out to make cider? Was there a certain brand or style that influenced/inspired you most?
We wanted something super-super-dry — but also something that is palatable to any season or occasion. We arrived at something that resembles a wine spritzer, a refreshing celebratory beverage that cools you off in the summer or gets you festive in the winter. Cider shouldn't just be a summer drink!
Is there a cider "scene" where you live? If so, any other makers/players you want to give a shout out to?
We like to think the cider scene is growing everywhere, and that it will continue to grow exponentially over the next few years. Ultimately, we created Overlander Cider because there wasn't a cider on the market like it.
Where can people find Overlander Cider? Is it available in the U.S. yet?
Currently, Overlander is available at various bars, restaurants and pubs in Southwestern Ontario (Toronto, Niagara and Kitchener-Waterloo).
Any cool plans for 2018 you want to share with us?
New flavors?! You will have to see! We will be stationed at various music festivals this upcoming summer, as well. Our biggest plan is to get Overlander Cider into the hands of as many people as possible!
•••
Many thanks to Luke for answering our questions! Keep an eye on Overlander's Instagram for more info and updates as this newcomer gears up for a big year.