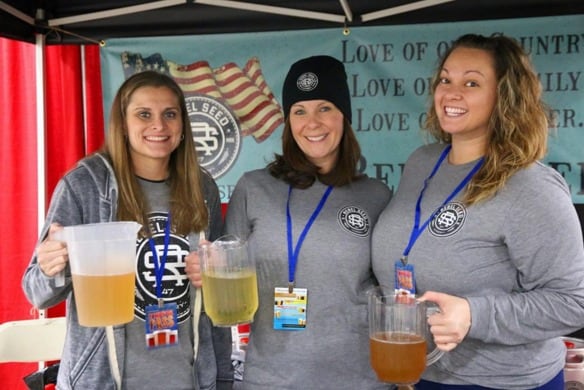 Harvest Ridge Winery is plucked like the perfect grape on top of the historic Mason-Dixon line of Marydel, Delaware. Pouring onto the scene three years ago with a balanced line of easy-drinking wines that include Chardonnay, Viognier, Malbec and Merlot would make us wonder how could they possibly improve upon this sun-drenched vineyard's success.
Enter the vision of Rebel Seed Hard Cider. Still in the early stages of sampling, this cider is earning favorable reviews from existing customers. We had the opportunity to chat with Harvest Ridge's Nan Nunan—large charitable events coordinator and social media manager, and Milan Mladjan—winemaker extraordinaire, about this latest branch of expansion.
Cider Culture: How long has your new hard cider product been up and running?
Nan: We launched Rebel Seed Cider in October of 2015. It's still quite new and exciting and we are learning every day, but it's a fun experience!
What made you decide to tackle hard cider?
Nan: Milan wanted something new and challenging to work on. Hard cider is a natural progression from wine since a lot of the fermentation procedures are very similar.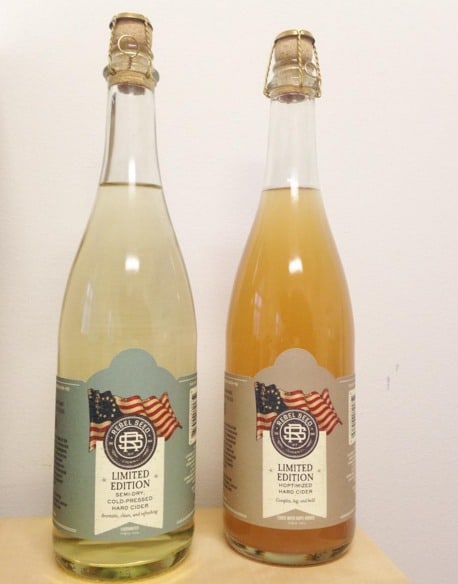 What are the names of the two ciders you launched in October?
Nan: We are still in the special-edition phase of our cider. We wanted to release it and get feedback from our customers in regards to it. Currently we have our "Semi-Dry" and "Hoptimized."
Describe each in color, smell and taste.
Milan: "Semi-Dry" is a straw-colored golden cider, 6% alcohol, that is very fresh, aromatic and fruit forward with apple blossom, wet-stone minerality and pronounced yellow and green apple aromas. The flavor is slightly sweet but finishes clean and crisp.
"Hoptimized" is an amber-colored cider, 8.5% alcohol, with crab apple, papaya, zesty hop and yeasty aromas. There's more sour apple on the palate with hints of sourdough and tastiness with a much fuller but drier and bitter finish.
Is either a blend?
Milan: Both are blends of several different apple varieties which we use in order to create greater complexity in the finished cider.
How do you determine what you want the finished cider to taste like?
Milan: We create cider based on both what we would like ourselves as cider drinkers and what different consumer demographics might like. Our "Semi-Dry" is a very approachable not-too-sweet or not-too-dry cider that is appealing to everyone. Similar to a Pinot Grigio wine.
Our "Hoptimized" is a cider that all craft beer drinkers will love and appreciate.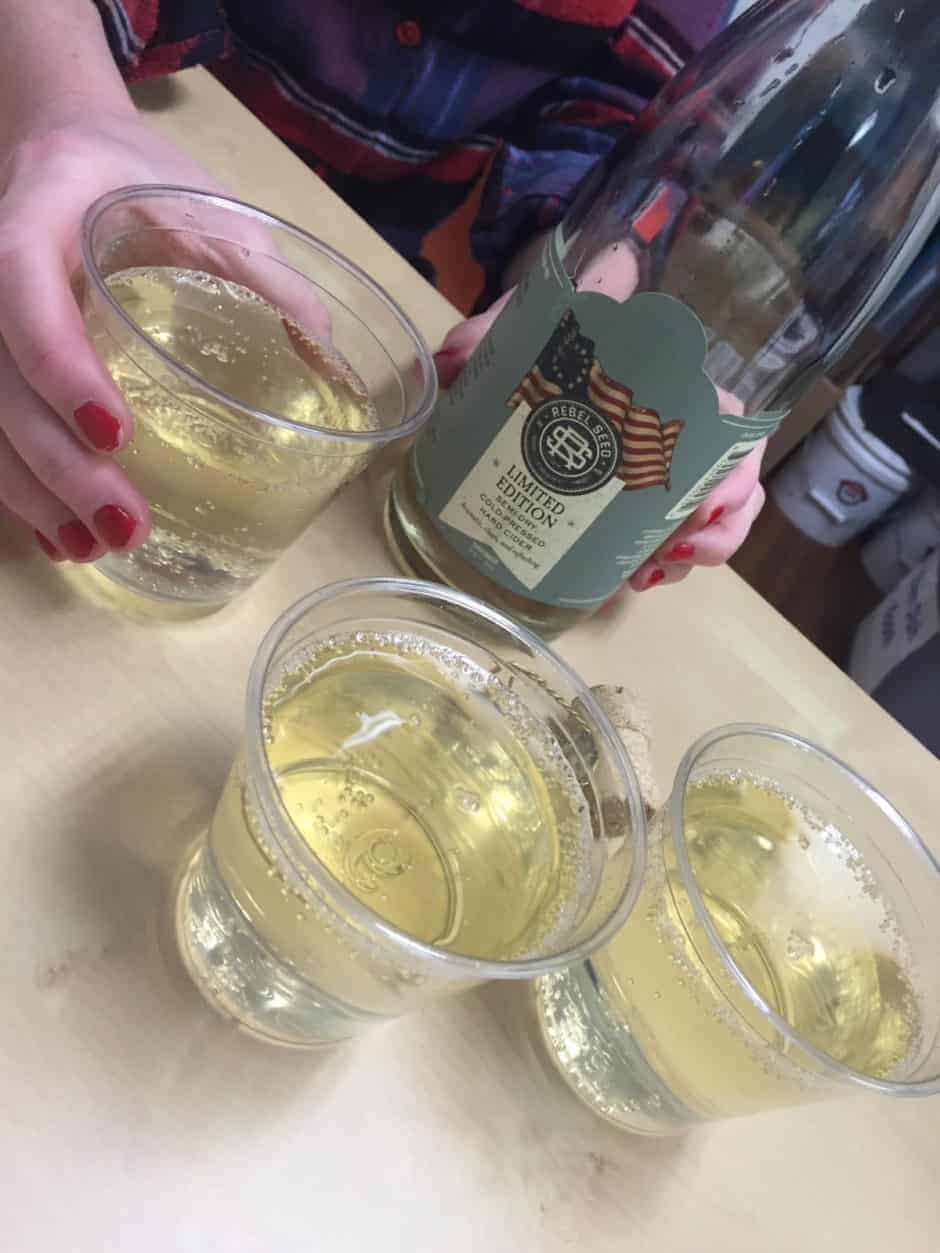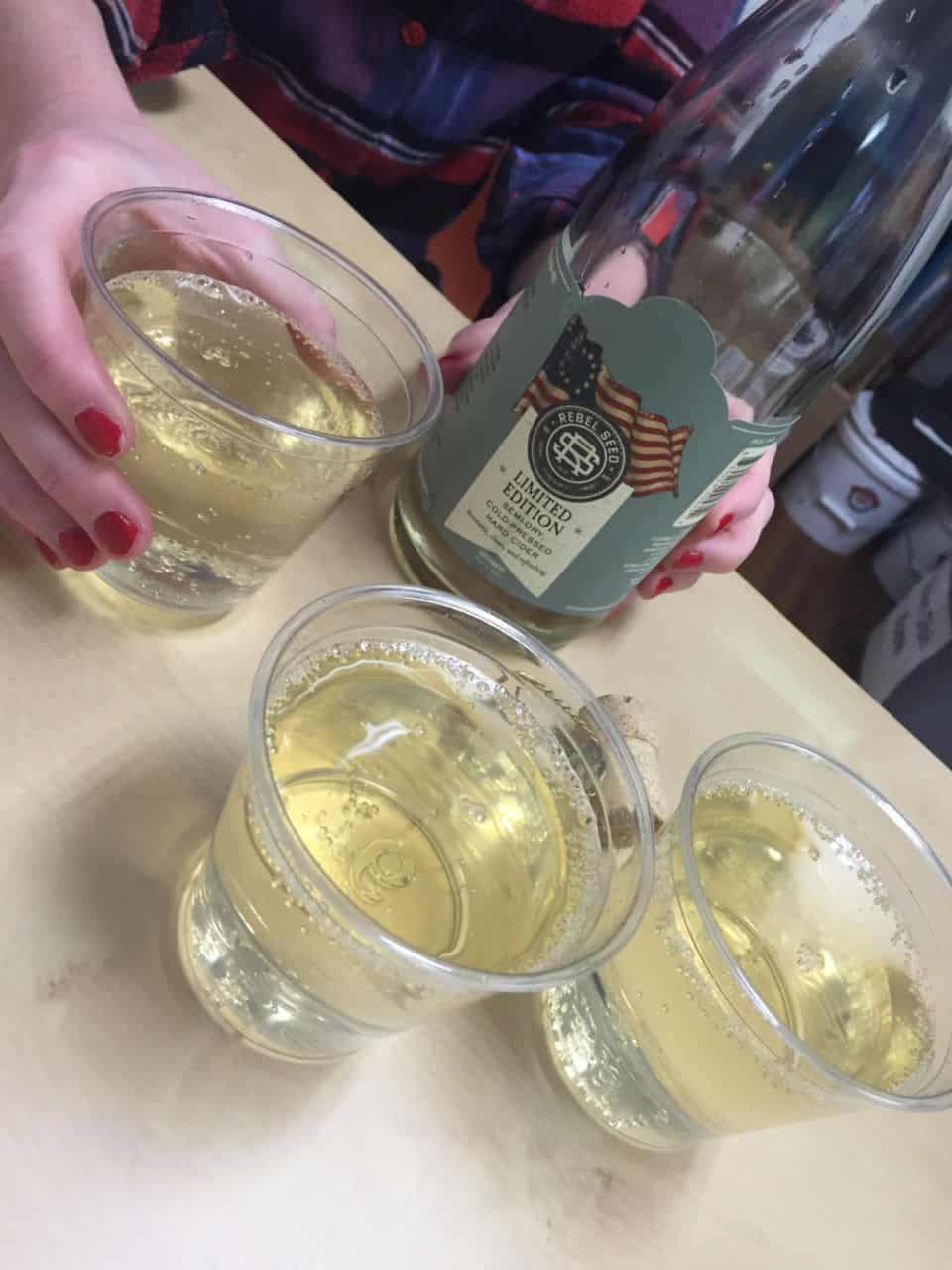 Can you describe the fermentation process in layman's terms, and how does fermentation differ between your two ciders?
Milan: We start off with only fresh apples and not concentrate. This allows us to make a much more complex and dynamic cider since we can manipulate the apples from beginning to end of the fermentation process and gain greater flavor or alcohol or aromatic extraction as needed. The exact process remains the cider maker's secret, but the one secret I can share is that we hop both during the fermentation and dry hop our "Hoptimized" cider. Other than alcohol percentages, that's one of the biggest differences in our two ciders.
Are you planning additional ciders in 2016? Beyond?
Nan: Yes! Of course we only want to grow and produce the best cider you've ever tasted! We are releasing a new cider in February that will be a sweeter cider made from red delicious apples.
Do you have a tasting room?
Nan: Yes we have a combined tasting room that's a one-stop-shop for you to taste our wines and cider. It is very Americana and family based. When a customer steps through our doors, they get a sense of peace and warmth. Everyone is family here. Our staff is awesome and take the time to make sure you have the best experience.

Do you include Rebel Seed in tastings?
Nan: Yes, we do. You have a few different options for tasting. You can do a solo cider tasting, or a wine and cider tasting. Rebel Seed is the sister brand of Harvest Ridge. They go hand in hand with each other and we love both equally (We try not to pick our favorite child).
Do you offer growlers? Who are your distribution channels? Restaurants? Do you ship?
Nan: We currently do not ship, but it is happening in the very near future. We do offer growler fillings, though. You can bring your own and we will fill it for you. Currently we are not in any restaurants, however, that is a top goal for 2016! Since we are in Delaware we have to use a distributor and can not self-distribute. We distribute through United. We are in a few liquor stores locally as well as Dover.
Do you include Rebel Seed in your wine club packages?
Nan: No, we do not currently. We are working on a cider club that would be separate from the wine club. That is not to say that the wine club members would not get a random surprise. They were actually the first public group to taste our cider at a pick-up party before we officially released it.
What's your take on cider? Is it a trend? Do you see hard cider growth? What is the typical demographic of a cider lover?
Nan: Cider is a great option for everyone. Sometimes you need something different from the beer and wine. Cider is naturally gluten free which is an awesome option for those that need that. We do not think it's a trend since it's been around since the beginning of American history. Our forefathers drank it. Prohibition killed it, but it came back starting in 1994 and just kept growing into the industry that it is today. Actually, the typical demographic of cider drinkers is not typical! It is pretty equal among women and men. Unlike beer, which is roughly 80% male.
Here at Cider Culture, we're thrilled to bring a taste of the cideries that the first state of Delaware is offering up for sips. Thanks to the diligent work ethic and incredible passion of the folks at Harvest Ridge Winery and their breakout cider, Rebel Seed, we've done just that. Cheers!
Rebel Seed Hard Cider is a part of Harvest Ridge Winery and can be found at 447 Westville Rd., Marydel, Del.; phone: (302) 343-9437.
Rebel Seed Cider bottles and glasses photos: Mary Bigham
Other photos: Rebel Seed Cider