Malaika Tyson is one half of the blogging duo Cider Soms, which was started as a way to introduce wine-lovers to the world of cider. Created along with her husband Sean, the "Soms" blog seeks to uncover and explain the complexities of ciders in a fun way.
For Women's History Month, I want to highlight some of the amazing women cidermakers and cidery owners I've met throughout the years. I was able to chat with Talia Haykin, owner and CEO of Haykin Family Cider, located in Aurora, Colorado, just 12 miles west of Denver. She and her husband Daniel founded the company in 2017 and opened their taproom in February of 2018. Haykin Family Cider specializes in single varietal ciders, which are carefully crafted with no adjuncts or added sugars.
(The questions and answers have been edited for brevity and clarity.)
Malaika Tyson: How long has Haykin Family Cider been open?
Talia Haykin: Five years. I was thinking about it last night while I was lying awake with my 3-month-old baby. It's crazy.
Was it always your plan to start a cidery?
No! Cidermaking was always just going to be a hobby. We were making cider because we enjoy drinking it, but then we started winning awards. We won at Franklin County Cider Days, and we won at GLINTCAP, including best-in-class. Some people approached us and said we should start this business. We told them no, but they were insistent. A second couple also came to us and encouraged us to start the business. 
So without them, would you still be making cider just as a hobby?
Absolutely. Starting a cidery is expensive and it takes a lot of time. I had a full-time job prior to starting this business. While we are investors in Haykin as well, we wouldn't have been able to fully personally invest. So without those investors telling us to start a cidery, we probably would have continued to be amateurs and participate, but I don't think we would have progressed to where we are now.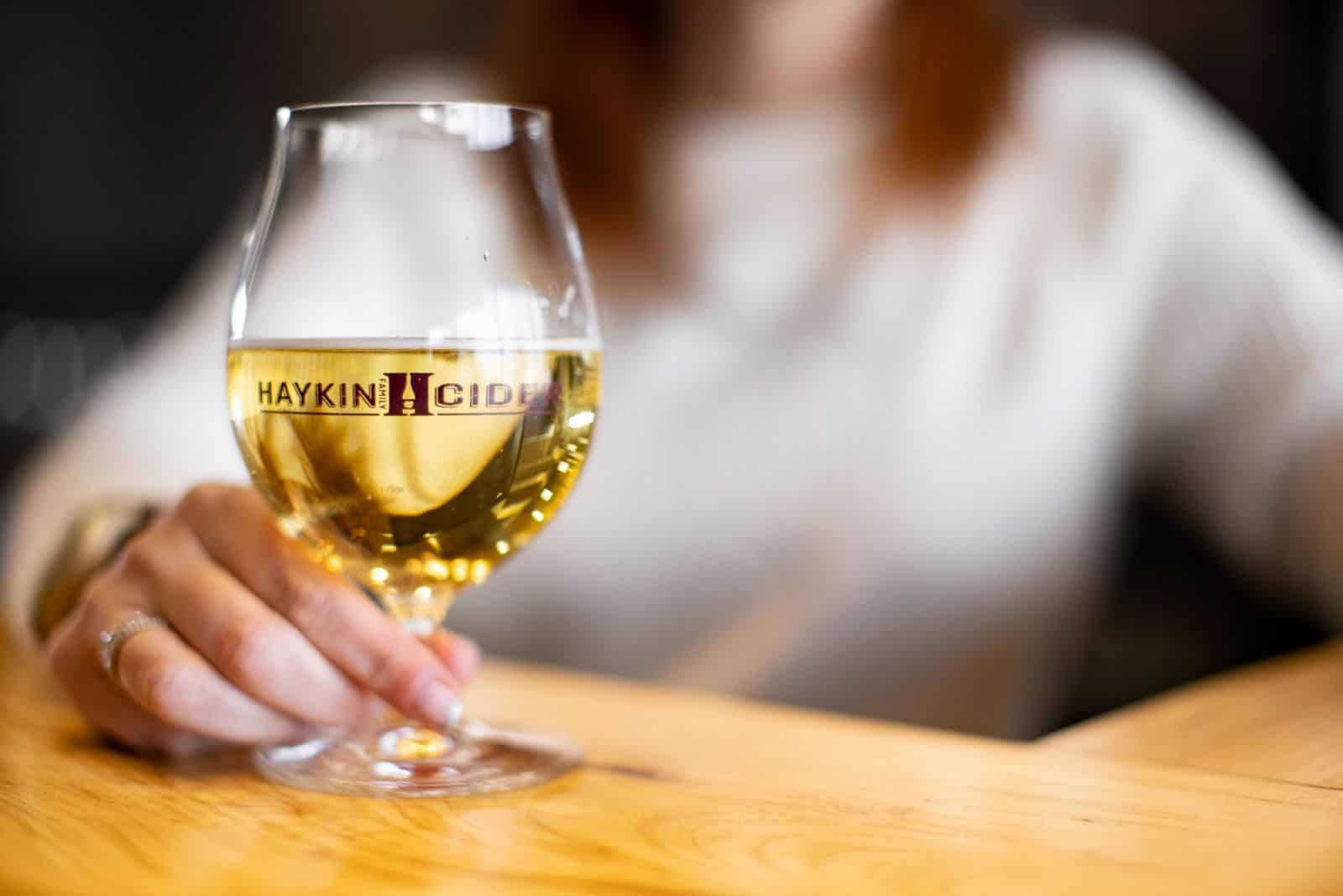 What is something that people don't think about when starting a business?
People have asked me, "Should I start a business?" And I tell them not to start a business for the sake of starting one. They have to be passionate. Starting a business is not a fun experience, it takes a lot of work. I'm doing taxes, bookkeeping, HR and payroll. That's not why you start the business, right?

We started Haykins because we loved cider and found something that was interesting, different and unique, and we wanted to make it on a slightly larger scale than we could do in our basement. We stick to that, and our whole ethos was always making the type of cider we enjoy to drink, which are ciders that have similar profiles as sparkling wines. 
How long did you keep working before making this your full-time role?
We started planning the cidery in 2016, and at the time I was a chief marketing officer for another company. The company had a management shift, and I decided I didn't want to stay there. So I left my full-time job in 2016, but I had a full book of freelance clients that I was working for. I continued the freelance work when we opened in 2018, and I was doing the majority of the administrative side of this business. It was tough balancing that with a full book of clients.

I was slowly whittling down my clients, but I still had one really good long-term client. In January of 2020 that client decided to sunset and I transitioned to working full-time for Haykin in March 2020.

What do you think is your secret to being able to stay open during the pandemic?
Oh, probably just insanity. We're just crazy enough to keep going. I think part of it is that we approached this as a hobby business. We didn't put all of our eggs in that basket and when the pandemic hit, I'm really thankful that Dan (Talia's husband and Haykin's Founder & Cidermaker) was still working as an investment advisor.

So when all of a sudden our tasting room was shut down, it was nice to know we could still put food on the table for our kids. I don't want to say we didn't take any chances, but it was like being able to put ourselves out there a little bit more.
What is your business model?
We have like three business sides. We have wholesale, which then gets retailed, the tasting room, and online direct to consumer sales. I think we're up to 80 or 90 accounts locally. Shutting down the tasting room was not cool, but I think probably the biggest challenge for us with the pandemic was we're in a lot of fine dining, and they were hit really hard and were shut for a lot longer.

And they opened back up, they weren't taking many risks, like bringing in new products or bringing in a lot of products. Liquor stores that would place orders for three or four cases at a time were ordering one case monthly. Nobody wanted to hold a bunch of inventory that they owed money on. Now that we've come on the other side, all of the restaurant staff has turned over. So it's sort of like starting all over with our fine dining and re-educating.

However, when we've been added to tasting menus, we've seen a lot of movement of that product in the tap room. We've had diners come straight from the restaurant and order a case of the cider they just had. Those diners may have never picked up a case of our cider before, so it's helping change the perception of cider.

How are your cider club and direct-to-consumer sales going?
It's amazing. It's really what has made it possible for us to continue through the pandemic.  Knowing that we had 200-plus people that were going to take a shipment at set time intervals really helped our bottom line. However, it's also challenging, because the way our club is structured is that we need 18 unique releases every year.

So while we had bought a lot of apples in 2019 and had a lot of inventory going into 2020, we weren't able to just completely stop buying juice and buying apples because we needed to create these unique releases for the club. So it shifted our business model. Before, we were doing big batches, releasing to the club and then releasing to the public. We've now shifted to club-only smaller batches.
What goals do you have for the business? Like over the next five to 10 years?
When Dan and I started the business, neither one of us had ever started a business before, nor had we been in the alcohol industry. After a year or two, we realized that you have to think a little bit bigger, you have to think about the broader, bigger picture. We did a lot by faith. For example, we brought an architect in and we said, here's our end goal of what we want the space to look like and how do we get there?

I would hope that we could build our space to create a bigger tasting room, more of a destination, and be able to host bigger events. Another goal of ours is to work on more out-of-state distribution; right now we're distributed in two states other than Colorado and we are going into Utah. I don't ever see us becoming this huge regional or national cidery, we're going to stay boutique, but I would also love to at least have doubled the club size in five years.

Do you pay yourself?
No. While I am gaining some equity as an investor, I haven't received a paycheck yet. When you start a business, you're not usually thinking about, "When do I pay myself?", but rather, "How do I pay off debt?" and making sure your employees are paid. That is the most important thing to us, being able to pay our employees a living wage and providing insurance for them. We are also in the process of paying off the building and all the stuff in our building. 
If you had one business strategy that you could implement to better the cider industry, what would it be?
I wish the cider industry was as organized, cohesive and well-funded as the wine industry. I'm sure they feel that their industry is stratified significantly, but I feel like the cider industry is so diverse and so stratified. Like you have everything from a $1 can of cider to a $40 bottle of cider. 
What pieces of advice do you have for someone getting started in the industry?
There are really good people in this industry that care about the industry as a whole and you should meet those people. There is an all-boats-rise mentality, which is incredible. 

There are a lot of really un-fun things you have to do when you start a business that nobody really talks about, including how time consuming or difficult all those things are. So definitely talk to people who've opened this type of business before you start one.

I would say there's really incredible stuff hanging out in regional places that you would never expect and to keep your mind open to all types of cider while you're traveling, try to find really interesting things that aren't being shipped or distributed nationally.
If you were stuck on a desert island with three things would you take with you?
A Kindle full of books, a really comfortable mattress, and lots of cider.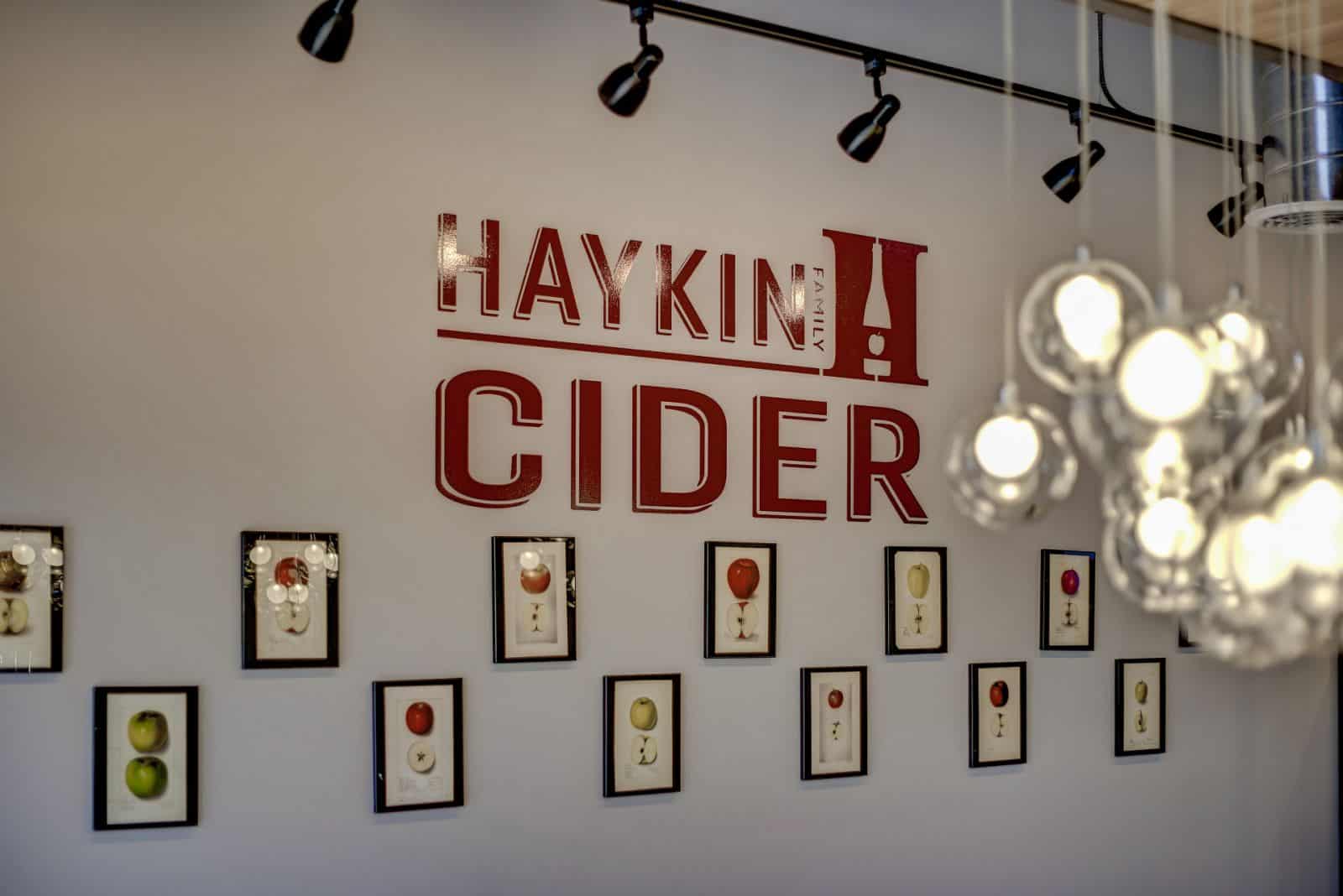 To learn more about Haykin Family Cider, check out its website, Facebook and Instagram pages.
Find Haykin Family Cider's tasting room at 12001 E. 33rd Ave., Unit D in Aurora, Colorado; phone: (720) 242-7292.