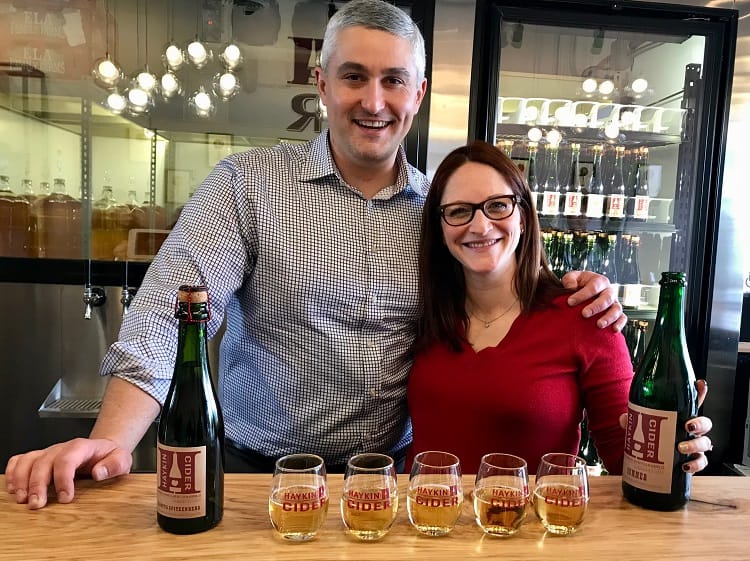 Talia and Daniel Haykin opened the Haykin Family Cider tasting room in Aurora, Co. (about 12 miles west of Denver) on February 1 of this year. When it comes to making cider, these two aren't messing around; their majority single varietals, with no adjuncts or added sugars, have nabbed a bunch of prestigious awards and developed a steady following. When it came time to designing a space to produce the ciders in and welcome in guests, the Haykins' goals were balanced between affordability, spatial needs, and comfort for patrons to enjoy their visits.
"We looked for a long time to find this space," Talia says. "In Denver, anything zoned industrial is fair game for the marijuana industry. So, it was either priced extremely high, too large of a space (think giant warehouse) or located in an odd place that would make foot traffic impossible. We finally found this industrial condo that had never been developed, just concrete and drywall."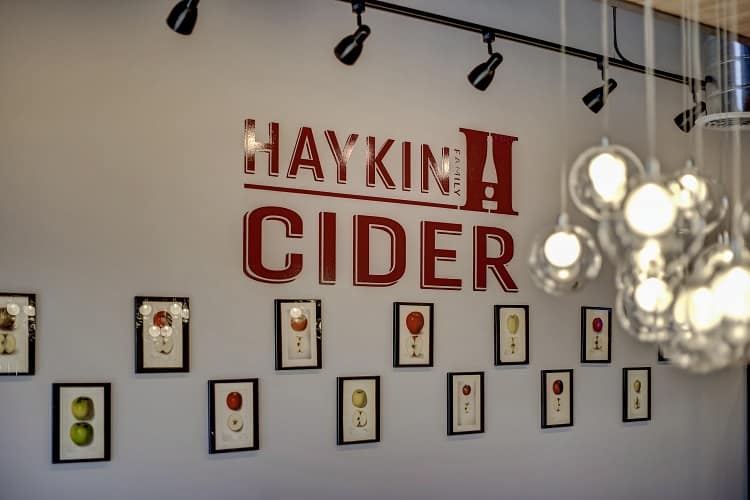 For the layout of the space, the couple was inspired by their experiences in wine tourism. "When we visited wineries, we loved seeing the tanks and machines, so we decided to keep our floor plan totally open," she says. "Patrons can see the whole facility from the bar, which required our work space to be both functional and aesthetically attractive."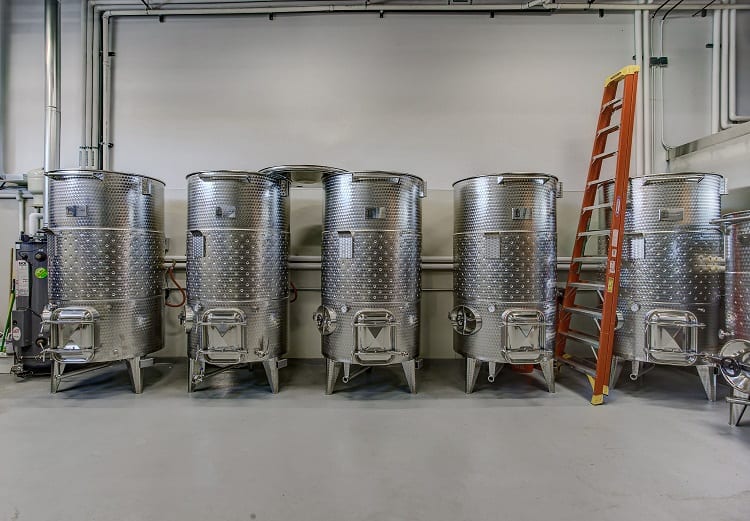 Due to square footage constraints, they couldn't fit traditional press equipment, and so they developed unique alternatives. Most of the equipment, including a huge fruit press from Italy, are on casters. "That's the only way we could make it all work. We call ourselves a 'winery on wheels,'" Talia adds.
Some smaller batches are still made in glass carboys in a custom-built cooler. To highlight the beauty of the carboys, they built the bar around the cooler and installed heated windows so that patrons can watch the whole process.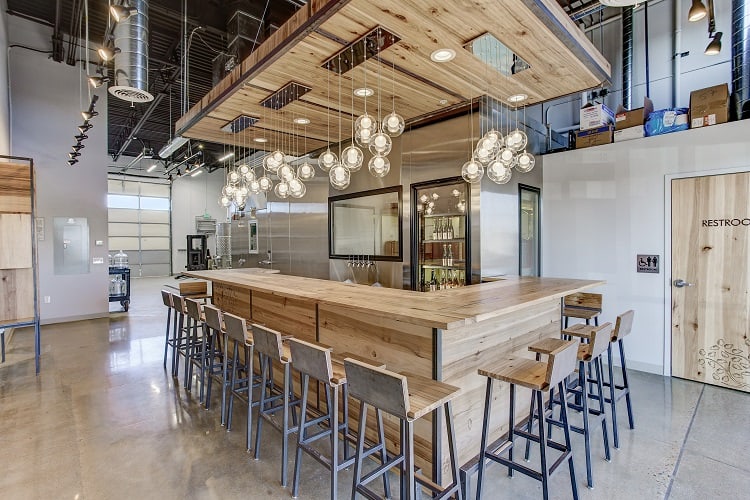 "This idea has become the center of focus in the room and something people regularly comment on and photograph," she notes.
The aesthetic of the space also balances the look of a production facility (stainless steel) with the warm, organic feel of a tasting room. To offset the cold, clean look of stainless, the Haykins chose a hickory wood with lots of knots, prominent grain and a lower-gloss finish.
"So people don't feel like they are drinking in a warehouse, we built a 'cloud' (false ceiling) above the bar for a more enclosed feel. The bar, cloud, stools and several pieces of decor were built by Fin Art, a local company. They are incredibly gifted metal smiths and woodworkers, we were so lucky to work with them," Talia says.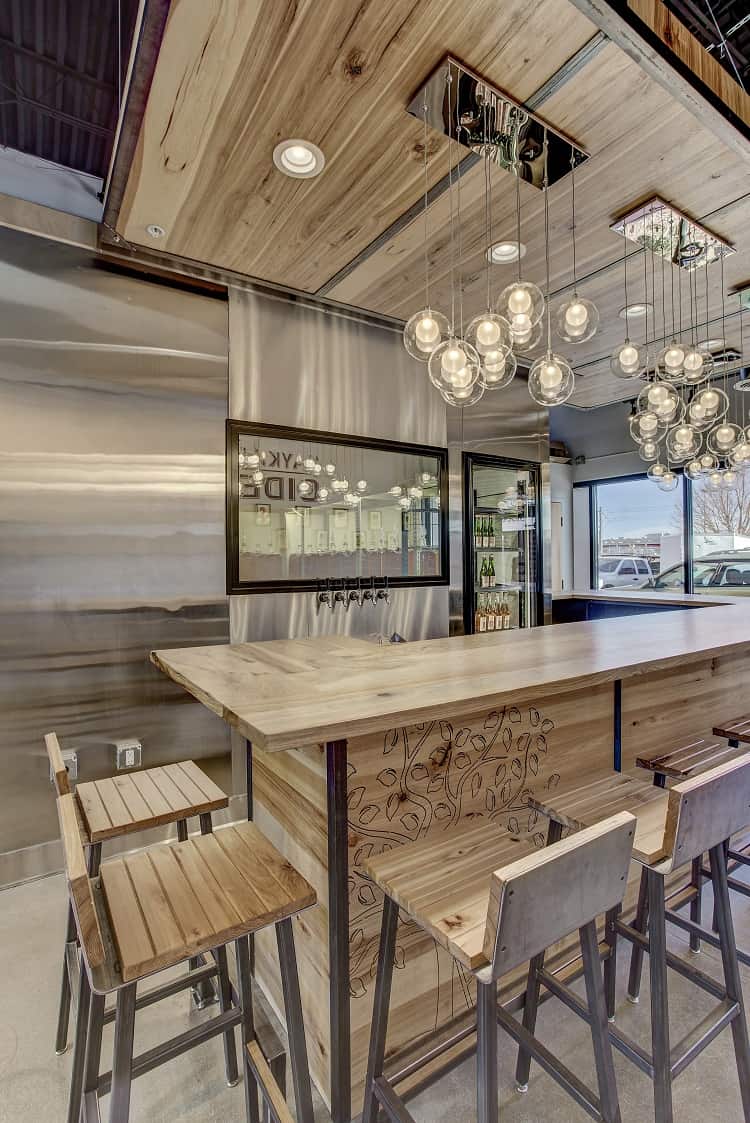 The glass light fixtures were chosen because they're reminiscent of bubbles rising in a glass, "which mimics our effervescent cider," Talia notes. As fans of Eric Lewandowski from heirloomapple.com, they used his original artwork and prints to decorate.
Though the tasting room has a mellow, relaxed aesthetic, there were hardships along the way to opening. In addition to the complexities of finding the right space, there have been some hitches in production, as well. Haykin Family Cider is made with apples sourced from Colorado growers, who Talia reports had "a devastating late frost last year." This curtailed their production goals for this year.
"We love our local fruit, and this was an especially difficult blow," she says. "Additionally, our equipment was stuck in the port of Houston during Hurricane Harvey and we had our first batch of labels stuck in a factory in Napa during their devastating fires." Pair those setbacks with construction delays and issues with vendors and contractors, and you've got a situation that could feel overwhelming to anyone. But, on top of all that, Talia was pregnant for most of the construction process and opening and gave birth six days after opening the tasting room to the public.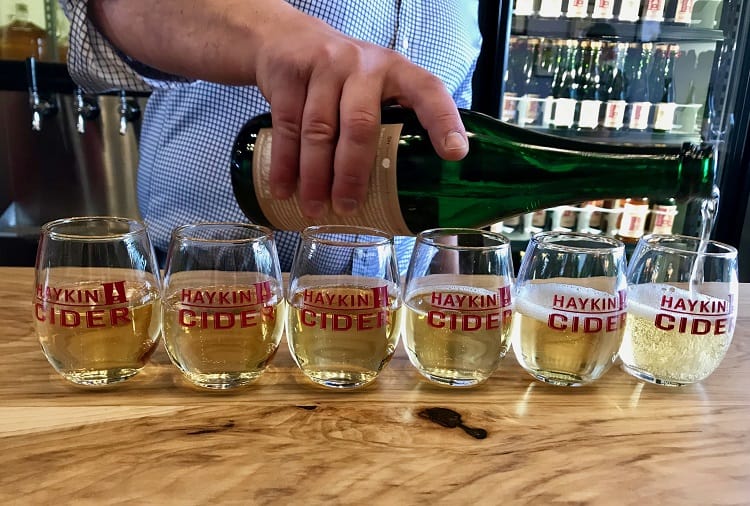 But, the persistence has paid off. They've been able to make their ciders in small batches, with a focus on experimenting with single varietals. The 2016 Esopus Spitzenberg, which won first in class in Modern Sweet at GLINTCAP, is one they are particularly proud of.
Neither Talia nor Daniel ever expected to become professional cider makers. The couple are long-time wine enthusiasts, and they got into making cider as a hobby. "It took some time to discover our unique style, but when we did, we realized we liked our cider more than the champagne or prosecco we drank before!" Talia remembers. "At that point, we became obsessed and the hobby took over our whole house."
At the urging of friends and family, the Haykins began to enter their DIY ciders to competitions, and their submissions performed well. After winning first in class at GLINTCAP and best of show at Franklin County CiderDays, they gained the confidence to start a small commercial operation. "At this point, we are thrilled running a small craft operation and don't have any plans to get significantly bigger," Talia says.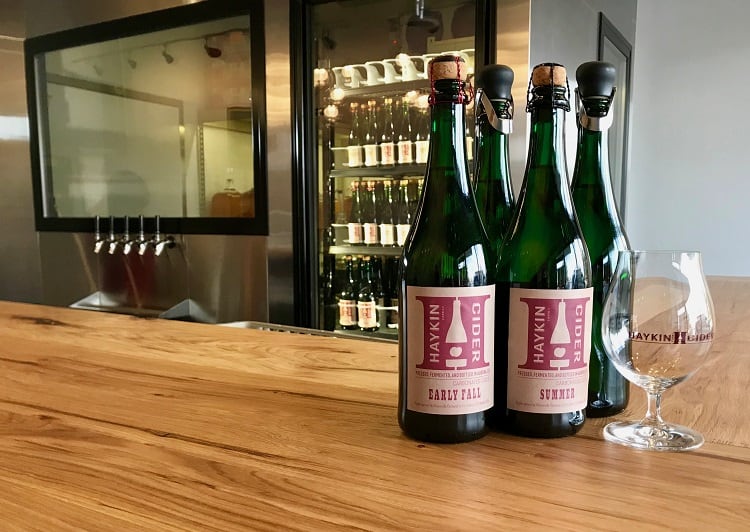 Though Haykin Family Ciders is a big focus for the couple, Daniel continues to work as an investment adviser and Talia consults for a few marketing clients.
"It's not always easy, and we are still working on the balance between the responsibilities" Talia says. "Probably the biggest challenge for us is the newborn and toddler. It's sometimes hard to shift gears from 'day job' to making dinner and parenting to running the tasting room to coming home and feeding the baby. We are still working on juggling all of that!"
Find Haykin Family Cider's tasting room at 12001 E. 33rd Ave., Unit D in Aurora, Colorado; phone: (720) 242-7292.
All other photos: Haykin Family Cider