For our next few installments of our Women Making Waves in the Cider World series, we're going to focus on cider companies that employ women in high numbers and in all types of positions. We're interested in investigating how the culture of these companies can create models for those who still have some serious work to do on the diversity front. We believe that hiring practices and intentional opportunities for all sorts of people in the cider sector can create real and lasting change when it comes to the future of the industry.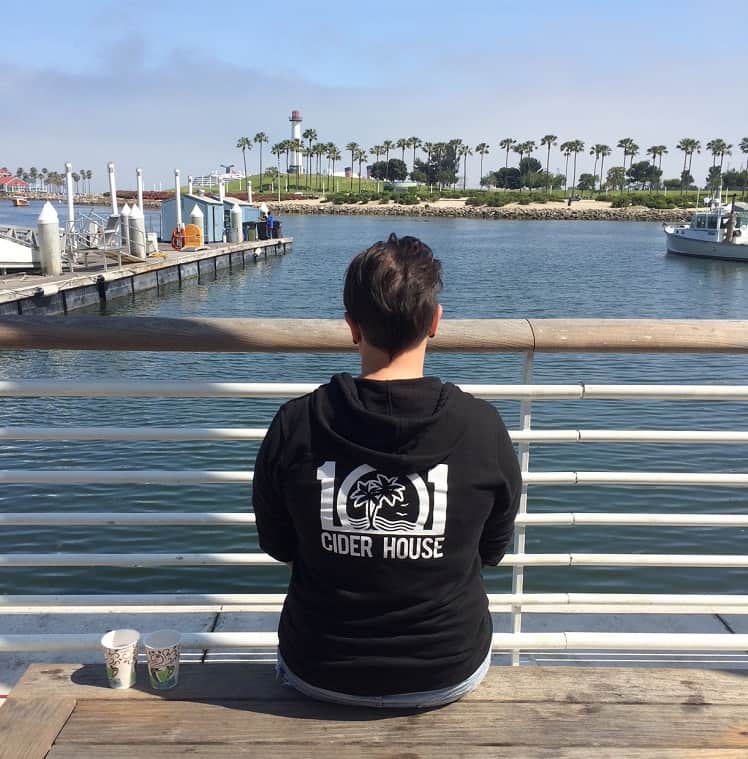 In our 12th edition of this column, we meet some folks from Half Pint Ciders, a cider-exclusive import and distribution company that's based in Los Angeles, California. Since its founding in 2014, Half Pint has built a boutique portfolio of ciders from around the world, and has helped to introduce those products to buyers and consumers across the West Coast of the U.S. Of Half Pint Ciders' seven team members, four are women employees who are helping this operation to grow and thrive.
Stacy Fontana, Sales Administrator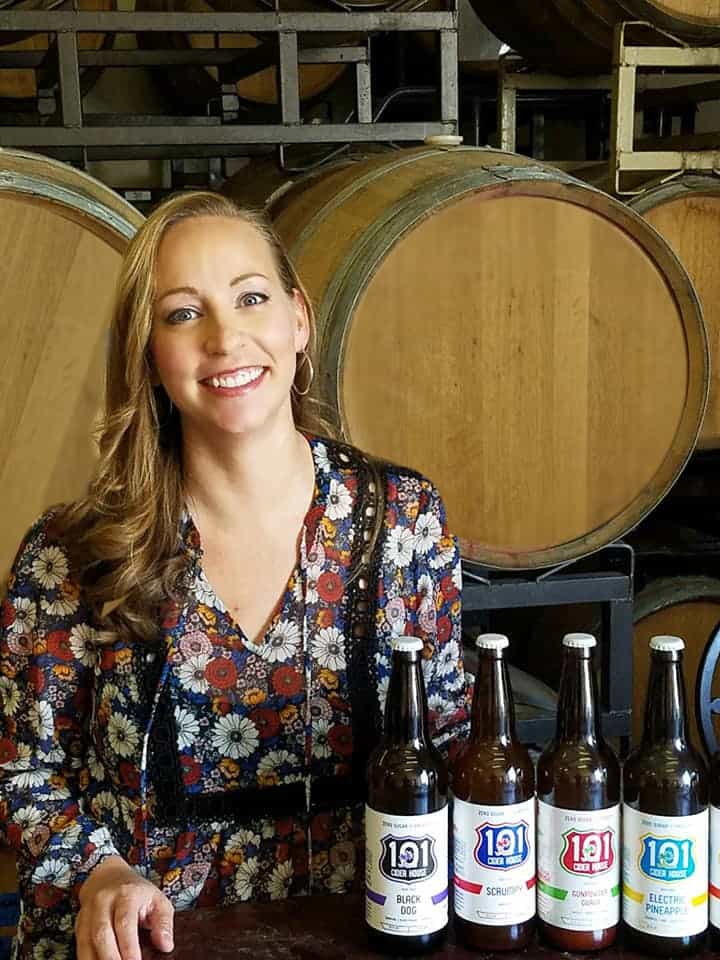 Stacy Fontana works in sales administration, processing all of Half Pint's orders, inside sales and accounts receivables. She's been at the company for a year and a half and, at 40-years old, is the "oldest" employee on staff. She doesn't mind, though, saying, "I really love the fact that Half Pint employs eager younger people that have a thirst for life."
As part of the office staff,  her days consist of numerous phone calls, which is natural for her, coming from an online retail background. "I really enjoy talking to our customers and being the first voice many of them hear on the phone," she says.
One perk of being on the office staff is that she's often one of the first to taste the new blends from 101 Cider House,  one of the brands that Half Pint works very closely with. She also helps to make decisions on which brands the company is going to distribute. "I also do an occasional event outside the office," she adds. "I love being the face of the brands and getting out there and introducing people to new things."
She also loves getting to see new products out on the shelves. "There's nothing better than going into a BevMo as seeing a full shelf of our products … and when I talk to someone and they hear what is in some of the ciders, or some of the different types of cider, and they think they won't like it, but then they taste it and they are hooked." Even in California, Fontana says the most challenging part of her job is getting people to understand what craft cider is when they are used to the big brands. "When I started, I knew cider as Angry Orchard and Martinelli's, but I have had my eyes opened to so many wonderful brands that we distribute," she notes. "I have truly become a cider drinker!"
When it comes to the cider industry diversifying, Fontana predicts that because cider drinkers are such a growing demographic, we will see a lot more women getting involved. "Craft beer and cider are no longer a 'boys club,'" she says. "It's really exciting to see women doing all sorts of great things at craft breweries." When it comes to company culture, she credits Half Pint's yearly team-building retreats for bonding the team together. "I feel as, although I work with everyone, we really are more of a family. We know what is going on in each others' lives and really care about each other," Fontana says. "Even though Ciera [Licata, Director of Operations] and I are here in the office, I really feel as though our opinions count and are listened to."
Ciera Licata, Director of Operations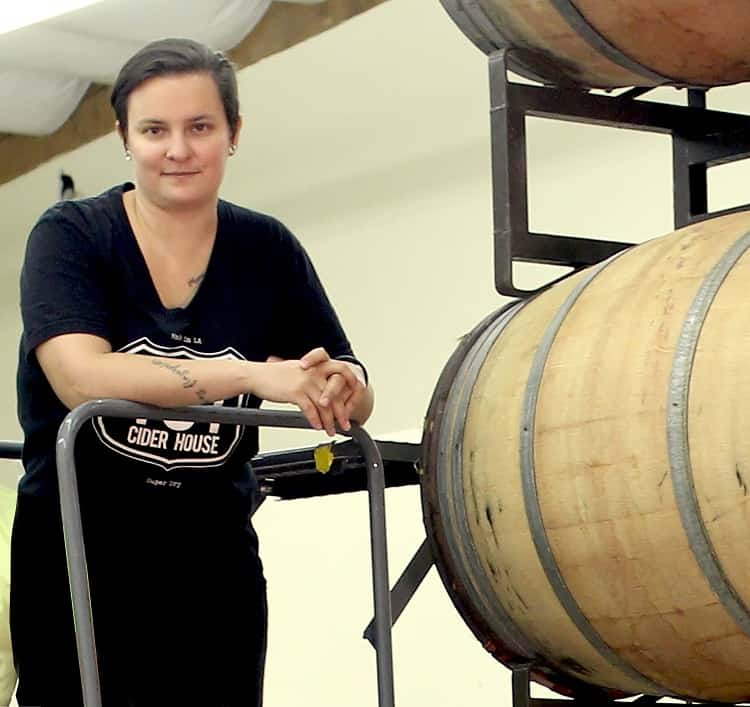 Ciera Licata is Half Pint Ciders' director of operations and was one of the company's first employees when it started up four years ago.
"I used to joke that my official title was simply, 'the wearer of many hats,' but there is still a lot of truth to that, even today," she says. "I dip my hands into just about every facet of the company on the daily." At Half Pint, that means everything, from managing brand relationships to logistics and inventory management, as well as sales, marketing, employee management, taxes and making coffee.
Licata's family owns a bar, and so she was no stranger to chatting it up with a sales rep. or brewer. While looking to get into the beverage world had a been a goal of hers, craft cider wasn't always on her radar. "It was really Half Pint and the two amazing people who were here before me that opened up an entirely new world to me," she says. "This world has become a true cornerstone of my life, both professionally and on a personal level, as well."
Being new to cider is not specific to Licata — she says it's common across the entire region. "We are based in Southern California, and if you know anything about the cider scene here, then you know there really isn't much of one at all," she explains. "When we first took up shop here, cider was not only a new category, it was a completely new concept. Liquid apples that aren't cloyingly sweet, only for women and only consumed one glass at a time and on one night of the week? Get outta here!" On the upside, she insists that this challenge has made way for Half Pint's greatest accomplishment: "It might still be small and it's still growing every day, but L.A. knows what good cider is and they're anxious for more."
In such a strong leadership role, she's very in touch with the company culture, and how it's cultivated, at Half Pint. "One of the first things the owner of our company said to me when I was hired was that he wanted to create an office atmosphere that felt like a home away from home, a place you would be glad to come to every day because it was casual, fun and comfortable," she says. "That is not to say that we don't work hard every single day, because we do … Even so, the vibe is chill because we built it to be that way." Licata brings her dog to work almost every day, and says she's cleared her desk on more than one occasion to make room for a late-night pizza. "My record player lives in my office. I feel comfortable here, this is my place," she notes.
Overall, Licata says she wants to see more women stepping into the roles in the cider industry in the areas they're most passionate about.
"The cider industry is just as much about its people as it is about its apples," she says. "A hard focus on people is what makes our company great. That same focus spread out across all of the U.S. cideries and beyond is not only what will make our industry great, but it is also what will make our industry last."
Shannon Hayner, Account Manager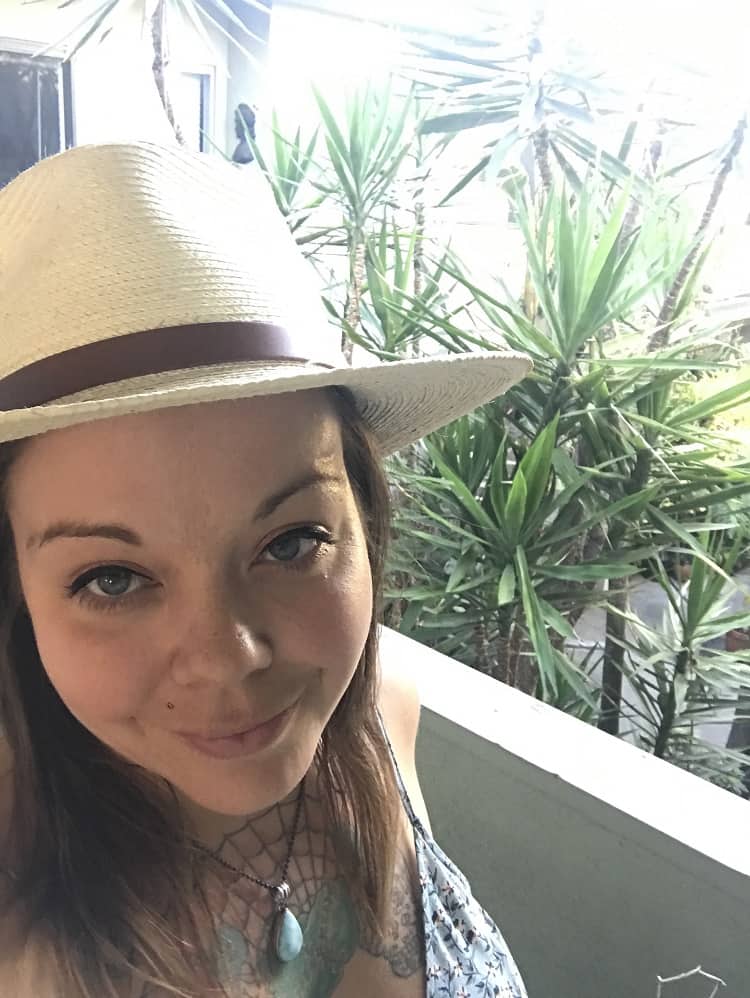 Growing up in upstate New York introduced Shannon Hayner to all kinds of apples. She remembers eating crab apples right off the tree in her grandmother's backyard and loving them! "It feels very special to go back and visit small tap rooms on orchards and farms and sip on single varietals and heirloom blends that have never quite caught on in the market here," she says. "When I meet someone else who gets excited about heirloom and single varietal ciders and we can geek out, it makes for a lovely day."
As one of Half Pint's account managers, Hayner spends her days prospecting new accounts, emailing, taking phone calls, and stopping to visit accounts in person. "My favorite part is the people I get to meet and showing them the path to have better cider to offer their people," she says.
She says she's proud to be on the frontier of the burgeoning cider scene in L.A., but echoes Licata's statement that it's still an uphill battle. "I think some cities — especially those in colder, apple-producing regions — have a longer history of cider consumption than Los Angeles, but the challenges of introduction can be extremely rewarding," she says. "L.A. is as ingredient-conscious as it gets, so our 101 Ciders, which are raw, probiotic beverages with no residual sugar, have gained popularity, they're basically grown-up versions of pressed juice." She sees a trend that, as consumers pivot toward healthier adult beverages, craft ciders have caught the attention of people looking to avoid the sugars and additives in many wines and the gluten in beer.
She's a big fan of working at Half Pint, noting that, "Everyone that works there is really rad …everyone is very supportive and hardworking, if an issue arises Stacy and Ciera are right there to have your back. Whenever we all get together, it is really fun."
Hayner gives Half Pint Ciders props for doing a great job of promoting diversity, and says even when they are grouped with the craft beer crowd, where she does see a big disparity between the number men and women, that they get a lot of respect from the local community. "They tend to appreciate that our ciders are sour. Also, after tasting beer all day long, variety can be quite welcome! But I do hate it when people associate drinking cider and femininity," she says.
Jennifer Garcia, Account Manager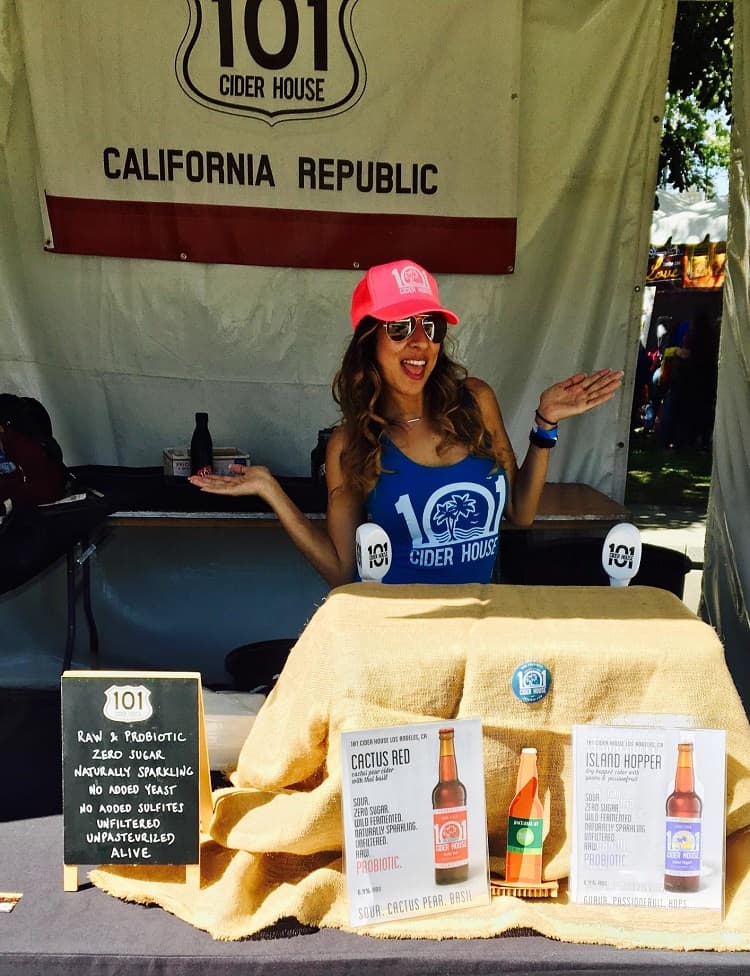 Jennifer Garcia is one of Half Pint's other account managers, and she has been with the company for just over a year and a half. As a 12-year veteran of the hospitality industry, she says she's always been a huge cider fan. "At the beginning, all I drank was the one cider that everyone was drinking and what everyone knew, which was Angry Orchard," she says. "But after working at Half Pint I have been given the opportunity to learn so much more about cider, from how we make it, to the different styles, and now I drink proper ciders, which I love!"
These days, she's all about dry, full-flavor ciders and has even taken a shine to sour ciders. Through her job at Half Pint, she aims to educate the public that the variety of ciders that Half Pint offers mean there's something for everyone, "whether it be a sour and probiotic cider or a matcha green tea and yuzu cider or a funky farmhouse style that pairs well with some cheese!" Though she sometimes encounters people who automatically dismiss cider and won't give it a chance, she likes the challenge of trying to change the perspective of consumers and encouraging them to try something new.
Like Fontana, Garcia also compares the Half Pint team to a family. "It's really rare when you find a group that just clicks so well together, especially since we hardly see each other," she notes. "The team is spread out all throughout California, so when we do have our team retreats it's great — you would think we saw each other every day!" She explains that in a small distribution company, everyone wears many hats and supports each other to get the job done. "We all have each others' backs and help out when and if needed," she says. "If I need help I know I can always count on someone to be there … even the owner Mark get his hands dirty!"
She says she sees a lot more women getting into the cider and beer industries these days and says Half Pint has always been supportive of the women who work for the company. "We are all greatly involved, appreciated and if we have an idea or a suggestion, everyone is super-open to hearing about it," Garcia says. "It's great to see us help expand the cider culture across California!"
To learn more about Half Pint Ciders, check out its website or follow along on Instagram!
Half Pint Ciders is located at 31320 Via Colinas, Unit 110 in Westlake Village, California: phone: (818) 851-9018.