Since 2015, cider folk have welcomed the nascent Pomme Boots Society, a Portland-based analog to the beer world's Pink Boots Society, an organization for women in the industry.
The Pomme Boots ladies will once again be at CiderCon in February, this year hosting a panel called "Cider Lessons from Cider's Women." The discussion takes place Thursday, February 9, from 2–3 p.m. That brief encounter will barely give us a chance to get to know one another, so Cider Culture reached out to each of the founders for a preview about who they are and how they got into fermented apple juice.
Jana Daisy-Ensign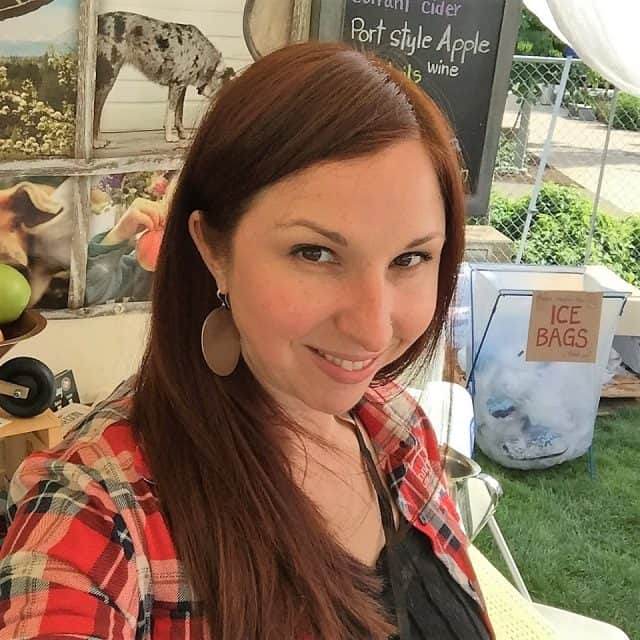 Jana has a background working in nonprofits and in craft beverages, and is now the national cider ambassador for Finnriver Farm & Cidery, a salmon-safe, organic farm and certified B corporation. "Certified B" identifies Finnriver's commitment to rigorous standards of environmental and social responsibility, a quality that aligns with Jana's expressed values. When asked, Jana warmly stated how honored she is to be in a leadership role, educating and inspiring women as a cider ambassador.
"Working in craft beverage for many years (and through two pregnancies!), I have garnered quite an array of experience and insight. For me, part of what has been so exciting about the cider revival has been the opportunity for the cider category to be re-envisioned by a more diverse and representative group of people than those more established sectors of the beverage industry (i.e., spirits, beer)," said Jana. Jana is also a certified yoga instructor and leads Pomme Boots' popular Yoga + Cider events.
Jennie Dorsey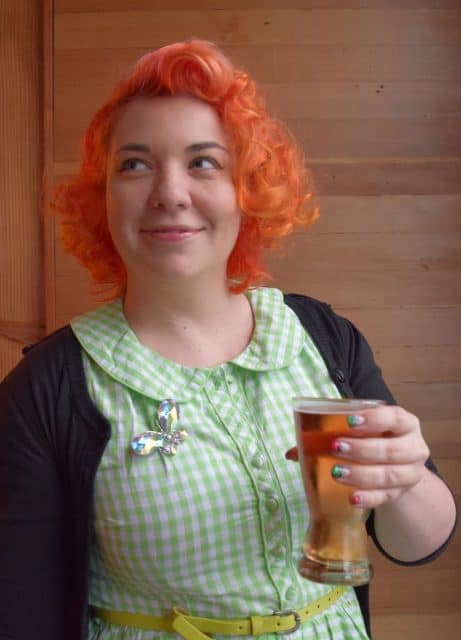 The regional sales manager for Schilling Cider, Jennie clearly has an abundance of enthusiasm for the Pomme Boots mission. Jennie traces her start back through relationships with some of the Pacific Northwest's biggest names in the business.
"One of my favorite memories is when I was still quite young in the cider world and Craig Campbell took me on a tour of his cider and perry orchards. The crisp late summer air was fragrant with ripening fruit and the sun was high, illuminating the labored branches. And then we began sampling. He would grab a piece of fruit and cut off a sample with his pocket knife and hand it to me. We did this over and over canvassing the orchards. While I had experienced ciders and perries made from some of these varietals, I had never had the true fruit. My palate was in heaven! Even the fruits labeled "spitters" were so intoxicatingly delicious. I knew that I loved cider before then, but it was not until that moment that I knew this beverage had to be in my life." Jennie is locally beloved for her cider tours on bicycle.
Gemma Fanelli Schmit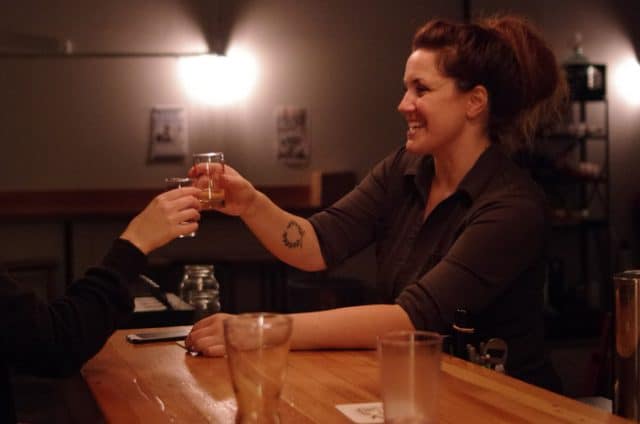 The third and final original visionary for the Pomme Boots Society is Gemma, an Italian-speaking foodie from a large farming family. Since 2011, Gemma has been working for Reverend Nat's Hard Cider. Similar to Jennie, Gemma attributes a moment of discovering heirloom fruit as being key to embracing the cider industry.
"In the fall of 2014, I accompanied my friend and Rev Nat's co-worker, Kate Coulton, apple picking at Skurdahl Farm in Sherwood, Oregon. She had done this work for Nat before and was teaching me the protocol. I was surprised to find that there was no 'picking' involved at all! We crawled around on the floor of the orchard, sorting through already fallen fruit, throwing rotten apples to one side and good (enough) apples into the crates. My first bites of a Kingston Black, Dabinett and Yarlington Mill proved these apples are truly 'spitters.' I remember we collected 34 crates that day of heirloom cider apples; the smell of fermenting fruit filled my nose, I was covered in dirt, grass and decaying apple remnants from head to toe, my muscles ached, but I felt absolutely invigorated and satisfied."
Expansion
Women all over the country understand Jana, Jennie and Gemma's passion for heirloom apples, healthy orchards and creating a quality beverage that brings people together in relaxation and joy. The Pomme Boots Society has provided a platform for women in the industry to grow in individual and collective pursuits. A visit to the beer industry's Pink Boots Society webpage, with chapters everywhere from Hawaii to Charleston to New Zealand, lends an inspiring vision of where we could be headed.
To learn more, visit the Pomme Boot Society website.