What do you know? There are all kinds of women out there making waves in the cider industry. Our article earlier this spring featuring four women in cider turned out to be the tip of the iceberg, and we've heard from plenty more with stories to tell that will further hook you on your favorite beverage.
In response to this tidal wave of enthusiasm, we've decided to continue to regularly explore the lives and contributions of more women in cider. In this article we go to women-led cideries in Atlanta, Georgia, and Wolfville, Nova Scotia, Canada.
Mallory Law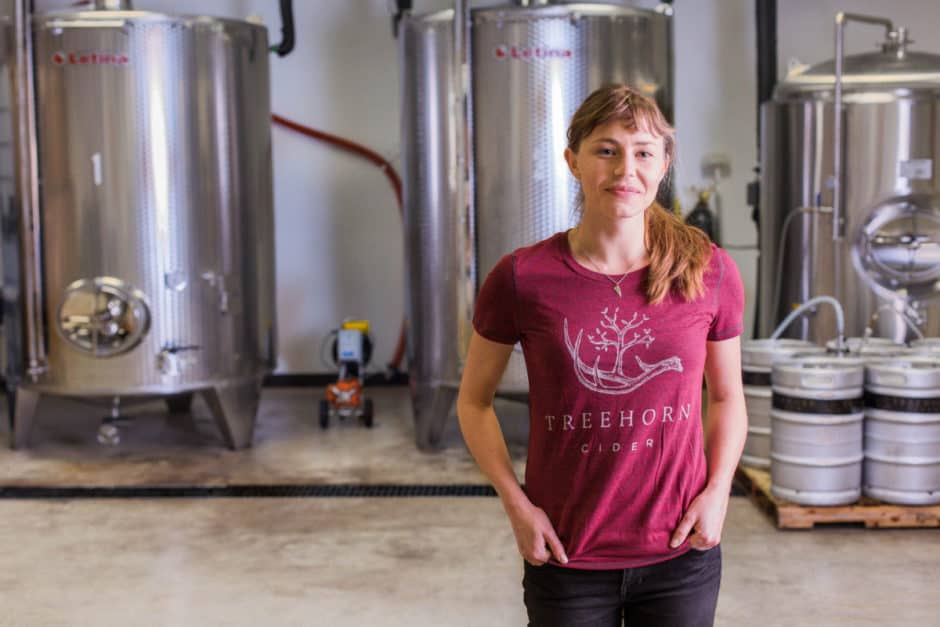 Mallory Law is a partner at Treehorn Cider in Atlanta, Georgia. We caught up with her to ask some questions about her work with cider.
Tell us: which cider best represents you, and why?
Our upcoming habanero, hatch chile and serrano infused cider. Intense!
Can you share a story in which your work with cider has enriched your life or the lives of others?
It was my sister's idea to start a cider company in Atlanta, and at the time, I was living several thousand miles away in Panama. There's an eight-year age difference between us, and we had never lived in the same place as adults. When she asked if I'd be interested in moving here and putting my home brewing skills to use, I wasn't really sure what to expect. The one great benefit of Treehorn is how close it has brought us. Now we live less than a mile from each other, and I get to see her and her family all the time. We've reconnected as sisters and grown as business partners.
Treehorn also allows us the opportunity to put down roots in our community, partner with other local businesses and create the sort of company culture we can be proud of.
Do you have a favorite memory from your time working with cider?
The first time I walked into a restaurant and ordered a Treehorn Cider from the menu. It's still a strange and wonderful feeling to encounter something you made out in the wild. And what's best, every time I taste a Treehorn I can tell you exactly which batch it's from. Our product is pretty consistent, but there are little variations in the blend of apples from season to season and year to year. It's nice to feel so close to the product that I can remember what each batch tasted like, from when it was juice all the way through fermentation and aging.
Atlanta is not a traditional cider region, but your success tells us it's catching on. Could you see cider culture continuing to expand to other untraditional places like Panama or other countries you've visited?
Cider is in a really exciting place right now, where there's a lot of room for new styles and approaches. Instead of trying to emulate traditional European ciders, cider makers in the new world are embracing the fact that we don't have the same climate and don't grow the same apples as England, France or Spain and are running with it. We're seeing more hopped ciders, spiced ciders, fruity ciders and single-variety ciders made with heirloom American apples. I wouldn't be surprised if we saw more and more places joining in, much like with craft beer. I believe regions like Central and South America, Africa and Australia are actually larger cider markets now than traditional cider regions like Spain and France—I haven't personally had a chance to confirm; I'm waiting for the Treehorn world cider tour.
Melanie Eelman
Next we're headed north to Wolfville, Nova Scotia, where we joined up with Melanie Eelman of Annapolis Cider Company. Melanie is a cider maker who has it all: a Ph.D. in chemistry, a great sense of taste and smell, superb equipment repair skills and two fine young boys.
Tell us: which cider best represents you, and why?
The Annapolis Cider Company cider that best describes me is "Something Different" because of its variability and creative nature. The "Something Different" blend changes from batch-to-batch and is inspired not only by the many different styles of cider one can indulge in but also by the changing seasons. I definitely enjoy the freedom to embrace my creative side and create new and unique cider blends.
Can you share a story in which your work with cider has enriched your life or the lives of others?
It's incredibly gratifying to watch others enjoy something you've worked hard to craft from all stages of the cider making process—from choosing which apples to press to getting the final blend and carbonation just right. It's very motivating to hear the positive comments in our tasting bar while working in the cellar below.
Perhaps my most satisfying experience to date is from our first few days after we opened to the public and observing the variation of clientele enjoying our three ciders while at the tasting bar. While everyone may have had a favorite, the enjoyment really crossed all ages, backgrounds and genders.
Do you have a favorite memory from your time working with cider?
My favorite memory to date is picking up that first batch of juice right after the apples had been pressed. We had done all of the prep work with our suppliers in picking out the blend of apples we wanted and getting the cellar and the tanks ready, but that first batch made things real and thus intensely memorable. We are working with great local suppliers and it was just memorable to see the enthusiasm that everyone seemed to share with that first batch.
We can summarize from our conversations with Mallory and Melanie (and from our previous interviews) that being a "woman in cider" is a wonderful experience. These smart people are doing interesting work, enjoying the thrill of a new business venture and reaping the rewards of their labor.
It's our pleasure to feature the feminine side of cider. Cider Culture is the place for highlighting the accomplishments of all cider makers, and we are proud to do so for our corner of the beverage industry.
Check back in a few weeks for our next installment in this series, when we'll be featuring women from Urban Orchard Cider Co., Hard Row to Hoe Vineyards and Rowan Asher Winery.
Are you a woman making a splash in the cider industry? Tell us what you've been up to. Contact us at info@ciderculture.com.
Mallory Law photo: Tomas Espinoza, courtesy of Treehorn Cider