We'd like to send big congrats to the 20 folks who are newly minted Certified Pommeliers™! This comes on the heels of the most recent exams held at CiderCon® 2023 in Chicago, Illinois earlier this year. Fun fact: This is the largest passing cohort of any Certified Pommelier™ exam to date.
The new Certified Pommeliers™ are: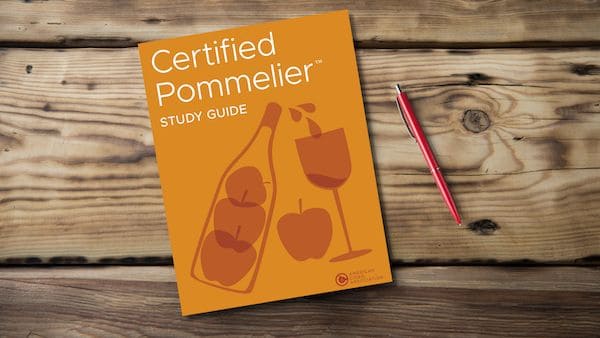 "To see 20 people pass the Certified Pommelier™ exam in one sitting is remarkable for many reasons," says Michelle McGrath, CEO of the ACA. "People are valuing the Certified Pommelier™ designation and putting in the hard work of preparing for the exam. It's exciting to watch ACA's cider appreciation program grow and succeed."
Being a Pommelier is akin to earning sommelier or cicerone certifications in the wine and beer worlds. As cider grows, people across professional beverage industries are using the American Cider Association's program to set themselves apart as an individual with specialized knowledge. Today it is the world's most comprehensive and in-depth cider certification program for beverage professionals.
The Certified Cider Professional program began with a Level 1 certification to help those on the front lines of cider sales achieve a fundamental understanding of cider. The Certified Pommelier™ certification was developed to go further in encouraging cider professionals to think critically while demonstrating a higher understanding of the elements of cider. The rigorous test consists of five types of questions: short answer, fill in the blank, matching, essay and blind sensory (based on tasting). Test questions fall into seven categories: Apples, the Orchard & History, Cidermaking, Evaluation, Families & Flavor, Keeping & Serving, Food & Cider and Social Responsibility.
While the Certified Pommelier™ exam is designed to be challenging, the ACA is dedicated to making sure all the information tested on is accessible to those desiring to learn, and recently announced the release of a new textbook to help candidates prepare to take the exam. Anyone interested in preparing for the exam can purchase the new textbook through Kindle Direct Publishing. In addition, sensory analysis practice webinars and a Facebook study group are continually being updated with resources for candidates studying for the exam. Links to all CCP resources can be found on the ACA's website.
"We have seen a huge advantage for candidates that utilize the study aides we make available," states Jennie Dorsey, ACA's Cider Education Outreach Manager. "We've also witnessed new professional connections form through ACA prep-webinars and informal study groups. It's exciting to see networking as one of the CCP program's many positive impacts on the cider community."
For more info about the Level 1 Certified Cider Professional test or the Certified Pommelier™ exam, contact Cider Education Outreach Manager Jennie Dorsey The next Certified Pommelier™ exam will be scheduled for the Bay Area of California in September, and more tests dates will be announced shortly!