It has truly never been more convenient to become a Certified Cider Professional (CCP). Want proof? Just this morning, I signed up for the American Cider Association's new on-demand online CCP Level 1 training bundle, and by lunchtime, I was a deemed a Certified Cider Pro!
In less time than it takes to watch a baseball game, I immersed myself in this informative course that covers all the basics of craft cider — from the history of apples to the proper storage of bottled cider — in a well-organized online format. And this was all from the comfort of the dining room table in my (mercifully air-conditioned) home!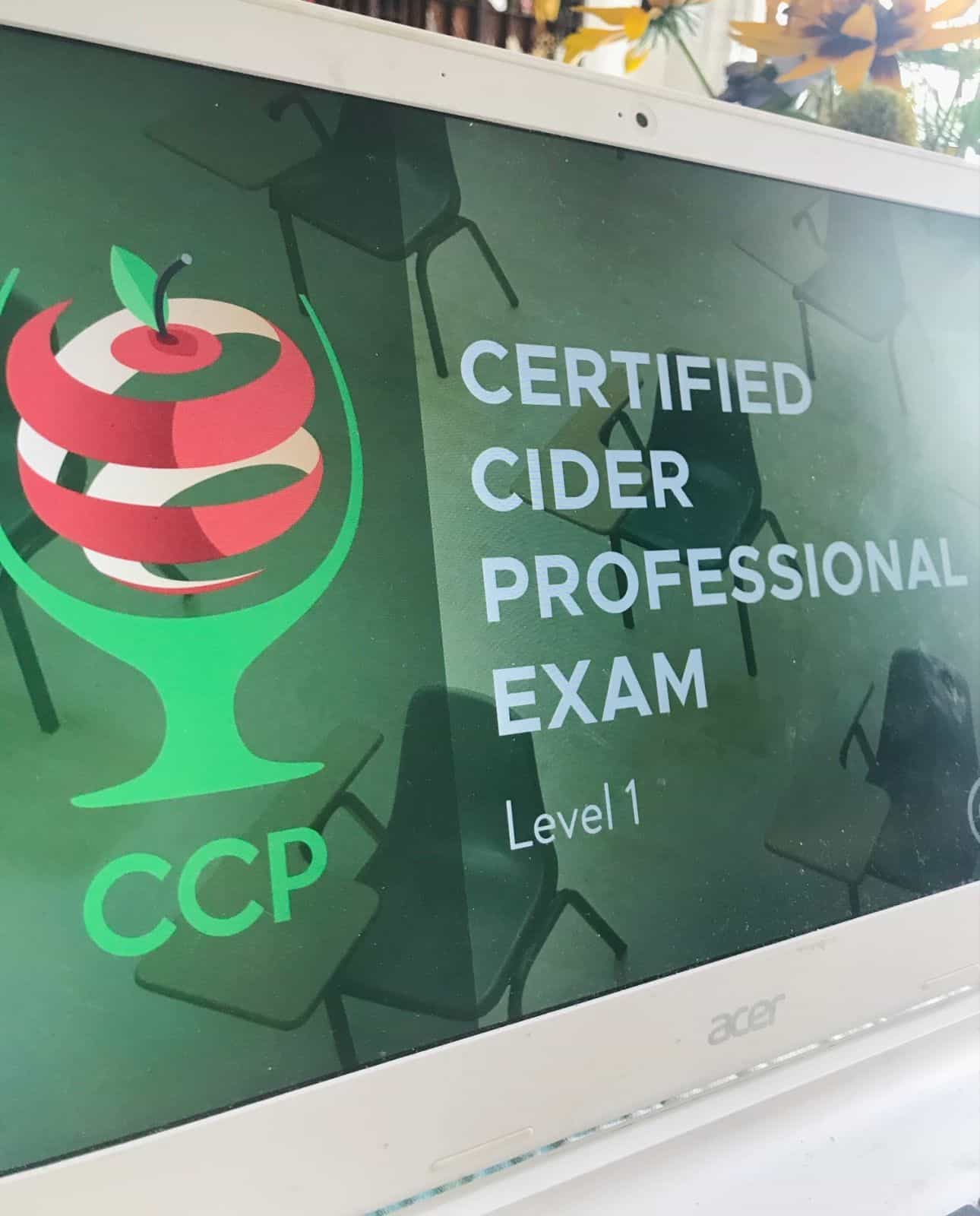 See, up until recently, earning your Level 1 CCP credentials meant self-guided study, which might not be ideal for different kinds of learners. But this new virtual class, which is a pre-recorded video webinar, and does not require you getting onto Zoom, is narrated by Jennie Dorsey, the ACA's cider education outreach manager. She clearly covers each of the topics, which are: Apples, The Orchard & History, Cider Making, Evaluation, Families & Flavor, Keeping & Serving, Food & Cider and Social Responsibility. Attractively designed slides accompany each topic, which is nice if you're a visual learner and like to read along while you listen. Dorsey guides the learner through each section, going into just enough detail that you feel like you're really learning, but not so much that you can't absorb it all in one sitting. 
The Level 1 CCP bundle also comes with a PDF study guide that you can review to your heart's content before taking the exam. Yes, you do have to pass a test to earn your certification, but the test gives you a full hour to answer just 60 multiple-choice and true/false questions, and you get two chances to take it! A passing grade is 85%, so there is some nice wiggle room to get a few questions wrong, but still pass with flying colors.
You might be wondering: Why should you become CCP Level 1 certified? Well, first of all, this is not just for people who work in cider production, for a cidery taproom, or for a beverage distributor. Of course it is extremely helpful and relevant if you do work in those capacities, but it's really a rad resource for so many other folks, too. If you're an aspiring or established food or drink writer, or if you work in the beverage media space, your CCP credentials will give you confidence while interviewing makers or explaining certain concepts to your readers/viewers/listeners. If you work for a bar or bottle shop that sells cider, or you want to step up your cider program, the CCP Level 1 course is essential for knowing how to talk to guests about cider and how to serve cider. If you're a sommelier or cicerone and want to keep pushing yourself to learn and grow, this is totally for you. And maybe you're just a diehard cider fan who wants to build upon your own knowledge. All of these are A+ reasons for signing up and taking the CCP Level 1 webinar.
Each person who takes and passes the exam helps to evolve and expand the growing cider industry!
"The beverage industry is full of self-fulfilling prophecies. If you invest in it, it will sell more," says the ACA's executive director Michelle McGrath. "CCP is a really accessible and low budget way to say you are serious about supporting local cideries and orchards. We encourage distributors, retailers, bars and restaurants to reward their teams with some professional development around cider. It's a fun category!"
The time commitment is low, the amount that you'll learn is high and the sense of satisfaction on earning your certification is profound. And indeed, the fees are quite reasonable: The CCP Level 1 bundle is just $99 for non-ACA members and $75 for members. And once you've conquered Level 1, you're well on your way to becoming a Certified Pommelier (the next in-person exam is scheduled for February 2, 2022 at CiderCon in Richmond, Virginia!).
Ready to get going? Sign up for the American Cider Association's CCP Level 1 on-demand bundle here. Questions? Reach out to the ACA's cider education outreach manager (and cider instructor extraordinaire), Jennie Dorsey.