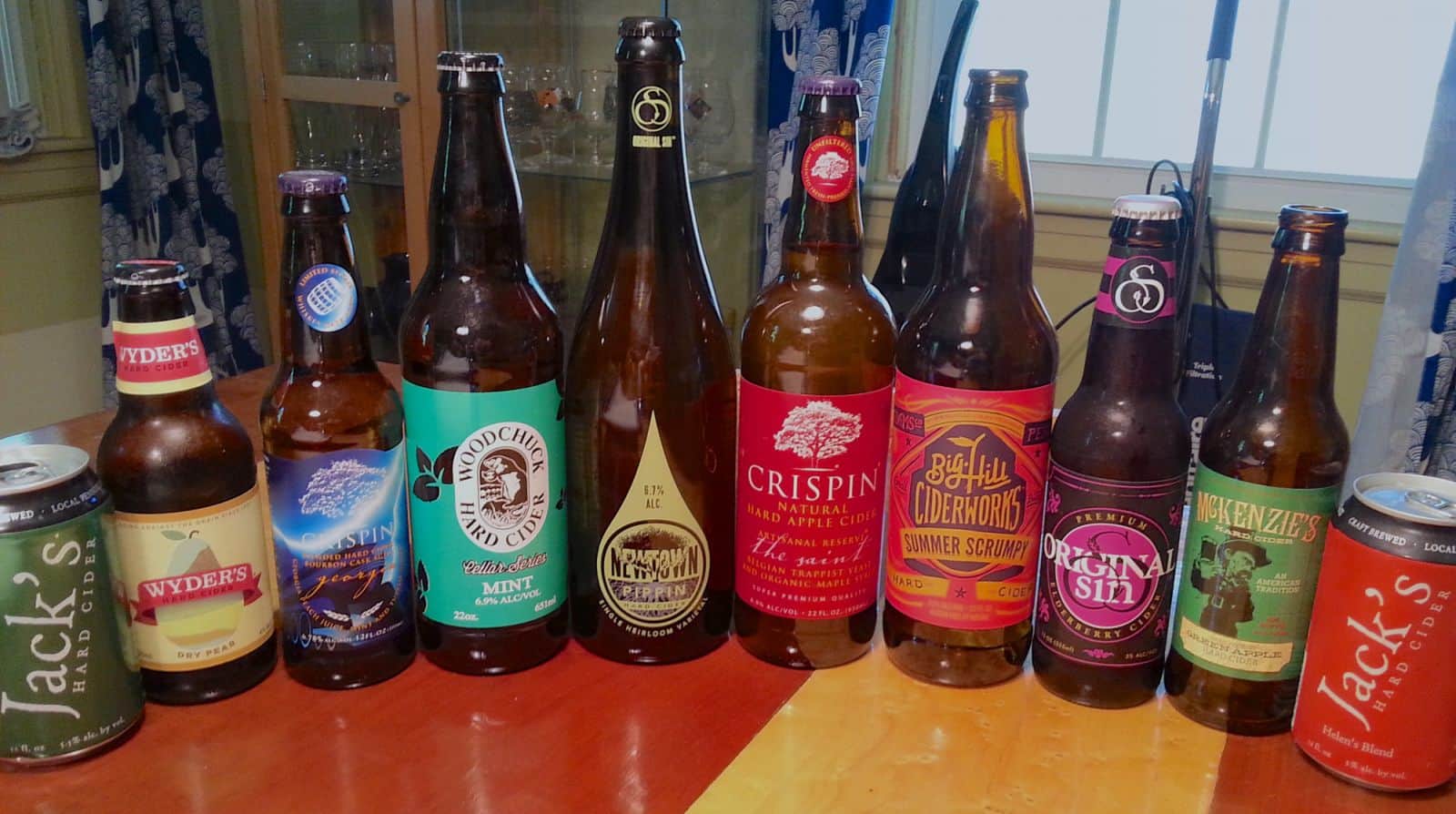 Lately I am drawn to the exciting array of craft hard ciders. While exploring this new world of hard cider, I've discovered some really amazing ciders and am here to share my favorites with you.
As the U.S. market share for hard cider grows, providers are creating limited series with unique ingredients to set themselves apart from their competitors. Cideries are exploring the use of different ale, lager and wine yeasts; heirloom cider apples that are not commonly grown domestically; odd additions such as maple syrup, honey, ginger, elderflowers, mint, fruit juice and spices; and the use of barrel aging with a wide array of wine and spirits barrels. These inventive interpretations of hard cider are drawing more people from the craft beer club into the world of ciders.
My initial attempts at drinking hard cider were poor experiences that drove me away from trying ciders again for a few years. I found the mainstream ciders of the time were mostly overly sweet, unbalanced drinks that I didn't really enjoy.
Over the years, friends got me to try more craft ciders that I started to appreciate more because these ciders had a bit more dryness and tannic qualities that balanced them out, unlike the super sweet ciders I had grown to dislike. After talking with a homebrewing friend of mine, I decided to brew my own hard cider. Surprisingly, my first simple attempt was a hit and with my success I really learned how diverse and full of flavor craft ciders can be. Homebrewed ciders generally tend to be a lot drier than their commercial counterparts, and mine was also a bit tart from the wild yeast I let take over. The array of flavors was way more exciting than what I had been used to, and it pushed me over the edge into the world of ciders. The list below touches on the ciders that have really stood out to me as being delicious, whether because of their well-balanced composition or because of unique ingredients that created a whole new interpretation.
Cigar City Cider and Mead Apple Pie Cider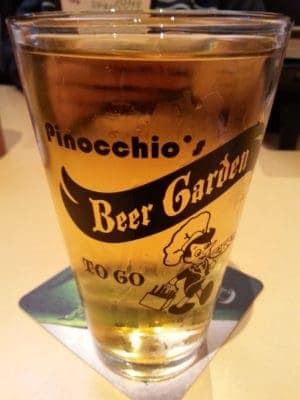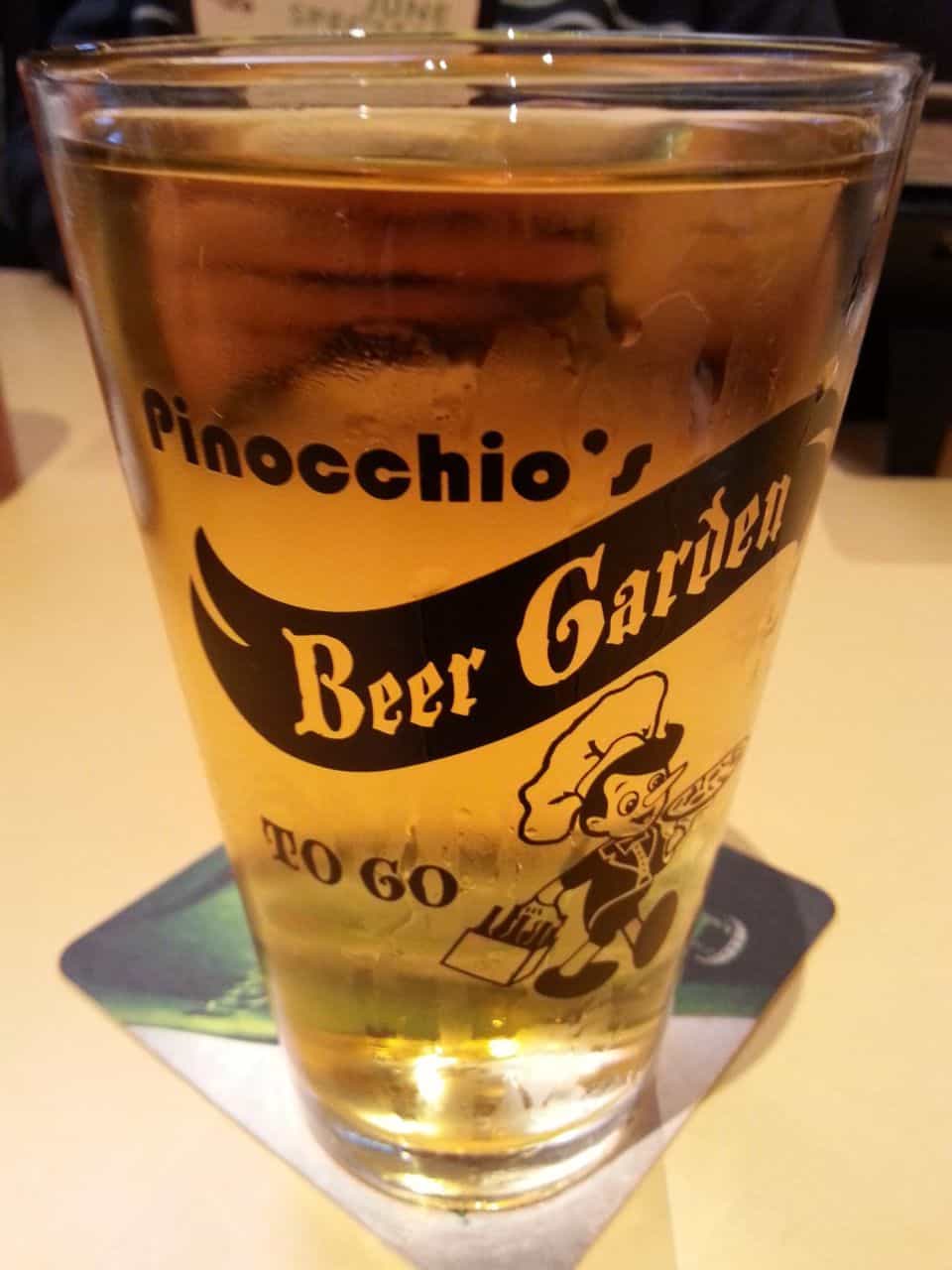 Cigar City is well known in the craft-beer community for their great beer, including Hunahpu's Imperial Stout. With a reputation like this, I jumped at the chance to try two hard ciders from their new brand, Cigar City Cider and Mead. Pinocchio's Beer Garden To Go recently had a Cigar City tap takeover and, while my friends were excited for the beers on tap, I couldn't wait to get my hands on their ciders. Pinocchio's was able to get the Premium Hard Apple Cider and the Homemade Apple Pie Cider. The Premium Hard Apple Cider was a bit sweeter than it was dry and the aroma and taste were heavy on peach notes. There must have been some addition of peach juice because the flavor was strong, but pleasant. This cider had a decent balance and lots of tropical fruit flavor.
Although the Premium Hard Apple Cider was a nice treat, the main attraction that day was the Homemade Apple Pie Cider. I am not normally a fan of sweet or spiced ciders, but I fell in love at first sip. My friend Joe, who normally hates all ciders, was blown away by the great mix of flavors from the glass. When poured, the pint glass showed a clear, golden-yellow tone with low carbonation. The nose smelled of apple, cinnamon, vanilla, pie crust, orange and lemon. The unique brew tasted of dessert and tart apple, then it was followed by vanilla, allspice, cinnamon, graham cracker and white grape. Tim Volikas, of Pinocchio's Beer Garden To Go, summed it up best: "You get the apple, the pie crust and even the whipped cream." This may have been one of the biggest surprises for me because I generally prefer a more tart or dry cider over a sweet one; this instance proved to me that even a sweet cider can be delicious and well balanced. It had the spices and moderate acidity and tartness while still being true to the apple-pie concept. Definitely worth a try if it's still on tap!
Woodchuck Cellar Series Mint Cider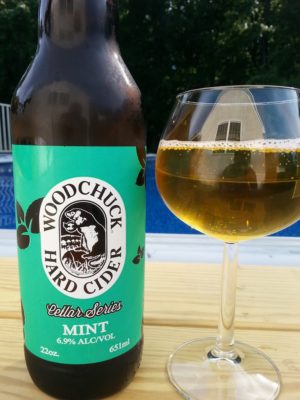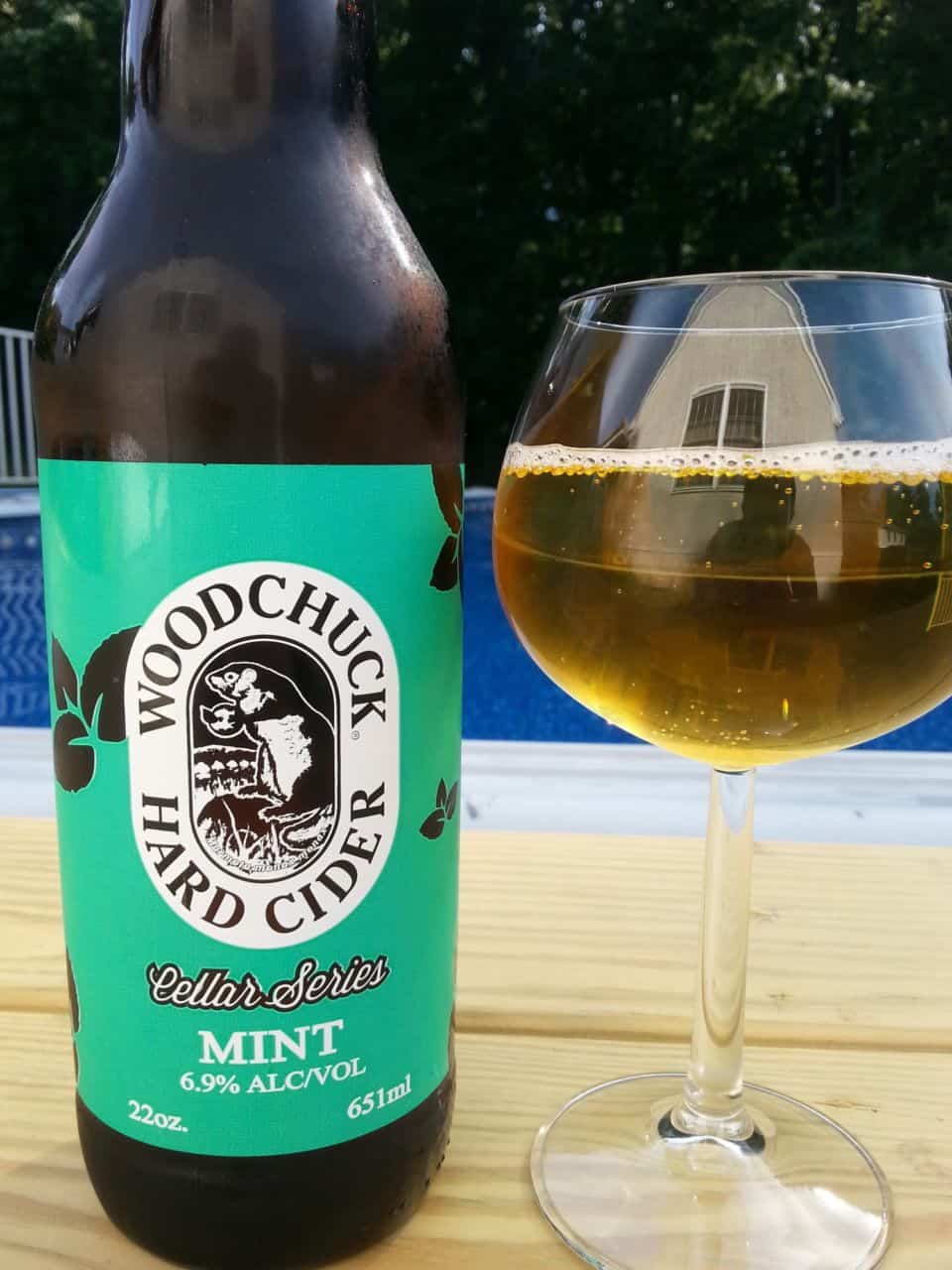 I saved my Woodchuck Hard Cider Cellar Series Mint Cider for a hot afternoon hanging out by the pool. I have to say, I was definitely skeptical about how well mint would work with apple cider. My skepticism was quickly blown away by the refreshing flavors that poured from the teal-colored, 22-oz bottle. The cider poured with moderate carbonation and a small head that didn't last very long. It was a clear, deep-yellow hue and smelled of peppermint, spearmint, apple, white grape, lemon, tannins and lemon balm. After the first poolside sip, I tasted apple, pear, mint, white grape and an herbal, slightly earthy flavor. The mint actually played off the apple flavors way better than I could imagine and the sweetness was nicely balanced with the tartness. The mint aroma and flavor was distinctly that of a fresh spearmint plant in one's backyard, not the strong, menthol-like artificial mint with a stick of gum. This cider was a great surprise and I am so happy that I chose to drink it in the heat next to the pool. I think this is one of the most refreshing alcoholic beverage, maybe only second to a Mojito. If you have plans to relax out in the sun or on the beach, I implore you to pick up a bottle or two of this mint cider; you won't regret it.
Crispin Georgia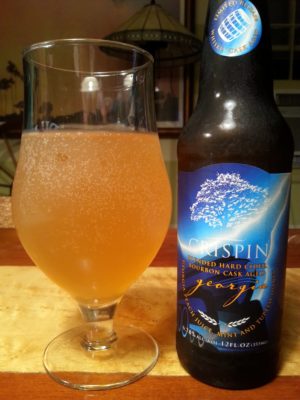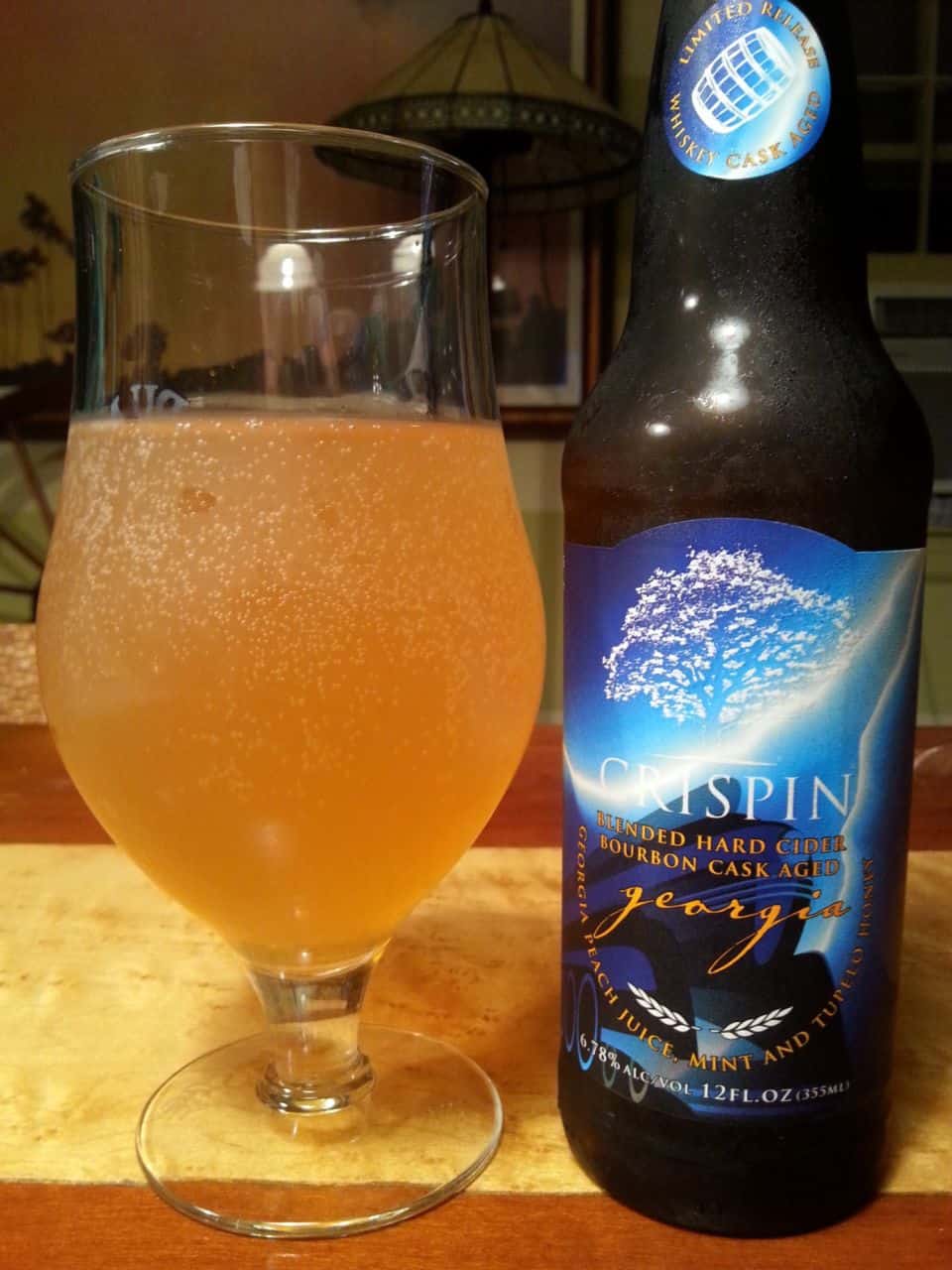 Georgia is the most recent release in Crispin's Barrel Aged Limited Releases Series. Georgia is a blend of their Colfax Classic apple-wine aged in bourbon barrels and finished with Georgia peach juice, mint and Tupelo honey aged in bourbon barrels. Once I saw this on the shelf I just had to try it. From the bottle poured a lightly carbonated peach-color cider clouded with sediment. The aroma from the glass was dominated by intense whiskey notes, but there were also subtle smells of honey, lime and peach. From the aroma I expected the flavor to be overpowered by the bourbon barrel it was aged in, but it was actually a really well-balanced medley of flavors. With the first sip I was hooked. It started off with flavors of bourbon, oak, vanilla and sandalwood. Then the big fruit character takes over with some sweetness and flavors of peach, apricot, apple, orange, lemon and grapefruit. The flavors reminded me of a peach creamsicle. The finish was slightly acidic with a tart bite and a mellow floral and herbal flavor. I didn't even realize until I was near the bottom of the glass that the floral and herbal flavor was actually the mint. The mint in the cider played a role similar to hops in a beer. It helped to balance the sweetness with a slight bitterness and herbal flavor. Overall, this cider was absolutely amazing and probably the best cider I have ever tried.
Original Sin Elderberry Cider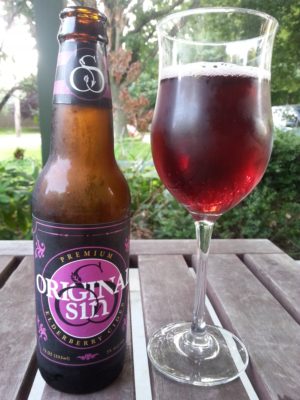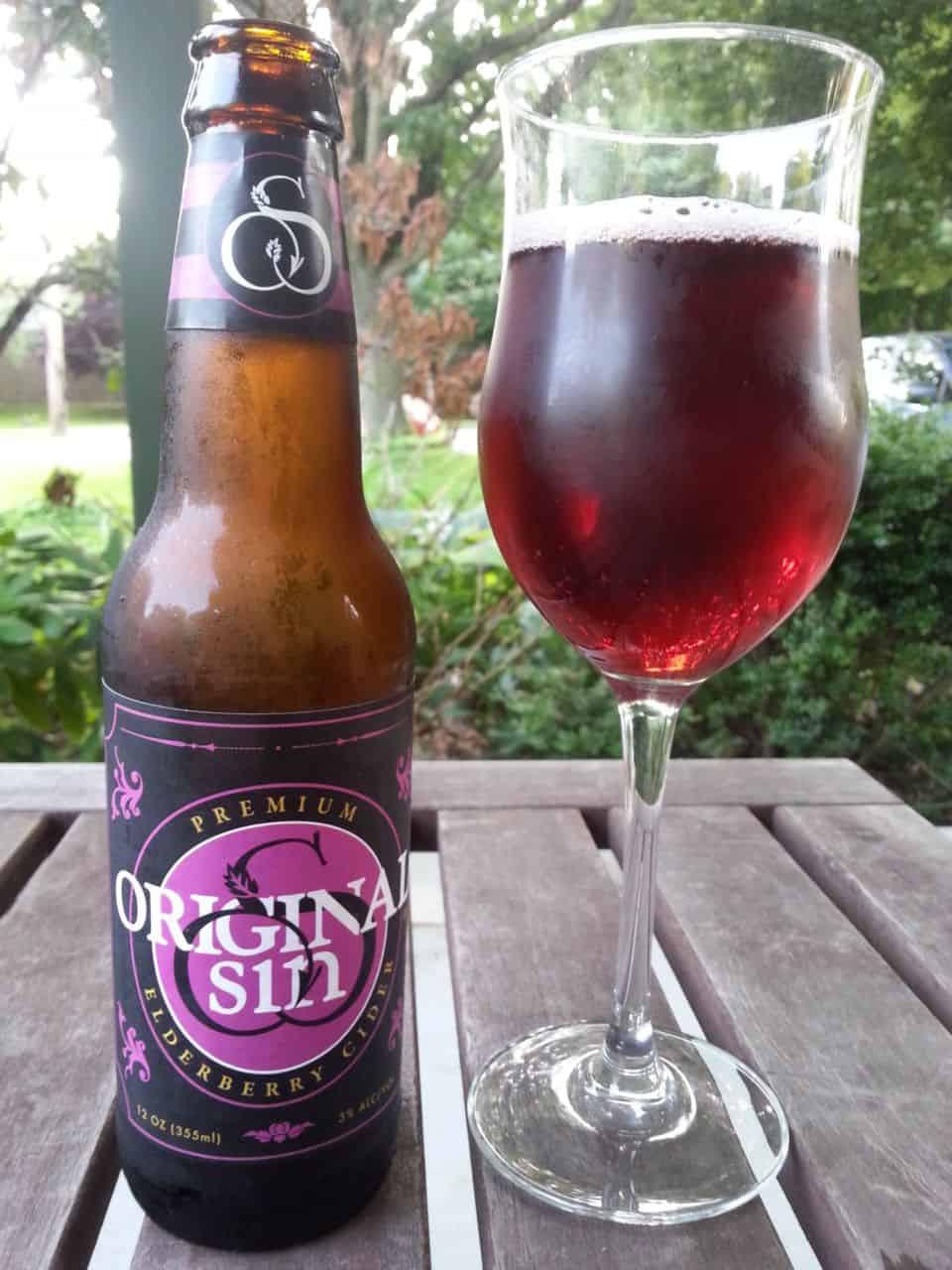 Original Sin's Elderberry Cider is an interesting play of sweetness and acidity from the apples combined with a counterbalance of tart berry flavor from the elderberries. This cider is a great all-around cider that has some tartness to balance it out, but is still very approachable for those who are not used to tart flavors in their ciders. When poured it revealed a vibrant dark ruby red color and moderate-to-low carbonation. The wafting aroma smelled of dry red wine, apple, cranberry, woody tannins and raspberry. With such a nice color, I quickly took a sip and tasted apple, grape, cranberry, elderberry, tart black cherries, mellow honey and mild fig. The cider was very well balanced. It was sweet and fruity, but still had a nice acidity, mild dryness and a subtle tannic quality. Overall this is definitely worth a try, especially if you are looking for something with a fruitier flavor.
Big Hill Summer Scrumpy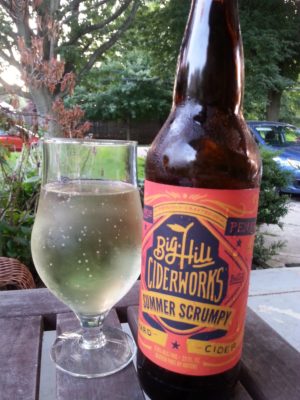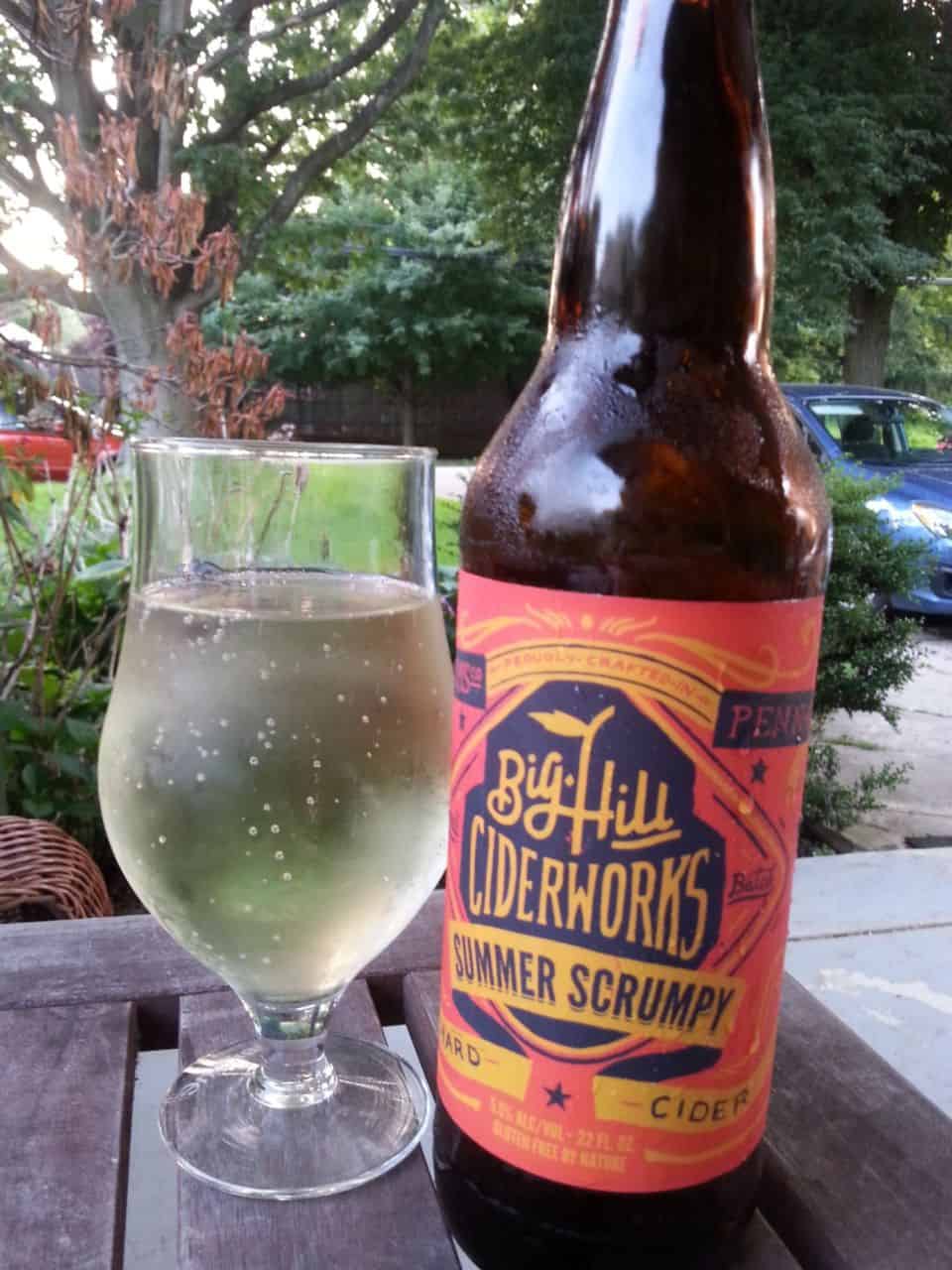 Big Hill Ciderworks is a relatively newer cidery (the construction of the cidery kicked off in the spring of 2013) based along the South Mountain, just north of historic Gettysburg. As of this writing they only produce two ciders, but they have already created quite the following due to the amazing quality of their products. Amy Strauss, Editor in Chief for The Town Dish, is a fan of their Barrel Aged Reserve, which is blended then aged in a mix of whiskey and brandy barrels. Sadly this was not available when I went hunting for it, but I was able to snag one of their Summer Scrumpy bottles from Pinocchio's (also available at the Kennett Square Farmer's Market). The Summer Scrumpy is a great choice for cider lovers looking for a really well-balanced cider as well as those who are trying a hard cider for the first time. The Summer Scrumpy was a clear, pale-yellow tone with moderate-to-high carbonation and a bright-white head that quickly dissipated. The smell contained notes of apple, tropical fruit, baker's yeast and dough. The cider tasted of dessert apple, green apple, citrus, pineapple, baker's yeast and tropical fruit. It was very fruity but not overly sweet, slightly acidic and slightly tannic. Overall it may be the least unique of my favorite picks, but it is a very solid, well-balanced, drink-any-day cider.
Original Sin Newtown Pippin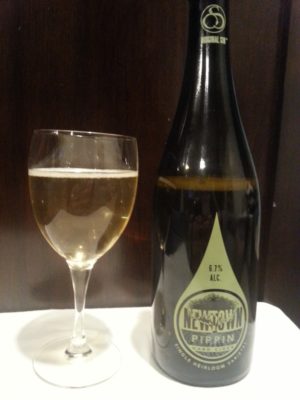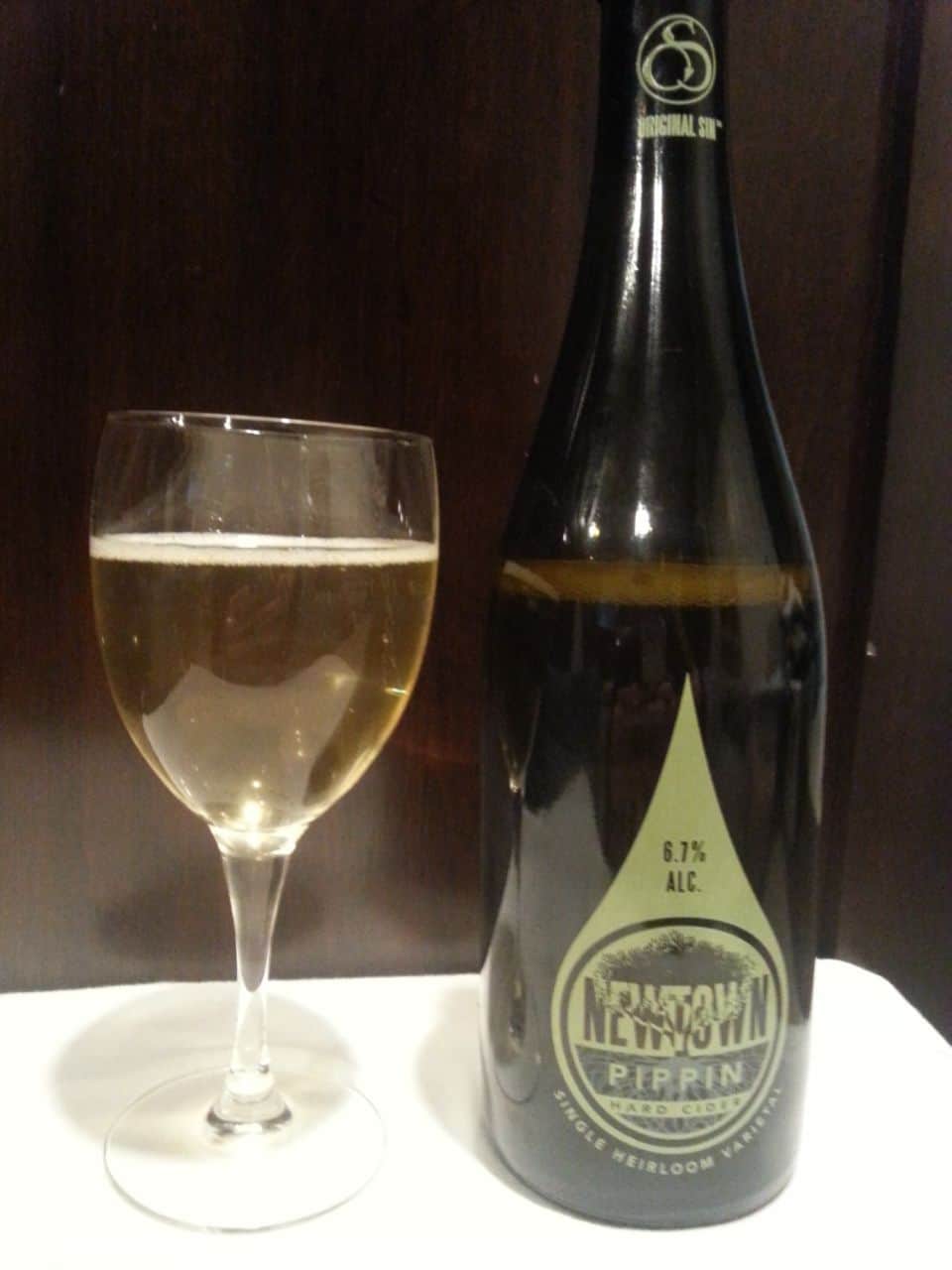 Newtown Pippin is part of Original Sins Heirloom Series. This cider is unique because it is only made with one type of apple, the Newtown Pippin, which is an heirloom varietal. The Newtown Pippin apple was first harvested in Queens, NY, in 1740 and was heralded by George Washington, Thomas Jefferson and Benjamin Franklin for the flavors it lended to cider production. Not to get too bogged down with a history lesson, but heirloom cider apples once covered the plantations of early America. Cider apples were much different from the dessert apples we are accustomed to at the grocery store. Dessert apples were bred for their sweet apple flavors and high sugar content, while cider apples were bred to be a mix of sweet, tart, tannic and earthy characteristics that created very complex ciders. Sadly, when the U.S. government enacted Prohibition in 1920, most orchard owners chopped down their heirloom apple trees for firewood and instead planted new dessert apples to supplement the lost income. The recent surge in craft ciders in the U.S. has led to many orchards switching back to cider apples and Original Sin is leading the movement with their Heirloom Series.
This cider, crafted in the old-world tradition, is very dry (think champagne) and tart, and has little sweetness in comparison to common American hard ciders. The presence of the tannins and the earthy flavors give it more complexity and dryness than you find in most ciders on the market. Not being very familiar with heirloom cider apples, the flavors of the apple used are most reminiscent of crab apples. The cider poured a pale-yellow, champagne-like color with medium carbonation. The glass smelled of apple, crab apple, light apple cider vinegar and dry white wine. The flavor was unique, consisting of apple, crab apple, pear, lemon, lime and apple cider vinegar, and it had an earthy, strawy, mildly herbal finish. The Newtown Pippin was heavy on the dryness and tannins and very light on sweetness, so it wasn't very balanced. But, with my love of dry ciders I really embraced this creation. I would definitely recommend it to anyone who loves dry white wines, especially if they're hesitant to try craft hard cider.
Crispin The Saint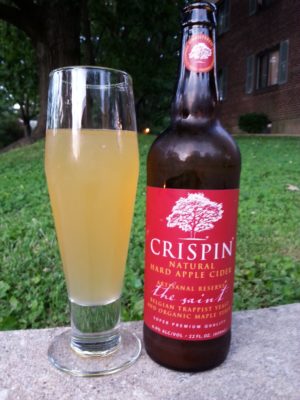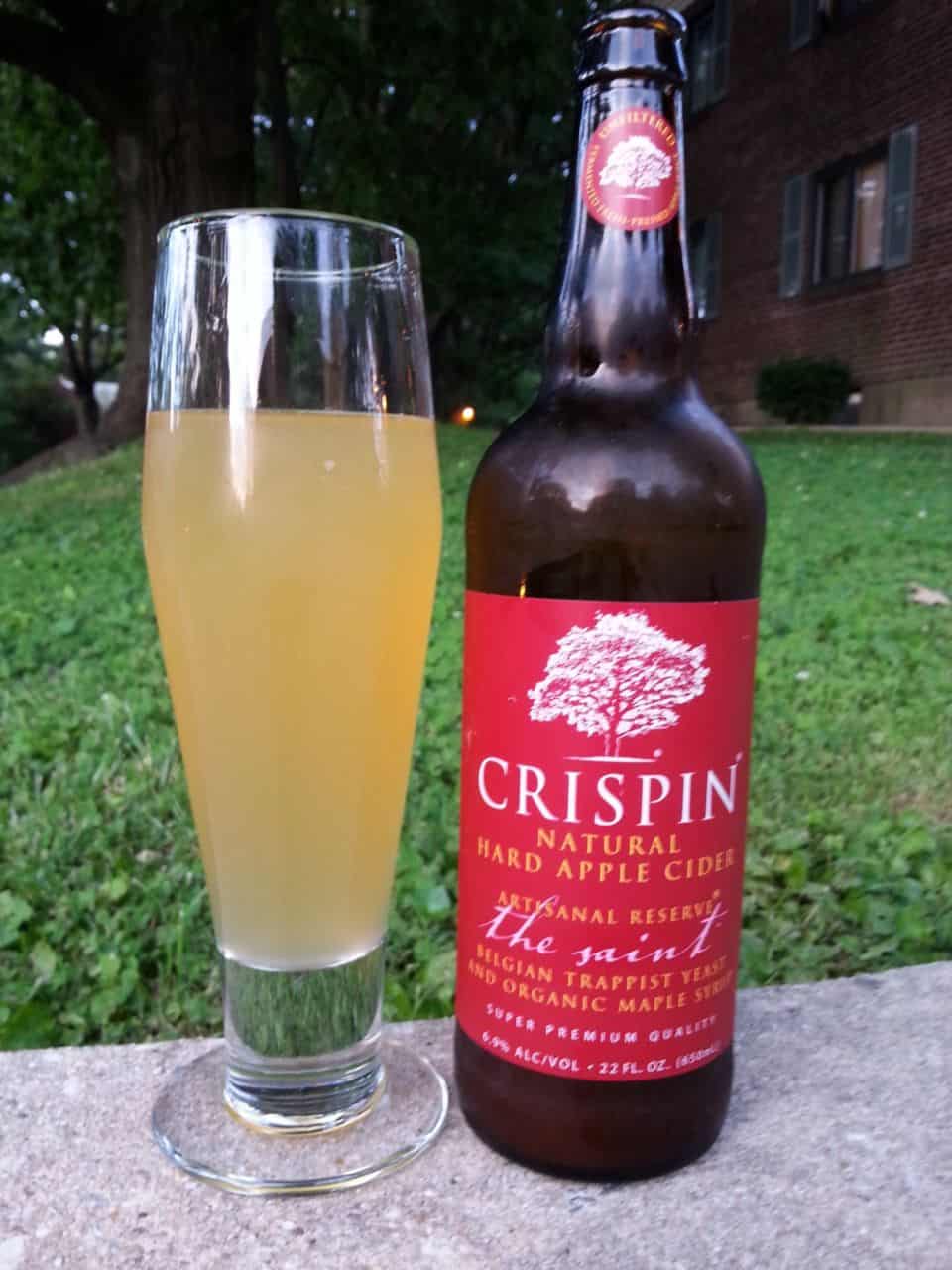 The Saint, part of Crispin's small-batch, hand-crafted Artisanal Reserve Series, was one of the ciders I had heard the most acclaim for before I got to sample it. Their Artisanal Reserve series includes some interesting ciders like their Lion Belge, a cider created with pear wine, Belgian Wit ale yeast, orange peel, coriander and honey. I would also love to try their Bohemian, which is made with a blend of apple wines and a German Pilsner yeast.
The Saint is brewed with Belgian Trappist yeast and finished with pure maple syrup. It poured a cloudy yellow color with a slight orange hue. The cider was still (not carbonated), but you could still get plenty of the amazing aromas after pouring. The bouquet consisted of scents of lemon, apple skin, pineapple, maple syrup and phenolic esters from the yeast. When tasting, the flavors present were tart apple, banana, lemon, tropical fruits, maple syrup, honey, pineapple, orange and grapefruit. Overall, this cider was fairly sweet, slightly dry and slightly tart, and there was a subtle spice from the yeast. This created a great balance that accentuated the fruity flavors without an overabundance of sweetness.
Lately I have been lucky enough to try some amazing and very unique craft hard ciders and I love being able to share this with you. Hopefully this article will help you find a cider or two that fits your taste buds. Summer is the perfect time to get into the world of ciders for the first time or, if you're already accustomed, it is still a great time to try something new. I hope to do more hard cider round-ups in the future, so if I missed one of your favorites shout it out in the comments section.