Maria Kretschmann grew up on Kretschmann's Farm, founded by her parents Don and Becky Kretschmann in 1971 in Rochester, PA, about 35 miles north of Pittsburgh. She spent her childhood surrounded by vegetables and fruits and learning the ins and outs of organic farming (the farm was Western Pennsylvania's first to be certified organic). And while she's back home now, helping manage the farm with her father and transforming sections of their 4-acre orchards to grow cider apples, working in agriculture was not the career she always thought she'd inherit. In 2014, after a decade spent in Philadelphia, working as an artist and bartender, Maria felt pulled back to the farm when her father started talking about retiring.
"Sometimes you reach a point in your life where it's time to do something new," says Maria. A long-time cider fan, her vision for her own orchard-driven cider, After the Fall, began to click into place in 2018. "I've sort of taken charge of the orchard, and decided to start doing this seriously."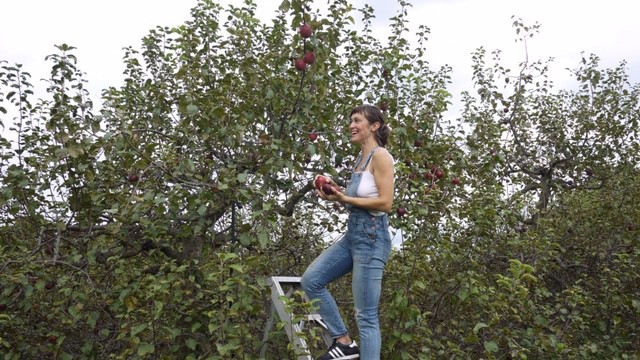 Maria's parents planted this orchard in the 1980s with primarily dessert apples, and for many years made fresh sweet cider with the fruit. Maria has been utilizing a method called top working in some parts of the orchard to grow bittersweet cider apples. Instead of growing brand new trees, she uses the established root system of existing trees but cuts the tree down to about two-thirds its original size, and grafts a new variety on top of it. In two or three years, the tree grows a whole new top.
"I'm basically putting new varieties on existing trees … my goal is to utilize the fruit my dad has planted, like Liberty and Goldrush apples, then continue on with this transformation, planting more cider varieties like Dabinett and Tremlett's Bitter," she says. "I've already grafted 400 trees and will plant a whole new block next year of cider specific apples."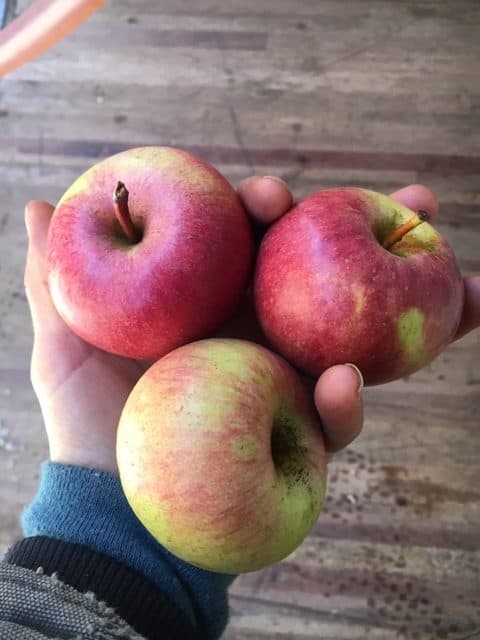 Driven by her passion and relentless energy, Maria is a self-taught orchardist and cider maker, guided by the mentorship of her father. She's also connected with a network of apple growers and attends the Holistic Orchard Network Round Table in Massachusetts every year to talk shop with a tight-knit community of fruit growers and cider makers from across the Eastern Seaboard.
"I've always been resourceful in that way, I basically just got obsessed with it and taught myself," she says. "I've been drinking, talking and breathing cider for the past year and a half."
After the Fall's first two ciders are being released this autumn: a dry cider made with Goldrush and Dabinett, and an off-dry cider, which is a blend of heirloom varieties, crab apples and early season apples called Pristines. The dry cider is complex and aromatic, and the off-dry is light-bodied, juicy — a real "guzzler" according to Maria.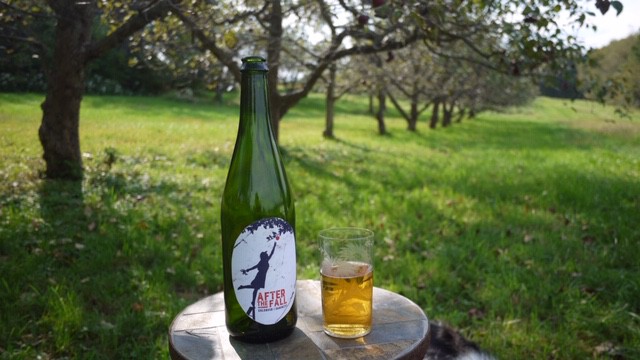 "The ciders are so different in color and body, and the late-season apples have just developed so much flavor," she points out. "It exhibits so well what diverse products you can get from different kinds of apples."
Though she fermented these ciders with selected cultured yeasts to help her create a more stable product and to guide her along the learning curve, her ultimate goal is to be making is traditional method wild ferments.
This year, she made 200 traditional method bottles and a lot of experimentation, like a rhubarb cider. In the coming year, in addition to her flagship ciders, she plans to scale up After the Fall with more product diversity,  incorporating other produce from the farm; she says there is a beet and sage cider in the works that she's extra excited about.
"I want it to be 100% estate grown in every sense of the word, the full circle, all the parts of the process!" Maria says.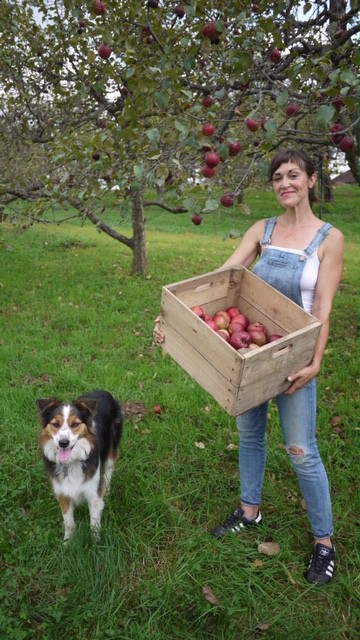 After the Fall's first production is very small, just 2,500 750-ml. bottles and a handful of sixtels. In keeping with her artist's DIY spirit, she even built her own bottling line! She makes the cider in a fermentation room in the basement of the farm's barn, which she and her father built out and says eventually the barn will be renovated into a tasting room and event space.
Maria's main artistic mediums are sculpture, metalworking and ceramics — disciplines that have all prepared her well for life as an orchardist and cider maker.
"Pruning the tree feels like sculpture to me, it's like giving the tree a haircut every winter!" she says. "In the orchard, your hands catch up with your head and you're conscious of your environment and the light, you're thinking about all these things at the same time… it's so similar to making art."
Keep up with Maria and After the Fall Cider through her Instagram. Though her production run is limited, there will be opportunities to try her ciders at events like an upcoming cider launch at Fishtown Social Philadelphia on Thursday, November 7, during Philly Cider Week!