If you are a fan of unique American ciders that draw on the broad European cider heritage, you should do yourself a favor and experience Virtue Cider. Gregory Hall, the former brewmaster at Goose Island, and co-founder Stephen Schmakel launched the company in 2011. Since Virtue started, they have delivered on their mission to make European-inspired ciders in Michigan from fresh heirloom apples using traditional farmhouse production methods that include native and secondary fermentation and wild yeasts, and incorporate an expansive barrel-aging program.
I had a chance to visit their Fennville, Michigan, facility and discuss their cider-making and barrel-aging process with Virtue head cider maker Seth Boeve.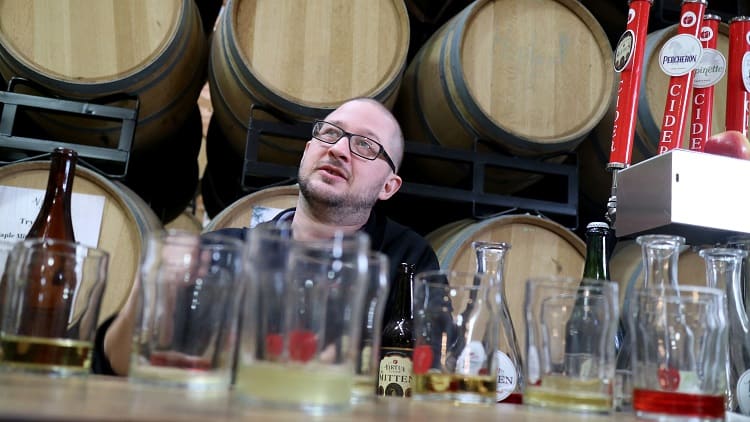 Cider Culture: Touring the Virtue facility and seeing the barn full of massive walls of old barrels was impressive. How many barrels are currently in use at Virtue?
Seth Boeve: We are currently sitting on just shy of 700 barrels. This changes over the course of the year. Roughly right now we're sitting on about 250 bourbon barrels, 400 French oak barrels and 50 or so American oak barrels. The French oak is split between clean French oak and neutral French oak that we've inoculated with Brettanomyces; these are my favorite. Currently we have approximately 35-40,000 gallons of cider aging in our barrels.

As part of Goose Island Brewing, does Virtue have access to any of the barrels used for their award winning limited release Goose Island Bourbon County Stouts? Will any of those ciders be released to the public?
This last season I did manage to get my hands on a few BCS barrels. We currently have 18 barrels that BCS was aged in, and 30 barrels that contained the BCS Barleywine. We've been sampling them pretty regularly and they are almost ready to play with. Once they are where we like them, we will do a special BCS Mitten variant here on the farm.

Ed note: Since this interview, Virtue introduced a limited amount of BCS Mitten and BCS Cherry Mitten at the Great Taste of the Midwest in Madison, WI, on Aug. 12.
Does Virtue make use of only previously used barrels, or do you source new barrels as well for your cider aging?
All of the American oak that we use is new. I'm a big fan of the aggressive fresh oak and vanilla characters that you get with new oak. The French oak, though, is all previously used wine barrels. Almost 60% of the ones we have in-house are Louis Latour barrels, previously used for Chardonnay. They really do nice stuff to cider.

Are barrels at Virtue used more than once, or is there a constant supply of new and freshly used barrels coming in for you to choose from?
We only use our bourbon barrels a couple of times. The first turn you get really nice spirit character from the barrel. With the second and third turn you get mostly notes from the wood and char. Blending first-, third-use barrels really gives a nice balance to The Mitten. I think this is one of the things that really prevents it from coming across as hot or spirit heavy. Don't get me wrong. I love bourbon, but with the ciders we make I love to try to create something balanced and a little more subtle. All of our other barrels will live here forever if we treat them properly.

Among the barrels you are currently using do you have any favorites? What makes a barrel stand out at Virtue?
Some of the best cider we've ever aged has come from a few of our Tonnellerie Boutes barrels. The Rose that we made last year is a perfect example of this. The cider was originally destined for Lapinette, but when we pulled the barrels to sample they were just too good to not do something special with.
Do you have any feelings on the flavors produced by barrels based on where the wood used to make them is harvested?
This is something I really just starting to focus on lately. Barrels are magic. The nuances and complexities to each barrel are totally dependent upon the type of wood used and where that oak comes from; it's almost as important as which cooperage the barrel comes from.
The availability of Virtue in 12 ounce bottles and now cans has exposed a broader cider-drinking audience as well as new consumers to some unique barrel-aged ciders. Does it seem like more cider drinkers are exploring barrel-aged ciders?
I think we're already seeing this in the industry. It took years for craft breweries to jump to barrel aging their beers and mass experimentation, and I think we're already seeing producers in the cider industry follow this path. It's only natural for consumers to follow this trend as well.  

On the fermentation side, is there much difference in the fermentation and production of the small-bottle format ciders and the big-bottle ciders?
Yes and no. I'm a big fan of letting cider take it's own path. When we press and ferment I usually have a pretty specific destination in mind, but the beautiful thing about the way we make cider is that occasionally we get really lovely surprises. Earlier this season we had a tank that we fermented natively pick up a really lovely Lactobacillus strain. Instead of dumping it or blending it out, we actually let it ferment almost to completion and are now aging this cider on other local fruit in small batches.
Are all your ciders fermented in stainless and aged in wood?
Mostly. I'd say about 99% of our primary fermentation is done in stainless, but not all of that cider makes it into oak. We've played with some in-barrel fermentation, mostly with Brettanomyces, but I still favor doing secondary in oak only.
What is your process for your delicious cherry ciders like Michigan Cherry, Cherry Mitten and the small batch Orchard Series, which focus on local orchards?
We've actually done this a few different ways and it totally depends on the cider, the fruit and my mood. With The Cherry Mitten we've used cherries processed for us at Fennvalley. With the Rose and Schaerbeek we've actually aged upon the whole fruit. I really prefer doing it this way, but it's not really super feasible for large batches.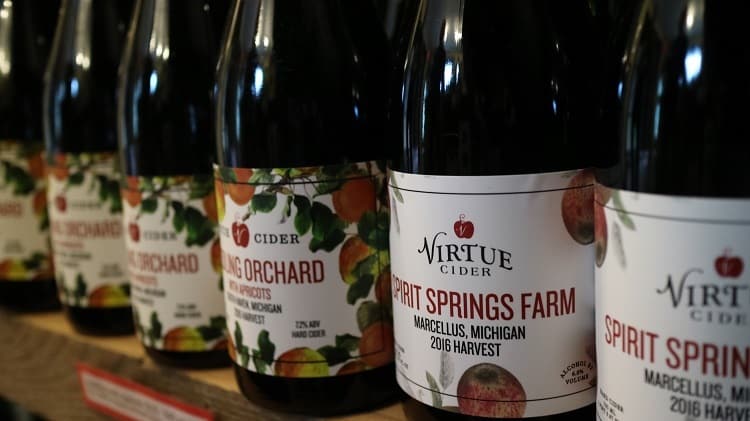 Do all the unique Virtue ciders use different yeast strains or is there a house strain that gets used throughout your cider offerings?
We play with several different types of yeast. We do have a native house culture that seems to take over 80-90% of the time that we natively ferment stuff here, but we also utilize a pretty broad portfolio of wine and ale yeast for fermentation.
I was impressed with the subterranean fermentation barn and the naturally cool ambient fermentation environment that it provides. Does Virtue use any glycol or controlled cooling methods, or does having your fermenters underground help control fermentation temperatures enough that heating and cooling are not needed?
We actually just purchased a small glycol heating/chilling unit last week. It's small, and only has the capacity to do a few of our smaller tanks, but it gives us the opportunity to play with low- and high-temperature fermentations.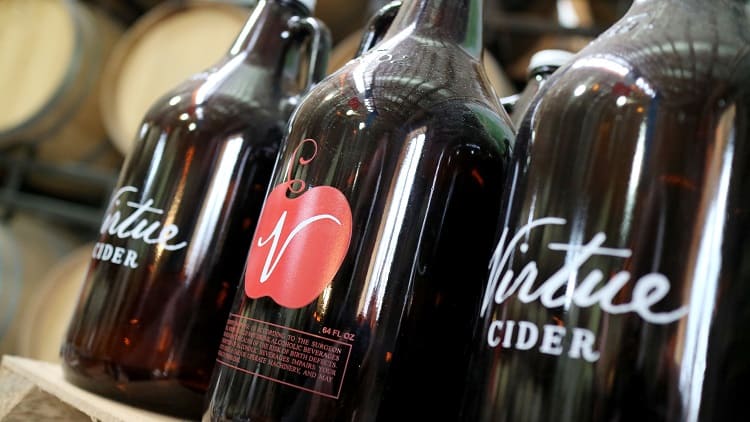 It's clear that Virtue makes some delicious and unique true American interpretations of European cider expression that are worth hunting for. Recent Virtue cider releases have included 12 ounce cans and bottles that will receive lower price points and broader distribution than their larger format bottles making them easier to find for consumers looking for delicious, every day approachable barrel-aged ciders. If you have a chance to visit their cider making facility in Michigan, it is a cider site worth visiting. You will have an opportunity to expand your horizons by trying some small-batch ciders that may not be available anywhere else.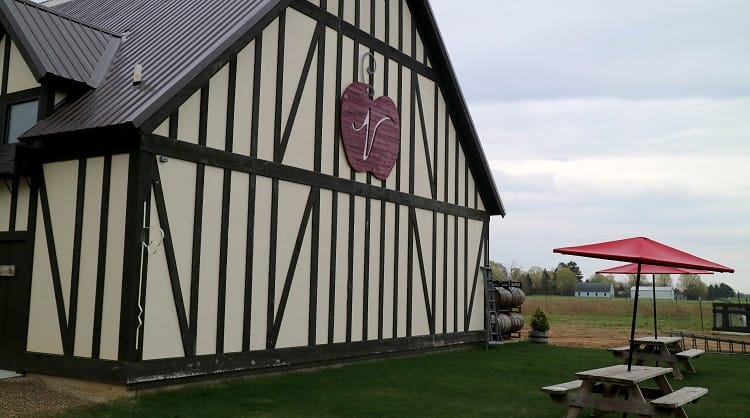 Visit Virtue's website and Facebook page for more information about their ciders.
Want to visit Virtue's tasting room or tour its farm and facility? You can find Virtue Ciders at 2170 62nd St. in Fennville, Michigan; phone: (269) 722-3232.