Malaika Tyson is one half of the blogging duo Cider Soms, which was started as a way to introduce wine-lovers to the world of cider. Created along with her husband Sean, the "Soms" blog seeks to uncover and explain the complexities of ciders in a fun way.
I'm always looking for new cideries near Chicago, and my friend, Matt Windle (aka Southciders) let us know about Carriage House Ciders, a small cidery about 90 minutes away from Chicago. One of the owners and cidermaker, Paula Camp, was gracious enough to meet us in Chicago at The Northman for a cider and a chat.
(The questions and answers have been edited for brevity and clarity.) 
Cider Culture: What were you doing before making cider?
Paula Camp: My partner Mary and I started in media. I started a very long time ago when people were using typewriters. I worked in New York at Fairchild publications (later bought by Conde Nast), which was a publication with a fashion, food, and housewares focus.

I moved to Chicago in the 1980s and started working for The Chicago Tribune. I was hired to revive a food section that was having some problems, but by the time I got to Chicago, the section had so many problems that the paper canceled it. So then they offered me a job as a restaurant critic, and later I became a food editor, and then a features editor of The Tribune. After I left there, I started a company doing travel guides in wine country. In the early 1990s, we started an online concierge service where people could call up on cell phones and get recommendations. This VIP service allowed someone in Chicago to call and say, "I'm going to the Goodman Theater; I want a great Italian meal; I want to make sure that it is before curtain." We had a human interface in front of a computer that mapped all that out for them.

We sold that business and I joined Thompson newspapers, which at the time was one of the largest newspaper publishing companies in America. I started the syndication division for them and did that until they wisely sold the newspaper business in 2000. I then started a syndication company with Mary and we syndicated content of all kinds, including health wellness, and food. We also started a bridal publication and then sold that business in 2016 to Evening Post Industries in Charleston. I worked there for a year and then decided to do something else.

I've been making cider for a long time. It started as a hobby and I decided it was time to do this seriously. So for the last four years, I've been trying to launch Carriage House. We have a 134-year-old carriage house in our backyard in Benton Harbor, Michigan. We decided to try to save this building, which was in disrepair, and turn it into a cidery. We finally got licensed in January of 2021. Mary professes she wants nothing to do with it, but she is the cornerstone of the whole thing.
What inspired you to make cider?
It started when I was in New York working for a publication. I interviewed lots of people at the time, including Julia Child and James Beard. During interviews, they would invite me into their homes and make lunch for me. In the late 1970s, I interviewed Jacques Pépin at his home in New Haven, Connecticut. He gave us a tour of his property, showing me the garden where he picked the vegetables we were going to have for our lunch. He showed us the old rounded refrigerator that he had made into a cold smoker, and he told us about going fishing and catching the trout that we were going to eat. In the front of his house and down a little hill, there was a small brick building built into the side of the hill that made up his front yard. He opened the door and the inside was lined with cider. This was the first time I tried this type of cider, and I fell in love. 
So did you start making cider after that lunch?
Yes, I started experimenting in the 1980s, using a recipe that Jacques gave me (it's also in one of his cookbooks). I even blew up some bottles in the basement of our house, resulting in a sticky, smelly mess. For Carriage House, we started with just a few carboys of cider, and then we got some barrels, and then we got some more barrels! One thing led to another, and we ended up with a barrel of cider weighing about 600 pounds. We quickly realized that with the foundation of the carriage house, if we put in barrel after barrel, one day someone will walk in, as we did, to a house flooded with the cider. So we started renovating this building, and finally got it to the point where the state of Michigan would allow me to make cider. And here we are.
That's an amazing journey.
It is never too late to do what you dream of doing nor to be who you really are. I'm 72 and I'm one of the few transgender cider makers. I make authentic ciders because I want to live an authentic life.

I spent a lifetime trying to be somebody and something I wasn't to please others. Finally, though, I learned that to be happy, you have to be who you really want to be and do what you really want to do. Carriage House Ciders is the embodiment of that. I try to put a little bit of hope and encouragement in every bottle.
Does Carriage House operate as a tasting room too?
That's a great question for which there's no simple answer. We will eventually have a tasting room, but whether it is at that location or a different location will depend on a number of factors, including our tolerance for people, because we live in the house in front.

Carriage House is a historical building and we want to maintain the flavor. We've been very careful in our renovations, but some things, like putting in a sprinkler system, are really expensive to do. However, our ciders are going to be sold locally and in tasting rooms in Southwest Michigan. We also sell online and can ship to 41 states.
Do you get your apples from Michigan?
Every one of our apples comes from within 22 miles of Carriage House. There are also trees that we forage from. One of the best apples we have found is from a tree at an abandoned school. We try to find abandoned trees and independent orchards. Last year we had 22 varieties of apples from various sources. We think that the apples Michigan produces are pretty special. So we're very excited to be part of that tradition, and hopefully we can create secondary markets for apple growers that they didn't have before.

I also want to know what my apples look like, and as a result, we are not mechanized. It's an old-fashioned, small, handcrafted operation. We wash each apple individually, examine the apples, and physically cut out bad portions. We want that control. Especially making natural cider, we are really afraid of any contamination.
Can you tell me a little more about your ciders?
The only ingredients in our ciders are apple juice, natural yeast, and a little bit of sugar for secondary fermentation in the bottle. One of the ciders is a still cider. All of the ciders are barrel-fermented and barrel-aged. Because of the way we source apples, we often have a small quantity of apples. We might go pick from an abandoned tree that only yields two or three bushels. So while we don't individually ferment each apple variety, we do try to balance the sugar and acid before putting the batches together.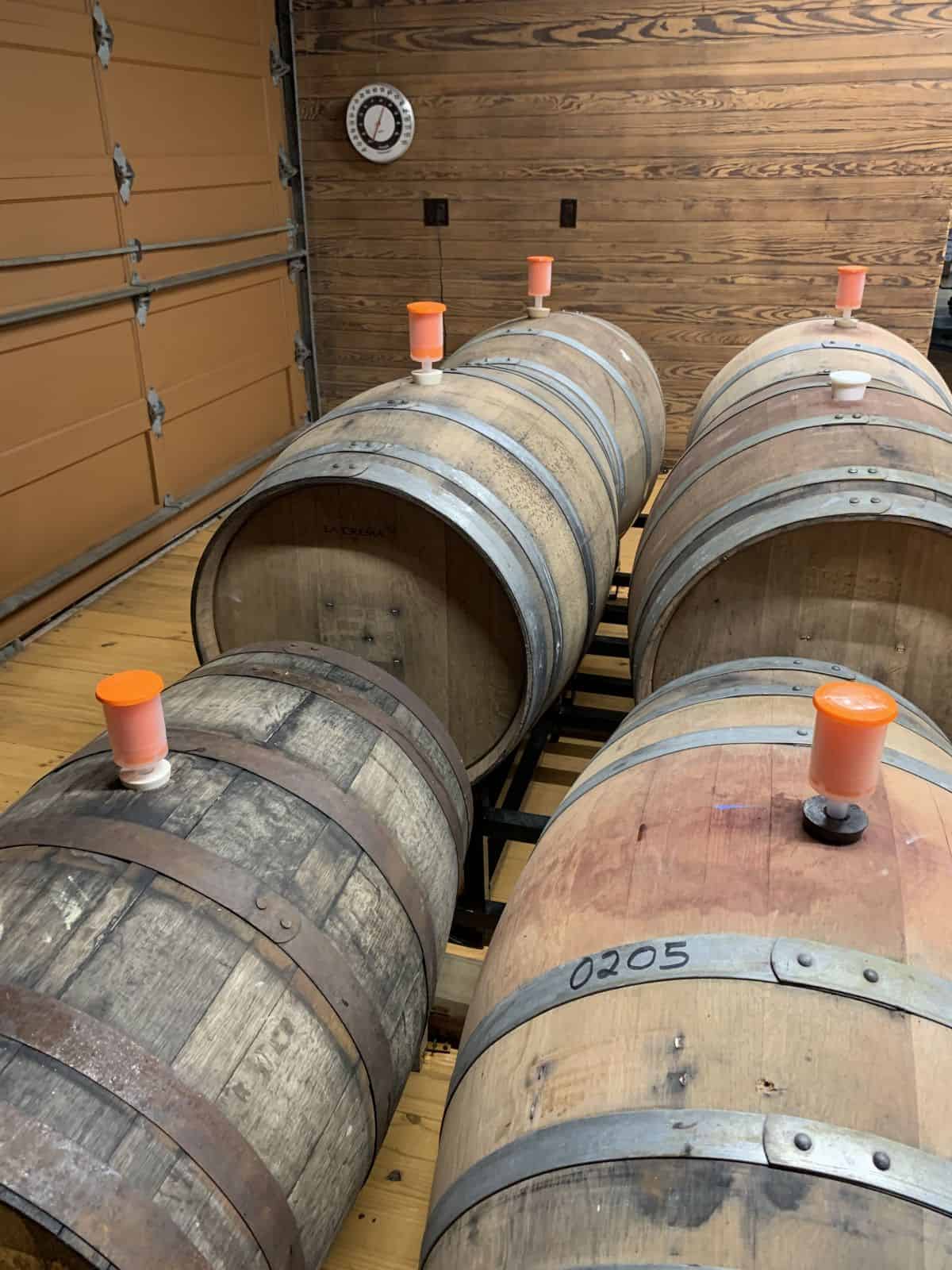 We are pretty committed to making cider the way it was made hundreds of years ago, with as little intervention as possible, while still producing a quality product. Sometimes it doesn't work. I confess that we've had to dump cider that didn't turn out the way we wanted. We will release three different ciders every quarter and next year we plan to release single varietal ciders. 
What do you have planned for future Carriage House ciders?
We'll do a hibiscus-infused cider, which is really pretty and tastes as good as it looks. It's very refreshing. When tart cherry season comes along — if we have any cherries this year — we will do a co-ferment with tart cherry juice. We hope to have access to a unique Polish cherry that has a little different flavor. We are also releasing a lot of our ciders through our cider club. 

From your website, I see community involvement is important to you. How is Carriage House working to support the community?
Benton Harbor is not without its challenges. We've had a home in Benton Harbor since 1984 and in 1989 it was declared one of the three most depressed cities in America. If we're blessed with success, we're committed to diversity in the cidery and connection to the community. The average craft beer, cider, or winemaker is a 30-something white guy with a beard. In the entire cider industry, there are less than 30% female cider makers [Editor note: The number is even lower for people of color]. It's important to let people know that this isn't a closed society and these industries can make a difference for a community. Making wine, making cider, and making really good food could be really good jobs, and I think a lot of kids that grow up in an area like Benton Harbor don't realize that there's an opportunity for them in these industries. We also want to keep the communities working together to be more diverse and more accepting.
Besides you and Mary, is there anyone else on your team?
The third wheel of our operation is Jerry Cook, who we have known for almost as long as we have lived in Benton Harbor. He's an important part of our operation, and he helps keep us calm.
The fourth member of the current team is a cat named Spitz, named after the Esopus Spitzenburg apple. During the renovation of the carriage house, Spitz found a corner we rarely go into and had three kittens. The kittens were given away, but Spitz didn't get adopted. Instead of letting Spitz go to the pound, she adopted us. We later found out that Spitz had been shot, so we call her Spitz the Wonder Cat because there is still a pellet in her chest. She's a great cat and keeps the creepy crawlers out of the carriage house.
Since you've written about food and wine for so long, do you see an evolution in the way people are talking about cider?
I lived through the transformation of American wine. Dry wines and grape varietals dominate, but that wasn't always the case. When I was coming up, people were drinking wine, but they were drinking cheap, sweet wine. Over the next 20 years, people went from drinking cheap, sweet wine, to dry wines, and then better dry wine. People also learned more about wine through traveling to Europe and California. I think cider today is where wine was in the 70s and 80s. The cider industry has blossomed over the past 10 years, but that too started with a sweet component and is gradually moving toward more complex and drier ciders made from much more diverse apples. So I think the same thing is happening in cider that happened in wine, and it's really exciting!
To learn more about Carriage House Ciders, check out its website and Facebook page. Carriage House Ciders are available for purchase online. Contact Carriage House Ciders at pc@chciders.com.