In case you haven't noticed, subscription boxes are hot. You can join a service and receive a box every month with contents ranging from organic granola or bespoke shaving supplies to curated collections of small-batch jerky or unique varietal raw honey.
The cider world is not excluded from this trend. In fact, a few new services launched recently and many are available directly from cidermakers around the country.
DoubleCider is one such subscription service that started shipping a few months ago and has delivered many unique ciders to its enthusiastic subscribers. According to its website, "DoubleCider was created to solve two problems that we have noticed within the cider industry: Convenience and Accessibility. As of today, the supermarket shelves are stocked with mainstream, sugary cider, which isn't necessarily bad, but we have to ask: Where is the variety?"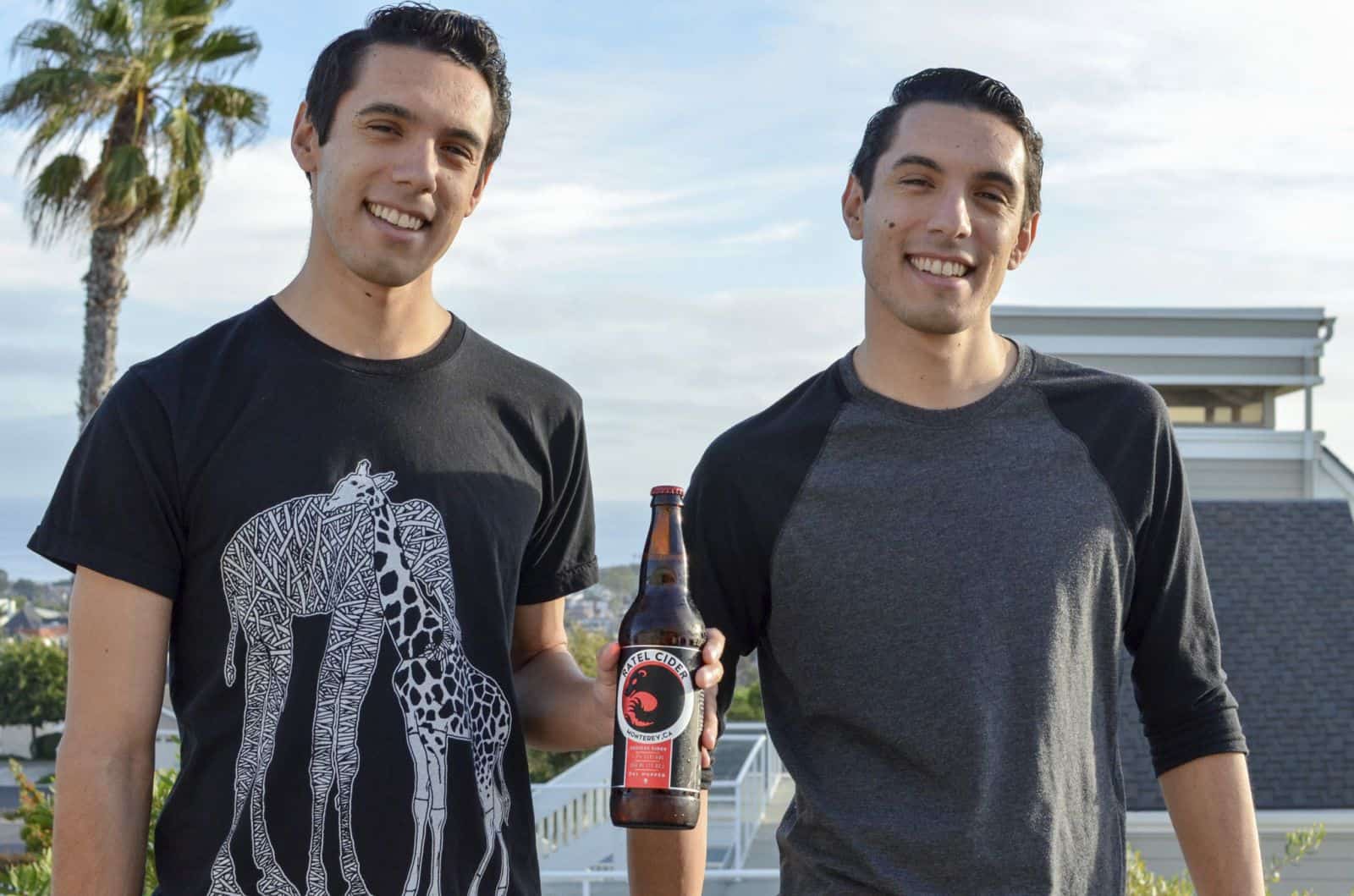 We had a chance to catch up with Taylor Kirby, one of the twins behind DoubleCider, for a Q+A session to dig into what the company offers.
Cider Culture: What was your inspiration to start a subscription box for cider?
DoubleCider: We became hooked on cider when our eldest brother came back from a long trip traveling throughout Europe about two years ago. After first hearing about all of his adventures, he became very excited to tell us about something called cider that apparently everybody was drinking over there. He said it was vastly different than the cider we've seen in our local stores. And what was most intriguing was he said it was actually delicious. So naturally, we went to all of our local grocery chains looking for some of this cider and, luckily, we found a few bottles that appeared to be decent quality. After one drink, we were both immediately taken aback. We had never tasted something so unique and interesting before in our lives. We then began searching high and low for any cider we could get our hands on. This is when we noticed a significant problem. We found reviews online of hundreds of different ciders, but there was no possible way for us to try them without physically traveling to a specific part of the country where each cider is made. After months of venting about this seemingly trivial problem, we finally decided to do something about it. Many long nights of research, signing papers and cider tasting eventually led to what is now DoubleCider. We finally created a solution to the problems that many producers and consumers alike have been fighting for a long time now. We created DoubleCider as both a convenient and innovative distribution solution for small cideries as well as a perfect method for cider learning and discovery for cider folk residing all around the country.
Will the DoubleCider subscription box focus mostly on West Coast ciders? The first few boxes featured ciders from California that I had not seen out on the East Coast.
Initially, we primarily focused on West Coast cider simply because we are from Southern California and we have already established great relationships with the people in our local cider scene. However, we realize that there is fantastic cider being crafted in all parts of the country. So, we are making connections with cidermakers from all across America, and even some international producers, to deliver only the most unique and hard-to-find cider to DoubleCider subscribers.

Will DoubleCider be able to ship its monthly boxes to cider drinkers outside of the USA?
Due to the strict alcohol distribution regulations, we currently are unable to ship outside of the United States. However, we are receiving requests from international cider folk who would love to try our subscription service. So, we will continue our efforts to achieve world-wide distribution in the future. For the time being, we do take a lot of pride in being the only cider distribution service that can deliver to 46 states.
If you feature a cider that someone is not interested in receiving, do subscribers have the ability to skip a box?
Definitely. Any of our subscribers can contact us and we will simply put a pause on their subscription so they won't be re-billed or receive the following month's box. We are currently working on a new website, which will allow subscribers to pause their subscription any time at their convenience. We want to maintain full transparency with our subscribers, so we will continue to announce 30 days in advance which ciders will be featured in the following month's box. We always want to provide flexibility for our customers and make this an enjoyable experience for everyone.

Do subscribers have the ability to get additional bottles of ciders they like?
Yes! We recently announced the 'Shop' page on our website! This is an online store where we will be selling additional bottles of cider that were previously featured in DoubleCider boxes. Right now we are selling additional Ratel and Honest Abe bottles from our January box. All of the ciders in our Shop are available for anybody to purchase. There is no obligation to be or become a subscriber to purchase these bottles. In the future, we plan to expand the store to offer many different varieties of cider.
Do you expect to be able to ship to all 50 states soon?
As of right now, there are 4 states we cannot ship to: Alaska, Hawaii, Utah and Illinois. Alaska and Hawaii deliveries will incur a much greater shipping expense, so at this time we are not taking orders from those states. Utah and Illinois have strict interstate alcohol shipping regulations and don't allow for the shipment of alcohol into the state. However, there are always updates to these regulations, so we will continue our efforts to ship to all 50 states soon.

DoubleCider has been shipping cider for a few months now. Since launching have you seen your subscriber numbers grow?
We are growing at a rapid pace! When we first launched our website, a few close family and friends supported us by subscribing to our service. However, through word of mouth and social media buzz, we've seen a huge growth in subscriptions. We have a lot of ideas that we're actively pursuing to enhance the subscriber's experience and to ensure the DoubleCider box continues to exceed expectations.
Do you plan to include hard-to-find, limited-production ciders in boxes?
Absolutely! The primary goal of the DoubleCider subscription service is to deliver only hard-to-find and delicious ciders directly to cider lovers. We realized that some of the most interesting ciders are only small-batch, limited-release varieties. This type of cider is precisely what converted us from casual drinkers to devoted enthusiasts. We are always looking for ciders that are pushing the envelope and testing the boundaries of what cider can really be. We hope by offering these varieties in our box, it will allow our subscribers to gain a greater appreciation for cider and discover a new side to cider that they may not have experienced before.

What are some cideries we can expect to see featured in future boxes?
We don't want to divulge too much information quite yet. However, our subscribers can definitely expect to receive some fantastic ciders from all over the world. We are currently talking with cider producers from states such as Washington, Colorado and Texas. There's even some discussion about possibly featuring one-of-a-kind English or Swedish ciders as well. The possibilities for our DoubleCider box are endless. As the cider industry continues to grow at a fascinating pace, we are committed to working with some of the newest, most cutting-edge cider producers in the world. We strive to ensure that all DoubleCider subscribers will receive two bottles of amazing cider, every month, delivered right to their doorstep.
If you are a cider drinker looking for a convenient way to be exposed to new ciders and have them shipped directly to you every month, DoubleCider is a great subscription service option to investigate.