Planning a camping trip? Be sure to bring along plenty of cider, and don't forget about dessert! S'mores are great and all, but the novelty usually wears off after a night or two. When you're ready for a seasonal, less-sugary dessert, try this campfire cider berry crisp. It's packed with the jammy, drippy sweetness of ripe forest fruits, and it makes an absolutely killer breakfast the next morning, too.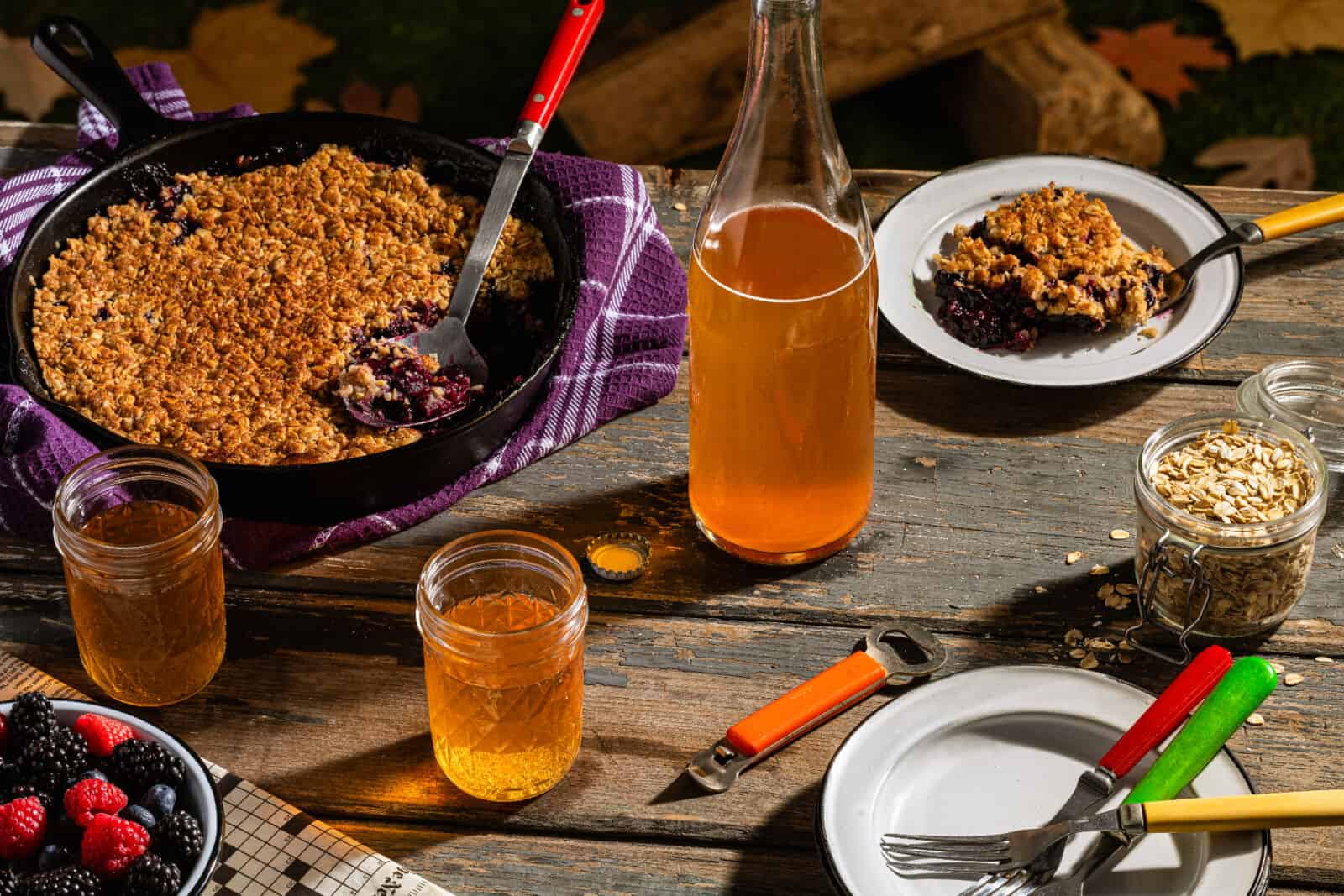 Campfire Cider Berry Crisp
Ready in: 60 minutes
Serves 6
Ingredients
4 oz. cider (any kind)
32 oz. (about 6 cups) fresh berries (your choice: blueberries, raspberries, blackberries or a combo)
1/4 cup sugar
1 teaspoon cinnamon
1 tablespoon corn starch
1 cup all-purpose or gluten-free flour
1 cup old-fashioned rolled oats
1/2 cup brown sugar
1/2 cup unsalted butter, cut or torn into pieces
1/4 teaspoon salt
Equipment
Large cast iron skillet
Camping grill (that sits over a fire)
Aluminum foil
Oven mitts or fire safety gloves
Method
Place the berries in the bottom of the cast iron skillet, and sprinkle evenly with cinnamon, cornstarch and sugar. Toss to combine, then pour over the cider.
In a bowl, combine the flour, oats, brown sugar and salt, and stir until combined.
Use your hands to mix in the pieces of butter until the topping has the texture of coarse crumbs.
Sprinkle the topping evenly over the berry mixture and cover the pan tightly with tin foil.
Cook over an active fire for 45 to 50 minutes, or until the berry mixture is bubbling and the topping is golden-brown.
Carefully remove off the grill and serve.