In our column, "Cider Loves Food," contributor Meredith Collins (blogger extraordinaire at Along Came a Cider) is looking at different cuisines and finding the perfect ciders to help take your meals to the next level.
There comes a time, particularly in the summer, when I just don't want to cook. Maybe it's Thursday and I've cooked every night after work for roughly an eternity. Or, perhaps the weather outside is not conducive to turning on a single burner on my stovetop. On these nights, I feel lucky to live a short walk away from a tiny storefront that sells an internationally inspired selection of savory and sweet deliciousness: Mama Said Hand Pies. 
Once I pick up a few golden crunchy treats, I take them home to pair with cider. The pairings have been so successful that I wanted to share a few ideas with you. Perhaps you'll be more ambitious than I am and make your own pasties and pies. However you acquire them, pies pair beautifully with cider. Here are my recommendations for some of my favorite combinations, but feel free to explore beyond these.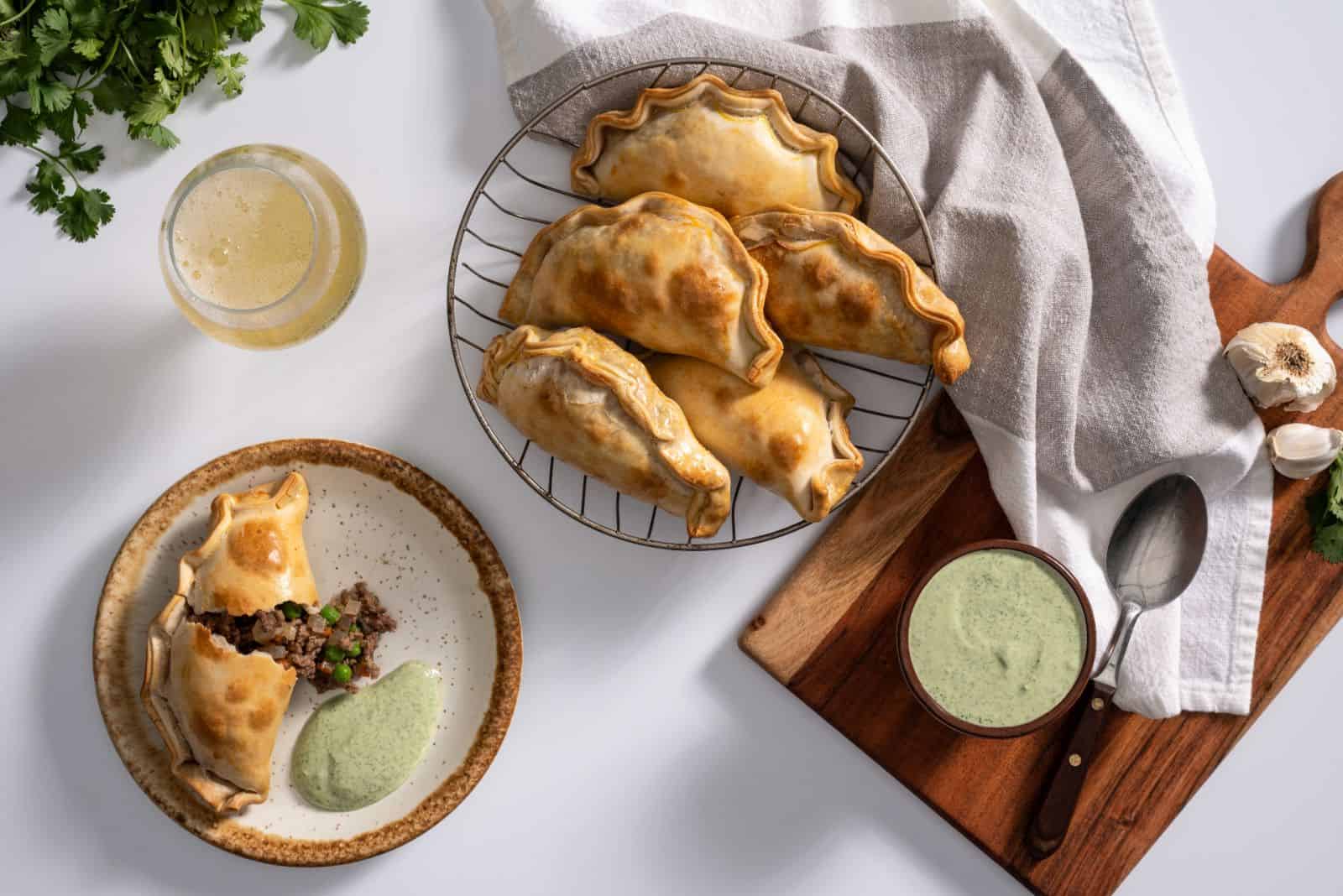 Whether you prefer flaky empanadas filled with beans or beef, these hearty handhelds call for a cider with strong flavors and enough body. I think barrel-aged cider is the way to go, so as to not disappear next to the rich and savory warmth of empanadas. I recommend Awestruck's Dry Apple + Oak or 2 Towns Ciderworks The Bad Apple. Both of these ciders get big boosts in mouthfeel and body from their contact with oak barrels.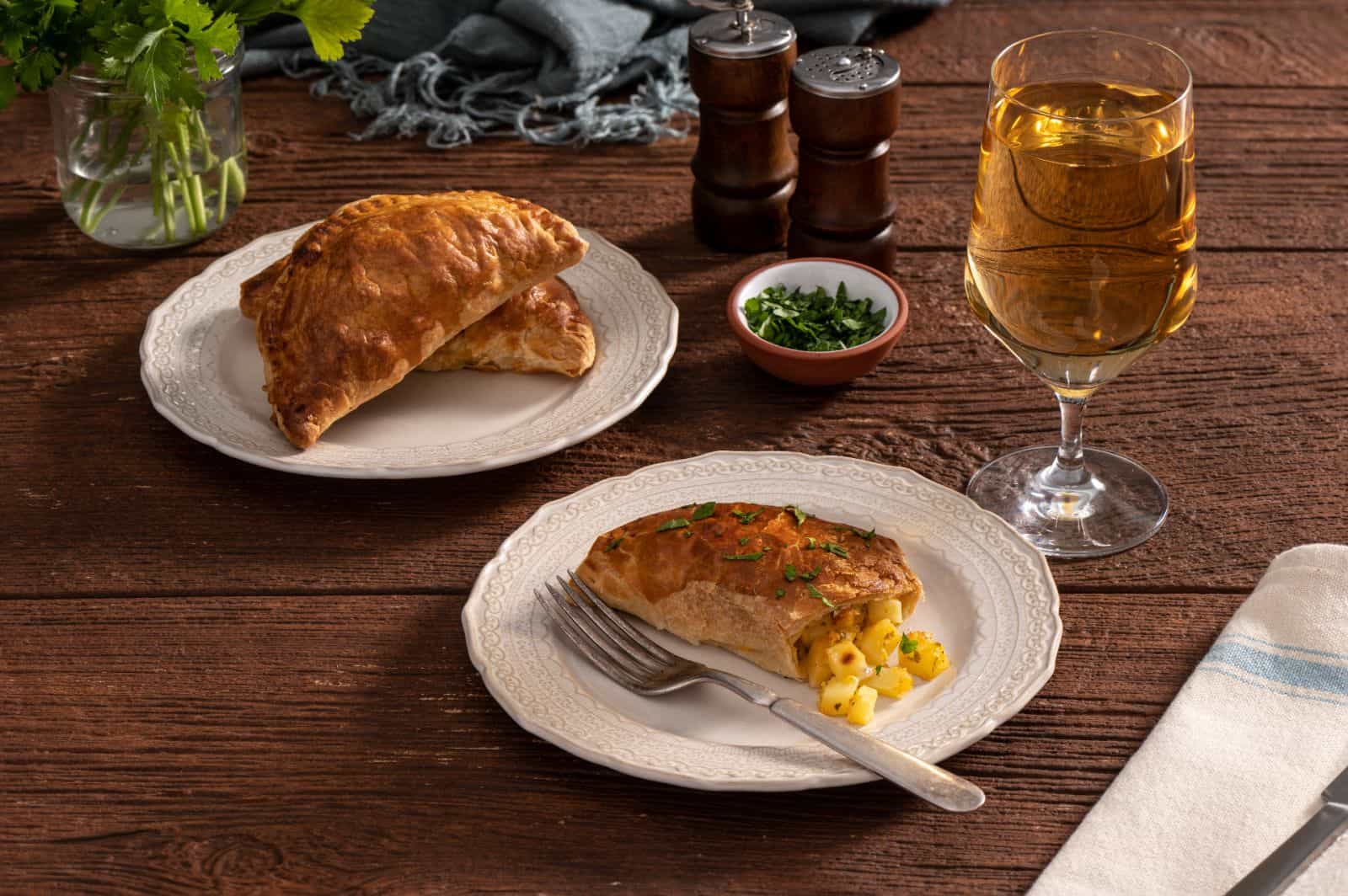 I love a Cornish pasty and my favorite ones are so simple — the traditional potato, onion and cheese is simply perfect, and is filling enough to power me through a strenuous hike up and down sea cliffs. This type of pie calls for an English-style still cider. I usually love bubbles, but in this case, I want just a gentle bit of sweetness and a whole lot of tannins. Worley's Rocky Road makes an unambiguously gorgeous pairing. I'd also be remiss not to recommend a Cornish pasty with Oliver's Vintage Fine Cider Dry 2018. This is another barrel-aged cider, but it begins with high tannin apples that are different from most of what goes into American ciders.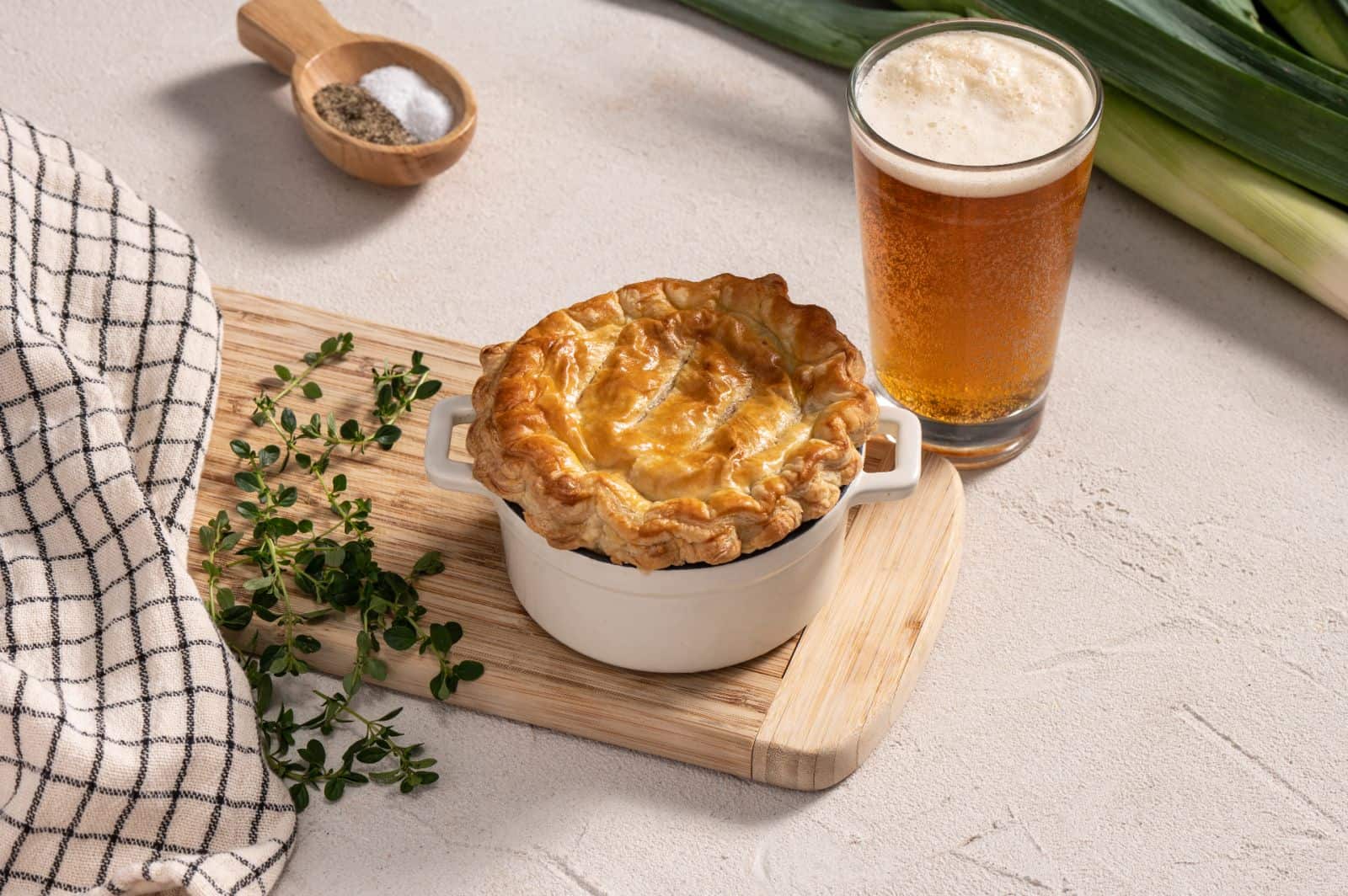 Cooking with cider makes pairing with cider even easier. My number-one recommendation for this pairing is to choose the same cider to use for the filling, and to drink with the finished product. If that's not possible, go for something in the same style. I went a little wild with one and tried using a hopped cider. It was deliciously herby, citrusy, light and dry. I used Stem Ciders' Hopped and found that it was semi-dry, zesty and fun. I think Far From the Tree's Pulsar is also a fine choice. Pulsar is filled to the brim with a range of hoppy aromas; the cider uses an impressive blend of Galaxy, Simcoe, Cascade, Mosaic and Hull Melon hops.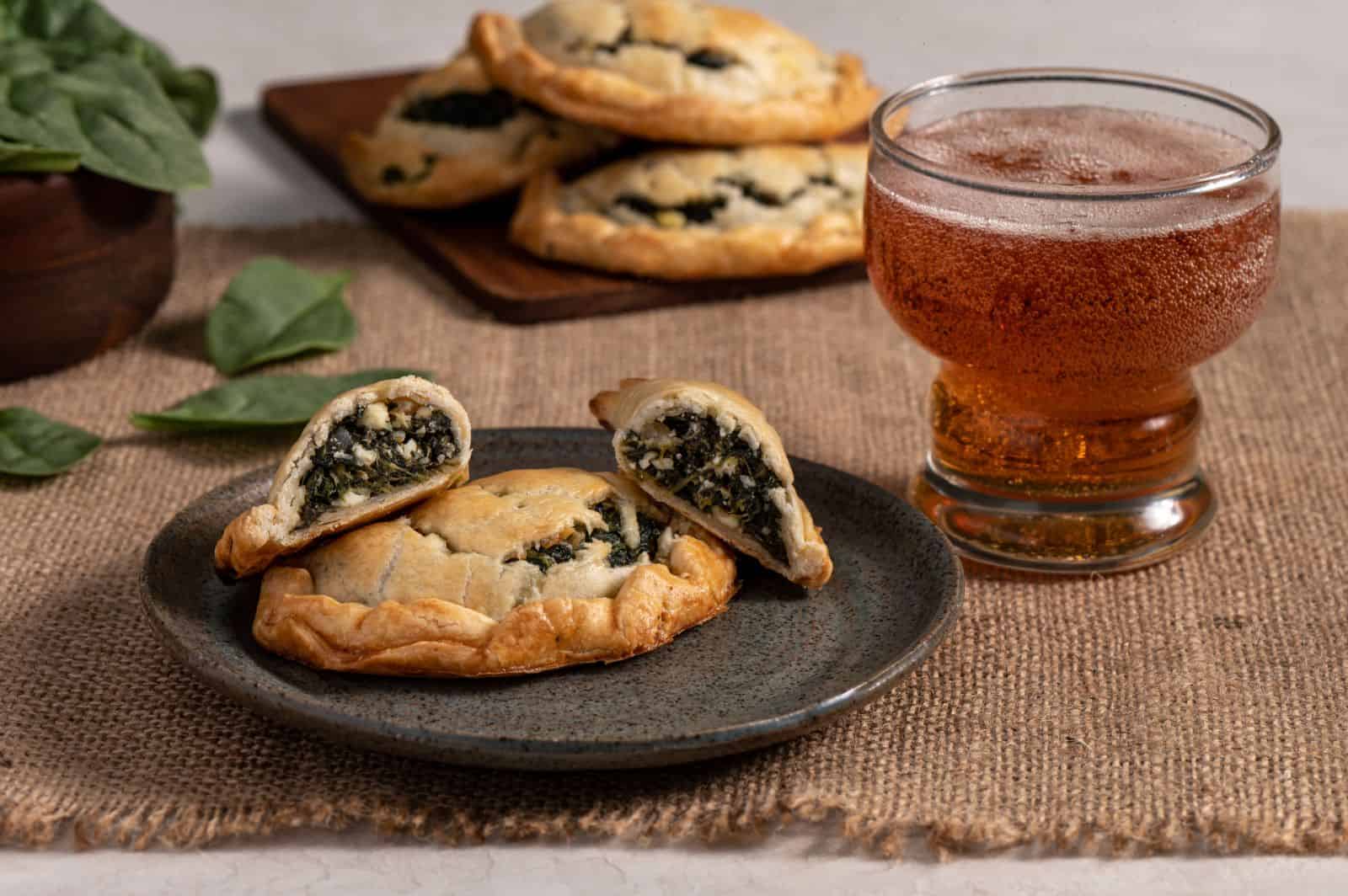 There are a number of different profiles for hand pies from Ghana, South Africa and The Republic of Tunisia, just to name a few. Traditionally, most are meat pies, with an emphasis on richly flavorful sauces or spice blends that intensify the ingredients' flavors. I'm more familiar with the vegetarian version of South African hand pies that my local place has adopted. For this dish, I want a fruity cider: one with clear berry and apples notes. A little sweetness is perfect to counterbalance the spices. I recommend Blake's Hard Cider Co.'s Triple Berry Jam, a sweeter cider than I would prefer on its own, but it works beautifully with a spicy hand pie! If you don't want to go sweet, Eden's Harvest Cider Brut Rose is a delight.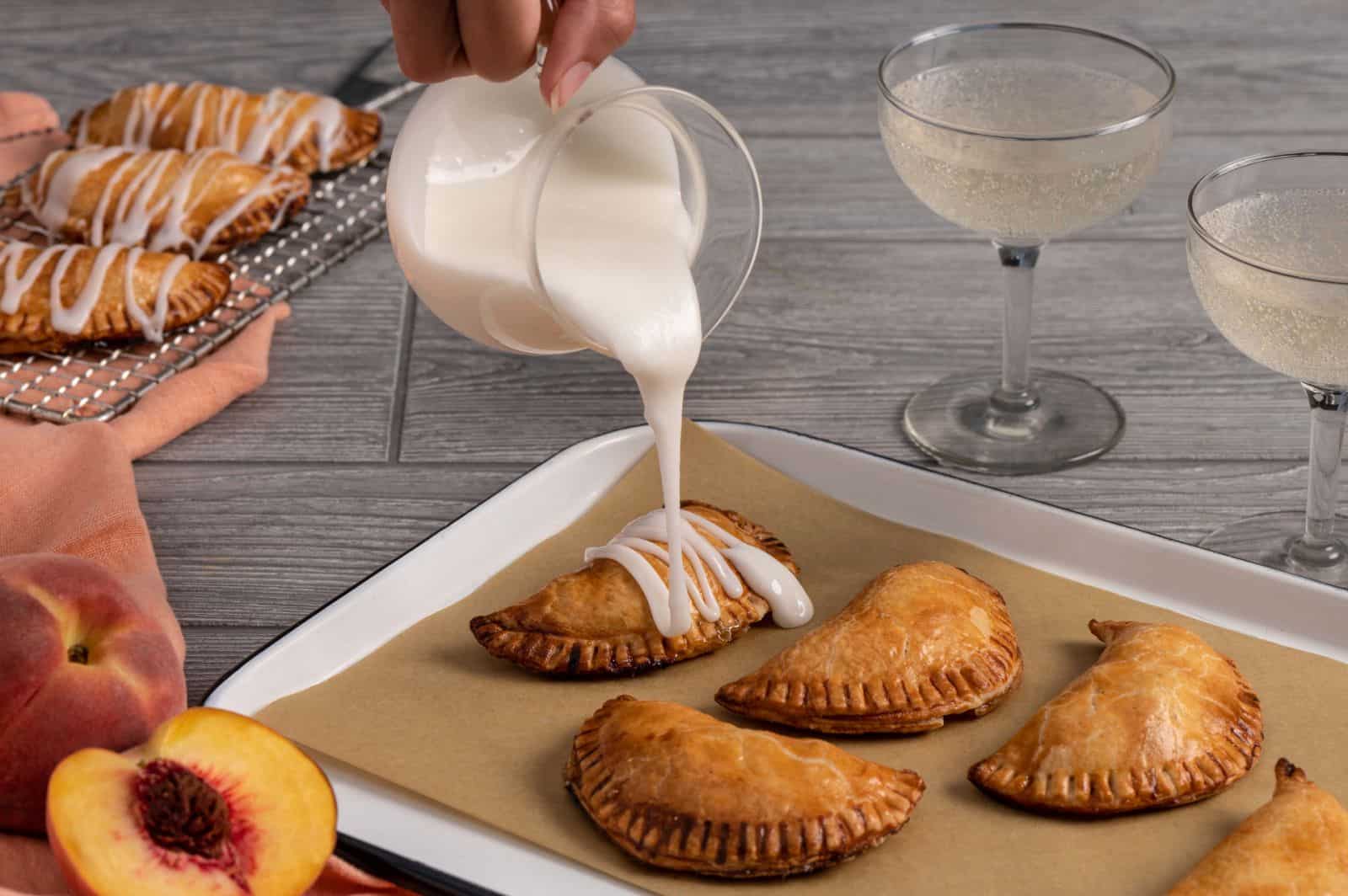 I love dessert — anyone who knows me knows this. Peach pie is a special tradition in my house, and a peach hand pie is the ideal finish to a beautiful summer meal. Of course you can find delightful recipes that call for nearly any fruit, but trust me and try peach! This dessert begs for a semi-dry or semi-sweet sparkler here. You can't go wrong with Haykin Family Cider's 2018 Newtown Pippin. The cider bursts with tartness, bubbles and minerality! If you're looking for a sparkling cider that's reminiscent of champagne, there's Finnriver Farm & Cidery's Sojourn Heart of Gold. This Golden Russet cider is blended from batches using three different yeasts, and I'd call it ferociously delicate. 
Hopefully some of these cider and hand pie pairings will delight you for any course of a meal. Nothing could be easier to bring to an evening picnic to take advantage of these long summer nights! Whether you find them or make them, cider plus hand pies reveal big flavors in small packages. Cheers!