It's peach season! Queen of all stone fruits, these fuzzy, juicy beauts herald the height of summer in all its sticky, sweaty glory. Scoop them up at the farmers market, while you still can, and eat them with gusto! And, when the sun sets, crack open a peach craft cider — it's their season, too! There are tons out there to choose from, and these are a few that we're keen on:
Obviously, Georgians know what's up with peaches, and Treehorn Cider from Marietta, Ga. is doing it right with its hyper-seasonal Peaches En Regalia. This limited batch run is fermented with apple juice mixed with locally sourced peach puree for a lovely tart, sweet cider with citrus aroma and a mineral finish. Find it at Treehorn's Tasting Room and across Georgia.
This sparkling apple peach wine from Ploughman Cider is like a perfect summer day in a bottle. Lightly carbonated, Birdwatcher is a combination of dry apple cider and wild fermented peach juice. The fruit in Ploughman's ciders is grown on owner Ben Wenks' family farm, Three Springs Fruit Farm in Adams County, Pennsylvania, so you can be sure that the ingredients are ridiculously fresh and top-notch. Find Ploughman Cider at select bars, bottle shops and farmers markets across Pennsylvania.
Also from Adams County, Pa., Jack's peach cider is part of its flagship line, meaning it's available all year long. So, even though the fresh peach aromas and lively fruit flavors feels at home during the summertime, you can enjoy a little slice of sunshine anytime lousy weather is getting you down. Use Jack's handy finder tool to figure out where to get its cider near you!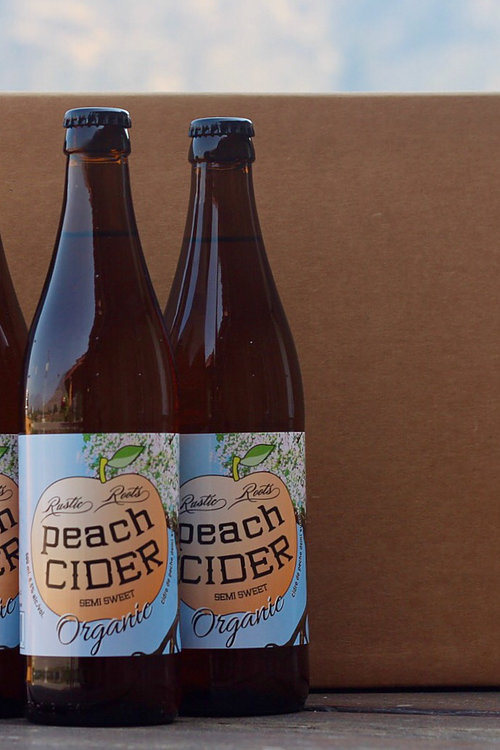 This organic winery and cidery from British Columbia makes a peach cider that is semi-sweet with aromas of baked peaches, tropical fruit and spice, with a juicy peach finish. You can shop for Rustic Roots sparkling and dessert wines and craft ciders on its website, at its on-site retail market or at various locations throughout BC.
Another Canadian cidery, Brickworks Cider, is aboard the peach train with its Stadium Island Peach cider, made with Ontario apples and Canadian peaches, slow-fermented in small batches. The cider is named after a legendary baseball game where a home run was hit out of the park and into the waters of Toronto Harbour and, to this day, the baseball has never been recovered. Brickworks compares the missing ball to the fact that, while there were over 375,000 peach trees in Ontario in 1875, none of those varieties exists today. Stadium Island Peach is inspired by things that are "lost but not forgotten." The balanced cider, with a bold peach flavor and slight tartness, pairs well with summer classics like ribs, fish tacos, spicy sausages and corn on the cob. Head here for where to find this and other Brickworks Cider varieties.
This 6.9% ABV summer seasonal from Asheville, North Carolina's Noble Cider doubles down on summertime refreshment with the addition of Citra hops to the mix! The cider is dry with peach aromas and the telltale pleasant bitterness of hops. Pairing suggestions include dinner salads and grilled salmon. Find Noble Cider throughout the Southeastern U.S., at Noble's taproom or shop online.
A cold, clear lake and a can of Nine Pin's Peach Tea Cider in hand … that's just a little bit of summer perfect right there! Nine Pin crafts this cider from a farmhouse blend of apples from Samascott Orchard in Kinderhook, New York, cold-infused with a custom peach tea blend from Short and Stout, a specialty tea shop in Guilderland, NY. The result is a bright, refreshing cider to crush all afternoon long. (For more on tea-infused ciders, check this out.)
What's your favorite peach cider? Please let us know!