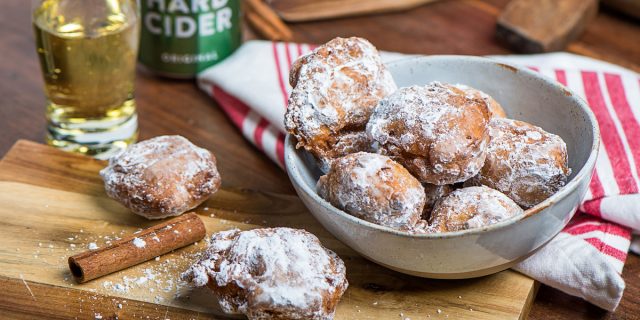 Cider Recipe: Apple Cider Fritters
Serves 12
Ingredients
2 (12-ounce) cans Jack's Hard Cider, divided
2 cups sugar, divided
1 tablespoon cinnamon, divided
3 cups all-purpose flour
1 cup whole wheat flour
¼ teaspoon baking soda
½ teaspoon baking powder
½ teaspoon salt
2 eggs
½ cup sour cream
1 teaspoon vanilla
1 apple, small diced
4 cups canola oil for frying
Method
In a small pot over medium heat, bring one can cider to a simmer and reduce by three-quarters for about 20 minutes until a thick syrup forms. Allow the syrup to cool.
In a small bowl, mix together 1 cup of sugar and 2 teaspoons of cinnamon. Set aside.
In a small bowl, mix together all-purpose flour, whole wheat flour, remaining teaspoon cinnamon, baking soda, baking powder and salt.
In a large bowl, whisk together eggs, sour cream and vanilla extract until smooth. Add remaining sugar and whisk to combine.
Pour the dry ingredients into the wet ingredients and whisk until a dough starts to form. Slowly add the remaining can hard cider, whisking to incorporate. The batter should be thick and smooth.
Using a spatula, fold the apple into the batter.
Heat a large Dutch oven or cast iron pan and add canola oil. Heat oil to 350°F. Working in batches, using a small ice cream scoop, spoon portions of batter into oil. Fry until golden brown on each side, about 2 minutes per side. If fritters are too dark, reduce heat.
Using a slotted spoon, remove fritters from the oil, draining on paper towels.
While fritters are still hot, dip them into the cider syrup and toss in cinnamon sugar.