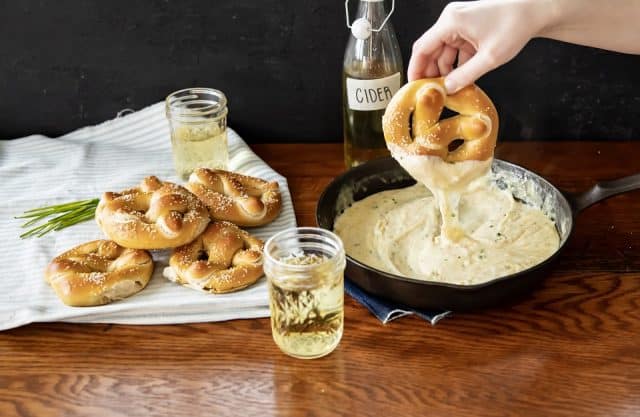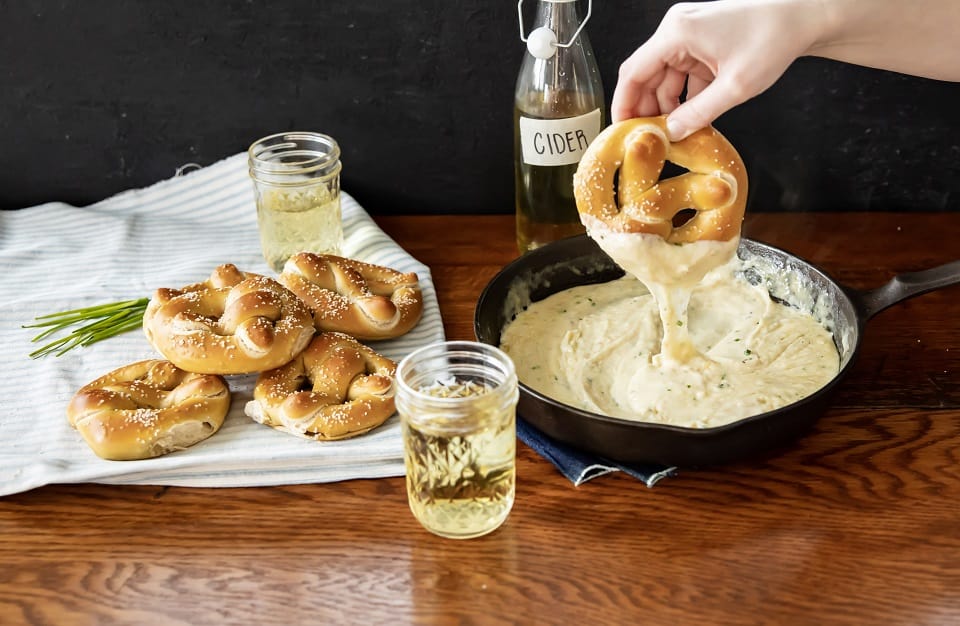 Cider Recipe: Hard Cider Cheese Sauce with Soft Pretzels

We've extolled the virtues of cider and cheese many times, from shouting out cider-washed cheese collaborations, to offering a handy primer on how to construct a cider-friendly cheese board, to suggesting cheese and cider pairings. And so our love affair with this most gorgeous of combos continues with a wondrously decadent recipe for cheese and cider sauce, meant to be paired with fresh soft pretzels (though it's awfully good with crunchy pretzels, raw veggies and sliced baguette, too).
Once you've got this recipe down, you're set for life when it comes to late night munchies and party apps. Melty, savory and exceptionally craveable, our cider cheese sauce is a snack-lover's best friend!
Hard Cider Cheese Sauce with Soft Pretzels
Ready in: 20 minutes
Serves: 6 to 8
Ingredients
2 tablespoons unsalted butter
1 shallot, minced
2 tablespoons all-purpose flour
1 cup dry hard cider
3/4 cup whole milk
1 teaspoon dijon mustard
1/2 teaspoon kosher salt
1/2 teaspoon black pepper, plus more for serving
12 ounces sharp cheddar cheese, grated
1/4 cup chives, minced
Fresh soft pretzels
Method
Melt butter in large saucepan over medium heat. Once butter is melted, add shallot and cook until soft and translucent, 3 to 5 minutes.
Sprinkle flour over shallots and whisk constantly until flour turns golden brown, about 2 minutes.
Slowly whisk in hard cider until incorporated. Whisk in milk, mustard, salt and pepper. Cook for 3 to 5 minutes, whisking occasionally, until sauce begins to thicken.
Reduce heat to low and add cheese, one handful at a time, whisking to incorporate between each addition. Once cheese is fully incorporated, remove from heat and top with chives and black pepper.
Serve with fresh soft pretzels (or other snacks of your choice).
Recipe and photo by Dish Works.